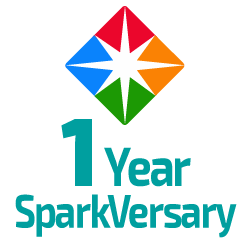 I have 12 pics in my gallery

Awards


Active, happy, go getter 68 year old that lives like 35.
I have been with Spark now for a year and it was the best move I made answering the email. I have learnt so much about myself and how to keep myself healthy. What I thought I knew about food was a rude awakening as others may have the same experience. Each day when I come on site and do the point page I learn something new.
I have always considered our bodies a work of art the way they are made up to run continueously. What we put in them and do with them is a whole different question. I ...
I have been with Spark now for a year and it was the best move I made answering the email. I have learnt so much about myself and how to keep myself healthy. What I thought I knew about food was a rude awakening as others may have the same experience. Each day when I come on site and do the point page I learn something new.
I have always considered our bodies a work of art the way they are made up to run continueously. What we put in them and do with them is a whole different question. I have always been basically healthy and lived that way. But as we grow we learn and you can learn on the Spark people site.

Another factor which is a really nice part is the people that we meet and make friends with. We have people from all over the world and I have them for friends which makes me happy. I would not trade anyone that I have met, they are golden.

Enjoy your ride on the Spark people train, learn from them, make friends and love every minute of it. Be happy with who you are, we are just making ourselves better.

Love yourself, love life and make the most of it.

Joyce
SparkFriends

SparkTeams

My Ticker:
current weight: 138.0

Interact with CHATTIEGIRL







Recent Blogs:

Profile


Member Since: 2/23/2010

SparkPoints: 0

Fitness Minutes: 72,412

My Goals:
My goals on Spark is to maintain a very healthy life. Eat well and healthy, keep moving and exercising so I can stay young. My birthday is July 8, 1943. Meet amazing people and have fun in all the teams, blogs, secrets and everytihing. Great place to be and I love it. I want to always be able to make myself presentable when I go out. I am very particular about my hair, makeup and my clothes. My sisters say I am always together but they should see me when I am in the garden. I never go out without being together. As you get older people start to slip and I want to be able to control that.

My Program:
I start the day earlier than I use to after my husband died I had no reason to get out of bed. 2 reasons are my dogs and if I did not have them who knows what would have happen. If it wasn't for an email on my site that said Spark was free and had a lot to offer I would have never been doing what I am now. I went into Spark and liked it right aways.
I make sure I eat 3 healthy meals and I don't eat a lot but I do eat a lot of fruit and vegetables. Not a vegetarian but summer I live out of my garden. I have a very large yard, 5 acreas but have 28 acreas to roam in. I cut 5 acreas the rest is rented and farmed.
I have bought some of Sparks exercise equipment and it is a hoot to see me try and do the ball exercises but I finally get the swing of it. Walking and exercise are a regular thing for me and my dogs walk with me at least the big one, little one stops after the first round. Now the pool is up and running so I am in it almost everyday and exercise and try and swim a little

Personal Information:
I am 68, 5'7" , 135 lbs. hazel eye, white, gray hair and love life.
I was raised in Richardson Park in the state of Delaware and that is in the northen part and now I live in the southern park in Seaford where I married my husband and was married for 36 years before I lost him to cancer. Raised 3 daughters and they are all professionals, nurse, teacher, cosmotologist, massues and I am proud of them. I have 5 grandchildren and 3 great grandchildren.
I ran The Salvation Army office as Director for 28 years and cried when I had to quit because of medical problems. I loved my job and if I could go back I would but that is not what God wants from me now. I love bowling and I am in 3 leagues in the winter and 2 in the summer. I want to get involved with more senior groups so I can make some new friends as my are passing away. I love meeting people and will try anything in reason with food, travel or sports. So that is a little about me and by the way my name is Joyce. Have a fun life

Other Information:
Love to read romance mysteries, thrillers. love stories and real life stories. Love Nascar and Dale Jr. and alot of the other drivers but he is # 1 I watch the truck, nationwide and sprint. Music is Christian gospel, country, oldies, big band, jazz.
I love to dance but don't get to much.

Profile Image