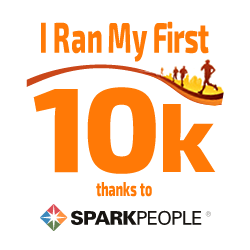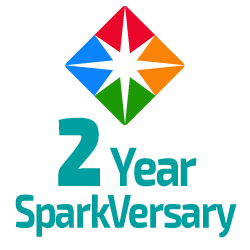 I have 18 pics in my gallery

Awards

The Journey of a Thousand Miles Starts with a Step
Thank you for stopping by my page! I'm on my way to being fit & fabulous in my 40's!

I came back to SP on January 2, 2010 weighing 182.2 and re-commited to living a healthy lifestyle. I started 2011 at 169.6. After being diagnosed with Hashimoto's Thyroiditis, I started on a low-dose of Synthroid. As 2011 progressed, the weight crept back on. As of January 2012, I weighed-in at 189.4.

I originally joined SparkPeople in August 2008. Then in October that same year, life ...
Thank you for stopping by my page! I'm on my way to being fit & fabulous in my 40's!

I came back to SP on January 2, 2010 weighing 182.2 and re-commited to living a healthy lifestyle. I started 2011 at 169.6. After being diagnosed with Hashimoto's Thyroiditis, I started on a low-dose of Synthroid. As 2011 progressed, the weight crept back on. As of January 2012, I weighed-in at 189.4.

I originally joined SparkPeople in August 2008. Then in October that same year, life got in the way and I stopped putting an effort into taking care of my needs. I was having difficulty tracking my mostly-vegetarian dietary intake in the nutrition tracker and used it as an excuse. I used being a pescetarian in a house of omnivores as a reason to avoid proper meal planning.

Much of 2009 seems to be a blur to me. My eating and fitness was still largely on the back-burner and I had regained whatever I had lost in 2008, plus a few more pounds for extra measure. However, a family trip to Connecticut to visit my sister and her family during the week between Christmas and NYE 2009 would change all of that. I couldn't remember the last time I weighed myself at my house, so I stepped on her scale out of curiousity. I looked down to see the numbers 184 mocking me.

During our visit, we went to a local recreation center with my sister and her kids. I spent 5 minutes on the elliptical machine and felt nauseaous and wanted to pass out. Then I spent some time showing my son the fitness machines. He and I talked about how we all needed to fit regular exercise in our family. When we came home, my husband and I decided that it made sense for us to get a family membership at the YMCA. Our daughter takes karate lessons, and hubby, our son, and I do strength-training and cross-training.

=======================================
2012 Weigh in:
1/01- 189.4, BMI 31.5, BF 37.5%, BF 71 lbs, Water 45.6%
1/08- 188.8, BMI 31.4, BF37.6%, BF 70.8 lbs, Water 45.5%
1/22- 188.8, BMI 31.4, BF 37.6%, BF 70.8 lbs, Water 45.5%
1/29- 188.8, BMI 31.3, BF 37.7%, BF 70.8 lbs, Water 45.4%
4/15- 186, BMI 31, BF 36.6%, BF 68 lbs, Water 46.2%
4/29- 185, BMI 30.8, BF 36.5%, BF 67.4 lbs, Water 46.3%
5/06*-
5/13-
5/20-
5/27-
6/03*-
6/10-
6/17-
6/24-
7/01*
7/08-
7/15-
7/22-
7/29*-



=======================================
In June 2008, my husband, son, and I participated in a 2-mile walk associated with a local YMCA's 5k. After the event, we were bitten by the bug and decided to look into C25K training programs. We completed our training in August 2008. My husband and I have participated in several 5k's as runners since then and our son has participated as a walker.

Hubby and I successfully increased our mileage and participated in a 5-mile event held on 7/31/10. Then, we set our sights on increasing to a 10K distance to participate in the Atlantic City 10K held on 10/17/10. After that, we steadily increased to 9 miles in preparation for the Schuylkill Loop Run 8.48 mile event on 11/13/10. Next, our goal was to work on speed for shorter distances and increase our long-run distance to prepare for the Broad Street 10 mile Run on 5/1/11. We continued increasing our long-run distance to train for the Atlantic City Half Marathon on 10/16/11.

Race Events

8/13/08- Legs for Lindsey: Distance 3.1 miles. Total time 49:16. Average pace 15:53.

8/24/08- Run with the Dolphins: Distance 3.1 miles. Total time 46:52. Average pace 15:07.

9/20/08- Limerick Park 5K: Distance 3.06 miles. Total time 43:36. Average pace 14:14.

10/12/08- Delco Run for Heroes (Ran this with my kids at a slower pace): Distance 3.23 miles. Total time 49:05. Average pace 15:11.

10/25/08- Skeleton Skurry 5K: Distance 3.2 miles. Total time 44:34. Average pace: 13:55.

11/1/08- Family Service 5K: Distance 3.22 miles. Total time 44:01. Average pace: 13:40.

5/16/10- Race Against Melanoma 5K: Distance: 3.11 miles. Total time: 38:45. Average pace: 12:45.

6/23/10- Spring Into Summer 5K: Distance 3.12 miles. Total time: 37:35. Average pace: 12:05.

7/31/10- MCAP Run for the Hill of It 5-miler: Distance: 5 miles. Total time: 56:49. Average pace: 11:20.

8/11/10- Legs for Lindsey 5K: Distance 3.1 miles. Total time 39:30. Ran with my 7-year old daughter.

10/3/10- Kids First 5K: Distance 3.1 miles. Total time 35:49. Ran with my 7-year old daughter.

10/17/10- Atlantic City 10K: Distance 6.6 miles. Total time 1:10:39. Avg pace: 10:41. Ran with my hubby.

10/30/10- Skeleton Skurry 5K: Distance 3.1 miles. Total time 33:24. Avg pace 10:45.

11/14/10-Schuylkill River Loop Run: Distance 8.48 miles. Total time 1:33:13. Avg pace 10:56. Ran with my hubby.

11/25/10- Gobble Wobble 5K: Distance 3.1 miles. Total time 36:45. Ran with my 7 year-old daughter.

2/19/11- Frostbite 5 Miler: Distance 5 miles. Total time: 1:02:49. Avg Pace: 12:30. Ran with my hubby

5/1/11: Broad Street 10 Mile Run: Distance: 10 miles. Total time: 2:05:05. Average pace: 12:30. Ran with my hubby.

6/15 /11- Spring Into Summer 5K: Distance 3.12 miles. Total time: 36:24. Avg Pace: 11:43.

8/10/11- Legs for Lindsey 5K (new course): Distance 3.1 miles. Total time: 36:11. Avg pace: 11:40. Ran with my 8 year-old daughter.

10/16/11- Atlantic City Half Marathon: Distance 13.1 miles. Total time: 2:57:06. Avg Pace: 13:31. Ran with my hubby.

5/6/12: Broad Street 10 Mile Run: Distance: 10.4 miles. Total time: 2 hours 19 minutes.

6/xx/12- Spring Into Summer 10K: Distance 6.2 miles. Total time: Avg Pace:

6/16/12- Pancreatic Cancer 5k: Distance 3.1 miles. Total time: Avg Pace:

8/xx/12- Legs for Lindsey 5K: Distance 3.1 miles. Total time:

10/21/12- Atlantic City Half Marathon: Distance 13.1 miles. Total time:


==================================
2010 Weigh in:
1/2- 179.6
1/9- 176.4
1/16- 175.8
1/27*- 173.2
2/3- 172.6
2/10- 172.6
2/17- 171.4
2/24*- 171.4
3/3- 170.6
3/10- 170.2 (10 lbs)!
3/17- 169.2 (yay 160s!)
3/24*- 169.2
3/31- 169
4/7- 169.6
4/14- 169.4
4/21*- 169.8
4/28- 169.4
5/5- 169.2
5/12- 168
5/19*- 168
5/26- 168
6/2- 168
6/9-168.4
6/16*- 168.8
6/23-169.6
6/30- 168.8
7/7- 167.8
7/14*- 168.4
7/21- 168.2
7/28- 166.4
10/18- 169.4
10/25- 169.4*
11/1- 168.2
11/8- 168.2
11/15- 168.2
12/3- 166.8
12/31- 169.8

2011 Weigh in:
1/01- 169.6, BMI 28.2, BF 33.6%
1/07- 168.8, BMI 28.3, BF 33.7%
1/14- 167.8, BMI 28, BF 33.3%
1/21*- 166.4, BMI 27.7, BF 33.1%
1/28- 167.2, BMI 28, BF 33.4%
2/04- 167.4, BMI 27.8, BF 33.4%
SparkFriends

SparkTeams



My Ticker:
current weight: 196.8


Recent Blogs:

Profile


Member Since: 8/6/2008

SparkPoints: 28,990

Fitness Minutes: 24,713

My Goals:
Weight loss:
1. Lose 40 pounds.
2. Reduce Body Fat to between 22 & 24%

Lifestyle:
1. Set a healthy example for my children.
2. Complete MS in Forensic Accounting.
3. Obtain CFE (Certified Fraud Examiner) credential

Running:
1. Improve speed and endurance.
2. Run 13.1 miles.
3. Train for a sprint triathalon.

Accomplished:
1. Run a 5K.
2. Run 5 miles.
3. Complete Accounting Certificate.
4. Run a 10K.
5. Run 8.4 miles.
6. Run 10 miles.
7. Run 13.1 miles.
8. Complete A.A.S. in Accounting.
9. Obtain CAPA (Certified Accounts Payable Associate) credential.

My Program:
1. Eating healthier and more mindfully.
2. Limit gluten intake.
3. Strength & Cross-train minimum 3 days/week.
4. Providing healthy choices for the kids.
5. (In Spring) 13.1-mile training 3 days/week.

Personal Information:
Born and raised in South Jersey. Moved to PA in 2001.

I'm a 43-year old mom of 2 kids: a 16-year old son and an 10-year old daughter.

After 14 years, I left the field of mental health social work and went back to school to study accounting. When I graduated with my A.A.S., I got a job with Quest Diagnostics in their Accounts Payable Department.

My hobbies are knitting, running, reading, playing tennis, cross-stitching, and watching sports.

Other Information:
TV: Psych, White Collar, NCIS, L&O: Criminal Intent, CSI: Miami, Dirty Jobs, MythBusters, Good Eats, Monk.

"Through dangers untold and hardships unnumbered, I have fought my way here to the castle beyond the Goblin City to take back the figure that you have stolen. For my will is as strong as yours, and my kingdom is as great...

You have no power over me."

~Labyrinth

Profile Image