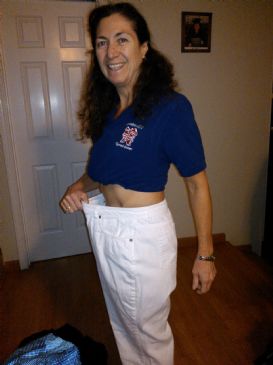 I have 24 pics in my gallery

Awards

Getting Stronger
Jan 2015, got a new scale that measures my BF at 27%. I want to try and get down to 25. My weight after the holidays crept back up to 140 - as expected this time of the year. Looking forward to renewing my commitment to lose a few more lbs, get leaner and stay that way!

Update - Since I started eating Paleo/Primal (late June 2014), my weight is slowly moving down. And I can tell I'm getting leaner. Yay!

May 2014....I guess I'm officially in maintenance. My ...
Jan 2015, got a new scale that measures my BF at 27%. I want to try and get down to 25. My weight after the holidays crept back up to 140 - as expected this time of the year. Looking forward to renewing my commitment to lose a few more lbs, get leaner and stay that way!

Update - Since I started eating Paleo/Primal (late June 2014), my weight is slowly moving down. And I can tell I'm getting leaner. Yay!

May 2014....I guess I'm officially in maintenance. My weight has not gone down much since my 30 lb weight loss from Nov 2012 to Nov 2013. I got down to as low as 137.5 but now I'm holding steady between 139 and 142. I'm ok with the weight. Check that - I'm ecstatic with the weight (after being overweight since the third grade, I weigh less now than I ever did as an adult) I just need to lose the stubborn flab around my lower body. My legs have been heavy for 40 years, they are not going to get lean overnight. I'll get there, I just need to be patient. Here is my story: In Nov 2012 I started this final quest to get in shape and lose weight. I was tired of approaching the holiday season knowing that I was probably going to gain 10-15 lbs. A gain that I would then struggle to lose the rest of the year (and failing to do so as I got older!). No more! Thanks to the 3 things I give credit to below, I am at a new place! I am not afraid of the holidays. I know I will maintain decent control, but most important, I know I will get right back to my normal routine and no lasting harm done.
I have to give credit to 3 things
"The Beck Diet Solution" by Judith Beck
my FitBit One Tracker
and my excellent Personal Trainer

SparkFriends

SparkTeams



My Ticker:
current weight: 137.4


Recent Blogs:

Profile


Member Since: 10/16/2006

SparkPoints: 42,185

Fitness Minutes: 77,500

My Goals:
Get stronger. Get Leaner. Get to 25% Body Fat
Size 6 pants
Back Squat 205# - ???
Front Squat 135# - Done 2/8/13, just need to work on depth
Push Press 95# - ???
1 Unassisted Pull Up - Done 7/2014

My Program:
Strength training 5x/week
Cardio/Hiit 2-3x/week
Aim for 10000 steps/day
10 floors per day
Make my lunch night before
Need to cheat less often, don't have as much wiggle room as I used to.


Personal Information:
I'm 5'4"



Profile Image