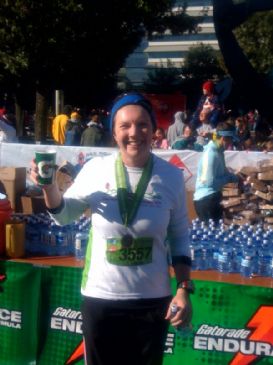 I have 7 pics in my gallery

Awards

Lindsey's Page
Bring it.

Upcoming Races:
August - Adel Sweet Corn 5k
September - Capital Pursuit 10 mile - DSM, IA
October 2014 IMT Des Moines Half Marathon - DSM, IA


I am completing a Virtual Run! I am "running" to far away places.

Trip 1: Des Moines to Chicago (329 Miles)

Completed Miles: 318
6/30/2009-7/25/2014
Current "Location": Maywood, IL


Past Races:
April 2007 Ravenswood Run 5k - ...
Bring it.

Upcoming Races:
August - Adel Sweet Corn 5k
September - Capital Pursuit 10 mile - DSM, IA
October 2014 IMT Des Moines Half Marathon - DSM, IA


I am completing a Virtual Run! I am "running" to far away places.

Trip 1: Des Moines to Chicago (329 Miles)

Completed Miles: 318
6/30/2009-7/25/2014
Current "Location": Maywood, IL


Past Races:
April 2007 Ravenswood Run 5k - Chicago, IL ( N/A)
July 2007 Women's 5k - Chicago, IL (35:02)
March 2008 St. Paddy's Day 5k- Chicago, IL (31:34)
April 2008 Ravenswood Run 5k - Chicago, IL (28:55)
June 2008 She's Got Sole 8k - Chicago, IL (53:01)
July 2008 Women's 5k - Chicago, IL (32:24)
August 2008 Elvis is Alive 5k - Chicago, IL (32:14)
October 2008 Trick or Treat Trot 10k - Chicago, IL (1:08:57)
February 2009 Red Flannel Run 5-Mile - DSM, IA (55:52)
March 2009 Shamrock Shuffle 8k - Chicago, IL (53:02)
April 2009 Drake Relays On-the-ROADS 8k - DSM, IA (51:51)
May 2009 Dam to Dam 20k - DSM, IA (2:41:51)
July 2009 4th of July William Courtney 5K - Urbandale, IA (31:41)
October 2009 Des Moines Half Marathon - DSM, IA (2:30:16)
October 2009 Trick or Treat Trot 5k - Chicago, IL (29:54)*
September 2011 Run DMU 5k- DSM, IA (35:56, Run/Walk)*
October 2011 Principal Financial Group 5k - DSM, IA (33:37)
Nov. 2011 Living History Farms 7-Mile - Urbandale, IA (1:56:46)*
April 2012 Iowa AIDS 5k - DSM, IA (35:39 Run/Walk)
April 2012 Drake Relays On-The-ROADS 8k - DSM, IA (55:44)

* = my husband ran too!

Speed Records
Treadmill: 1M - 7:17 (9/29/09)
Outdoors: 1M - 8:20 (7/16/09)
Treadmill: 2M - 15:44 (8/9/09)
Treadmill: 5K - 26:30 (8/11/09)
Treadmill: 4M - 34:41 (9/27/09)


Current Status:


SparkFriends

SparkTeams



My Ticker:
current weight: 177.0


Recent Blogs:

Profile


Member Since: 12/21/2007

SparkPoints: 26,754

Fitness Minutes: 24,059

My Program:
Boy oh boy! Baby NWS arrived in April 2013. He's amazing.

Personal Information:
Journey:
12/2007: 170 - starting weight
5/2008: 150 - 20lbs lost

12/2008: 166 - whoops

6/2009: 162 - starting weight
9/2009: 152 - 10lbs lost

2/22/2011: 163
9/23/2011: 162
4/15/2012: 169
10/7/2013: 182 (postpartum)
2/16/2014: 185
7/14/2014: 177

Other Information:
I am about 66% vegan and 100% vegetarian. I've gotten lazy.

Profile Image