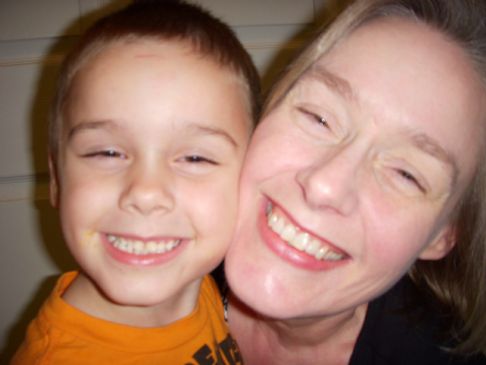 I have 50 pics in my gallery

Awards


Making Healthy Choices in Maintenanceville!
Forget about yesterday...
Do not worry about tomorrow...
Just make healthy choices TODAY.

This journey is about PERSISTENCE and PROGRESS, NOT perfection.

Update: Thursday, January 19, 2012 I reached my goal weight and celebrated a 100-pound loss.

Hello, Sparkers! Thank you so much for visiting my Spark page! I'm Jennifer, a 44-year-old Texas middle school math teacher. I'm married with two children and two grown step-children. My son is 4 and ...
Forget about yesterday...
Do not worry about tomorrow...
Just make healthy choices TODAY.

This journey is about PERSISTENCE and PROGRESS, NOT perfection.

Update: Thursday, January 19, 2012 I reached my goal weight and celebrated a 100-pound loss.

Hello, Sparkers! Thank you so much for visiting my Spark page! I'm Jennifer, a 44-year-old Texas middle school math teacher. I'm married with two children and two grown step-children. My son is 4 and my daughter is 18.

I joined SP on January 1, 2011, and it has been such a wonderful experience so far. I simply LOVE this site! It is filled with wonderful, supportive people and lots of great information, resources and tools. And most of all, I love the support of my Spark friends.

My long-term goal was to lose 100 pounds so I can really enjoy my life with my husband and kids. And an unexpected turn on my journey--I became a runner and love running races! I have run multiple 5K races, a 10K, and finished my first half-marathon at the end of January 2012.

GOAL ACHIEVED! 100 pounds gone FOREVER!

My weigh-ins:

140 lbs (03.20.2012)
145 lbs (01.19.2012)
146 lbs (01.13.2012)
147 lbs (01.10.2012)
150 lbs (01.03.2012)
151 lbs (01.01.2012)
152 lbs (12.17.2011)
153 lbs (12.15.2011)
154 lbs (12.10.2011)
155 lbs (12.01.2011)
155 lbs (11.24.2011)
157 lbs (11.19.2011)
159 lbs (11.15.2011)
160 lbs (11.12.2011)
161 lbs (11.01.2011)
161 lbs (10.15.2011)
164 lbs (10.01.2011)
165 lbs (09.25.2011)
168 lbs (09.15.2011)
170 lbs (09.01.2011)
174 lbs (08.15.2011)
174 lbs (08.01.2011)
180 lbs (07.15.2011)
185 lbs (07.01.2011)
186 lbs (06.18.2011)
188 lbs (06.11.2011)
190 lbs (06.04.2011)
193 lbs (05.28.2011)
194 lbs (05.21.2011)
196 lbs (05.14.2011)
198 lbs (05.07.2011)
200 lbs (04.30.2011)
201 lbs (04.23.2011)
203 lbs (04.16.2011)
205 lbs (04.09.2011)
208 lbs (04.02.2011)
211 lbs (03.26.2011)
214 lbs (03.19.2011)
216 lbs (03.12.2011)
219 lbs (03.05.2011)
221 lbs (02.26.2011)
223 lbs (02.19.2011)
225 lbs (02.12.2011)
229 lbs (02.05.2011)
231 lbs (01.29.2011)
233 lbs (01.22.2011)
235 lbs (01.15.2011)
237 lbs (01.08.2011)
245 lbs (01.01.2011)

Running Achievements:

Cinco Ranch Rotary 5K (37:00)

Lone Star Stampede 5K (34:46)

ASH Dash Bunny Run 5K (31:15)

Bellaire Trolley Run 5K (32:27)

Bayou City Classic 10K (1:11:23)

Bunny Hop 5K (34:06)

USA Fit Half Marathon (3:14:21.8)

Turkey Dash 5K (38:15)

Monster Mash 5K (41:35)

Lazy-Hazy-Crazy Days of Summer 5K (42:26)

Save the Males 5K (44:39)
SparkFriends

SparkTeams

My Ticker:
current weight: 156.0


Recent Blogs:

Profile


Member Since: 1/1/2011

SparkPoints: 55,294

Fitness Minutes: 16,491

My Goals:
12 Races in 2012:

01 USA Fit HM (3:14)
02 Bunny Hop 5K (34:06)
03 Bayou City Classic 10K (1:11:23)
04 Bellaire Trolley Run 5K (32:27)
05 ASH Dash 5K Bunny Run (31:15)
06 Lone Star Stampede 5K (34:46)
07 Cinco Ranch Rotary 5K (37:00)
08
09
10
11
12

My Program:
April Action Steps:

1. Achieve 1000 fitness minutes.

2. Eat healthy, balanced diet (whole grain, lean protein, low-fat dairy, heart-healthy fat, and 5+ servings fruits and veggies daily).

3. Drink 8+ glasses of water daily.

4. Sleep 8+ hours nightly.

5. Log on to SP daily.

6. Weigh and measure portions (no 2nd helpings)

Personal Information:
I'm Jennifer from Texas. I am a wife, a mother of two, and a math teacher. My goal in 2011 was to lose 100 pounds (goal met). My 2012 goal is to run 12 races.

Other Information:
You are successful the moment you start moving toward a worthwhile goal.

Profile Image