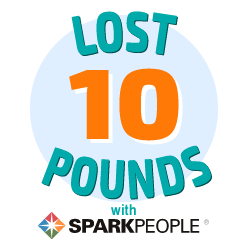 I have 5 pics in my gallery

Awards

Yes I Can Do IT!
Its all about getting rid of the "Flab" in a "healthy" manner. Strategy is to be consistent & have realistic goals. Read below to find out more about me & Spark on :)

I am a stay at home Mom, mother of one who is determined to tackle the one & only biggest obstacle in her life. Extra Weight.

Ready to lose all 125 lbs & be all healthy again.

To me the word "Fab" does not mean skinny but it is the feeling you get when you are confident about yourself ...
Its all about getting rid of the "Flab" in a "healthy" manner. Strategy is to be consistent & have realistic goals. Read below to find out more about me & Spark on :)

I am a stay at home Mom, mother of one who is determined to tackle the one & only biggest obstacle in her life. Extra Weight.

Ready to lose all 125 lbs & be all healthy again.

To me the word "Fab" does not mean skinny but it is the feeling you get when you are confident about yourself because you are physically fit & healthy.

If you have stumbled upon my page, chances are you are just like me in one way & that is trying to lose all that extra fat off your body.

Lets just say we can do it. YES we can do it.

Like many others I have been struggling to lose my weight for quite some time. Say 10 years now.

I have always weighed an extra 15-20 lbs since I can remember but all that changed when I was diagnosed with severe asthma back in 2006. I ended up gaining 40 lbs in one year with all the steroids I was taking to control my asthma.

In spring of 2010 I had my beautiful daughter & then added a whopping 70 lbs to my then weight. I currently stand at 262 after losing 8 lbs since I joined sparkpage. Unfortunately I tend to yoyo a lot.

I love cooking & try out new recipes but lets just say the food I have been eating hasn't been making me all that proud since I actually started counting calories on it. Its going to be a tough road down but I am all ready for the journey.

All thanks to sparkpage that has taught me to track my calories, exercise & water in take & double thanks to Biggest Loser Challenge 12 that motivated me even more to lose this extra flab of fat.

I say Lets Do IT :)

SparkFriends

SparkTeams



My Ticker:
current weight: 300.8

Interact with FLABTOFABWSANA






Recent Blogs:

Profile


Member Since: 9/29/2011

SparkPoints: 12,644

Fitness Minutes: 6,523

My Goals:
Walk/Run a 5k: 11/2/2013
Run a 5k
Run a 10k
Run a Half Marathon
Run a Full Marathon
Become a Certified Group Fitness Instructor




My Program:
Stay within my calorie range.

Drink at least 10 cups of water a day.

Zumba 3x a week.

Run 3x a week

Eliminate carbonated drinks completely


Personal Information:
Stay at home Mom, mother of one & ready to tackle the one & only biggest obstacle in her life.

Other Information:
Facebook: https://www.facebook.com/FlabToFabWithSana

Tumblr: http://flabtofabwithsana.tumblr.com/

Instagram: http://instagram.com/flabtofabwithsana

Profile Image