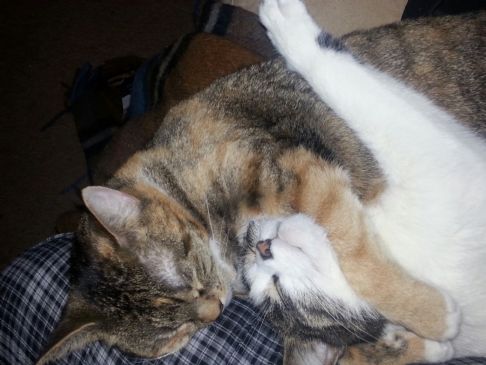 I have 38 pics in my gallery

Awards

New name ~ new attitude!
Now with SP 3 years+ its time to dig in and get myself off the plateau that has extended through at least half of that time. I know what and who I want to be and this time... this time I'm not running scared but running (and other goals too) is going to happen...

Early in 2009 I realized I had just under 3 years until I hit 60 and decided to get myself fit so that I could enjoy the things in life that I has let my size, and other things, prohibit. Little did I know what that ...
Now with SP 3 years+ its time to dig in and get myself off the plateau that has extended through at least half of that time. I know what and who I want to be and this time... this time I'm not running scared but running (and other goals too) is going to happen...

Early in 2009 I realized I had just under 3 years until I hit 60 and decided to get myself fit so that I could enjoy the things in life that I has let my size, and other things, prohibit. Little did I know what that entailed. Now I am there, I have a new knee that is healing well, I am newly single and so my journey now will be one of creating the person I want to be and getting into a healthy new routine by which to accomplish that. Thank you Annie for spotting me the comfort to explore. Thank you Bob for helping me to care.

Life goes on and just like a good book a good life is made up of many chapters. When I first wrote my introduction I never expected that "getting ready to live" would include returning to life as a single. "...in order for us to live a star must die" ~Brian Cox. On August 1 2011 that came to pass.

Annie B you were and always will be my biggest supporter... You will be with me always... And still you will be missed. I love you yesterdays today and tomorrows... Rest in peace sweetie!

And again on December 10, 2011 my brother joined her. You, Bob, were the bridge over my generation gap, a supporter and critic all in one, and always there for me. I know you still are.. Now that your battle is over rest in peace bro'.

And as I began here in January 2010....

Supposedly I was a 'wirey' kid, as my mother said. I remember almost doubling my weight as I hit puberty. Aside from the 1 year that I was a phys ed major I have battled in the weight gain/loss game and not only lost but gained more. A couple of times quitting smoking added to the total. I don't know how much I kept myself from doing by being overweight.

Now it is time to get ready to really live before I hit 60
SparkFriends

SparkTeams

My Ticker:
current weight: 255.4


Recent Blogs:

Profile


Member Since: 1/15/2010

SparkPoints: 68,044

Fitness Minutes: 98,820

My Goals:
~Not have to worry can I do it? Will I fit? Can I get up if I sit or fall down?

~so to spell it out~

~Lose approximately 100 pounds

~Grow in strength, flexibility and endurance

~~~Be able to get up off the ground with grace and no hands!

~~~Step out of downward facing dog wtih hands on the ground!

~Run free

~Hike (Mt. Washington and beyond)

~Kayak/canoe

~Travel unencumbered

My Program:
~Wally walking 2-3 times weekdays, more on weekends

~ST and stretching

~ Wed Hatha Yoga, work permitting

~January adds
Thursday Zumba and

~MW aqua cardio followed by lap swim

~March adds No Boundaries 5K training

~eat right, sleep well, water water water

Personal Information:
2014 will have a 3 tiered plan based on 2 happenings

~ Stage 1: 3 months, 13-20 pounds gone and be able to climb 2 flights of stairs without heavy breathing

~ Stage 2: 4 months following. 15-25 more pounds gone, 4 flights

~ Stage 3: 5 or so months later. another 20-30 pounds and re-evaluate the goals and plans

Other Information:
Life is evolving and starting to run short - or so it seems.. There's a lot of the world out there to see and photograph

Profile Image