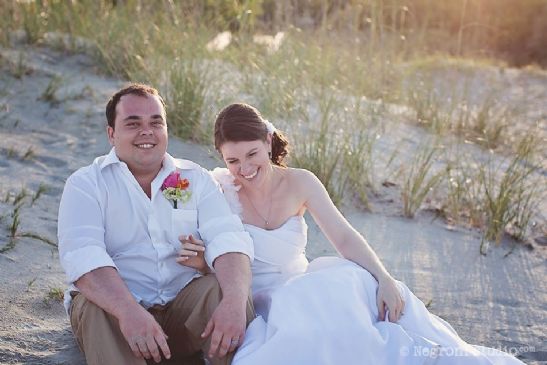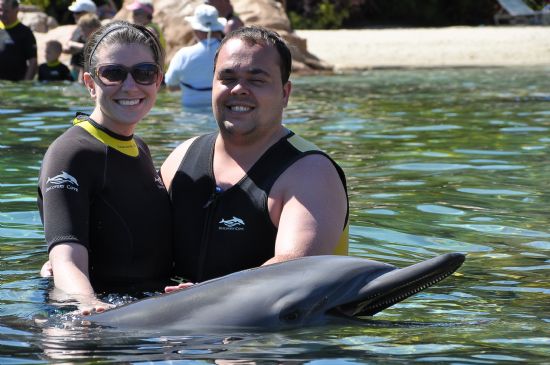 I have 49 pics in my gallery

Awards


Loving Life ... Each and Every Moment
April 30, 2012
Life is constantly changing... and I absolutely love it! Last weekend, my fiance and I got married in Cocoa Beach , Florida. It was an absolutely perfect day! Over the past month or so, I've managed to find a few of the pounds that I've previously lost. So, now it is time to kick it back into high gear. Here we go!


August 9, 2010: 165.8 pounds (Starting Weight)
September 6, 2010: 163.0 pounds (-2.8 pounds)
October 4, 2010: 160.8 ...
April 30, 2012
Life is constantly changing... and I absolutely love it! Last weekend, my fiance and I got married in Cocoa Beach , Florida. It was an absolutely perfect day! Over the past month or so, I've managed to find a few of the pounds that I've previously lost. So, now it is time to kick it back into high gear. Here we go!


August 9, 2010: 165.8 pounds (Starting Weight)
September 6, 2010: 163.0 pounds (-2.8 pounds)
October 4, 2010: 160.8 pounds (-2.2 pounds)
November 1, 2010: 157.8 pounds (-3.0 pounds)
December 6, 2010: 151.4 pounds (-6.4 pounds)
January 3, 2011: 150.6 pounds (-0.8 pounds)
February 7, 2011: 141.6 pounds (-9.0 pounds)
March 7, 2011: 138.4 pounds (-3.2 pounds)
April 4, 2011: **No Weigh Challenge**
May 2, 2011: 130.4 pounds (-8.0 pounds)
June 6, 2011: 128.4 pounds (-2.0 pounds)
July 4, 2011: 128.8 pounds (+0.4 pounds)
August 1, 2011: 127.0 pounds (-1.8 pounds)
September 5, 2011: 128.8 pounds (+1.8 pounds)
October 3, 2011: 130.2 pounds (+1.4 pounds)

December 31, 2010
Ready for a new year and a new challenge! Proud Silver Spy :)

November 19, 2010
Been doing good since August. I have stayed within my calorie range 80-90% of the time. I've gotten 1,000+ minutes of cardio each of the last two months. We are heading into the holiday season and I am determined to stay strong. I have my first 5K scheduled for next Thursday. I'm not sure I'll do another one after this, but I can at least mark this off my list of goals to complete... it only took me two years! I think there are a lot of other exercises that I like other than running, but at least I know I've tried it and gave it my best. My goal is to be between 145 and 150 pounds by the start of 2011. I'm sure if I stick with my plan and don't let the holidays get the best of me, I will succeed. We can do this together!

August 12, 2010
Life got the best of me. Over the last couple months, I have quit my job, found a new job (before I quit the old one), and moved to St. Louis with my fiancee. I quit working out during the interim because my gym membership lapsed in my old city and I didn't want to renew it. And I started eating horribly again. I let my weight get back up to 165.8 pounds... but now it's time for me to finally get back on track. My new job offers me a free gym membership at an amazing gym here in St. Louis (JCC for those that want to know). I've signed up for membership, got my fiancee on board with me (or he's got me on board with him, depending how you look at it), and our pantry is full of healthier food. We've sat down together and created a menu so that we both can stay on track. My goal is to get back down to my lowest weight on this journey, 139.6 pounds... and maybe a couple pounds past that. I know that I can do this and I have the best support system with my fiancee and all my friends here on Spark!

April 19, 2010
I'm finally back on track! I joined a new gym on April 4, 2010. This is the beginning of week three at the gym. I am loving it! I'm trying to change up my exercises so that I don't get bored. I started taking Yoga and Pilates classes. There is a spinning class that I've been lurking outside of... debating on that one still. I also think I'm going to start swimming again. I really want to get my body in shape so that once I lose the weight, I will look amazing!

My food is also back on track finally. I am still struggling on weekends, but Justin and I are both making an effort to do better on the weekends. I try and plan out my food at least a week in advance. I am also trying to incorporate more fruits and veggies into my diet. I think I'd doing pretty good with that one. I'm doing great on water intake... I am averaging about 10+ cups every day. It has become second nature to me during the week. The weekends are still a work in progress, but I am definitely getting there.

I decided not to set goal weights based on dates. I think it is putting too much pressure on myself. I will lose these last 20.0 pounds as my body sees fit. I am hoping to reach goal by the end of 2010.

March 3, 2010
Okay... so apparently I wasn't ready at the beginning of the year like most people. But I'm ready now. I've gained back about 17 pounds of the weight I already got rid of over the last year! So now I need to get rid of that weight again. I've reset my goal for 135 pounds. I decided that I wanted something that will be easier to maintain. I was pretty happy the way I was when I was at 140 pounds, so I figured I'd give myself a little wiggle room by going lower. I know this time I can do it. I'm starting off again with tracking all my calories and keeping a closer eye on what I eat. Next week, I'm going to go use a free week at a gym I'm interested in. I'm hoping that works out and I will finally have a gym again (my membership expired at the beginning of the year). Once I have that, I will slowly work my way back up to going at leat 4 times each week (since I'm always traveling on weekends). I've set out new goals for myself below and really hope to be able to hit these goals. I know that with the support of my Spark friends (and my Sassy girls), I will definitely be able to lose this weight this time around!

January 4, 2010
Its a new year! Last year was a very eventful year in my life. My divorce was final on June 15, 2009 and I am now dating a wonderful man who makes me so happy. I never did get to my goal weight last year. I became complacent and quit working on it. I stayed pretty steady for several months and then the weight slowly started to creep back towards the end of the year. I'm up about 10 pounds from my lowest weight and am setting up new goals to obtain this year. I'm hoping to be at my goal weight by my 26th birthday (June 28, 2010). I know this year is going to be a great one... so I'm strapping in and holding on tight... here's to 2010!

April 24, 2009
So as of a few days ago, I am a SparkPeople Motivator... I am so honored that I have motivated so many of you... you all have motivated and inspired me too. I would not be where I am today without my SparkPeople friends.

I am currently going through a divorce (as you found out from one of my recent blogs). Although it has been a rough time, I am happier now than I have been in a very long time. I feel like I am finally finding myself and learning who I am. Hopefully, it will be finalized by the end of May and I can move on with my life. During this crazy month, I have just been working on maintaining my weight loss. So I haven't really lost much, but I am still doing good and still working on myself. I am starting this process back up full force now and am hoping to lose these last 15 pounds by the end of summer. I am also going to be working on toning up this new body I have. I've signed up for the new bootcamp and just started the BLC10. Can't wait to see where I will be in a few months! This is a whole new life for me!

February 1, 2009
I have reached a healthy BMI! I am so excited!

I am also doing two Biggest Loser competitions. One started a few weeks ago (I'm a Bright Green Goddess). The other BLC is with the Done Girls... and as you can tell by my page... I'm a Turquoise Tigress! I was so upset to miss the BLC when I first started Done Girls and am so excited to finally take part in this challenge. Both of these challenges are going to help drive me to reach my goals and maintain the healthy lifestyle I have achieved so far. I know I can do anything I put my mind to!

December 15, 2008
SparkPeople has changed my life... wait. I have changed my life... but I couldn't have done it without SparkPeople. I am the healthiest I have been in the past 6 years... maybe more. I can now tell what my body needs. I have learned to listen to myself. I know with all the changes I have made, it is just a matter of time until the weight is gone. I have learned that the weight loss is just a happy side effect of what I have learned.

I have also met the most amazing group of ladies (and gentlemen)... the DONE girls! You ladies have kept me motived and encouraged me when I was down. You help remind me that this is a lifelong trip and a slip up is not the end of the world.

I am so DONE being the fat girl!


September 3, 2008
I am starting on a new journey in my life. I have a new meal plan and a new exercise plan. This started at the beginning of the year with my sister and I wanting to lose some weight. Well, here I am eight months later, starting to take action. I've realized that, not only do I not like what I see when I look in the mirror, but I don't feel healthy. I want to be able to work out and not feel like I am going to die. So here's to me and my new journey... hope it all goes well! Hopefully, by next year, I will be the healthiest I have ever been!



Old Goals:
August 24, 2008 - 197 pounds (Starting Weight)
September 28, 2008 - 191.2 pounds (Completed - 187.2 pounds)
October 26, 2008 - 186.5 pounds (Completed - 180.8 pounds)
November 30, 2008 - 180.6 pounds (Completed - 172.0 pounds)
December 28, 2008 - 175.9 pounds (Completed - 162.6 pounds)

January 25, 2009 - 160.6 pounds (Completed - 155.6 pounds)
February 22, 2009 - 154.9 pounds (Completed - 149.6 pounds)
March 29, 2009 - 147.8 pounds (Completed - 143.0 pounds)
April 26, 2009 - 142.1 pounds (Completed - 141.8 pounds)
SparkFriends

SparkTeams

My Ticker:
current weight: 175.4

Interact with GODDESSELLIE07







Recent Blogs:

Profile


Member Since: 9/3/2008

SparkPoints: 36,855

Fitness Minutes: 20,300

My Goals:
April 30, 2012
*Return to maintenance range.
*Run a 5k.
*Run a 10k.
*Run a half marathon.

November 19, 2010
*Lose 17 pounds.
*Lose body fat and gain muscle.

August 12, 2010
*Lose 26 pounds in 26 weeks.

April 19, 2010
*Cardio four times each week (Monday thru Thursday).
*Strength three times each week (legs on Monday, arms on Wednesday, core on Thursday).
*Maintain a healthy diet, including freggies and lots of water.

April 24, 2009
*Cardio three times each week, strength two times each week.
*Continue to maintain healthy diet.
*Lose the last 15 pounds.

December 15, 2008
*Exercise at least four times each week for at least 30 minutes.
*Maintain a healthy diet.
*Lose an additional 35-45 pounds.
*Compete in at least 1 challenge each month.
*Finish the 1 Day Challenge each day.
*Become Done Girl of the Day

September 3, 2008
*Become a healthier, happier me. <

My Program:
April 30, 2012
*Cross training 1-2 days each week.
*Running 3-4 days each week.
*Strength training 1-2 days each week.

November 19, 2010
*Zumba twice each week
*Yoga once each week
*Other cardio 1-2 times each week
*Strength training 3 times each week
*Track 95% of food
*Drink lots of water.
*Stay active.

August 12, 2010
*Gym at least 4 times each week for 20-30 minutes each.
*Track 99% of my food.
*Increase fruits and veggies.
*Drink lots of water.

April 19, 2010
* Track all food consumed.
*Exercise, Exercise, Exercise.
*Fresh over processed.

April 24, 2009
*Track all food... good or bad.
*Continue to try and incorporate freggies into my diet.
*Cardio three times, strength two times each week.
*Find personal time for myself.

December 15, 2008
*Track all food. Stay in calorie range.
*Watch my sodium intake.
*Work on getting more fruits and veggie

Personal Information:
Hello! My name is Ellen and I am 27. I live in St. Louis, Missouri. I work at a corporate office as a business analyst. I recently married my best friend whom I love very much. We have a sweet kitty together named Maggie. In my free time, I workout and knit. I'm living life one moment at a time.

Other Information:
If you want to know more... just ask.

Profile Image