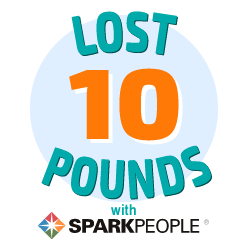 I have 3 pics in my gallery

Awards

The difference between try and triumph is a little umph!
"If you don't like something, change it. If you can't change it, change your attitude."
-Maya Angelou

First goal: Obese no more. 199lbs.

My name is Toni, I'm 32 and 210 lbs. (Up to 220 now Sep 2013)
I lost 50lbs with Sparkpeople 5 years ago. I felt fantastic, got a new wardrobe, bags of confidence, a crazy busy social life.
Then I started to chose the easier, more fun option. I stopped going for walks and cooking healthy meals.
I started saying ...
"If you don't like something, change it. If you can't change it, change your attitude."
-Maya Angelou

First goal: Obese no more. 199lbs.

My name is Toni, I'm 32 and 210 lbs. (Up to 220 now Sep 2013)
I lost 50lbs with Sparkpeople 5 years ago. I felt fantastic, got a new wardrobe, bags of confidence, a crazy busy social life.
Then I started to chose the easier, more fun option. I stopped going for walks and cooking healthy meals.
I started saying yes to that party, that restaurant, that piece of cake....everytime.
It is 3 years down the line, and I'm reaping what I sowed.
40lbs is back.
I keep trying to slip back into that spark groove. It should be easy! I know how to do it!
But my attempts don't stick, I just keep yoyoing back to where I started.
I think it is time to face the fact, that the way out, is the path I followed in.
I need make the right choices, even though they are small, and seemingly inconsequential.
I need to make them everyday.

So I am starting over again. Promising myself that I will track and move.
That I will hold myself to account alongside you.
That I won't let my impatience for progress, get me down.
Until I have given the little choices long enough to start adding up.


5 weeks to Christmas!

21/11/2013 SW: 211.6
28/11/2013 GW 208.6
05/12/2013 GW 206
12/12/2013 GW 203.5
19/12/2013 GW 201
26/12/2013 GW 199


SparkFriends

SparkTeams



My Ticker:
current weight: 215.0


Recent Blogs:

Profile


Member Since: 5/20/2012

SparkPoints: 9,516

Fitness Minutes: 4,114

My Goals:
* Be my lightest weight in 2013......204lbs.
Reward: Have my eyelashes dyed.

* Be Overweight. 199lbs.
Reward: Nice bottle of Olive oil.

*See the 180's again.
Reward:Get dolled up, and go dancing.

* Be the Same weight
as when I met himself 184lbs.
Reward: Have himself bring me somewhere nice.

* Half way there! 180lbs.
Reward: Gym classes.

* Be as light as I have ever been. 172lbs
Reward: A trip away somewhere new, by myself.

* Have a normal BMI. 166lbs
Reward: Shopping spree.

* 80% of the work done.
156lbs.
Reward: Have my teeth whitened.

* Be my ideal weight. 140lbs.
Reward: Design and commission a piece of jewelry.








My Program:
Veggie low carb.
20 mins of get off my butt-ery everyday.


Other Information:
Some things I love.....

Tea, Nature, Good Olive oil, Art deco design, Pictures, Family, Outdoors, Growing your own, Day dreaming, Ice cream, Croatia.

Profile Image