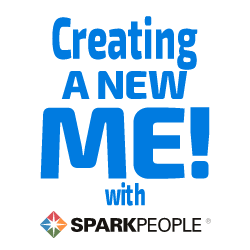 I have 51 pics in my gallery

Awards

IT IS WHAT IT IS and it truly is a LIFETIME journey!
Welcome to my SPARKWORLD!

So glad you stopped by my SPARKPAGE!

8 years with Sparkpeople! Woo Hoo! I am thankful for so much.

All the tools and information Sparkpeople offers is so helpful. I am grateful for all the Sparkpeople friends I have, and all the interesting Sparkers I keep meeting.

I have chapters during this lifetime journey that are extremely healthy and awesome. However, there are also chapters that I go through that gets me ...
Welcome to my SPARKWORLD!

So glad you stopped by my SPARKPAGE!

8 years with Sparkpeople! Woo Hoo! I am thankful for so much.

All the tools and information Sparkpeople offers is so helpful. I am grateful for all the Sparkpeople friends I have, and all the interesting Sparkers I keep meeting.

I have chapters during this lifetime journey that are extremely healthy and awesome. However, there are also chapters that I go through that gets me down and sets me back. When that happens, I remember one of my favorite quotes from BobbyD31 (Thanks Bobby!)
We ALL have setbacks. ACCEPT IT, HANDLE IT and MOVE ON!!

Following Sparkguy Chris 10+ daily exercise challenge, not only keeps me moving on days I don't think I can, but it keeps me motivated.

Just when I thought my SPARKWORLD could not get any better, Sparkguy introduces SPARKCOACH. I joined it the first day, 8/6/2012. SO GLAD I DID!! TOTALLY AWESOME! Makes me accountable in taking steps to reach my healthier lifestyle!

Wishing you fun with your Spark journey! Let me know if you need any encouragement along the way, I will love to cheer you on! Hope you find YOUR never-ending SPARK!!

WE can do this! Never give up!

4-ever Sparked!
Becky
Show Less About IT-IS-WHATITIS

SparkFriends

SparkTeams



My Ticker:
current weight: 202.0

Interact with IT-IS-WHATITIS






Recent Blogs:

Profile


Member Since: 9/9/2007

SparkPoints: 119,265

Fitness Minutes: 50,627

My Goals:
HEALTH GOALS:
IMPROVE CHOLESTEROL READINGS:
Current Status:
CHOLESTEROL: 150
HDL: 53
LDL: 84
TRIGLYCERIDE: 61

GET BMI TO A HEALTHY RANGE OF 22.5
Current Status: 34.3
RANGE: OBESE



My Program:
Never "DIET" again!
Keep focusing on living a healthier lifestyle.
Use SP nutrition and exercise tracker.
Drink lots of water.
Move the body!
Laugh often!
STAY POSITIVE!
STAY FOCUSED!



Personal Information:
Rebecca, prefer for my friends to call me Becky, my closest friends call me Beck. Email address: Sparkbeck1957@att.net From Cleveland, Ohio. I have been here all my life. Dislike the winters, but the spring time is beautiful, favorite time of the year. I am a postal worker, I met my husband there. Been married to Michael for 13 years, he is a good guy, and supportive husband. Stepdaughter Lisa, who gave us our only grandchild, Sam Patrick. He brings this Gramma total joy.

Other Information:
-----------------------------------
My reminder to eat lots of fruits and vegetables:

GENESIS 1:29 And God said, "See, I have given you every herb that yields seed which is on the face of all the earth, and every tree whose fruit yields seed; to you it shall be for food."
--------------------------------



-------------------
4-ever SPARKED!
-------------------

Profile Image