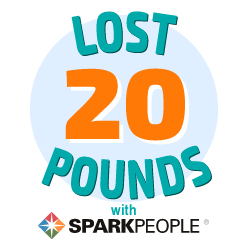 I have 31 pics in my gallery

Awards

GET WITH IT!
As I get older I realize I have a lot more regrets than I should. My biggest one is that I did not stick with my weight loss plan. I want to lose that regret and be proud of myself again. So now I am going to GET WITH IT!


More About Me:
I would like to be more zen-like, but I do so enjoy a bit of sarcasim and a cynical sense of humor.

Borrowed this from another Sparker. What to do when faced with food temptations:

ask yourself: IS IT ...
As I get older I realize I have a lot more regrets than I should. My biggest one is that I did not stick with my weight loss plan. I want to lose that regret and be proud of myself again. So now I am going to GET WITH IT!


More About Me:
I would like to be more zen-like, but I do so enjoy a bit of sarcasim and a cynical sense of humor.

Borrowed this from another Sparker. What to do when faced with food temptations:

ask yourself: IS IT WORTH IT?

* Is it an occasion?
* How often do you eat this food? Can you get it any time?
* Does it look delicious and amazing?
* Do you have the calories to "spend" on it?
* Can you control how much of it you eat?





"Sanity calms, but madness is more interesting. "
-John Russell

"There's a fine line between genius and insanity. I have erased this line. "
Oscar Levant

"A little bad taste is like a nice dash of paprika. "
--Dorothy Parker

I recently became a member ot the American Humanist Association.

"We believe in the fullest realization of the best and noblest that we are capable of as human beings. "
-from The Affirmations of Humanism: A Statement of Principles






SparkFriends

SparkTeams

My Ticker:
Pounds lost: 21.6


Recent Blogs:

Profile


Member Since: 6/2/2007

SparkPoints: 32,087

Fitness Minutes: 7,625

My Goals:
I want to be healthier,
to have more energy,
to lose weight,
to look better,
to feel better, AND
to live a better life.

"We cannot fail to win unless we fail to try."--
Tom Clancy




My Program:
Eat Right and Log My Food every day.
Work out at least 4x per week.
Get at least 8 hours of sleep each night.



Personal Information:
Over 50 married to a great guy for 25 years. No children., but have 2 big dogs, who are wonderful.
Lived all my life in Austin, Texas.

"Always bear in mind that your own resolution to succeed is more important than any one thing. " Abraham Lincoln



Other Information:
"Humanists recognize that it is only when people feel free to think for themselves, using reason as their guide, that they are best capable of developing values that succeed in satisfying human needs and serving human interests. "
- ISAAC ASIMOV - scientist, author, and past president of the American Humanist Association.

"The clash of ideas is the sound of freedom."--
Lady Bird Johnson

"We are indeed much more than what we eat, but what we eat can nevertheless help us to be much more than what we are."
--Adelle Davis

"Great works are performed not by strength but by perseverance." - Samuel Johnson

"Those who can make you believe absurdities can make you commit atrocities. "
--Voltaire

"Live your life in happiness, even though those around you lead lives which are unhealthy, and wish to spread their illness to you. Be Happiness itself."
- Buddha

"At all times I will be the pupil of everyone."
-

Profile Image