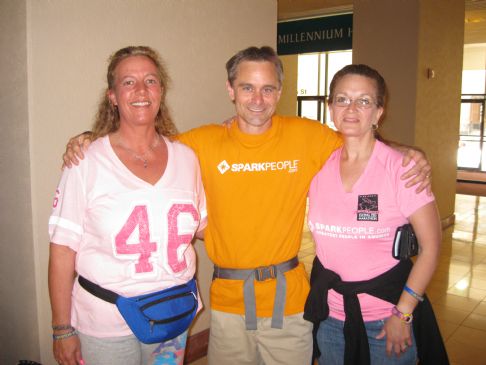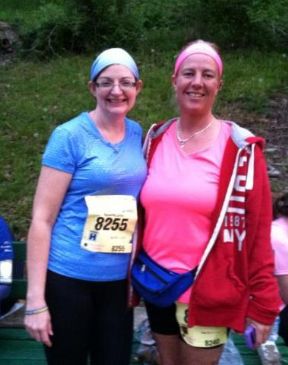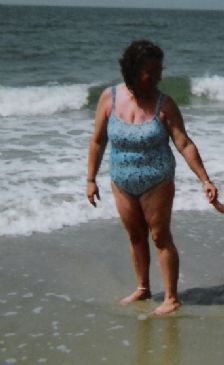 I have 33 pics in my gallery

Awards


Back to Square One.....Dammit!
1/1/14

Well, I guess I need to try this again. I have gained back nearly all the weight I had lost (you can see this in the photos).

I had a total right hip replacement 7/16/12 and have had issues since. I was not cleared to do more than walk to and from the car and go grocery shopping for 6 months, once I was, I tried walking, swimming and elliptical and had almost constant pain in my lower back, right knew, left heel and both ankles. After much prodding with the ...
1/1/14

Well, I guess I need to try this again. I have gained back nearly all the weight I had lost (you can see this in the photos).

I had a total right hip replacement 7/16/12 and have had issues since. I was not cleared to do more than walk to and from the car and go grocery shopping for 6 months, once I was, I tried walking, swimming and elliptical and had almost constant pain in my lower back, right knew, left heel and both ankles. After much prodding with the doc, I got an x-ray and found out my hunch was correct.....he made my right leg 2 cm longer than the left and that was throwing everything off causing all the pain. (Did his dad never teach him "Measure twice, cut once!" ?)

That x-ray wasn't until late April of this year. It took another 8 weeks to get a lift and proper orthotics for my left shoe. That puts me in June and with school, work, kids and the heat, not a lot was accomplished on the exercise front. Fall semester required almost constant time spent just to pass (Someone tell me why I need to know the atomic structure of Boron to work in a recreational facility!)

Then of course there came the holidays and family visits and baking and we are now on Jan. 1st and I am woefully overweight again.......

I know it is going to be tougher this time around as I am a full-time student now but something has to be done! I did register for 2 exercise classes so I know that I will have 2 good days a week........that doesn't help with my new obsession, salted caramel gelato dipped in dark chocolate! I also need to relearn how to jog again (I was told that I will always have the risk of dislocating my hip)......










Nov. 2, 2009

I seem to have hit a plateau again. So frustrating!!! I am getting back to eating really well 5 days of the week, pretty good one day and one day somewhat so-so. I know that I can't stay super good all the time or I will quit completely.

I am going to fit in more exercise this week and then on Monday when I get back into town, set up a more regular routine to follow. I am also going to attemt (yet again) to quit smoking. I really love running and KNOW that if I could quit, my times would improve dramatically as well as my distance.

Those are just a couple of my new goals to start on Mon. Nov. 9. I will be maintaining pretty much what I am doing for now until then. On the upside, I have pretty much all of my Christmas shopping finished so that is one less thing to distract me. LOL









DEC. 4, 2008

JUST A LITTLE UPDATE! I AM FEELING REALLY GOOD. I HAVE CHANGED MY PLAN FOR THE HOLIDAYS TO JUST TRY TO MAINTAIN AND TO TRY OUT SOME NEW DVDS AND STRENGTH ROUTINES. I WANT TO FIND A FEW I LIKE THAT I CAN SWITCH BETWEEN. SINCE I COMPLETED TWO 5KS THIS FALL, I AM NOW TRAINING FOR A 10K SO THAT IS PART OF MY CARDIO CHANGE.


I AM A SINGLE MOM OF TWO TODDLERS. I AM LOOKING TO BE ABLE TO KEEP UP WITH THEM FOR YEARS TO COME. HA HA!!!

THIS QUOTE IS THANKS TO SYL_THETUMBLER:

"TREAT THE EARTH WELL. IT WAS NOT GIVEN TO YOU BY YOUR PARENTS. IT WAS LOANED TO YOU BY YOUR CHILDREN."

-KENYAN PROVERB


SparkFriends



SparkTeams

My Ticker:
Pounds lost: 0.0


Recent Blogs:

Profile


Member Since: 12/26/2007

SparkPoints: 58,559

Fitness Minutes: 60,548

My Goals:
MY MAIN GOAL IS TO BE HAPPY WITH MYSELF. TO ACHIEVE THIS, I NEED TO STICK WITHIN MY CALORIE RANGE, CONTINUE TO EXERCISE AND ENJOY MY KIDS.

Personal Information:
MY NAME IS TRACY. I AM FROM OHIO. I LOVE FOOTBALL, GO STEELERS!!! GO BUCKEYES!!!!!, NASCAR, GO JIMMIE JOHNSON!!!

Profile Image