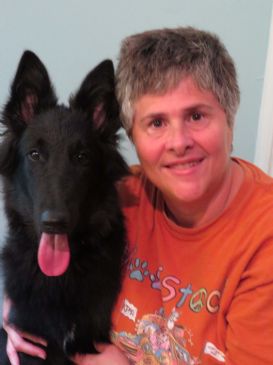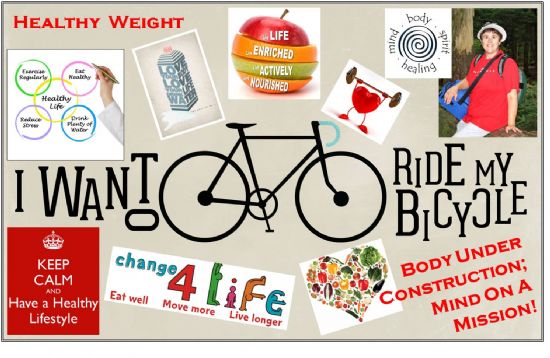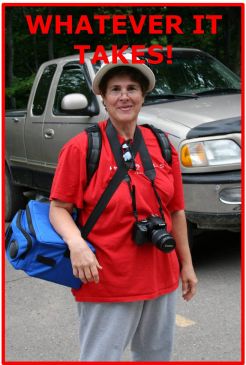 I have 29 pics in my gallery

Awards


It's Never Too Late to Live the Life You Love
I'm back again and determined to finally reach my healthy weight, while developing PERMANENT healthy eating habits and incorporating physical activity into my daily life.

At 54-years-old, I am fast approaching retirement and I want it to be long and healthy. That means I best get to it right now and make it stick this time!

I plan to "live the life I love" starting right now!


June 12, 2012 - Reasons I Want to Lose Weight (not necessarily in order ...
I'm back again and determined to finally reach my healthy weight, while developing PERMANENT healthy eating habits and incorporating physical activity into my daily life.

At 54-years-old, I am fast approaching retirement and I want it to be long and healthy. That means I best get to it right now and make it stick this time!

I plan to "live the life I love" starting right now!


June 12, 2012 - Reasons I Want to Lose Weight (not necessarily in order of importance):

1. I want to fit comfortably in seats at sporting events, concerts, plays, etc.

2. I want to wear fun clothes again instead of the "old lady clothes" I have to wear now.

3. I want to be able to shop in any store I want and not be limited to the ones with Women's or Plus sizes.

4. I want to be able to move easily.

5. I want to get rid of my body's aches and pains.

6. I want my sleep apnea to improve.

7. I want to have more energy.

8. I want to feel strong again.

9. I want to be able to do more physical things again, like hike at Ricketts Glen or take long bike rides.

10. I want to be able to tolerate hot weather better.

11. I want to have a long and healthy retirement.

12. I want to be around as long as possible so that I can be sure my son (who has a disability) is well taken care of.

13. I want to minimize chub rub.

14. I want to stop wearing out the inseams of my pants first.

15. I want to be able to cross my legs comfortably.


7/6/12 Arthur Boorman was a disabled veteran of the Gulf War for 15 years, and was told by his doctors that he would never be able to walk on his own, ever again.

He stumbled upon an article about Diamond Dallas Page doing Yoga and decided to give it a try -- he couldn't do traditional, higher impact exercise, so he tried DDP YOGA and sent an email to Dallas telling him his story.

Dallas was so moved by his story, he began emailing and speaking on the phone with Arthur throughout his journey - he encouraged Arthur to keep going and to believe that anything was possible. Even though doctors told him walking would never happen, Arthur was persistent. He fell many times, but kept going.

Arthur was getting stronger rapidly, and he was losing weight at an incredible rate! Because of DDP's specialized workout, he gained tremendous balance and flexibility -- which gave him hope that maybe someday, he'd be able to walk again.

His story is proof, that we cannot place limits on what we are capable of doing, because we often do not know our own potential. Niether Arthur, nor Dallas knew what he would go on to accomplish, but this video speaks for itself. In less than a year, Arthur completely transformed his life. If only he had known what he was capable of, 15 years earlier.

Do not waste any time thinking you are stuck - you can take control over your life, and change it faster than you might think.

Hopefully this story can inspire you to follow your dreams - whatever they may be.

Anything is Possible!

Please watch this awe-inspiring video about Arthur: http://www.youtube.com/watch?feature=playe
r_embedded&v=qX9FSZJu448


7/22/12 "A good plan for today is better than a great plan for tomorrow. Look backward with satisfaction and look forward with confidence. " (Unknown)

9/4/12 Motivational blog for people who want to run, but it applies to all of us who have ever been embarrassed by or felt limited by the size of our bodies: http://flintland.blogspot.com/2012/05/hey-
fat-girl.html

Highlights for September 2012:
+ Riding my bike the 26+ miles along the Lehigh River
+ Riding my bike along the Schuylkill River Trail, from Philadelphia to Oaks, PA
+ Being able to buy a very pretty outfit for a wedding that was a "plus" size and actually feeling pretty when I wore it.
+ Jogging 5 miles (without stopping) for the first time in my life
+ Making it to the 50 lbs. lost mark
+ Decided to reread The Spark. It's time for me to refresh myself on the concepts and find new ways to apply them.

10/3/2012 The blog below was written by my friend, Mark Bernstein, about supporting people who have developmental disabilities. I include it here because it also applies to our journey to living healthier lives -- together.

Five Smooth Stones

Posted on September 29, 2012 by Mark Bernstein

In our work to provide a higher quality of life for the people we support; in our efforts to advocate for greater inclusion in areas of employment, education, recreational opportunities and community involvement, we battle many giants. They go by the names of ignorance and bigotry and injustice and indifference. Yet our battle is noble and we continue to take up arms, however inadequate they sometimes seem.

I am reminded of the biblical story of David and Goliath. We all remember it from childhood, regardless of our religious upbringing. Goliath was a mighty warrior who stood more than nine feet tall. He was protected from head to toe by a suit of armor made of bronze. His armor alone weighed more than one hundred pounds and he was armed with a sword and a spear.

David, on the other hand, was a young shepherd boy with no armor for protection. His only weapon was a sling and his ammunition was five smooth stones which he picked up from a nearby stream. And yet, David was able to defeat a giant that all of the soldiers of the Israelite army were afraid to face.

These five smooth stones have come to represent the qualities that enable us to battle the giants in our life. So too, they represent the qualities that we need to continue our battle for a better life with people with disabilities.

The first stone represents Courage. To continue advocating for people in the face of resistance and sometimes hostility; to provide unconditional support to people who may try to hurt us or others; to maintain a positive and optimistic outlook in a discipline that often tests our mettle and deflates our spirits.

The second stone represents Confidence. This comes from being supported by colleagues and returning the support, by acquiring new knowledge and learning new skills, by building on our successes and learning from our mistakes.

The third stone represents Preparation. We prepare by learning all we can about the people we support, by sharing ideas, suggestions and insights with our colleagues freely and openly, by understanding and learning from the efforts of those who came before us.

The fourth stone represents Trust. Trusting ourselves, trusting our colleagues, and trusting the people we support, opens doors to opportunity and enables us to take risks in advocating for better lives for people with disabilities. We can always use more trust. As Henry David Thoreau said, "I think we may safely trust a good deal more than we do."

The fifth stone represents Victory. We must take the time to acknowledge and celebrate the small and large victories that we achieve every day of every week of every month of every year.

Five smooth stones. Taken separately, each may not be enough to do the job. But collectively, we can move mountains…and slay giants.

Respectfully,

Mark

http://www.markonecommunications.org/


Highlights for October 2012
* Briefly visiting the "just fat" BMI range. I'll be back there again by the end of this week.
* Running SP's Virtual Trick or Treat Trot 5K and achieving a personal best time of 32 minutes, 52 seconds
* Increasing my average jogging speed to less than 12 minutes per mile.
* Completing my virtual trip to Bar Harbor, ME, almost a full month early.
* Being able to wear a size 14 comfortably and shopping in "regular" clothing stores.
* Spending a long weekend in VT with my best friend.
* Hiking at Bushkill Falls.
* Seeing Janis Ian in concert, along with my best friends, and having my picture taken with her.
* Horseback riding in VT.


January 7, 2013: A shoulder injury and the holidays brought a small, 4 lb., setback. But my shoulder's healing nicely and I'm back on track now. I can even strength train at the gym, albeit with a much reduced weight. Life is good!

October 2, 2013: Oops! I did it again! Went and gained back almost all the weight I lost! Back on track for the last 4 days and looking forward to reaching my ultimate goal weight and STAYING THERE this time!

*** NEW *** Must See Video: Overweight News Anchor Responds to Bully's Email: http://www.upworthy.com/bully-calls-news-a
nchor-fat-news-anchor-destroys-him-on-
live-tv?c=upw1






SparkFriends

SparkTeams



My Ticker:
current weight: 217.6


Recent Blogs:

Profile


Member Since: 5/30/2012

SparkPoints: 31,505

Fitness Minutes: 17,343

My Goals:
1. Make my healthy changes PERMANENT.

2. Have a healthy BMI (18.5–24.9).
Current BMI: 28.6

3. Weigh 135 lbs.

4. Lose the first 10% of my body weight: 23 lbs. - DONE

5. Run in the 2013 Garden of Reflection 5K and better my time of 2009.

6. Retire as soon as possible, but no later than age 62. *** New Target Date: September 30, 2013 ***

7. Add some strength training to my workouts and learn to like it. DONE

Short-term Goals:

11/4/12
1. Lose 8 lbs for the month

2. Strength training circuits at the gym, 3 days a week.

3. Cardio, either outside or at the gym, 6 days a week, for 60 minutes

4. Continue jogging 1 or 2 days a week, whether outside or on the treadmill, with the intention of maintaining my current level of fitness.





My Program:
Eat within my calorie range every day.

Drink AT LEAST 64 ounces of water a day.

Cardio for 60 minutes, 6 days a week.

Strength Training 3 days a week.

Spark daily.

Support my friends on SparkPeople who are trying to be healthier, especially my SparkSisters, Dottie and Melissa.

Accept support from my friends and learn from their wisdom.

Personal Information:
I am a married, mother of a grown son who has Autism. I work in the field of Developmental Disabilities and have been employed with the same agency for the past 20 years. I love music, reading, and dogs. I'm also an avowed "lefty" and politics junkie.

Other Information:
I've been here before and expierienced great success. Unfortunately, I couldn't make it stick. I'm determined that this time I will succeed!

Favorite Quote for Weight Loss: "The path to success is to take massive, determined action." (Anthony Robbins)

Profile Image