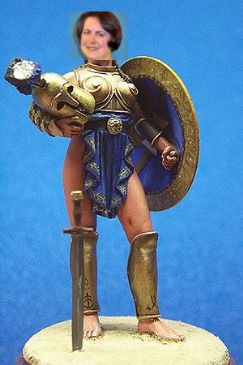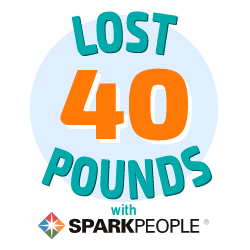 I have 17 pics in my gallery

Awards

Kate's Venturing Into Healthy Weight Territory!
I've reached the age where the extra weight is indeed dangerous, and it's a long process to make my goal of 140 from 177. ** Updated 12.12.09: I weighed in for the Winter 5% Challenge at 139.3 (24.7 BMI) today. I have reset my goal to 135 because I can see work left to do, and I am curious about what weight will feel like my perfect weight.

I picture myself as a normal weight person who exercises for fun and function, and who eats the right amount of the right food to nourish my ...
I've reached the age where the extra weight is indeed dangerous, and it's a long process to make my goal of 140 from 177. ** Updated 12.12.09: I weighed in for the Winter 5% Challenge at 139.3 (24.7 BMI) today. I have reset my goal to 135 because I can see work left to do, and I am curious about what weight will feel like my perfect weight.

I picture myself as a normal weight person who exercises for fun and function, and who eats the right amount of the right food to nourish my body, showing myself the love and respect I deserve.

Is what I am choosing for myself, in my best interest? Why shouldn't I give myself the same superior service I readily give in my work?

For 2010, my "If Only" goal is to run a 5K without my HR exceeding my max heart rate. As of 12.12.09, when I do a walk/run of 4.1-5.5 mph, my HR exceeds my maximum HR during the last running minutes.

For 2010, my "Take That" goal is to develop "Michelle Obama arms and shoulders" before my Hawaii vacation in March. I will face my fear of sleeveless shirts head-on!

I'm getting giddy. Now I envision a big reward: getting glamour shots and family portraits ... to immortalize this achievement before my hair turns really gray. The family portrait means DH and I will also get a Portuguese Water Dog puppy after our trip to Hawaii in March (or else the family portrait would not be representative for us). (We lost our "Nancy-Dog" 2 years ago, but we are now ready for the pure love and hilarity of a PWD again.)

(The Hawaii trip is a reward for both of us making it through some rough years. We decided we needed to take this dream trip while we were still able to be active -- you can't put off everything forever!)
SparkFriends

SparkTeams



My Ticker:
current weight: 156.3


Recent Blogs:

Profile


Member Since: 7/1/2009

SparkPoints: 25,712

Fitness Minutes: 28,139

My Goals:
To maintain a weight of 140 or below.

To attain healthy cholesterol levels.

To eat 25 grams or more of fiber a day.

My Program:
I go to Planet Fitness each morning for the treadmill and upper body machines. I'm currently at 60 minutes on the treadmill, now beginning to build some upper body strength.

My Health Coach sent me to this web site for the demo on wall crunches..

I am active in Weight Watchers.

I praise myself every time I change to a new BMI, every 5 lbs lost or 5% lost from my original WW start weight of 190.8 on 3.03.09 or my SP SW or challenge SW, and when I have to switch wardrobe. There's usually some milestone to celebrate!

In September, when I committed to ramping up the exercise, I bought a Wii and have added various fitness software.

Personal Information:
I live in Joppa, Maryland. Mariner Point Park is a hop and a skip away for a pleasant walk.



Other Information:
"Life is full of adventures. We just don't get to pick all of them."

"Life consists not in holding good cards but in playing those you hold well."

2010 "If Only" goal: Run a 5K without exceeding Maximum Heart Rate

2010 "Take That" goal: Develop "Michelle Obama Arms and Shoulders" before Hawaiian vacation

Winter 2009 5% Challenge 11.28.09-02.27.10
SW: 144.0
5% Loss: 136.8

Fall 2009 5% Challenge
8.28.09 - 11.28.09
SW: 169.5
5% Loss: 161.0
(5% met 10.02.09)
Ending Weight: 144.0 (14.9% Loss)

BLC11 Challenge
9.09.09-12.02.09
SW: 166.5
Challenge GW: 146.5
Ending Weight: 142.2

Profile Image