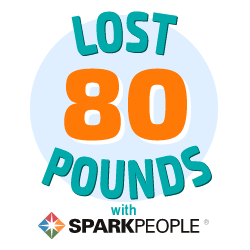 I have 50 pics in my gallery

Awards

Journey away from 333lbs ~♫~♫~
First of all, WELCOME to my Sparkpage. You will find that I am a very decent person inside and that I am determined, respectful, learning along with you, happy, and appreciative. I have conquered MANY battles in life that I am proud to say I am still here, and here I am. This is my story:

~*~ ~*~ ~*~ ~*~ ~*~ ~*~ ~*~ ~*~ ~*~ ~*~ ~*~
I have always been a heavy girl. Always been overweight since I believe the age of 10, I never knew how to eat and balance nutrition, because ...
First of all, WELCOME to my Sparkpage. You will find that I am a very decent person inside and that I am determined, respectful, learning along with you, happy, and appreciative. I have conquered MANY battles in life that I am proud to say I am still here, and here I am. This is my story:

~*~ ~*~ ~*~ ~*~ ~*~ ~*~ ~*~ ~*~ ~*~ ~*~ ~*~
I have always been a heavy girl. Always been overweight since I believe the age of 10, I never knew how to eat and balance nutrition, because
I was never taught. I was so scared growing up to ask people for help because not only was I self conscious as everyone made fun of me daily ;(, but because everyone close to me were also yo-yo dieters, and I couldn't rely on that support... until now.

I realize that I finally changed for myself and if anyone wants to tag along with me, then thats great, i just can't be a follower anymore ;).

I am a mother of 2, with a goal of finally seeing myself live healthy. I am 5'7", my beginning start weight was 333, which WAS my highest weight.

I have 2 small kids that do make things a bit chaotic, and a sugar addicted boyfriend... whom I have been with 9 years... (2004)

I am a artistic girl, I love art in every way. I love photography, drawing, poetry, and I want to eventually learn piano and guitar.

I am very intellectual.

My overall goal is to get under 200lbs.


I would love to stay connected to women in my shoes who know what being large and unhealthy to finally making a change to an unknown world that we didnt know how to grasp before., and maybe even with kids, ha.

I am tired of being the largest female in my family. I have all the hurtful remarks growing up to fuel me in my workouts and daily accomplishments.

Never in my life did I realize that I could Lose weight without some miracle... and for the very 1st time, I am, and I can't explain the feeling. :)

Im READY to keep going. Lets empower eachother.

+
+
+
+
+
+_______________________________________
__
This is a link for me to find my Sparkfriends who have added me: (http://www.sparkpeople.com/friend_lookup
.asp )
SparkFriends

SparkTeams

My Ticker:
Pounds lost: 79.5


Recent Blogs:

Profile


Member Since: 1/28/2012

SparkPoints: 14,306

Fitness Minutes: 12,937

My Goals:
[X] 333- starting weight
[X]330
[X]325
[X]320
[X]315
[X]310
[x]305
[X]get under 300lbs! !!!! !
[X]295
[X] 290
[X] 285
[X] 280
[X]275
[X] reach 270
[X]265
[X] reach 260
[X]255
[X] under 250 !!!
[ ]245
[ ]240
[ ]235
[ ] Lost 100lbs!! (233)
[ ] 230
[ ] 225
[ ] 220
[ ] 210
[ ] 205
[ ] UNDER 200- ***ONEDERLAND!!! ***
[ ] 195
[ ] 190
[ ] 185
[ ] Lost 150lbs (183)
[ ] 180
[ ] 175
Continue to live a healthy life (and REMEMBER how depressing my life was in the beginning!!

My Program:
First, its all about staying motivated, focused and goal oriented. Pulling yourself up to continue the fight to be healthy and live longer.

I try meeting as many of SparkPeoples nutrition goals as I can. Drinking water rather than sugar drinks. I like to make sure i get exercize in even walking daily. I believe in this program, its the first time in my life I have ever stuck with dieting, became so educated, and am losing weight. I do it for myself as well as my family, but I've have to make ME a priority. I no longer rely on others to feel like exercizing!

Personal Information:
I am from Northeast Ohio areas. I love trying to figure life out, I like being a humanitarian- (dont forget to recycle and do our part on earth). I am a kind hearted girl inside, but I also had a hard past -so I can have a mean streak when needed. I protect the weak, and stand up for whats right. I fought depression for years, I have also fought drug dependency and have been "hard" drug free for 9 years =) and I have NO SHAME THERE, I am proud of what I learned! I am no better than anyone of people, we can all get along if we wanted, so please spread the love because it goes farther than hate.

Other Information:
You cannot give people what they are incapable of receiving. ~Agatha Christie


Profile Image