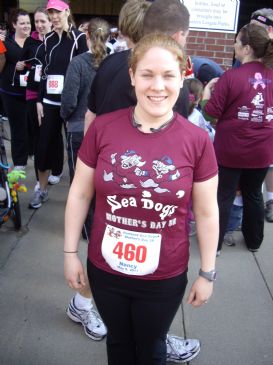 I have 2 pics in my gallery

Awards

LilMagil4
Mommy of two, trying to get healthier, feel sexier, and just improve my outlook on life.

2012 was full of ups and downs. Continued to Run, but lost my "spark" towards the end of the year and I have some catching up to do! My family continues to be very supportive and continues to give me the time and motivation I need to meet my goals. If you need motivation, I'm here for you! Message me, I'd love to share stories!

Goals for 2013:

lose more weight ...
Mommy of two, trying to get healthier, feel sexier, and just improve my outlook on life.

2012 was full of ups and downs. Continued to Run, but lost my "spark" towards the end of the year and I have some catching up to do! My family continues to be very supportive and continues to give me the time and motivation I need to meet my goals. If you need motivation, I'm here for you! Message me, I'd love to share stories!

Goals for 2013:

lose more weight through mindfully eating healthy foods that contribute to my overall health (not junk or low fat/cal with chemicals) and exercising regularly (including weight training, not just running)

Continue with the 5K's and start doing "obstacle" races!


Upcoming Races:

High on Life 5K Pittsfield, ME April 20, 2013

Into the Mud Challenge, Gorham, ME April 28, 2013

Sea Dog Mothers Day 5K 2013, Portland, ME May 12, 2013

Urban Challenge, Portland, ME June 29, 2013

Walter Hunt 3K Bangor, ME July 4, 2013

Carmel Days 2nd Annual 5K (Race Director) Aug 3, 2013

Color Me Rad 5K Brunswick, ME Aug 24, 2013


2013 Races & Results:

High on Life 5K Pittsfield, ME April 20, 2013 (29:48 for 3.28 miles; 9:04 pace per my Garmin)

Into the Mud Challenge, Gorham, ME April 28, 2013 (not timed, Got Best Costume)

Sea Dog Mothers Day 5K 2013, Portland, ME May 12, 2013 (27:16; 8:47 min/mile)

Urban Challenge, Portland, ME June 29, 2013 (35:47; 11:30 min/mile pace - Took 1st Place Women's Group!!! Woot Woot!!!)

Walter Hunt 3K Bangor, ME July 4, 2013 (Shorter this year due to a police stand off and re-routed. Ran with my 6 year old son, 9:59 min/mile pace)

Piscatiquis River Festival, July 27, 2013 (27:21; 8:44 pace - Took 2nd place female 30-39 division)
Carmel Days 2nd Annual 5K (Race Director) Aug 3, 2013

Color Me Rad 5K Brunswick, ME Aug 24, 2013 (fun time with girlfriends! not timed)
SparkFriends

SparkTeams



My Ticker:
Pounds lost: 19.0


Recent Blogs:

Profile


Member Since: 8/27/2010

SparkPoints: 5,047

Fitness Minutes: 11,376

My Goals:
Run same courses as last year, BEAT MY TIMES!!!

My Program:
Trying to be more mindful of my food intake (the hardest thing for me, I LOVE food)


Running
Cross Fit Classes on Tuesdays

Profile Image