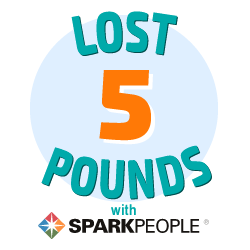 I have 31 pics in my gallery

Awards

Life Change
Hi Everyone!
I found SP quite by chance at the end of summer 2009.
I did not want to go to the seaside anymore - I felt I looked awful in a swimsuit.
Actually, my weight was a problem and I felt really akward.
I always liked sweet food and chocolate too much and my weight has always gone up and down.
SP has offered me the right motivation for a change.
I've always been an emotional eater, and now I've realized it and made a healthier life one of my ...
Hi Everyone!
I found SP quite by chance at the end of summer 2009.
I did not want to go to the seaside anymore - I felt I looked awful in a swimsuit.
Actually, my weight was a problem and I felt really akward.
I always liked sweet food and chocolate too much and my weight has always gone up and down.
SP has offered me the right motivation for a change.
I've always been an emotional eater, and now I've realized it and made a healthier life one of my priorities.
I'm back to dance classes now , to my fav ski slopes , walking & running and I've started eating healthier food.
I hope to achieve all of my goals and I'm confident I can make it.....with a little help from my SP friends.

When we lose one blessing, another is often, most unexpectedly, given in its place.�C.S. Lewis

Beautiful Quotes:
All God's angels come to us disguised. ~James Russell Lowell

Only by acceptance can we alter our Past. ~TS Eliot

-BLONDIE 510:
"Losing weight won't change who you are as a person, but it can change how you start viewing yourself and will help you to see all the great things you can be and can accomplish. Start believing in yourself now, start loving yourself now because you ARE worth something right now exactly as you are!"

"Our lives can be powerfully shaped by what we long to become. I believe the dream of what might be is more important than the record of what has been. We should, however, be serious about that vision."
-Greg Anderson

What are you afraid of? This journey is more than about losing weight, it's about becoming the you you've always been but have been hiding it. Why? What are you afraid of? Find it, deal with it, move on.
-Pink Coconut
There is a vitality, a life force, an energy, a quickening that is translated through you into action, and because there is only one of you in all of time, this expression is unique. And if you block it, it will never exist through any other medium and it will be lost. The world will not have it. It is not your business to determine how good it is nor how valuable nor how it compares with other expressions. It is your business to keep it yours clearly and directly, to keep the channel open. You do not even have to believe in yourself or your work. You have to keep yourself open and aware to the urges that motivate you. Keep the channel open. ... No artist is pleased. [There is] no satisfaction whatever at any time. There is only a queer divine dissatisfaction, a blessed unrest that keeps us marching and makes us more alive than the others."
from The Life and Work of Martha Graham[4]

SparkFriends

SparkTeams



My Ticker:
current weight: -8.0 under


Recent Blogs:

Profile


Member Since: 8/7/2009

SparkPoints: 18,187

Fitness Minutes: 9,141

My Goals:
Be healthier and friendlier to people, never let rejections stop me.
Be confident with my body, soul & whatever.
Be happy with my curves and with my bone structure, they're there for a reason.
Be at peace with my clothes.

My Program:
I'm practicing twice a week in the gym and eating more carefully. No junk food, no alcohol and definitely no sweets.
Now I'm wearing a size 8 -10 but I am aiming at a
6-4 , since it's the size of most of my fav clothes.

Personal Information:
I'm from Italy, Europe.
That's where I live and work, around 12,000 miles far from most of you.
I love skiing, running, dancing ,trekking on the Alps and making friends.
I am a shopaholic and I normally shop until I drop.
My dream is to make a job out of my passions.

Other Information:
Phillipians 4:13
"I can do all things through Christ who strengthens me. "

"If you knew how much I love you, you'd cry for joy" The Virgin Mary, Medjugorie.




Profile Image