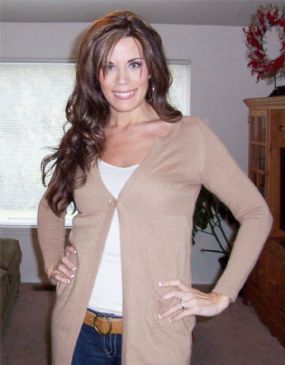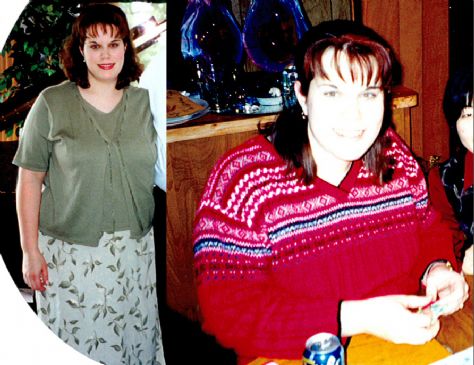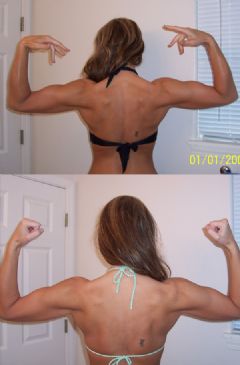 I have 12 pics in my gallery

Awards


A year from now, don't wish you had started today.
Hi there, I'm Amee and I'm 5'10" tall. My heaviest weight was 255 pounds back in 2001. I had always been a little overweight in my late teen years....5-10 pounds maybe? Getting pregnant and viewing those pregnancies as an "all you can eat buffet" got me to that horrifying 255lb marker. In January of 2001 I joined Weight Watchers and lost 75lbs in about 6 months. I felt really great and just kind of coasted until 2004.

http://IRunAndDoStuff.blogspot.com/

...
Hi there, I'm Amee and I'm 5'10" tall. My heaviest weight was 255 pounds back in 2001. I had always been a little overweight in my late teen years....5-10 pounds maybe? Getting pregnant and viewing those pregnancies as an "all you can eat buffet" got me to that horrifying 255lb marker. In January of 2001 I joined Weight Watchers and lost 75lbs in about 6 months. I felt really great and just kind of coasted until 2004.

http://IRunAndDoStuff.blogspot.com/

http://www.facebook.com/IRunAndDoStuff

Twitter: @irunanddostuff

SETBACKS~
After a series of events...moving twice, getting divorced, adjusting to single life/parenting etc...I regained 20 lbs from feeding my emotions. These changes also pretty much forced me into therapy. Having dealt with many issues from my destroyed marriage and my scarred childhood, I feel very confident that I will never regain that weight.

In January of 2006 I saw that 2 in front of my weight...never thought I'd let myself get back there! I started watching what I ate but didn't have any goals set. In July of 2006, I started regaining some focus, better nutrition and occasionally working out. I quickly got down to about 183 and felt pretty comfy there for about a year - still wasn't happy with my body but wasn't actively pursuing a healthy lifestyle.

PYROMANIA ~
One more life altering event in the form of career change/move and a fire was lit under me. I was tired of hearing myself say "Someday - someday I'll finish losing the weight. Someday I'll really get in shape. Someday I'll be that girl that is healthy with great looking muscles and people look at her and go WOW!" I got so sick of hearing myself say that, so I turned it into "Why not me? Why not NOW?"

SUCCESS~
I reached my goal of 100 pounds weight loss in the Spring of 2008. I've been maintaining that weight and fluctuating up and down ever since. My body is at a healthy weight but I'd like to turn it into an even cleaner machine and achieve even more by pushing my body further.

NEW BEGINNING~
If you're still reading this far, I have a new beginning to my story. After a marriage I wouldn't wish on anybody, God blessed me with the man of my dreams. Actually better than I could have ever dreamed.

BUMPS IN THE ROAD~
Life happens when you are trying to go about making your own plans sometimes. lol! I lost a job, recovered from an injury, made a BIG move to a new town, blended our families, found a new job and in the process, gained 25 pounds and lost almost all of my running endurance. I'm now making a comeback and working on finding a balance with all of the newness in my life.

~*~*~*~*~*~*~*~*~*~*~*~*~*~*~*~*~*~*~*~*
MY BEST TIPS & ADVICE
1. Utilize Spark People to the fullest. Follow the plan, read the articles, get involved on Spark Teams.
2. Track your food intake. It gets easier, I promise! Use the food tracker and make it your best friend.
3. MOVE YOUR BUTT! Exercise won't kill you and you WILL become that person that loves to exercise.
4. Get mental help! I don't think I'd be where I'm at today if I hadn't done major inside work. If you've got over 50 pounds to lose, there's something more going on inside than "Whoops...I lost track and that 10 turned into 25."
5. Goal setting. Do it, read the articles here and do it. Set up rewards...small, medium, and long term goals.
~*~*~*~*~*~*~*~*~*~*~*~*~*~*~*~*~*~*~*~*

MY VIEW ON EXERCISE
I'm a Jillian Michael's fiend. I listen to her free podcasts (KFI 640am Sunday - google it!) Her "Making the Cut" book changed my life and approach to exercise. With that said:
1. You can not spot reduce. Strength training combined with cardio, called circuit training, is the fastest way to melt fat off your body. Lean muscle burns calories faster and speeds up your metabolism.
2. Try running. It's the best form of cardio out there if you don't have injuries. I used to say, "I can't run, it hurts too much." I used the Couch to 5k training program and now I just laugh while I run.
3. Intensity! Work out harder and smarter for a shorter amount of time. Get your hands off the handrails and save the gossip magazines for a treat when you are done. If you are doing it right, you won't be able to see the pages due to the sweat dripping down your face. And for goodness sake, ditch the cell phone while you're on the machine!
4. You CAN work out with small kids around, with no gym membership etc etc. How bad do you want it? The only time I can insure that my workout gets in is in the early morning before everyone is awake. I go to bed early. I love my DVR! Missing a little TV is worth fitting my butt into my skinny jeans.
~*~*~*~*~*~*~*~*~*~*~*~*~*~*~*~*~*~*~*~*

SparkFriends

SparkTeams



My Ticker:
current weight: 182.0


Recent Blogs:

Profile


Member Since: 12/11/2007

SparkPoints: 30,883

Fitness Minutes: 35,767

Personal Information:
http://www.facebook.com/IRunAndDoStuff?re
f=hl#!/IRunAndDoStuff

http://ameesandhu.blogspot.com/

Twitter: @amee_sandhu

Other Information:
I really love all of the comments that I receive and I love to visit other sparkers pages and blogs to leave them support and encouragement. Sometimes I can't do this in a timely manner but be assured that I will respond and am thankful for your kindness. =o)

Profile Image