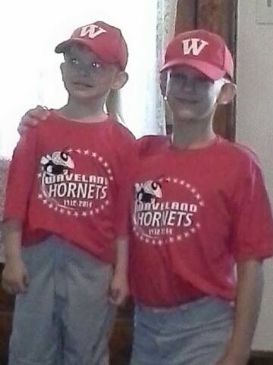 I have 27 pics in my gallery

Awards

Im SAVING my life!!!! one step at a time!!!!
i am here to lose this weight once and for all. i want to be kept accountable. i believe that with your help i can do this.

This is a very slow process, but at least I'm making progress. We all at one point or another take two steps forward and a step backwards and repeat. But if we keep pushing we will make it to the end.

I have been married for almost 15 yrs.
I have 4 beautiful kids.
I work full time

Corinthians 5:9 I can do all things ...
i am here to lose this weight once and for all. i want to be kept accountable. i believe that with your help i can do this.

This is a very slow process, but at least I'm making progress. We all at one point or another take two steps forward and a step backwards and repeat. But if we keep pushing we will make it to the end.

I have been married for almost 15 yrs.
I have 4 beautiful kids.
I work full time

Corinthians 5:9 I can do all things through Christ who gives me strength

This journey has been a true struggle. I try to stay as positive as I can. But I'm not going to hide the struggle. Maybe if someone is struggling, I help. I can truly help someone in their journey too.

http://www.foodaddictsanonymous.org/food
plan.htm
SparkFriends

SparkTeams

My Ticker:
September SparkPoints: 700


Recent Blogs:

Profile


Member Since: 4/16/2014

SparkPoints: 10,657

Fitness Minutes: 2,637

My Goals:
To get healthy for my kids.

To be happy with myself.

To be able to look in the mirror with out be disgusted with what I see.

To look sexy for my husband.

Not have to keep the lights off when my husband is in the room.

Next summer I want to wear a bathing suit and not be self conscious about it.

Go longer on my stationary bike.

My Program:
The plan I am following is the food addicts anonymous.

Here it is as follows...
Breakfast-1 protein, 1 dairy, 1 grain, 1 fruit.

Lunch- 1 protein, 1 cooked veggie, 1 raw veggie

Supper- 1 protein, 1 cooked veggie, 1 raw veggie, 1 grain

Breakfast I would split the 4 oz of protein to 2 oz bacon and 2 oz egg, 1 cup cooked oatmeal, 40g raisins, 8oz skim milk.

Sometimes with lunch I would with either have two cooked, or one raw and one cooked or even add a serving of fruit.

Supper the same thing.

I still keep it fun. And add variety.

I DON'T drink ANY soda. All water.

I DON'T add SALT to ANYTHING.

Cutting carbs and sugar, staying low on sodium, no rice or pasta. 5 small meals throughout the day.

I make sure I eat breakfast every morning. It's the most important meal of the day!

WATP trying to do 3 days per week.

Personal Information:
I was born in Indiana. Raised in Florida. I didn't know what snow was til I was 11. I bet that first winter my brother and I were here, we played for several hours in the snow.

My family is everything to me! I love to spend time with them. My mom is very important to me. We are really close.

My husband and kids mean the world to me. I do this for them. I want to live for a very long time.

Other Information:
We can not achieve our goals if we don't work for them!

Slow and steady wins the race!

A positive attitude gets you to your goal, a negative attitude brings failure!

Profile Image