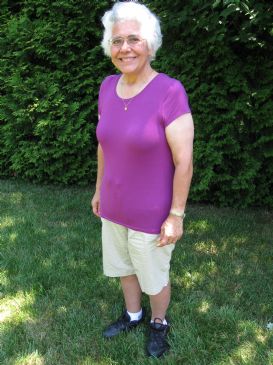 I have 17 pics in my gallery

Awards


Making a new start! Again!!!
Today is Feb 26, 2014 and I am back to regular exercise. I am consistently getting over 10,000 steps each day. I still need to work on food intake. Tonight I switched back to the original not linked food and exercise trackers. The linked system does not work for me.

Today is Jan 3 2014 and I am starting over again! I have a lot of ground to make up to get back to where I was a year ago but I know I can do it. So on with the show!

Today August 1, 2013 will be a ...
Today is Feb 26, 2014 and I am back to regular exercise. I am consistently getting over 10,000 steps each day. I still need to work on food intake. Tonight I switched back to the original not linked food and exercise trackers. The linked system does not work for me.

Today is Jan 3 2014 and I am starting over again! I have a lot of ground to make up to get back to where I was a year ago but I know I can do it. So on with the show!

Today August 1, 2013 will be a new start for my weight loss journey. I have had a rocky 2013 so far. My exercise program has been most notably not existed. If I could find an excuse I found it. On top of that I ended having my cataracts removed and knee surgery to repair a torn meniscus. Over the last few months I regained 30 pounds. As I edged closer and closer to that all important 200, I could not find the motivation to start being good to myself again. The time is now! I will do it. I will do a minimum of 10 minutes of exercise every day. I will watch my calorie intake and stop over eating. I did it once and I will do it again! I am setting a goal to lose those 30 pounds by December 31, 2013.

I am back after almost 3 months of non-dedication to my program. I have lost ground and will have to work on losing 18 pounds to reach where I was last fall. This is complicated by being in the middle of having my cataracts fixed. I have to be careful of over strenuous exercise. I am responsible for my decisions in the last few months and did not make wise ones. On the positive side I still fit in my new clothes and spring is a wonderful season for getting more outdoor exercise. I have set a goal of reaching 150 pounds by December 31st. I believe I can do it. So today is the 1st day of the rest of my life!

I am on the last leg of my journey. I have lost 105 pounds so far. My goal weight is 160 which I hope to reach by the end of the Fall challenge. That means losing a little less than 5% of my weight. Weight loss has really slowed down this summer. I have lost only 4 pounds since July 19th. Every pound I lose now is hard fought but I am going to strive for 1 pound a week during the fall challenge. I currently weigh less than I have ever weighed since I was in high school over 40 years ago. Wish me luck!
September 18, 2012

I lost 100 pounds as of July 19, 2012!!! WooHoo!

I have joined in the 5% summer challenge for me that is 8.8 pounds to lose in 8 weeks. That is just slightly more than my average 1 pound per week weight loss. It will put me ahead of my goal to reach 155 pounds by January 1. My exercise program will remain what it has been. I go to the gym and work out on 17 weight machines generally 3 times a week. On gym days I have been biking for 30 minutes and spending 15 minutes on the elliptical. I walk (and when my currently sore knee heals) walk/jog 5K 3 times a week. I utilize my own recipes but follow SP dietary standards with a food range of 1420-1780 daily calories. I subscribe to the philosophy that no food is forbidden and no food is bad. Some are more nutritionally dense and some are more calorie dense. The goal is to have most of the calories come from the nutritionally dense foods. Less processing means better food. I am training for a 5K in July. June 15, 2012

Today is my 11 month anniversary. I have been at my original goal weight for two weeks. Several months ago I changed my final goal to 155 pounds. I have 24 pounds to go. This last 24 pounds will be in uncharted territory. The last time I weighed what I weigh now I was in my 20's. The last time I weighed less than 170 I was in grade school. I feel I can do it. Wish me luck! May 28, 2012

10 months and I AM OVERWEIGHT!!!!! First time in nearly 3 decades. I have not made my May 1 goal. I am on the cusp of having lost 90 pounds. I feel pretty good and have a lot more energy than I used to. I signed up for another 5K race in July. Will start a training program for that in a week or 2 since I haven't walked as cardio for a while. April 29, 2012

9 months and I made it through a big holiday with no weight gain! WooHoo! I may not make my goal weight of 180 by May 1st. But I anticipate reaching an overweight BMI. After nearly 30 years of being obese that is an accomplishment. I have lost 85 pounds so far and I feel great! I participated in a 5K race and finished in less than 45 minutes. Outstanding for me. April 11, 2012

8 months and the weight is moving. I am losing about a lb a week which is the healthy, sustainable way to do it. I am approaching 80 lbs loss from my high weight. My energy level is going up, but that may be due to spring. I love spring. My routine of weekly goal setting and end of week retrospective seems to be working really well. 3/6/2012

7 months and I am back to what I weighed on December 1, 2011. I have my eating under control and am back to exercising regularly. I have a renewed motivation to succeed. Not only can I do it but I will do it! 1/31/2012

6 months and I gained 4 lbs over Christmas. I am still down a total of 70 pounds from my high. I plan to lose 20 pounds in the next 4 months. I need to get back into an exercise routine. I only exercised 5 times in December. Will do better in January. 1/1/2012

4 months and 31 pounds gone. I am down 68 pounds from my high. My goal for November is to lose 5 more pounds. That puts me in one-derland. Haven't seen that in nearly 30 years. I am confident that I can do this! 10/31/2011

3 months and 25 pounds gone. WooHoo! Thanks SP and SP friends! 9/30/2011

Nearly 2 months into the SP program and my weight loss has resumed. Feeling really happy with my progress. 8/11/2011

I have lost 40 lbs so far but have reached a plateau. I have only lost 7 lbs this calendar year. I have been walking most days on my treadmill and I do strength training twice a week. I finally joined SP this week. 6/28/2011





Current Status:


SparkFriends

SparkTeams



My Ticker:
current weight: 200.0


Recent Blogs:

Profile


Member Since: 6/28/2011

SparkPoints: 86,865

Fitness Minutes: 61,389

My Goals:
My 2014 goal is to become as fit as I was at the end of 2012.

My Program:
Slowly build up to doing cardio 6 times a week and ST 3 times a week


Personal Information:
My 2nd journey
Jan 13, 2014 - 208 lbs
Mar 1, 2014 - 205 lbs
April 1, 2014 -200 lbs

My first journey
Path to a healthy BMI
June 26, 2011 - 235 lbs
Sept. 30, 2011 - 210 lbs
Oct. 28, 2011 -204 lbs
Nov. 29, 2011 -200 lbs
Dec 29, 2011 -202 lbs
Jan 31,2012 - 200 lbs
Feb 29,2012 -195 lbs
March 30, 2012 -187 lbs
April 20,2012 -185 lbs
I am officially overweight! Woohoo!
April 27,2012 -184 lbs
May 25, 2012 -179
June 28, 2012 -174
July 28, 2012 -171
Aug 31. 2012 -169
Sept 29, 2012 -167
Oct. 31, 2012 -167

July 2013
Fell off the wagon so I am back to 195. So I get to start over.

Other Information:
Today is the first day of the rest of my life!

Carpe Diem! Seize the Day!

"Arriving at one goal is the starting point to another."John Dewey

Profile Image