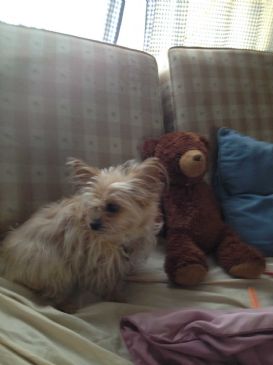 I have 20 pics in my gallery

Awards

Looking to God for strengh.
I'm a Colorado native born and raised in Leadville. Lived in Craig for 5 years then moved to and fell in love with Grand Junction. I have lived here since 1986 and have been active in the Early Childhood field. I own and run a home preschool and childcare and also teach continuing education to other teachers.
I'm proud single mother of 3 + a daughter from ex's first marriage, 3 great in-law kids and 7 grand kids They are the joy of my life!!! The picture from Tucson shows part of my ...
I'm a Colorado native born and raised in Leadville. Lived in Craig for 5 years then moved to and fell in love with Grand Junction. I have lived here since 1986 and have been active in the Early Childhood field. I own and run a home preschool and childcare and also teach continuing education to other teachers.
I'm proud single mother of 3 + a daughter from ex's first marriage, 3 great in-law kids and 7 grand kids They are the joy of my life!!! The picture from Tucson shows part of my beautiful family taken when we went for son Gordon's graduation with a doctorate in science.
God and Family are my very important to me.
There is several family members with serious illnesses that are related to weight issues. I will not follow in their foot steps,but if I don't chance things now it will be me there too.
Jan 1, 2014 weight 160.5
On Jan 27th 2014 I weighted 155.5 lbs down 27.9 lbs from Jan 1, 2013.
Jan 1, 2015 weight 171.


"Values are like fingerprints. Nobody's are the same, but you leave 'em all over everything you do"
Fall seven times, stand up eight. Japanese proverb
SparkFriends

SparkTeams



My Ticker:
current weight: 176.5


Recent Blogs:

Profile


Member Since: 1/8/2007

SparkPoints: 29,156

Fitness Minutes: 29,044

My Goals:
My first and main goal is to be healthy and enjoy my grand kids. My second goal is to be in the range of 123 to 135 lbs this year!!!

My Program:
I will eat five to six small meals a day and make exercise a way of life. I want to do a 5K walk/ run in 2015.

Personal Information:
I'm Lois and live in Grand Junction Co. I love to garden, do crafts and be around young people.

When I slip I will think about the following Japanese Proverb.

Fall seven times, stand up eight.
Japanese proverb

Other Information:
How much do I need to eat and lose weight!!!!!!!!!!!
1. First of all, make sure that you know how tall you are. I always thought I was around 5 foot tall so I was planning according to that height group. Buy yourself a tape measure from a store (most fabric stores will have them for a few bucks!). Measure yourself to start it all off...

2. Learn your BMI. Go here to check out yours for free! www.bmi-calculator.net/ This will tell you the level you are at currently. Basically tells you if you are obese or at an okay weight.

3. If you need to lose or gain weight you should check out your Basal Metabolic Rate (BMR). www.bmi-calculator.net/b
mr-calculator/ Basically this tells you what you will lose if you do absolutely nothing - like stay in bed and not move all day long.

4. Next take your BMR to figure out your daily calorie intake. Daily calories are not the same for each person;

Profile Image