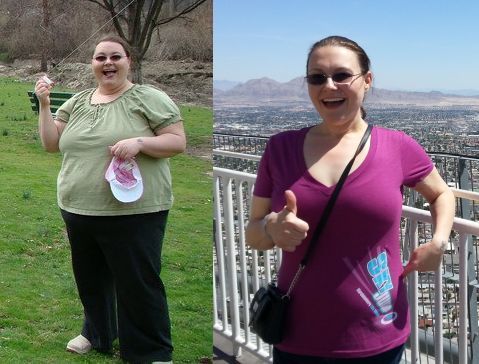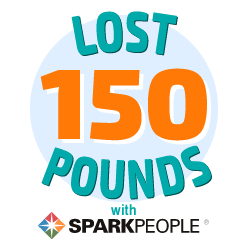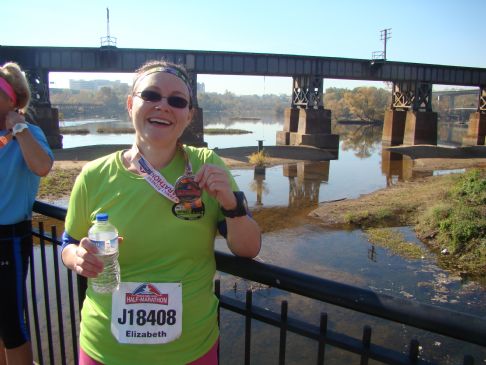 I have 44 pics in my gallery

Awards


Working for a Better Me
My name is Elizabeth and I am 32 years old. In April of 2010, I decided I'd had enough of being overweight and unhealthy, and decided to change my life. Since that time, I've lost over 150 pounds and become a runner. I exercise regularly, eat an overall healthy diet, and am in the best shape of my life.

If you want to read more about me and my weight loss journey, please visit my blog.
http://sparkedbird.blogspot.com/

I also started a facebook page dedicated ...
My name is Elizabeth and I am 32 years old. In April of 2010, I decided I'd had enough of being overweight and unhealthy, and decided to change my life. Since that time, I've lost over 150 pounds and become a runner. I exercise regularly, eat an overall healthy diet, and am in the best shape of my life.

If you want to read more about me and my weight loss journey, please visit my blog.
http://sparkedbird.blogspot.com/

I also started a facebook page dedicated to living a healthy lifestyle. Please like it! :)
www.facebook.com/fromfatmomtofitmom

Also, join me on Runkeeper, where I keep track of my runs and other exercise.
http://runkeeper.com/user/Moonbird/profi
le

I wrote this in the beginning of my weight loss:
For as long as I can remember, I've neglected myself to take care of other people, and have been a people-pleaser. I am done doing that! Now it's time to make myself a priority, so I can be the best Me possible.

There are so many things you can't do when you're very overweight. My first priority is to get healthier with each passing day. The things I have always wanted to do (kayaking, rock climbing, ride roller coasters again( I am doing this again, as of May 2011) are my motivation. Well, that and living longer for my family, too!

I've been overweight since I was a young child. There is no way I want to spend the rest of my life as the fat friend, the fat wife, the fat mom, etc. I WILL lose weight, and I will gain LIFE.


Races I've done:
Free to Breathe 5k: 3/12/11--43:10
Lucy Corr Run for the Future 5k: 6/18/11--38:23
Richmond Suntrust 8k: 11/12/11--58:44
The Shamrock 5k: 3/17/12--33:50
The Monument Avenue 10k: 3/31/12--1:07:08
Ashland Railroad Run 5k: 4/21/12--59:30 (walked)
Run Like a Girl 8k Trail Race: 5/6/12--57:51 PR
Abby's Race for Hope 5k: 6/9/12--33:11
American Family Fitness Half Marathon: 11/10/12--2:23:33
Clover Hill 5k: 3/9/13--29:58 PR!
The Monument Ave 10k: 4/13/13--1:02:07 PR!
Ashland Railroad Run 5k: 4/27/13--32:05 (ran with my son)


Current Status:


SparkFriends



SparkTeams



My Ticker:
current weight: 171.0


Recent Blogs:

Profile


Member Since: 4/24/2010

SparkPoints: 29,574

Fitness Minutes: 37,308

My Goals:
-Get under 300 (Done 7-10!)
-Get down to 250, which I haven't weighed since 2000. (Done! 3-10-11)
-Be able to run a mile (Done!! 3-8-11 1.02 miles in 13.5 mins)
-Run 5k (DONE! 5-20-11 39 mins 50 secs) and run IN a 5K (DONE! Lucy Corr 5k 38 mins 23 secs)
-Run an 8k (DONE! Suntrust 8k-58 mins 44 secs)
-Reach Onederland (DONE!! 3-13-12)
Run the Monument Ave 10k- (DONE! 3-31-12 in 1:07:08)
-Run a half marathon (Done! 11-10-12)
-Go kayaking
-My ultimate goal is to reach a weight that is healthy for me; I am thinking around 140-150.

My Program:
-I track my food because, well, it keeps me on track!
-Eat fruits, veggies, healthy proteins, and whole grains every day
-Limit "junk" foods
-Keep trigger foods out of the house
-Drink lots of water
-Exercise at least 4 times per week
-Read motivational stories/blogs
-Be active on this site because it's motivated me more than anything else ever has
-Believe in myself

Personal Information:
I'm a wife and stay at home mom of 2 kids. :)
I love reading, nature (really into birdwatching), writing, crafting and graphics, and just experiencing new things. I am loyal and caring, and do my best to be a good person in every way I can.

Other Information:
"No one can make you feel inferior without your consent." Eleanor Roosevelt

Profile Image