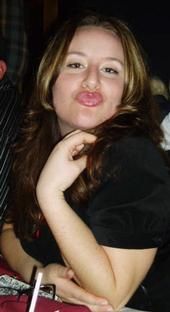 I have 9 pics in my gallery

Awards

Starting Fresh
My name is Nicole and I am 32 years old. I have never been a thin person, but maintained a healthy body weight until a few years ago.

I was steadily gaining weight for the last 3 years. I became extremely sedentary due to my profession (emergency dispatcher) and I ate A LOT of food.

My goals are to be healthier and lose around 100lbs.

I want to meet other women who struggle with their weight like I do. I am hoping to meet a buddy I can talk to when it ...
My name is Nicole and I am 32 years old. I have never been a thin person, but maintained a healthy body weight until a few years ago.

I was steadily gaining weight for the last 3 years. I became extremely sedentary due to my profession (emergency dispatcher) and I ate A LOT of food.

My goals are to be healthier and lose around 100lbs.

I want to meet other women who struggle with their weight like I do. I am hoping to meet a buddy I can talk to when it gets hard and who I can help motivate as well.

4/1/10 - 260lbs!
*********************
2/22/11 222
2/27/11 217
3/8/11 216
3/13/11 214
4/5/11 208
4/9/11 207
4/19/11 203
5/11/11 199
8/8/11 191.5
__________________________________


Starting fresh
10/21/13 194lbs
SparkFriends

SparkTeams



My Ticker:
current weight: 193.0


Recent Blogs:

Profile


Member Since: 5/15/2007

SparkPoints: 8,837

Fitness Minutes: 6,732

My Goals:
I have a total of about 100lbs to lose. For every 10lbs or so that I lose, I am going to buy myself something awsome and motivating.
221lbs (done 11/10)
210lbs- (done 3/10)
205lbs- (done 4/10)199lbs- Hair (Done 5/11/11)
190lbs- Facial (Done 7/20/11)
180lbs- Custom Purse
175lbs- Really Expensive Bikini
169lbs- Custom Jeans

My Program:
Step 1- Move my *ss! Workout, walk, play sports, yoga, etc.
Step 2- Log my food and workouts every day
Step 3- Follow the Spark People guidelines

Personal Information:
I live in a small town in Northern California. I work a lot (around 60 hours a week).

Other Information:
I love Michael Pollan's Book "The Omnivore Dilemma" and Barbara Kingfisher's "Animal Vegetable Miracle".

Profile Image