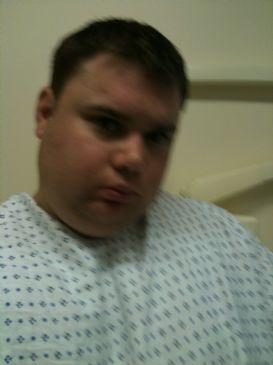 I have 9 pics in my gallery

Awards

Loose Weight Feel Great
Hello, 25 year old male, piled on the pounds after a car crash stopped my semi -professional football playing. I have gone from a in shape 15 stones to an obesed 24 stone male. I have a been diagnosed with severe underactive thoriod so in the process of getting the replacement medication balanced to help me reach my goals.
I am now single so the below statement is no longer true, now its all about doing it for myself, health and daughter.

(Can not wait to start shedding ...
Hello, 25 year old male, piled on the pounds after a car crash stopped my semi -professional football playing. I have gone from a in shape 15 stones to an obesed 24 stone male. I have a been diagnosed with severe underactive thoriod so in the process of getting the replacement medication balanced to help me reach my goals.
I am now single so the below statement is no longer true, now its all about doing it for myself, health and daughter.

(Can not wait to start shedding these pounds and be the partner and father my fiance and children need and deserve.)

In lbs
SW= 342 (24stone 6lbs)
Overall goal GW- 210 (15 Stone)
September GW - 320met 1st week
New September GW - 300lbs met 3rd week
Newer September GW - 295 Goal met and passed by 3lbs on 28/9
Next Goal for October 26th GW - 280lbs


Ive Joined a challenge to lose 63 lbs by 12/12/12. So this is now my first goal.. A tough one but ill do my best to reach it with the help, support and motivation i am recieveing.
342 start weight (155kg)
9/1 - 336
9/7- 320 ------- 16 lbs loss in a week.. first week all done and sorted.. really happy.
9/14- 307 --------- 13 lbs loss. ~:-)
9/21- 298 --------- 9 lbs loss. :-)
9/28-293 ----------5 lbs loss :-)
10/5 - 289 ---------4 lbs loss :-)
10/12 - 284 --------5 lbs loss :-)
10/17 - 280 --------4 lbs loss :-)
10/26 - 277---------3lbs loss :=)
11/02 - 273 --------4lbs loss :-)
11/09 - 271 --------2lbs loss :-)
11/16 - 267 --------4lbs loss :-)
11/23 - 264--------3lbs loss :-)
11/30- 260 ---------4lbs loss :-)

Had a mare in december and climbed back up to 280ish

January 17th 2013 i am now back down to 257lbs.. :-)

Down to 111.2 kg 14/2/2013 total of 245 lbs.

(New aim of 11 stone or 154 lbs total loss. set jan 2013)


Weight today is 100.8 KG 27/3/13
End Goal is to be 83.4 KG Target for End of May 2013

2 monthes to lose 17kg is possible with the right healthy lifestyle and plenty of the exercise i so dearly love.

I aim to be 89kg come end of april then final 6.6 KG or a stone in May.

Thanks

Michael












After this line was what was set back in the beinning but left for reference only : -)

My aim is 123 - 133lbs in total (8stone 11lbs) - (9stone 7 lbs)
New weight will be 210 - 200 lbs or 15 stone - 14 stone 7lbs

Start 342lbs
Current 245lbs

Aim Loss Reward
First reward at 283lb ----- 66lb loss --- Healthy meal out.( met..)
Second Reward at 253 --80lb loss ---- New Trainers
Third Reward at 233-------100lb loss --New Clothes
Fourth Reward at 210 -----123lb loss--- Holiday
Fifth Reward at 210 +1 year maintaining -- Massive holiday.

Good Luck All on your challenges
SparkFriends

SparkTeams

My Ticker:
current weight: 222.0


Recent Blogs:

Profile


Member Since: 8/24/2012

SparkPoints: 3,927

Fitness Minutes: 7,515

My Goals:
To enter a new healthy life style.

Lose 123lb and keep it off

Get in shape and increase muscle deffinition

Support everyone who wants it all the way during my journey and theirs.

My Program:
gym 4 - 5 times a week

4500 calories burnt through exercise a week

eat around 1500 calories a day

Drink 8 - 12 glasses of water each day

Profile Image