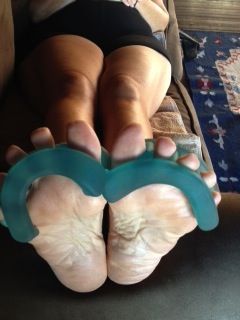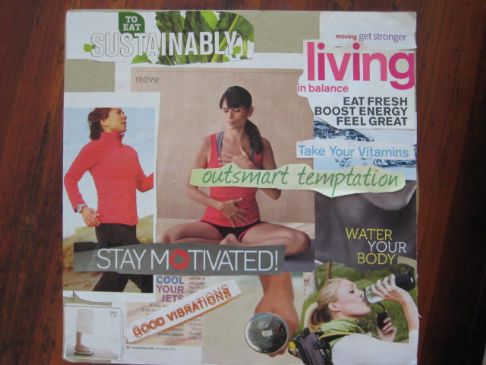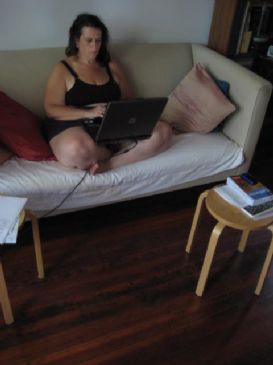 I have 51 pics in my gallery

Awards

Start Now -- Right Where u R
C'est moi: PaulaJean 56yrs old Chicagoan living in Pacific Grove, CA. Starting here. Starting now.

Live Love Laugh
Do more of what makes you happy
MOVE more
SImply record what you eat honestly in the tracker
Make sensible choices
Easy Does It
Keep It Simple
Move More, Eat Less
"the scale is a ouiji board"

Fitness Goal: 30minutes, 4x week
Drink 1 Liter Bottle Water plus table waters
Connect
...
C'est moi: PaulaJean 56yrs old Chicagoan living in Pacific Grove, CA. Starting here. Starting now.

Live Love Laugh
Do more of what makes you happy
MOVE more
SImply record what you eat honestly in the tracker
Make sensible choices
Easy Does It
Keep It Simple
Move More, Eat Less
"the scale is a ouiji board"

Fitness Goal: 30minutes, 4x week
Drink 1 Liter Bottle Water plus table waters
Connect













Hi there. Me and You. I've been on and off Spark for two years… after a very successful SPARKtastic 2010=2012 where I lost 80lbs! Yes. I did that! With the companionship, goals and support of this community. Since then I've been waffling.

Today I'm up 20# from my low… and I've lost the neural pathways that had made the GOOD HABITS natural. Wah. Now that I'm done wanking about that… yep… Just like not working out for a long period… it is humbling and feels UPHILL to start again.
Yet… One Day At A Time happens every day whether I show up for fit or not.

I WANT TO FEEL GOOD LIKE I DID BEFORE… When tracking and eating "clean" felt entirely second nature… even the "work" of it was fun and centered and just how I did things.

So… Please Join ME…. Let's hang out together… AND LIGHT THE FIRE!!

STARTING WT 176#
GOAL WT 135#

Track Daily. Move Daily… track movement too somehow.
Write menus and shopping lists if it helps.
DRINK WATER!

You know how it works. It works when you work it.


Fully Commit
Gather stones Move stones
Seriously P …. Now

TRACK, WATER, MOVE, Eat Sustainably
Fresh Vegetables & Fruits

*"The scale is a ouiji board, a dishonest fortune teller. There are no answers on the scale" Onward & Downward is all I need to know.*

Shi(F)t Happens! Daily Practice. Honesty and Loyalty to Self. Goal by Goal. Reward to reward.

Let Energy Rise. Stay…with transitions… pivots… remember to remember. Onward and Downward. Faith

Spark Restart 2014
STARTING WT 174 (up16# from 2012 low , down 60# sparkstart)
Benchmark #1wt 169 ____
Benchmark #2wt 162 ____
GOAL #1 WT 158 _________
GOAL #2 WT 153 _________
GOAL #3 WT 148 ________ hmmm
GOAL #4 WT 145 ________
GOAL #5 WT 142
GOAL # 6WT 139
GOAL #7 WT 134
132
128

OTHER GOALS!! to set!!!

*"The scale is a ouiji board, a dishonest fortune teller. There are no answers on the scale" Onward & Downward is all I need to know.*

I am thrilled and grateful be sharing this path with so many of you remarkable friends here. Thank you!

Weight Loss Progress
235
225 lb Dr Orelind 2010
222 lb Spark Start 7/10
215 lb 8/16/10 done!
212 lb plateau Sept
210 lb 9/28/10
212 lb CA trip gain U.C.
208 lb 10/20/10
206.4 10/28/10
205.4 11/1/10
202.6 11/8.10
204.8 11/15/10
202.6 11/19/10
204.5 11/29/10 uh....okay...
202 - 20! done!
201 12/24/10
200 12/27/10
199.8 1/1/11 ONEderland!
198.2 1/9/11
196.8 1/17/11
199.7 1/25/11 nonononon!
197.8 1/26/11 hmm
197.4 2/8/11 that's all?
197.2 2/16/11 turtle
196 2/22/11
195.6 3/8/11
193.8 3/18/11
191.8 3/22/11
193.6 4/21/11 a month of plateau and coasting
189 5/30/11
184.8 6/23/11
188 7/12/11 ONWARD & DOWNWARD
INTO Spark Year #2 (July 2011-July 2012)
185 done!
184.5 done!
183 done! 8/18/11
177.6 !!! 10/26/11 (these 4-5 #'s were slow in coming off!)
*** New Boots Reward (even if not exactly 175)*****
Coming Soon:
175 (Goal #1 - Reward New Boots! - boots! that zip and everything! DONE!!!!
x
COLITIS DIAGNOSIS & TREATMENT - CHANGE OF PARADIGM!
169-165 Holding here in treatment for UC. New Food Plan in the Works. Whew! Whew! Taking a breath.
++++ Weight Gain After Illness Period



Lost 35 lbs in 2010 -- 23 with Spark! Crossed the ribbon into ONEderland on January 1, 2011 (made this goal so sweet).
Setting new goals for 2011... and looking forward to the journey.
2010-2012 colitis
2012-2013 uprooting house and place… anxiety…menopause


DIET & SCALE HISTORY(a life-long fibonacci sequence):
childhood obesity and eating disorder family DIET dysfunction
highest wt age 17 299 - Duke Rice Diet
145-160 after Duke and off to College
180-230 gain at College and Maintained for many years yo-yoing
Optifast w Oprah down to 145 then up again
Highest Wt ---Lifetime, 299 lbs (age 18 -lost 150# Duke Rice Diet)
Highest Wt ---This Decade, 238-244 lbs (after my dad died in 2007)

SET-POINTs & YOYO Talisman/Swings:
*145 (for a minute in 1982) after Duke Diet 299-145
*175-210 college gain & after maintain
*165 (for 2 minutes in 1989) after Optifast 210-165
*Maintained 189-198 1990-2000 (oa, nutritionist,personal trainer)
*Wt gain 10-20# 2000 (job loss, bf loss, isolation)
*Maintained 207-226 2000-2010 (yoyo dieting, mostly WW)
*Wt gain 226-242 2006-2007 (caregiver during dad's cancer&death)
*Wt drop 242-235 after dad's death 2007-2008
*Turned 50 and maintain 226-235 in 2009-2010
*Then SPARK'd


Name: Paula Jean
STARTING WT 235 then 223 (Spark Start, July 2010)
CURRENT WT 177.6 **11/1/11
GOAL #1 WT 175 11/8/11 Almost DONE!!! "overweight"
GOAL #1.5 150-160 Maintained 2012-2013 then gained +8!

RESTARTING WT 175 6/14
ONWARD & DOWNWARD


Current Status:


SparkFriends

SparkTeams



My Ticker:
Pounds lost: 63.2


Recent Blogs:

Profile


Member Since: 7/15/2010

SparkPoints: 19,266

Fitness Minutes: 12,160

My Goals:
Ht 5'4"
Starting Wt: 236 2010
Lowest Wt: 152 2013
Starting Wt2: 178 2014
Goal Wt2: 135
Goal Lose 43#'s
Sustainably
And LIVE LIFE FULLY
* * * * * * * * * * * * * **
Round 2 2014
178 june
10 lbs 168
20 lbs 158
30 lbs 148
40 lbs 138
45 lbs 133

* * * * * * * * * * * * * * * * *
Clear Your Energy
Do & Be

MOVE MORE
EAT LESS
Eat Sustainably
Eat Consciously

Do Anything
there is no perfect
Why not - What if

Exercise with pleasure... not gun at back. ("It's not fitness, it's life").

Think Less - Enjoy More
Meditate
Eat Less - Move More

MOVEMENT BREATH Embrace More Activities and Exercise.
3x week at least. As much as every day??!!!

Don't Push The River
K.I.S.S.

Slow and Steady wins the race.

Round 1 2010-2013
10 lbs 226 done!
20 lbs 216 done!
30 lbs 206 done!
40 lbs 196 done!

My Program:
Eat Less Move More
Drink Water
Eat PLANTS!
prefer whole grains
reduce sugar
take supplements
avoid white food
No soda - quit 5 yrs ago!

Clear Your Energy
Do & Be

MOVE MORE
EAT LESS
Eat Sustainably
Eat Consciously

Personal Information:
56 on 7/26/58
In PeriMenopause
Push comes to shove

too hard on myself
and abandoning too

breaking free
opening up
and curling too

very verbal. arty.
collaborator.
history of codependence in relationships.


Other Information:
My name is Paula.
This is not about the history.
This is about NOW.
This is about ME. Moi.

I like being more lithe.
I want it.
Gaining after maintaining
has freaked me out.


Profile Image