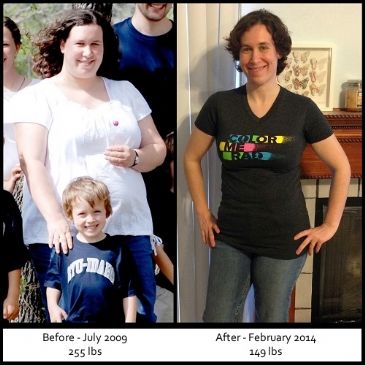 I have 20 pics in my gallery

Awards


I, New
Hi everyone! My name's Amanda and I'm a 36-year-old stay at home mom of three boys aged 14, 13, and 11. From Nov 2009 to Feb 2013, I went on a successful journey to lose 100 lbs. The details of that journey are located at this blog post:

http://www.sparkpeople.com/mypage_public
_journal_individual.asp?blog_id=5961190

After about a year and a half of maintenance, I moved across the country and entered into a year of horrible stress and misery. I won't go into ...
Hi everyone! My name's Amanda and I'm a 36-year-old stay at home mom of three boys aged 14, 13, and 11. From Nov 2009 to Feb 2013, I went on a successful journey to lose 100 lbs. The details of that journey are located at this blog post:

http://www.sparkpeople.com/mypage_public
_journal_individual.asp?blog_id=5961190

After about a year and a half of maintenance, I moved across the country and entered into a year of horrible stress and misery. I won't go into details, but the basic idea of what followed is: Lots of Stress + Lots of Negative Self-Talk = Lots of Disordered Eating = Lots of Regain.

So now I've moved back to San Antonio, to my friends and family and support system. I'm starting on a new journey, with a different mindset, to become MORE of something instead of LESS of something. I want to use positive instead of negative motivations, and to move TOWARD something instead of AWAY from something. Details are in my blog posts.

It's time to take to heart my favorite Molly Galbraith quote: "My body is awesome, and every day, with everything I do, I will treat it as such!"

Note on Sparkfriends: I add everyone who adds me, and remove people for only two reasons. First, I remove anyone who is consistently negative, disparaging of me/others, or insistent on pressing their opinions where they aren't wanted. Second, I remove anyone who is inactive for 180+ days (judging by status update ONLY), unless I know them well outside of Spark. If you return to Spark after a long period of inactivity, I would be glad to re-add you, as long as you let me know you're here!

*****
Best way to get to know me is through my blogs. Here are links to some of my favorites, including major accomplishments and milestones along the way:

Philosophy behind my new journey:
http://www.sparkpeople.com/mypage_public
_journal_individual.asp?blog_id=5963653

Original journey (OJ): Loose skin removal:
http://www.sparkpeople.com/mypage_public
_journal_individual.asp?blog_id=5641097

OJ: Life...with Vegetables!
http://www.sparkpeople.com/mypage_public
_journal_individual.asp?blog_id=4628907

OJ: Conquering a 13-year-old fear:
http://www.sparkpeople.com/mypage_public
_journal_individual.asp?blog_id=4860680

OJ: I'll know I'm done when...
http://www.sparkpeople.com/mypage_public
_journal_individual.asp?blog_id=4926241

OJ: Earning a Caribbean cruise:
http://www.sparkpeople.com/mypage_public
_journal_individual.asp?blog_id=4574227

OJ: I am overweight!
http://www.sparkpeople.com/mypage_public
_journal_individual.asp?blog_id=4656277

OJ: 100 lbs lost forever!
http://www.sparkpeople.com/mypage_public
_journal_individual.asp?blog_id=5258535

OJ: Also, my success story was featured on the Sparkblog!
http://www.sparkpeople.com/blog/blog.asp
?post=amanda_took_a_slow_and_steady_ap
proach_to_lose_105_pounds_and_reclaim_
her_health


Current Status:


SparkFriends

SparkTeams

My Ticker:
Pounds lost: 5.9

Interact with POOKASLUAGH





Recent Blogs:

Profile


Member Since: 2/25/2011

SparkPoints: 117,587

Fitness Minutes: 65,322

My Goals:
Weight:
- new start (188.5) - 7/19/15
- overweight (185) - 7/23/15
- to 170s -
- to 160s -
- to 150s -
- healthy BMI (154) -
- to 140s -
- final goal (145) -

NSV Goals:
- wear a bikini confidently
- fit in my wedding dress
- 5+ pullups
- to be competent in yoga
- to love myself and my body

My Program:
Starting over from scratch...going back to the basics, and starting with a different frame of mind. Changing my life, embracing myself, becoming what I want to be rather than escaping what I don't want to be.

Personal Information:
Married stay at home mom. Writer, bookworm, aspiring paralegal. Liberal agender bisexual agnostic human secularist. I'm always curious about a Sparker's height, so I'm putting mine out there: 5'6. My username is a mix of two fairies: pooka, a happy fairy, and sluagh, a sad fairy. A sort of bi-polar combination. :D

Other Information:
Fav Band: Stiffs Incorporated
Fav Book: Possession by AS Byatt
Fav Movie: The Hours

Other things I love: writing, reading, chocolate, fountain pens, men's formal hats, classic lit, gothic aesthetics, NCIS, elephants, b&w German Expressionist films like Metropolis, tarot cards, autumn, champagne, well-written fantasy novels, French language and culture, gingerbread houses, calligraphy, henna, piano, yoga, chiropractors, sunsets and harvest moons, snow, Harry Potter, sleep, and my whole big extended family.

Blog:
http://thezenleaf.com

Profile Image