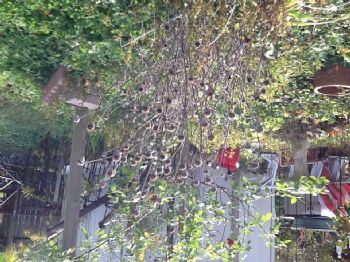 I have 44 pics in my gallery

Awards

I AM Strong, and NOTHING Can Stop Me
September Goals:
1. Lose 3-5 pounds
2. Start walking outside again with youngest daughter
3. Start running outside again & get ready for Color Vibe on the 27th
4. Hip Hop Abs
5. Yoga
6. Up Fruit & Veggie intake
7. Continue to drink lots of water
8. Continue using things to help with stress & anxiety levels
9. Continue working on house to get ready to move in at the end of the month
10. Blog often and check in with spark people often ...
September Goals:
1. Lose 3-5 pounds
2. Start walking outside again with youngest daughter
3. Start running outside again & get ready for Color Vibe on the 27th
4. Hip Hop Abs
5. Yoga
6. Up Fruit & Veggie intake
7. Continue to drink lots of water
8. Continue using things to help with stress & anxiety levels
9. Continue working on house to get ready to move in at the end of the month
10. Blog often and check in with spark people often for motivation


August 14th, 2014
Well I had many plans this month to do many things, and my health as well as the kids got in the way. But I kept going, just in different ways. 21 Day Fix I wasn't allowed to continue, I have not been able to run because it jars to much, so when I am feeling well enough I do run, otherwise no. I'm still working out I guess, but not with traditional stuff, lots of mowing the lawn with a push mower, lots of painting, and fixing the other house, plenty of cleaning, with some traditional work outs in the middle. My current medications have not allowed me to do much, nor eat much, and some days I just have a hard time getting out of bed. But I muster up enough energy to remember I am not stopping no matter what happens, I may get slower with this, but I am still going to keep going. Our vow renewal is in a couple of days, and we have massive amounts of things to do, plus I need to keep my pain in check, so ought to be loads of fun. I can't wait for our week alone and away next week, I can't believe it took us 10 years to even get that week we never got in the first place but we are getting it. Life may try to knock me down, and shove me down, and more but I want to and continue to plan on standing back up and truck along some how some way.

August Goals:
1. Vow Renewal - take week off for 10 year late honeymoon
2. Finish 21 Day Fix
3. Eat right, drink plenty of water, stress less, make "me" time
4. Run M/W/F
5. Continue Yoga as often as possible
6. Any Cardio every day & add in stationary bike
7. Strength Training, resume normal after finish 21 day fix
8. Try to get in physical activity while away on honeymoon and to eat well
9. Don't let my pain run my days, I can do anything

7/25/14
Struggling, but still determined. Not going to stop now. I also added a new workout program for the next 3 weeks and hoping it goes well. So far I love it. Hoping it gives me lots of progress, but will probably add something with it. And keep up my strength training, and my running as well. Less than 1 month until my vow renewal, so excited and so nervous.

7/12/14
It has been almost 22 months since I started my journey, and I am proud to say I have not given up. I have gotten frustrated, down right upset at times, but not given up. That I refuse and have refused to do. I am down 57 pounds from the start, and have 33 pounds to go until I reach my original goal I set back then. Despite many obstacles I have faced recently, it hasn't changed my determination. We all face obstacles in some way every day of our lives, we just have to know how to get around them or go through them. WE CAN DO IT!!!

June 15th, 2014 Not Get Upset if I Can't Do What My Plans Are:
Strength Train ----- Sun/Tues/Thurs/Sat 15 minutes or more 2x a day
Restart Run Training --- Mon/Wed/Fri 10 minutes minimum 2x a day
Cardio of any kind ------- Everyday 20 minutes minimum
Begin Yoga ------- Everyday no minimum


Current Status:


SparkFriends



SparkTeams



My Ticker:
current weight: 145.2

Interact with RUNNING-TURTLE





Recent Blogs:

Profile


Member Since: 9/23/2012

SparkPoints: 53,744

Fitness Minutes: 37,540

My Goals:
2014 Spirited Underdogs Fall 5% Challenge
Goal Weight: 137.9
Start 9/20 145.2
9/27
10/4
10/11
10/18
10/25
11/1
11/8
Final 11/15

Reach healthy weight Range for my height by my 30th birthday December 20th this year.

Not let my pain or being sick stop me from reaching my goals.

Up fruit & veggie intake.

Continue to drink lots of water.

Use anxiety and stress reducing techniques when needed as less stress and anxiety means less severity of the pain.

Take care of me, so I can take care of everyone else.

Follow my workout routine calendar the best I can, and try not to over do it.

Be sure to not fret over bad days, and to make sure I take plenty of rest when my body needs it.

My Goal Weights:
Start 9/23/12 215 lbs
190's 12/8/12 199.8 lbs
180's 1/27/13 188 lbs
170's 2/7/14 179.6 lbs
160's 5/2/14 168 lbs
150's 6/27/14 159.2 lbs
140's 9/9/14 1

My Program:
Persistence. Not going to let one bad day ruin the rest.

My pain will not rule me!


Personal Information:
My name is Jennifer. I have been married for 9 1/2 years and have 3 biological children and 1 stepchild.

SW 9/23/12: 215 lbs
1/1/14 : 185.6 lbs
2/1/14 : 181.6 lbs
3/1/14 : 178.8 lbs
4/1/14 : 174.8 lbs
5/1/14 : 168.0 lbs
6/1/14 : 166.0 lbs
7/1/14 : 159.2 lbs
8/1/14 : 158.6 lbs
9/1/14 : 152.0 lbs
10/1/14:
11/1/14:
12/1/14:

Other Information:
"Set Your Goals High and Don't Stop Until You Get There"~ Bo Jackson

"Never tell me the sky's the limit when there are footprints on the moon." ~Anon

"You can never cross the ocean until you have the courage to lose sight of the shore." ~Christopher Columbus

Profile Image