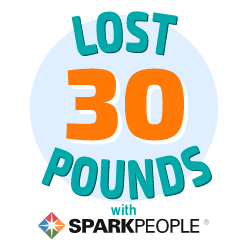 I have 8 pics in my gallery

Awards


Plan, prepare, execute!
January 2015
I'm excited to be a part of the Resolute Renegade team for the BLC. I'm looking forward to seeing changes in my body as I work on ST - which has been lacking. I still plan to run 3 days a week, but I have become lazy about pushing myself. I want to change that and gain the consistency that I have had in the past. For more specific goals, visit my blog.

May 2013
I have been on spark for quite a while now. In 2009, I did the majority of my weight loss. ...
January 2015
I'm excited to be a part of the Resolute Renegade team for the BLC. I'm looking forward to seeing changes in my body as I work on ST - which has been lacking. I still plan to run 3 days a week, but I have become lazy about pushing myself. I want to change that and gain the consistency that I have had in the past. For more specific goals, visit my blog.

May 2013
I have been on spark for quite a while now. In 2009, I did the majority of my weight loss. In 2012, I hit my lowest weight in probably 20 years. However, I feel like it wasn't through a sustainable lifestyle. I was trying to look good for my son's wedding. I did feel like I looked great. However, at the time I was really tracking all my food, staying in my calorie range and burning at least 500 calories a day. But, that is for me not sustainable - at least the burning 500 calories a day. So, after a 10 pound gain since that time, I am working to lose weight at a pace that is realistic. The key for me is focusing on logging my food, and getting a reasonable amount of exercise.

I am starting a 5% challenge on 5/11/2013. I hope to achieve the 5% in the 8 week time.

I am 51, have 6 children and I have put my family, home, husband, before myself, which isn't bad, but I need to find balance to save some time for personal growth and a healthy lifestyle.

I joined spark in May of 2008. Soon after I spent 2 months in the USA where I had no regular computer access, made bad food choices and six months later, I had gained another 3 pounds!

Enough is enough! I made a choice that I would prioritize my time much like I do with my Bible reading. It comes first. It is important to me to spend time with my Lord everyday. So, my next step was to make an appointment with myself, everyday, to do SOME exercise.

Update September 2, 2009
I am still going strong. No, I am not losing quickly, but steadily. I have lost 31 pounds now, which is the most that I have ever lost in one year. Ya, yo yo dieting. I always gave up at some point.
I am just starting to get some comments on my weight loss so wow! It sure took a while.
Last week at volleyball I told my husband that I was kind of disappointed that nobody commented on my weight loss. I haven't seen these people in 2 months. He said, "Ya, me too. I was looking across the net and thought, Wow! That's my wife!" What a sweet thing for him to say. He has been supporting me a lot more lately.
Of course he has also lost weight, probably with the way I cook. It always happens, I lose weight, he loses weight. But, he has only lost 10 pounds - which he really doesn't need to lose. I keep wanting to get under his weight, but it is hard to catch up and pass him. There is going to be a big party when that happens though!!

My success I attribute to many things.
1. Working through plateaus or when I am not seeing change.
2. Logging all my food - which I do pretty faithfully even when I go over my calories.
3. Finding the right amount of exercise - which seems to be that 30 minute walk of 2 miles in the morning - that my body needs
4. My spark friends - Of course!!
5. Making goals that show me my progress.
And, I dare not forget my Lord, who convicts me where I need it and reminds me that all of what I want to eat, I don't have to eat today! He helps me find balance - after all - He made me and knows how this body works!!

December 2009
I have lost 38 pounds up to this point. Again, steady and slow, but still losing.

Dec. 2010. Wow, seems like I have been at this a long time. But at least that shows that I am not giving up. I have never stayed with an eating or exercising program this long in my life. I can envision myself working, even though it may take a long time, until this is a way of life and I reach my goals.

Wow, was it shocking to come back here a year later and see that I have actually gained a couple pounds since last year at this time. I am planning, preparing and working hard to reach the 40 pounds lost by the end of the year. (Didn't make it)

(From Winter 2011 challenge
Today's weight was 190.4 (2/11/11)
Goal would be 181 - but I really want to see 11 pounds gone so that I am in the 170's!

Goals for this challenge:
1. Weigh in and update on spark page
2. Log all my food
3. Run 3 days a week (training for a 10K)
4. 2-3 days of strength training
5. Run a 5K in under 40 minutes (May 14th is my 1st official 5K)
6. Eat 5 Fruits/Veggies each day
7. Run 10K

April 2011
I am doing the Spring Challenge to lose 5% of my body weight. These are my goals to accomplish during this time. The challenge starts May 7th. I will weigh that day and then figure out my 5%.
My weight last Saturday was 184.6 so my goal would be to lose right around 9 pounds for this challenge. That would be so awesome especially since I would no longer be obese.

July 2011
5% summer challenge.

Why I won't give a goodie to myself:

I made myself accountable, and dedicated my journey, to someone other than myself: My Slowest Loser journey has reawakened in me a vital life lesson: If you want to be miserable, think only about yourself. If you want to be happy, desire and pursue happiness more for others than yourself, and your own well-being will take care of itself.
(Taken from the leader of the slowest loser's blog)


Update: August 27,2011
I haven't lost any significant weight since 2009. I am proud that I have kept working on it since I have never plugged away at a diet for this long or kept off the weight this long before.
There have been other changes though. I started running about a year ago for the first time. That is quite an accomplishment since I was 48 years old!
I have been doing a lot of reading about running. I was a bit frustrated that through running, although I am burning a lot of calories, I wasn't dropping the weight. But, if you eat extra calories of course you aren't going to lose. I made too many excuses.
Through my reading I have come up with over and over again the need for protein. I eat too little of it. I rarely hit the protein targets for the minimum in a day. So, I am concentrating hard on that aspect right now. I also realize that I was doing a lot more strength training earlier. Obviously more muscle will burn more fat. So, that is the second thing I want to concentrate on.

December 2011
I'm still active on spark - both with my diet and with my exercise. I noticed some people don't like to use the word "diet" but actually, it is just what you eat and everyone eats! We either have a healthy diet or an unhealthy diet.
I joined another 5% challenge. I think my head is in this. I'm busy preparing for the start - which is tomorrow, Dec. 3rd. Here are my goals for this challenge.

1. I weighed in this morning at 189.6 - yes, up several pounds from my recent month long visit to the States. When I came back 3 weeks ago, I weighed 193.6, so at least I am back to making progress. My goal over the next 8 weeks is to lose 5% or 9.5 pounds. My ending weight would then be 180.1 - very close to that 40 pounds lost that has seemed so elusive!

2. I am committed to doing some kind of exercise EVERY day for the next 8 weeks. Minimum would be 10 minutes - but I hope to go for 30 minutes a day, other than Sundays. Since gaining weight again - I feel like it is too hard on my body to run (which is what I enjoy the most) so I am walking right now until I get down to 185. I will run if the weather and weight allows otherwise I have an exercise bike, workout videos and a Wii.

*Some things to help me succeed:
1. I started a notebook where I keep track of my weight, food, and exercise.
2. I will log my food everyday as much as possible. For holidays I will fill my plate only to the inside rim of the plate and take only one helping. This helped me immensly for Thanksgiving!
3. I have committed for the month of December to not only exercise everyday, but also to think and plan out my goals - health wise and other, each day. This will help me to finish my weight loss journey in 2012 as well as work on other areas of my life that need attention. (CCLTT team)
4. I am doing some detailed tracking for my 'streak to success' team. I will continue to do that faithfully holding me accountable.
5. I normally don't have a problem supporting the 5% team. I plan to continue to do that both by checking in with the team as well as trying to encourage other individuals on the team.


When you walk, your steps will not be hampered; when you run, you will not stumble." -Proverbs 4:12

"Blessed is the man who perseveres under trial, because when he has stood the test, he will receive the crown of life that God has promised to those who love him."
— James 1:12 (NIV)

"You can't plow a field by turning it over in your mind. ...and you can't train for a race by thinking about it - you have to put in the miles."

"Flatter me, & I may not believe you.
Criticize me, & I may not like you.
Ignore me, & I may not forgive you.
Encourage me, & I may not forget you." ~ William Arthur Ward


SparkFriends

SparkTeams

My Ticker:
Pounds lost: 31.4


Recent Blogs:

Profile


Member Since: 5/28/2008

SparkPoints: 116,559

Fitness Minutes: 94,662

My Goals:
Lose 50+ pounds. Exercise regularly. Feel and look better. Stick around for to see my grandchildren grow up, and be able to sit on the floor with them, AND get up again! (I can do this!)
I want to be able to comfortably cross my legs. (Done- I CAN cross my legs and they don't rub together anymore! (Dec.2009)

180 - 5/27/2012
175- 8/01/2012
170-
165-
160-
155-
150-

Other goals - to weigh less than my DH. (met 8/01/2012

My Program:
Writing down EVERYTHING I eat. Staying within my calorie limits.
Watch protein levels and make sure to get in 100 grams per day.
Run 3 days a week. I need to make an appointment to do so and making that a priority. (I'm getting real good at this!)
Drink all my water.

Personal Information:
I am an American serving a great God in Germany. I am 53 years old. I have six children, five of which are on their own, one that will be graduating this year. I have 11 grandblessings.

Other Information:
"If you aim for nothing, you will reach it every time."

"All that is necessary for the triumph of evil is that good men do nothing." (Edmund Burke)

Being fat is hard.
Being fit is hard.
Choose your hard.

Saying I don't have time is the same thing as saying I don't want to.

I don't like serial posting . If you do it on my page, it will likely be removed.

Profile Image