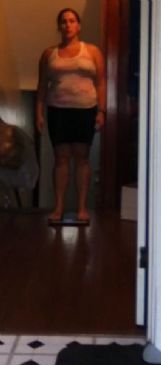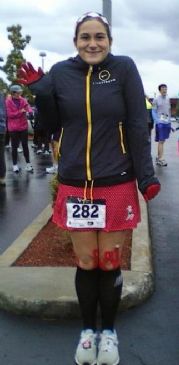 I have 27 pics in my gallery

Awards

Salina's Super Sprinting to Skinny Page!
November 2013 - Back on Spark!

Well here I am on spark people again. Looking at the picture to the left I wish I hadn't left myself go. I was so close to all of my goals. And then love happened.....I never realized how much a relationship can change your outlook. When someone is constantly telling you that you are beautiful it is hard to take a step back and see what is happening. Truth: I am right back where I started almost 3 years ago. I got a huge wake up when the scale told me ...
November 2013 - Back on Spark!

Well here I am on spark people again. Looking at the picture to the left I wish I hadn't left myself go. I was so close to all of my goals. And then love happened.....I never realized how much a relationship can change your outlook. When someone is constantly telling you that you are beautiful it is hard to take a step back and see what is happening. Truth: I am right back where I started almost 3 years ago. I got a huge wake up when the scale told me that I am dangerously close to my "never again" weight. Something about seeing the big 2-0-0 on the scale terrifies me.

So the pressure is officially on, and I'm laying it all out. Coming back to spark people to make it happen like I did last time. I know I can do it and have all the motivation in the world.
GOALS:
- Lose 27 pounds before the marathon in March
- Keep exercising to the best of my ability during March recovery
- Lose a total of 53 pounds before my wedding in October
- Be in the best shape of my life at the wedding to be ready for the AFTER (new goals in mind for 2015 that have to do with two little feet and don't involve running)


--------Original Bio-------

Hello there~ I am Katie (or Salina, I get called both). I work as my own business doing marketing for small businesses in the Buffalo area (ktcreativity.com). I love music, yoga, reading, dancing and a bunch of other things. I currently live in Hamburg, NY with my beautiful Great Pyrenees Crescent, my foster failure pup Vader, in our lovely NEW house together. I have a pretty extensive running resume including several marathons, triathlons, an ultra, and the Goofy Challenge. However I still see myself to be EXTREMELY lazy and have a hard time getting going.

I am lucky to finally have found the support I needed in my life. I have turned my once doubting mother into a runner and met the most amazing man ever (who also happens to be a runner). I expect some big life changes are on the horizon but can always guarantee I will be running and working towards staying healthy.

To follow me on twitter for running tips and more involved progress updates visit me @sprintingsalina

I also have a running blog called the breathless runner:
http://breathlessrunner.wordpress.com/
SparkFriends

SparkTeams



My Ticker:
Pounds lost: 1.0

Interact with SALINAMOONMARE







Recent Blogs:

Profile


Member Since: 7/16/2008

SparkPoints: 17,869

Fitness Minutes: 13,854

My Goals:
I want to be healthier and more confident.

I would like to look nice for parties and events in any dress I care to wear!

I want to reduce my risk of diabetes, which runs in my family.

I want to be stronger and happier.

My Program:
Training for my next marathon in March 2013.

Filling in cross-training with biking, yoga, and kickboxing.

Personal Information:
I'm a Taurus pagan vegetarian living in Buffalo NY. Who knows where the world might take me from here!
Find me on twitter:
@sprintingsalina
:-)
Or read my running blog:
http://breathlessrunner.wordpress.com/

Other Information:
"I refuse to surrender to failure because I am too committed to success." -ME!

"The only person that can make you give up is YOU!"

"If you are just like everyone else, what do they need you for?"

"It's hard to beat a person who never gives up."

"Be your best for you, in the end your all you always got anyway."

Profile Image