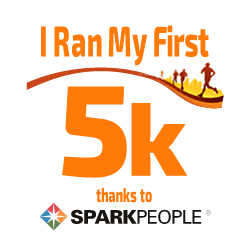 I have 33 pics in my gallery

Awards

Why would you choose failure when success is an option?
I'm over 50 pounds down and ready to FINISH THIS!

I'm Amy. Iíd like to say that Iíve had a battle with my weight my whole life but the truth is that battle probably isnít the right word. Iíve had a love/hate relationship with food and exercise for as long as I can remember. Theyíve been my best friends and worst enemies for so long.

I can remember being on a ďdietĒ for the first time in 7th grade. I grew up in a great home with a stay at home mom who fed us really ...
I'm over 50 pounds down and ready to FINISH THIS!

I'm Amy. Iíd like to say that Iíve had a battle with my weight my whole life but the truth is that battle probably isnít the right word. Iíve had a love/hate relationship with food and exercise for as long as I can remember. Theyíve been my best friends and worst enemies for so long.

I can remember being on a ďdietĒ for the first time in 7th grade. I grew up in a great home with a stay at home mom who fed us really well but once I came into my own money (with the wonderful world of babysitting), I began to spend every cent I could on junk food. I continued through high school on a steady diet of McDonaldís runs and Mars bars as an ďI still have play rehearsal and a 4 hour work shiftĒ supper. I finally topped out in my first year of university just shy of 205 lbs.

Iíve tried everything from Slim Fast to Atkins and finally found some success (that stuck around for more than a month or two) with Weight Watchers. I never attended the meetings but using the point system, and working out almost daily with one of my best friends, I managed to get down to a low of 165. I bounced around over the next few years between 165 and 175.

I found SP a few years ago but have only really committed to it in spurts. I absolutely LOVED it and owe so much of my greatest success and motivation to my Spark buddies (Iím always looking to meet new people so feel free to drop me a line!). With this awesome little online world I managed to hit an all-time low of 144 lbs.

Iím entering completely uncharted territory and I love it. I have no idea what my final goal is because Iíve never been this low! Iím taking it one day at a time and using consistency as my mantra.

UPDATE:
I'm trying to come back in a consistent way. I've had to make some huge changes in my life over the last few years with adjusting to motherhood of an amazing toddler and the changes of small town life. I really want to get back into my more steady healthy lifestyle and to get myself a little healthier before our next pregnancy. Here we go again!

ACHIEVEMENTS:
30 Day Shred graduate: May 1, 2010
C25K Graduate - May 2010
Hit first goal (145) - June 4, 2010
SparkFriends

SparkTeams



My Ticker:
current weight: 167.0


Recent Blogs:

Profile


Member Since: 10/10/2006

SparkPoints: 10,604

Fitness Minutes: 12,827

My Goals:
Short term: 155
Long term: 145

- To have no more than one "off program" meal per week (and to keep it reasonable)
- To push myself and realize my capabilities!



Rewards:


My Program:
FOOD:
- Staying within my spark ranges
- Shooting for a 500 calorie deficit per day
- Eating as clean as possible (avoiding processed foods)
- Limiting refined carbs
- Living on my "just one bite" treat rule. One bite of ANYTHING never hurt anybody.
- Lots of water!
- Keeping my eating schedule regular

FITNESS:
- Working out at least 5 days/week
- Workout videos (everything Chalene, various others)



Personal Information:
I'm a 29 year old French teacher from Saskatchewan, Canada. I'm the oldest of a family of three kids and have always shared my weight loss battle (sometimes well, sometimes not so much) with my younger sister. I just made the move to small town life with my husband and crazy two year old son.

Other Information:
Height - 5'5
Heaviest weight - 205

Weigh-ins

2014:
Apr. 25 - 163

2009-2010:
Dec. 7 - 159.5
Dec. 14 - 157.2 (- 2.3)
Jan. 15 - 155.9 (-1.3)
Jan. 22 - 155.5 (-0.4)
Feb. 4 - 155.1 (-0.4)
Feb. 10 - 154.8 (-0.3)
Feb. 17 - 158.9 (+4.1)
Feb. 28 - 151.5 (-7.4!!)
Mar. 6 - 150.6 (-0.9)
Mar. 13 - 150.1 (-0.5)
Mar. 28 - 149.4 (-0.7)
Apr. 10 - 149.3 (-0.1)
May 7 - 146 (-3.1)
June 4 - 144.9 (-1.1)

Profile Image