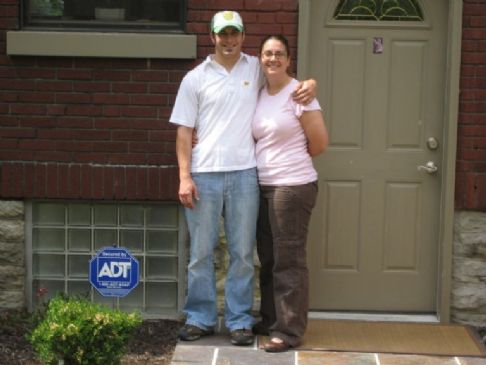 I have 40 pics in my gallery

Awards


It doesn't matter how slowly you go...only that you don't stop!
I joined Spark at the end of Summer 2007 - with gusto. All my life I've struggled to "diet" and with motivation to exercise. But then a friend told me about Spark, and once I joined, it just took off for me! I managed to lose weight over the holidays that year!

By Summer 2008 I had lost about 40 lbs (not quite to my goal weight). I've gained back maybe 10 of that and am trying to get to my goal, but it's tough. But what's more important is that I have kept up this lifestyle for ...
I joined Spark at the end of Summer 2007 - with gusto. All my life I've struggled to "diet" and with motivation to exercise. But then a friend told me about Spark, and once I joined, it just took off for me! I managed to lose weight over the holidays that year!

By Summer 2008 I had lost about 40 lbs (not quite to my goal weight). I've gained back maybe 10 of that and am trying to get to my goal, but it's tough. But what's more important is that I have kept up this lifestyle for over 2 years now. I still struggle sometimes, I still slip up here and there, but overall, I know that I am making this work, one day at a time.

This is from my original page intro, and it still hits home for me:
"I want to prove to myself and everyone else in my life and in my past that I can change and I am as beautiful on the outside as I am on the inside."

I'm doing it!!!

I've had a lot of people just starting out ask me for tips. Honestly, there is no secret. Here is the advice I can offer though:

1) I had to re-learn how to eat, and have worked on staying within my ranges of calories, fat, protein, fiber, and sodium. I don't eat much processed food, like 100-calorie pack stuff (those things are totally worthless, nutrition-wise!). I get lots and lots of fresh fruit and veggies, and we cook nearly every night of the week. Stick to whole foods as much as possible, don't restrict yourself, but stay mindful and conscious. You've got to learn how to make good choices and sustain that for the rest of your life if this is going to be a real change. It's not a diet, it's a LIVE-it!

2) I work out really hard. I do Spinning, jog outside (weather permitting), or use the treadmill or elliptical, and do strength training - I shoot for 4x a week of good workouts. I get in extra activity when I can, like biking, hiking, roller skating, yard work, walking, and other weekend activities.

2a) If exercise isn't fun, you'll never do it!! With that in mind, find the one or two activities that you truly enjoy. Mine is cycling - I do my Spinning classes, but if I miss one of those, I know I can always get out the bike and go for a ride outside. Cardio from an activity that you actually like will give you more motivation to exercise. So try out a variety of activities! Dancing, skating, sports leagues...find things that don't feel like exercise! Again, you've got to do things you can continue to do for the rest of your life.

3) No one can give you motivation. People can inspire you, yes, but your motivation will always come from within. You just have to tap into it. Adopt a mantra, like "just keep swimming!" or "nothing tastes as good as thin/healthy feels". Whatever it takes, but you will have to find that thing that keeps you going. Be determined to be better. Owe yourself that, at least.

And the most important thing...

4) NEVER GIVE UP. NEVER. NEVER.
It does take time, it takes committment, it takes sacrifice. It takes hard work, it takes sweat and tears, it takes everything you've got. But it is soooo worth that sweet feeling when you try on your favorite pair of pants (the ones that used to make you look thin!) and they are far too big. It's all about getting out of it what you put in, and just staying consistent. Don't throw in the towel because you had a candy bar after lunch...learn from your mistakes and ask yourself "what can I do to make myself feel better about that mistake?". Learn from it, deal with it, and move on. Don't beat yourself up over stuff like that. Forge on!!

-----------------

Update 1/26/11

I've been going fairly strong for 3 years now, but it's time to a) step it up and get toned and b) make this a more effortless lifestyle. This year has started off strong and I'm feeling really determined and motivated!

I've been focusing heavily on strength training, and it feels good to see muscles and know I am STRONG! :) The tougher part is developing a healthy relationship with food and eating, and one way I've been tackling that is to track EVERYTHING, EVERY DAY. I'm really focusing on staying conscious and learning to listen to my hunger cues.

Also, I finally got rid of the brown pants (I was hanging on to them even though they stopped fitting a few years ago - it was a nice reminder of where I came from). Now I have absolutely NOTHING to fit into if I gain weight ;)
SparkFriends

SparkTeams



My Ticker:
current weight: 154.0


Recent Blogs:

Profile


Member Since: 8/21/2007

SparkPoints: 49,259

Fitness Minutes: 67,763

My Goals:
Feel more confident and feel sexier.

Improve my lifestyle: eat better, be more active, have more energy (I have accomplished all of these things and I intend to keep it up!).

Establish a healthy, easy relationship with food.

Tone up my muscles and lose the jiggle!

Learn to live in the moment and appreciate my life.

My Program:
Tracking my nutrition on SparkPeople.

Trying to make heathier lifestyle choices (not just "dieting"). Eating for nutrition.

Exercising at least 4x a week (cardio and strength).

Fitting in little bursts of exercise, like squats or crunches while I brush my teeth and using the stairs at work instead of the elevator.

Drinking 8+ cups of water.

Kettlebells, elliptical machine, treadmill intervals, Spinning, walking the dog, biking, and hiking are my primary and favorite things to do!

Personal Information:
29, from Cincinnati

Desk Jockey

Singer/songwriter/guitar player

Other Information:
I live with my awesome husband and we play music together as the duo twig&leaf. We have 3 cats, 2 tree frogs, and a very happy dog.

Profile Image