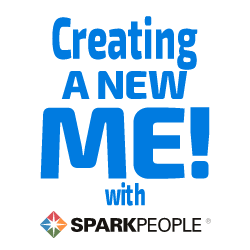 I have 5 pics in my gallery

Awards

~ There are some things I cannot change, but I can change me.
I am a 52 year old female. I live in PA. I want to lose 100 lbs. I know it's going to be a hard journey, but I am up for the challenge. I have fibromyalgia, Psoriatic Arthritis and survived cancer in 2006. Healthy eating is so important in dealing with illness or preventing it. I work very hard at keeping a positive attitude. It makes things so much easier to do that.

I am setting small weight loss goals instead of looking at the entire picture of what I need to lose. ...
I am a 52 year old female. I live in PA. I want to lose 100 lbs. I know it's going to be a hard journey, but I am up for the challenge. I have fibromyalgia, Psoriatic Arthritis and survived cancer in 2006. Healthy eating is so important in dealing with illness or preventing it. I work very hard at keeping a positive attitude. It makes things so much easier to do that.

I am setting small weight loss goals instead of looking at the entire picture of what I need to lose. It's less overwhelming that way.

I love life and all it has to offer. God gave us so much, it's up to us to use the tools he's given us to better our lives, and ourselves.

I need ALL the support I can get. I need you all here :) I want to be there for you too :) I wish you all the best of luck in your journey to lose weight.

****************************************
UPDATE: 3/11/09 (41 lbs. lost)

****************************************
Don't Quit

"When things go wrong as they sometimes will
When the road you're trudging seems all up hill.
When funds are low and the debts are high.
And you want to smile, but you have to sigh.
When care is pressing you down a bit.
Rest, if you must, but don't you quit.
Life is queer with its twists and turns.
As everyone of us sometimes learns.
And many a failure turns about
When he might have won had he stuck it out:

Don't give up though the pace seems slow -
You may succeed with another blow.
Success is failure turned inside out -
The silver tint of the clouds of doubt.
And you never can tell how close you are.
It may be near when it seems so far:
So stick to the fight when you're hardest hit
It's when things seem worst that you must not QUIT.

Author unknown

****************************************
"Yesterday's failures are today's seeds
That must be diligently planted to be able to abundantly harvest
Tomorrow's success."
Anonymous

****************************************
Those who hope in the LORD will renew their strength. They will soar on wings like eagles; they will run and not grow weary, they will walk and not be faint.
Isaiah 40:31 NIV

****************************************



SparkFriends

SparkTeams



My Ticker:
current weight: 259.0


Recent Blogs:

Profile


Member Since: 11/1/2006

My Goals:
1. Lose this weight.
2. Drink my 8 cups of
water daily.
3. Count my calories
on sparkpeople daily.
4. Keep on exercising as best I can with a chronic illness.
5. Look at myself in
the mirror daily and
remind myself I am
worthy of this.


My Program:
Counting calories and trying to move more! Every little change will add up :)

Personal Information:
Age 51 (female)

Married- 32 years

2 grown children

2 grandchildren

Enjoy music, internet, crocheting and hallmark movies :)




Other Information:
"The struggles make you stronger, and the changes make you wise"
Great quote from the song: Life Ain't Always Beautiful" by: Gary Allen

YOU, and ONLY YOU can change who you are :)

Profile Image