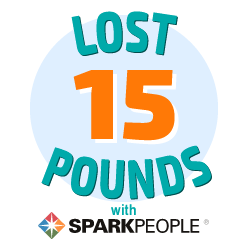 I have 2 pics in my gallery

Awards

Losing Weight and Finding Myself!
I am a 51 year old woman who is 5'4" and in the process of losing about 30 pounds. After finding out finally what program works for me, I am setting some SMART goals to lose a pound a week until I reach my goal weight of 120-125. The reason for the spread is because I will have more muscle at the end of this, so 125 may look like my old 120! My attitude towards this is a lifestyle change, particularly with regard to movement daily.

Read below to follow my journey ...

...
I am a 51 year old woman who is 5'4" and in the process of losing about 30 pounds. After finding out finally what program works for me, I am setting some SMART goals to lose a pound a week until I reach my goal weight of 120-125. The reason for the spread is because I will have more muscle at the end of this, so 125 may look like my old 120! My attitude towards this is a lifestyle change, particularly with regard to movement daily.

Read below to follow my journey ...

INITIAL ENTRY 2010:
I have been blessed with good health and a healthy BMI all my life. In the last 3 years I have put on 30 pounds. Although I feel good about myself, my insulin resistance numbers indicate that I need to lose the weight to be much more healthy.

UPDATE: Insulin resistance numbers have normalized (October 5, 2010) and weight is dropping now.

UPDATE: Weight is back on after an appendix removal and battling c.diff for months. Trying Jon Gabriel now as my body needs to heal and lose weight.

UPDATE: Well I am now 50 years old and am still at the same weight after losing and then gaining again. I have been monitoring calories forever and feel that this is a change of life issue due to hormonal changes. I will continue to eat clean and exercise and that will at least hold off further weight gain.

UPDATE: Switched to a moderate carb Serotonin Power Diet and have hormonal balance with slow but steady weight loss. Lots of energy as well. My husband has shown even more progress with mood and energy.

UPDATE: June 22, 2013
Wow. I have tried so many things. There is no perfect diet plan ... you have to change your lifestyle!! That is why I am overweight .... So not rocket science, but still a revelation to me.

UPDATE: December 16,2013
Next up is limiting carbs to 20 grams at a sitting - trying to heal my pancreas and insulin response. Also being more conscious of tracking and being consistent. Obviously carb sensitive - Syndrome X classic.

UPDATE: January 31, 2014
After staying within my ranges for over a month, the weight didn't budge. Then I cut out coffee, wheat, and dairy, while keep all of my ranges correct. The carbs just weren't wheat. Lo and behold, I lost 6 lb in two weeks. Hmmm.... studies have shown coffee can be estrogenic for women .... The wheat I tested with one serving, and sure enough, lots of bloat and gas. I will avoid that for the remainder of the weight loss period. Dairy is next to check ...

Tracking on Sparkpeople and thinking like a thin person. Stay tuned :)
SparkFriends

SparkTeams

My Ticker:
current weight: 177.0

Interact with STARBUCKSAMORE






Recent Blogs:

Profile


Member Since: 2/15/2008

SparkPoints: 22,605

Fitness Minutes: 11,618

My Goals:
I am in the process of losing about 30 pounds.

My Program:
Tracking on sparkpeople only ... have tried MANY other ways, but this works.

Personal Information:
Love to quilt, knit, embroider and eat!

Profile Image