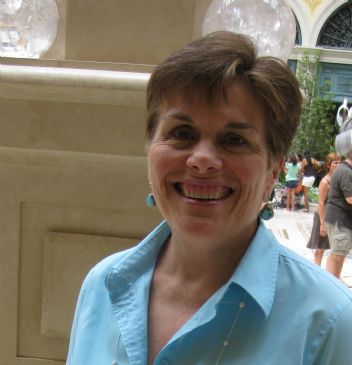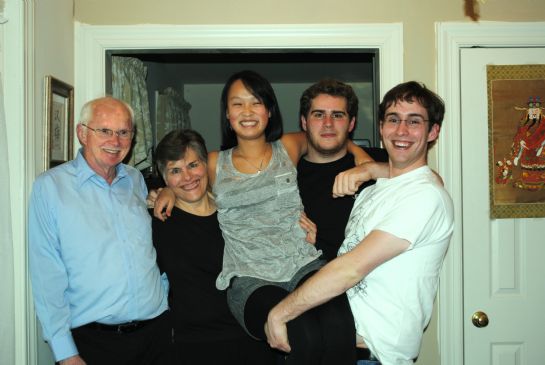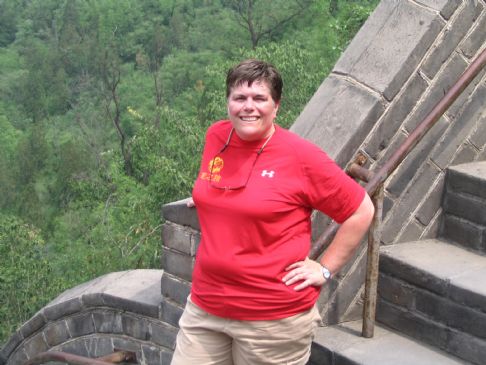 I have 42 pics in my gallery

Awards


It's The Journey.........................
I have been a member of SparkPeople for five life-changing years. During that time I have learned many lessons about myself, changed my habits and lost a lot of weight.

The past year has been an extremely difficult one for me. My husband has been battling cancer, and I was thrown into a whirlwind where I didn't recognize my life or myself. As I write this, we are in a time of relative peace. We are aware of no active cancer growth, but also know that his odds of ...
I have been a member of SparkPeople for five life-changing years. During that time I have learned many lessons about myself, changed my habits and lost a lot of weight.

The past year has been an extremely difficult one for me. My husband has been battling cancer, and I was thrown into a whirlwind where I didn't recognize my life or myself. As I write this, we are in a time of relative peace. We are aware of no active cancer growth, but also know that his odds of surviving this are not good.

I gained somewhere between 20 - 25 pounds during this ordeal. That is not good at all, but I will tell you something that I know with absolute certainty. If it hadn't been for SP and all the lessons I learned here and changes that I made in my life, I would have gained far more weight than that. In between the times when I couldn't find the strength to care about myself were the times when I would jump onto the treadmill when I had ten free minutes or I would choose not to fall headlong into a bag of junk food.

Even in the midst of all the stress, heartache and exhaustion, I remembered those lessons and how wonderful it feels to take care of my body. On my darkest days when I seemed to not care at all about myself, there was a little voice inside me reminding me that I would probably care tomorrow. That voice kept me from doing so much damage to myself that I would find it hard to overcome it.

That voice was born with me, but had been buried through years of unhealthy living. SparkPeople helped me to find that voice again and to nurture it. I know now that even in the toughest times it is alive within me.

5-27-13
________________________________________
_

In 2012 I will celebrate 4 years with SparkPeople. Many positive things have occurred in my life that are directly linked to my connection with SP. I have lost over 70 pounds since finding this site and I have developed many new, healthy habits to which I attribute my ability to keep the weight off. In 2011, I came to the realization that I was not really maintaining my weight, but was instead gaining and losing the same 5 or so pounds over and over again. I have definitely developed habits that prevent me from allowing my weight to go way out of control as it has in the past, but I haven't truly learned how to "maintain". I am convinced that this is due to the fact that in some ways I still "use" food to fill other voids in my life and to deal with other feelings, like boredom, anger, sadness, etc. I refer to this use of food as mindless eating because I want to grab some food, sit down in front of the television and just stuff it mindlessly into my mouth. My absolutely most important goal for this new year is to develop new habits that will eliminate mindless eating from my life.
1-1-2012
________________________________________
_

In 2011 I plan to work hard and look for the positive in things. The last few years have been full of struggles, both personal and professional. I have become somewhat downtrodden by these events. I know I can control my attitude. 2011 will be the year of positive thinking and positive action. I can change my body, my attitude, my life. Today is a new beginning (and so is tomorrow and the day after that.) I will strive to let go of what I am in order to become what I can be.
1-1-11
________________________________________
_
The last year has been one of the most difficult of my life. We put our house on the market after 18 years of living in one spot. Our main goal was to get our daughter into a new school, but we also wanted to change our lifestyle. We had lived on an acre of land in a neighborhood, filled with 100- foot tall oak trees. The trees and the neighborhood were beautiful, but the work required to maintain the trees and the yard was tremendous. We also had an in-ground pool, and it just seemed that all of our free time went to outside chores.

In order to make the change, we first spent an incredibly hectic month getting our house ready to sell - removing wallpaper, painting, de-cluttering, doing fix-up projects, etc. Then came the seven long months of keeping the house spotless for the many showings we had. There was also stress over our dog, who is afraid of strangers and barks a lot when someone new appears. In addition to all of this, was the worry that we wouldn't be into the new school district in time for the new school year. (On top of these issues was the fact that I was attempting to homeschool my daughter while working full time. That work involves running a nonprofit, state-funded agency in the midst of serious budget cuts and other crises.)

Once the house sold, there was the task of finding a new house quickly. Then came the packing and moving of 18 years of our life, and finally, the unpacking and the creation of a new life.

That is where I am now. Life is good. My daughter loves her new school. I love my new house and neighborhood. The only thing wrong is that I feel unsettled within. I have lived in a state of high stress for so long that I don't quite know how to relax anymore, and, with everything around me changed, I am struggling to create new habits. In all my life's upheaval, I lost my habits. I frequently make healthy choices, thanks to SP and my 2.5 years here, but I also make plenty of unhealthy ones because I feel untethered.

I am committing here to actively working to establish healthy habits again.
10-31-10
______________________

I have lost and gained hundreds of pounds over the years. My first "diet" was at age 11. I now know that I must change me --- my thinking and my behavior --- and the body changes will naturally follow.

This will not be easy and it won't happen overnight, but it will happen if I focus on the goal and remain positive. Every pound lost is a GAIN for me! I must rejoice with every pound that leaves and not bemoan the fact that it wasn't two pounds or three. A year from now I will be a new me!
________________________________________

SP has been a wonderful gift to me. The information, motivation, support and friendship that I have found here have taken me from 264 on April 25, 2008 to where I am today, and the journey continues. I have learned that the journey will always continue, and I now have the tools I need to make it a happy, healthy, active journey!
________________________________________

It has been a little over seventeen months since I joined SP. I have lost over 70 pounds of flesh in that time and tons of emotional baggage. I think of all the years I spent searching for that "magic bullet" that would make me thin, and all I had to do was live in a state of moderation in all things.

The Spark program gradually introduced me to healthy, moderate living and I began doing it. It is just that simple. I was given a calorie range and a simple way to calculate those calories, and I very rarely stray outside those limits. SP gave me suggestions for exercise, healthy living information and a support system to help me along the way. I have embraced it all and have become a new woman in many ways.

Aside from the weight loss, there have been several other huge benefits of my lifestyle change. The first is that I have at least three times the energy levels I had previously. I never tire in the afternoon as I used to do. I get an incredible amount of work done. I amaze even myself! I also have a much more positive outlook on life and have much greater patience. I never realized that my unhealthy habits was so detrimental in so many important areas of my life.

The other big surprise I got with SP is the realization that I am no longer on "a diet". There is no end to the journey that I am on. I don't want there to be an end. I want to arrive at a healthy weight where I feel and look great, but that won't be the end. I don't ever want to go back to the way I used to live. I want to continue on my new path. When the excess poundage is gone, there will still be new goals to reach. I'll want to tone my body, increase my endurance, strengthen my bones ......who knows, I may run a race, climb a mountain or swim a channel. The whole world has opened up for me, and I am loving life!
September, 2009





Current Status:


SparkFriends

SparkTeams



My Ticker:
current weight: 188.6


Recent Blogs:

Profile


Member Since: 4/25/2008

SparkPoints: 151,508

Fitness Minutes: 63,694

My Goals:
To lose the weight I gained while my husband was ill.




My Program:
I track everything I eat. This has been enormously helpful. I was always very resistant to doing this but the Nutrition Tracker makes it a very easy task. I stay within the nutrition limits suggested for me by SP. I walk, use a treadmill, elliptical trainer, arc trainer and weights.

One of the most important things I do is to remind myself that I didn't get this way overnight and I will not resolve it overnight. I try to do whatever it takes to remain positive about this journey. Being disappointed causes a downward spiral and I have done that many times before. Being reasonable about my expectations and consistent in my behavior will lead to success!

Personal Information:
My name is Jennifer. I live in Maryland. I am married and have 3 children - 2 sons and a daughter.

Other Information:
Favorite quotes:

When I let go of what I am, I become what I might be.
~Lao Tzu

"It is good to have an end to journey toward; but it is the journey that matters, in the end."
~ Ursula K. Le Guin

"A journey of a thousand miles begins with a single step."
~ Lao Tzu

"It is never too late to become what you might have become."
~ George Eliot

"Don't go out expecting to find happiness. Bring it with you."
~Tone Downer

"It's not who you are that holds you back, it's who you think you're not. "
~Author Unknown

Profile Image