| | |
| --- | --- |
| | ADARKARA's Recent Blog Entries |


Monday, September 01, 2014
(This blog is brought to you in part by A Perfect Circle's "Thinking of You". Not linked because it's really not Spark appropriate at all, Google at your own risk.)

So I was up early this morning, which appears to be a trend for me lately. I like waking up early if I've slept well: it gives me time to relax and drink my coffee without the noises of the dog or the tv. I decided that since a couple of people have asked me about my exercise routine, and I usually mention I do some jogging at my desk while goofing off or listening to music, that I would post a picture of my standing desk.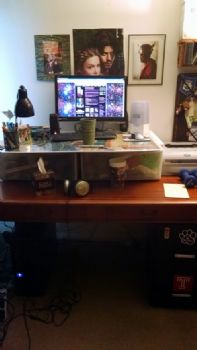 It's an old all-wood exec desk, topped with two plastic storage drawers, topped again with a poster in a cheap poster frame for the "desktop". It's not pretty, but it functions. I can sit comfortably and type with my monitor pointed down, or I can stand and jog while I goof off watching videos or listening to music. On the right is my HappyLight, which is my wintertime anti-depression therapy!

Total cost of said standing desk? Free. When in doubt, improvise!

The morning was pretty boring around here. Bingley and I hung out for a while and I cleaned a bit before lunch. We ran to the Toyota dealership to grab hubs registration, the came home for lunch (bulgogi, remember?). After lunch we headed out to the thrift store! This is not your ordinary Goodwill. This is a for profit thrift store, so they have a pretty good selection. And Sundays and Mondays are discount days. I grabbed a few pairs of jeans and actually found a pair that fit. (Note: the changing room is really grody and the mirror is dirty but it's too dark to take good pics here now, and I won't be wearing them for at least a week since August finally arrived in South Jersey and it's going to be 93 tomorrow, so this is what you get.)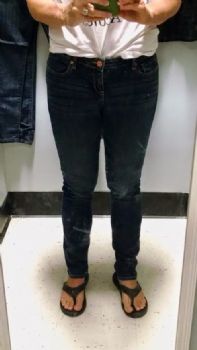 (And yes, I know my flipflops are too big. At least, I know NOW, lol.)

Afterwards we went to Joann's to pick up some scrap fabric for the Renaissance Faire and stopped by a discount store in the area. I think it was called Ozzies, where I got this: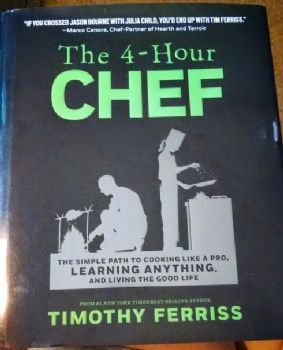 I bought this book because it looked like it had a good sense of humor... plus THIS RECIPE:




If you're new to being my friend I will explain. I have made it my personal culinary journey to taste the hearts of as many mammals as I can in my lifetime, even if I have to cook them myself. So far I have had duck, turkey and chicken. I can get beef and pork hearts at the Korean supermarket. Still unsure if I want to try making chicken feet at home though. (Life is an adventure, people, don't knock it til you've tried it!)

I'm looking forward to really delving into this book. I would consider myself an intermediate cook, so it might not teach me too many basic skills, but it should be a good read regardless.

(Side note: most of the foods I dislike are things "normal" people find delicious, such as macaroni/potato salad, cole slaw, horseradish/wasabi, deviled eggs, any one of those weird mint green colored salads called ambrosia, etc. but I love all sorts of things people think are "weird" like hearts and braunschweiger. I also happen to think that Velveeta makes superior mac and cheese, which might make people faint, but whatever.)

Other than that, not much going on here. We had chicken cordon bleu, lima beans (makes me think of my dad every time I eat them) and steamed cauliflower with a bit of Velveeta on top. Yes, I said I put Velveeta on my cauliflower. It's also good with parmesan, and is probably good with cheddar, or queso fresco, all of which are in my fridge right now, I'm not a total heathen!

Actually looking forward to work tomorrow, but not looking forward to walking the dog in 93 degree heat with the humidity making it feel like it's 97.

Oh right, mosquito bites! Today I got my second and third mosquito bite of the ENTIRE summer, which has to be some sort of weird record for me. They usually attack me like crazy! Maybe I am less tasty than I used to be. I am NOT complaining!

Hope you all had a fabulous Labor Day weekend!








Sunday, August 31, 2014
(This blog is brought to you in part by Boom Clap by Charli XCX, which has been stuck in my head all day. youtu.be/AOPMlIIg_38 )

Went to bed before 10 last night, I was so sleepy. Woke up around 6:15, felt decent. Made myself some hazelnut coffee and sipped that while working on the grocery list for the week. Talk about last minute!

Convinced hubs to drive during the shopping trip. First stop: Produce Junction. Got 5 lbs onions, 1 lb asparagus, 1 pkg cherry tomatoes, 3 bunches of cilantro, and 2 lbs of Pink Lady apples. $9 total.

Drove through a neighborhood we'd never driven through before just to look at the houses. One of them was gorgeous, but most of them were just big and not particularly pretty. I am sort of anti-stucco, and there was a lot of stucco.

So then we went to Shoprite, where we grabbed a few more things, nothing exciting, went home, dropped off stuff then back out again to Walmart. On the way to Walmart, I asked if we could stop by DSW so I could look for shoes to go with that dress. Being only 10 am, they were not open yet. Boo. So we went to Walmart and finished our grocery shopping. Out of curiosity I decided I would try on a pair of "skinny" pants. They were gray and stretchy and Juniors. I wasn't planning on buying them, but I figured why not try them on? They were a size 9. NINE. Well, they went on fine, but boy oh boy were they unflattering. No pics of those!

On the way out I saw the most ridiculous pair of shorts. They were on the clearance rack for $3. Hubby told me to buy them. I told him I could NEVER wear these in public!!! He suggested sleep shorts. I caved. Here they are in all their glory: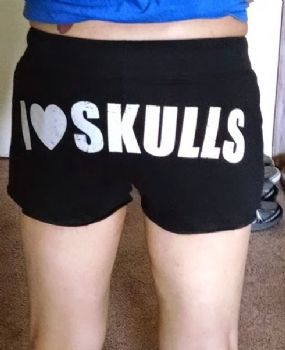 It's true, I do love skulls. But are these not the most ridiculous things ever?!

After grocery shopping we came home, had lunch, did some laundry, and I talked to my mom. She told me about this geneaology project her aunt has been working on for almost a decade. She got the family back as far as 1540. FIFTEEN FORTY!!! And, guess what? She thought we were mostly German on her side. Turns out we are way more IRISH than we thought! ALLLLL the people from the 1600s are from Ireland. I was so excited because I've been to Ireland, and I think it is one of the most magical places I've ever been. And the PEOPLE! The people are what make Ireland special. They are so amazingly sweet and wonderful. I dream of someday going back to that incredible country. So that was cool.

She also mentioned she's applying for a job closer to us in Allentown, PA. She's been trying to get us to move to Richmond, VA for like 2 years now, and while I do want to see more of her, I don't want to give up what I have here. I (I repeat) *like* New Jersey. Now she would tell me it's only because I haven't lived very many other places, which is true except for 3.5 years in Rhode Island, which may have been some of worst parts of my life, but NJ is the center of so many things. In less than 2 hours I can be to 3 major cities, the mountains and the ocean. I can get to DC in 4 hours. I can eat dozens if not hundreds of different cuisines. EVERYTHING IS OPEN ON SUNDAY AT 5 PM. I can get a hoagie at 3:45 in the morning IF I SO CHOOSE!

If she winds up in Allentown I won't complain, though. It's about 2 hours away so I can see her more but I won't have to move out of the area if I don't want to.

By the time I got off the phone with her, hubs was bored. He suggested we go back to DSW. (Yes, ladies, you can be jealous, my husband ASKED to take me shoe shopping, lol.) I tried on a whole bunch of red and pink pumps. Nothing really struck me.

At least, not until I saw THESE: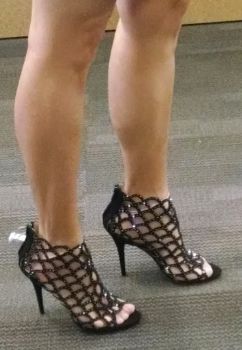 Never in my entire life would I imagine picking out a pair of shoes like these, and never in my entire life would I imagine trying them ON. They only had 10s, which sucked, because I'm a 9, but I tried them on ANYWAY. If they had had my size in stock I may have dropped that $80 right then. BUT if I really want them I have to drive a half hour to another DSW, so I have plenty of time to talk myself out of spending that money. At least I have pictures. *sigh* lol.

So for dinner we had Beef Bulgogi Summer Rolls and rice. Summer rolls are rice paper wrappers stuffed with delicious things. In this case it was bulgogi beef, asparagus, cucumbers, shredded carrots and sliced bell peppers. We had plain jasmine rice on the side. Perfect for this hot and humid day.

A thunderstorm rolled around after that, and Bingley promptly hid in hubs closet. He's still in there I think. I sat out on my 'terrace' for a while, watching the storm and letting the rain splash my feet. I realized the golf course sprinklers were on during the rain, too.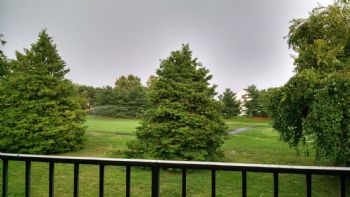 Not sure if you can see it in the photo.

All in all, had a pretty good, if low key day.

Tomorrow we're going to go to the thrift store if it's open, see if we can get me a few more pairs of pants. I wear jeans almost every day because a) they're comfortable and b) I can get away with them because I don't work in the showroom. But I seriously need to start restocking my closet for dinner, unless I want to look like a baglady. I also am going to need a winter coat, since the one I have is a 3X. I just hope this winter isn't as cold as last year!

Anyhoo, hope you all have a fantabulous Labor Day if you're in the US! Everyone else, have a great Monday. I'll make sure to post pics of any clothes I grab tomorrow if I get any.








Saturday, August 30, 2014
(Today's blog brought to you by Bad Religion's 1994 album Stranger Than Fiction.)

So I went to bed in a good mood last night, but the reality of everything had not yet set in. I had spent the evening going through my clothes, of which I suddenly realized I have very few, trying things on and checking in the mirror to see what I should keep and what I should donate.

I even tried on my two old bathing suits, both black, boring one pieces, one racerback and one halter. They would both be acceptable to wear in public, if I had a place to swim, so I'm hanging onto them. The racerback is pretty big on me, but I like that it shows off my tattoo. The halter top one looks pretty good, but I definitely think I need to invest in a new one next year, particularly one that supports the girls a little better. They need all the support they can get! (You may remember I have a cousin by marriage who recently had a bilateral mastectomy... she got her new boobs the other day and she was SO excited because he doc told her she would never have to wear a bra again. Wouldn't not having to wear a bra be nice?! As long as it didn't mean you had to have cancer first, of course.)


So anyway I went to bed after that still feeling kind of low key. But this morning I woke up, made coffee, weighed in as usual, and checked my e-mail.

HOLY CRAP YOU PEOPLE ARE SO WONDERFUL I CAN'T EVEN BELIEVE IT!

Not only did I make goal yesterday, but I WAS A FEATURED BLOG POST!!!

I'm going to start thanking everyone individually soon, which at this rate might take the entire weekend, lol.

Know this: I couldn't have done it without you. This community, while occasionally flawed... is AMAZING!

I'm so looking forward to sticking around and continuing to blog while I flow through into maintenance and focus on a new fitness goal, so I'm not going anywhere! The battle isn't over yet!






I love you guys!






Friday, August 29, 2014
*pssst* Down here. On the floor.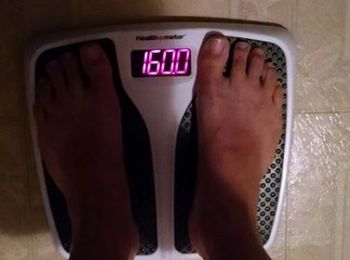 *panics*

WHAT DO I DO NOW?!!!!!!!!!!!!!!!!!!!!!!!!!!!! (yes this deserves the extra exclamation points!!!)

(I know what to do. Just freaking out a little.)

My next step is to figure out how to change my lil tracker bar. Then to UP my calories some more. (I have a feeling I will probably lose a bit more by accident just trying to figure out my calories, plus right now there is NO WAY I'm going to be able to eat to maintenance the way I've been feeling, but that will come with time.)

Spoke to my bestie this morning. She asked how I was going to celebrate. Since I STILL haven't done the Delaware Water Gap hike I wanted to do at 100 lbs down, I told her I wanted to do that. So we're figuring out a date in the next few weeks. Can't wait to do some comparison shots!

Anyhoo, I need to finish my lunch. I've been "eating" my lunch for almost 30 minutes now, and I'm still not done. I may just cover it up and finish it later.

The day is going by pretty fast, though, so that's good.

Bossman had some choice words for me this morning (involving all sorts of non-Spark appropriate words) when I showed him the photo of the scale. I told him he was jealous. And he said "HELL YES I AM!" So that was cool.

Either way, I'm feeling kind of chill about the whole thing. Maybe it will take a few days to sink in? Looking forward to my hike, though!








Thursday, August 28, 2014
Each day I get a little better. In spite of my tremendous positivity, I am still not well.

Last night I couldn't finish my dinner. As I bring the exact same thing for lunch the following day as I had for dinner the night before, I didn't finish my lunch either. I made chicken breasts coated in jerk seasoning, crash hot potatoes and coconut collard greens despite picking up my car, but the curse of this illness is it looked delicious, smelled delicious, and I was hungry, but I just didn't *feel* like eating it. I ate til I was full, which was about half the greens, 2/3 of the chicken and the entire (small) potato. I left my plate on the table while we ran to the dollar store to buy dog poop bags (because if you are going to pay for something to put sh*t in, it might as well be as cheap as possible, same goes for toilet paper btw) and on the way back home I thought I might want to eat the rest.

The entire meal was only 420 calories, so I had only eaten about 250. I was just...not...interested.

Tonight I made one of my husbands favorite things: hillbilly one pot. It's ground beef, canned beans, onions, carrots, celery, diced potatoes, beef stock and smoked paprika. (He will eat anything that involves the combination of red meat and beans, bonus if it's sausage of some kind.) It's pretty good, but higher in calories than I would normally make, about 550 a bowl. I know I've been undereating these last few days, and I managed to eat the whole bowl. This was 3 hours ago. Still not freakin' interested in food.

You could wave rare grilled duck hearts or foie gras with concord grape reduction in front of me and I think I would say no. I think I would even say no to PIZZA right now, and let's face it, pizza is like sex: even if it's bad it's still pretty good. I've already tracked dessert for myself...but it's 9:40...

If I don't eat it, I'm under my low range. I haven't exercised in days though, because moving a lot makes me feel worse. Today I even chose to drive the 1/4 mile to the bank to make a work deposit instead of my usual walk. (Still have 5500 steps though.)

Growing up, my dad always knew I was really sick when I didn't want to eat. The thing about whatever I have is... I don't *FEEL* really sick. At least part of the day I feel almost good. I felt cruddy when I woke up this morning and had to choke down my breakfast. I only had a cup and a half of coffee, too, despite sleeping like total crap. I am usually a good sleeper. I *usually* get between 7 - 8 hours a night. I CANNOT sleep during the day. Even if I'm exhausted I can't nap, unless I'm super, duper sick.

Hubs fell asleep on the couch last night with Bingley (as is his usual non-plan) and came to bed around 3. I woke up right around then when Bingley kicked me in the chest. (Nice of him, huh?) From 3 to after 5 I was WIDE awake. My brain just switched on and I was thinking about so many things and I couldn't switch the dang thing off. Bingley crawled out from under the covers at some point and wrapped his legs around my leg, and I think proceeded to dream about jumping fences or something. That with the snoring going on was just too much. I got up and hopped on here. Read a bunch of awesome comments from you fine folk.



Around 5 I decided to try again, and managed to sleep until 7.

There was very little to do at work today, but the Saleswoman decided I was her new best friend. (Note: when I am healthy, I find her intensely aggravating. She is entirely concerned with herself and no one else. She talks about EMPs and conspiracies and how the government is controlling the weather. She is the ONLY EMPLOYEE besides the Watchmaker that my boss didn't ask my opinion on before he said "you're hired!"

I do not hate her. I don't hate anybody. And to be honest, I think she is totally oblivious to how crazy she drives me. So I'm her buddy. Despite me wishing for coming up on two years now that she would be fired. Since I have not been feeling well, it's been very difficult to be my usual, no-nonsense snarky self with her. I know I am ill because I actively continued the conversation with her about how dangerous Camden is. This illness is sucking out my snark!

I did, however, harass my underling Josh for a while. Josh is a superbly nice guy whom I have to watch make bad decision after bad decision in regards to his finances. I am very good about biting my tongue about these things. (I live on a budget. If I don't need it, I don't buy it, or I feel intensely guilty about buying it, no matter how inexpensive it is. Buying a brand new car was an intense situation for me, seriously, despite having excellent credit.) I think he has trouble telling the difference between want and need. I think my boss does, too, actually. Which is why he leaves the books to me.

(BTW I am totally sorry this is so long, I'm feeling rambly.)

But despite witnessing yet another bad choice today, I still enjoyed giving him crap about all sorts of other things. In real life, I give people crap. It's what I do. If I don't give you crap, I probably don't like you very much. It's all in good fun though! As is usual in my workplace, the conversation rapidly degenerated to vaguely pornographic topics that are totally not appropriate for Spark or probably most of life, but it's just how it is in the jewelry biz (or at least where I work).

But I did get *some* good news. Our shop is sponsoring this years Diamond Dash at our local minor league baseball team (Camden Riversharks) so we all get to go to the game for free on Sept 7th! It will be my first baseball game of the year. Unsure if it's "cool" to wear a Phillies tee to a Riversharks game. Bossman asked me to help work our table (probably because I'm hot - j/k) so I'll be dealing not only the public but BRIDES, some of the pickiest people on earth (I know, I've been one). Guess I will grin and bear it, but I hope I'm not expected to sell anything because I'm terrible at sales unless it's something really useful.

So that's exciting.

(I ate my dessert btw.)

Today work was excruciatingly boring for most of the day (there were *some* highlights) as we had ONE thing to ship. (I say we, like anyone else does it but me.) I looked at shoes online for a while. I checked out potential anniversary worthy restaurants on this side of the bridge because hubs doesn't want to drive to Philly this year (*ahem* I do all the Philly driving. I think he means he doesn't want to take HIS car to Philly) so we're stuck with a whole crapload of Italian places and one American Fare joint with a tasting menu. He picked the latter. The good news is it's a classy enough joint that I will still be able to wear my dress.

What makes me sad is that last year's dinner was so amazing (I'm sure you remember me waxing poetic about it) that I'm almost assured I'm going to be disappointed this year. I know that's a terrible outlook but Zahav was like the meal of my life thus far. *sigh* Maybe if I treat this year's dinner like I treated Abraham Lincoln Vampire Hunter I will have an amazing time (NO expectations whatsoever).

We were talking about going to Atlantic City but none of the restaurants there excite me. And if I'm going to pay more than $100 for dinner I want it to be exciting. (On a side note, of which there are several this evening, I happened to check what the traditional gift on a 6th anniversary was... and it's CANDY or IRON. We do live in front of a golf course... so maybe it will be iron. The modern gift is wood. I'll take wood please, if you get my meaning.)

For the record, to the men out there: If you come home from work and your wife is on the couch watching a movie and you say "Are you watching this?" because you don't want to watch Pride and Prejudice, she WILL get angry at you. She wants to look at Matthew Macfadyen's sad eyes and try to make him all better, ok?! A woman can only take so many shows about Air Disasters or clip shows about people breaking their faces by being towed by a truck while riding on a kayak in the middle of a field. It gets tiresome. *steps off soapbox*

Anyway, I guess I had a lot more to say than I thought. I've made it past 10 PM now, and I'm not terribly tired, but a couple chapters of Athos, Porthos, Aramis and D'Artagnan will hopefully help. I really want to be back to 100% asap though, so I can get started on this booty. I want to go to my local park and walk around the wooded trails for a while and just think. And forget for a while I live in the suburbs. (Nerd alert, I sometimes imagine I am a character in a fantasy book on one of those long journeys like the Hobbits took to Mordor.)

So now that I've bored you, I'm gonna try to sleep. Night SparkBabes and SparkDudes.






1 2 3 4 5 6 7 8 9 10 11 12 13 14 15 16 17 18 19 20 21 22 23 24 25 26 27 28 29 30 31 32 33 34 35 36 37 38 39 40 41 42 43 44 45 46 47 48 49 50 51 52 53 54 55 56 57 58 59 60 61 62 63 Last Page

Get An Email Alert Each Time ADARKARA Posts