| | |
| --- | --- |
| | ANNIEONLI's Recent Blog Entries |



Sunday, November 18, 2012
Yup...I completely forgot and here I come on Spark to log-in, get some points, check in... and I have an email and goodie and a few page comments (which I will get to return visits in a wee bit to say thanks to) ... and I see that I was lovingly reminded of the fact that I hit 137 on 11/18/2009....and I am glad to say that I have only seen that number once while on maintenance since I am maintaining in the 130-135 range.

But even so, the 137 was a HUGE thing because that was 50 pounds gone.

50 pounds.

FIVE -- ZERO.

Really??? I did that? and I am keeping it off? Yes, I guess I am...and it's a habit to keep my head in the game now because it HAS been so long...who knew.

People from my past always say that it's nice to see and are somewhat surprised that I have kept it off, and sometimes, I am surprised myself....especially when I am down on myself....and clothes are a little tight and I have had a bad eating & low exercise day/week/month that I am not really 157, 167, 177 or 187 because sometimes, it feels like that. (LoL - yes Virginia, there is such a thing as bad days on maintenance).

Anyway...the big secret of this (get ready to hold on to your hats folks!) well, it is to track my food, drink my water, keep my body moving... and never give up on the bigger picture of things... and when I see that upper number on the range, reign in the bad habits and bump up the good habits... and forgive myself when I slip up.

Are there bad times and slip ups? yup, more emotional than calendar influenced (holidays are manageable now). Exercise helps out with those emotional bad times most of the time and talking helps with the rest...talking/blogging ...same difference.



Things that also help....my Maintenance Buddy OAKBORN and I are in touch every day either here or on FB (ahem, more on FB really - LOL) and she really is awesome and you should check out her page. I know she is a ready ear to listen to anything at all... and that is a big help. One day, we will meet face to face, but in the meantime...we have the internet and that is cool and good enough for now.

And the other thing that really really helps....is Sparkpeople... the site, the tools, the community, and the articles. If this wasn't here, I don't know if I would have ever achieved any of this. Why do I know that? Because I tried everything out there over the years (i.e. Slim fast, Weight Watchers, eDiets, and yes, even the drug phen-phen for a few months) and nothing seemed to stick. Spark taught me to re-learn how I ate...and that knowledge is my power now.

OK - Didn't mean to go on a side bar there...I think I wrote about it a while back in my journal and it just popped out again now! LoL But it's true.

Thanks, Sparkers, for being there (and also for reminding me that it has actually been 3 years on Maintenance on Spark!)

Love and Sparks,
Annie






Saturday, November 10, 2012
Hey everyone!

If you didn't already know it from my Sparkname...I am from LI , a.k.a. Long Island. (That's the fish shaped island sticking out into the ocean that's part of New York State).

2 weeks later, I am finally finding the time to write a blog and give everyone an update on the whole thing. What the media has been showing about Long Beach and the Rockaways is all true...I can only imagine how NJ is faring.

There are other parts of LI that are pretty bad too and some are just getting power back now...12 or so days later....and some still might not get power until Thanksgiving. The other side of the devastation is on a bell curve...all resulting mental anguish: some have to rebuild their entire homes and on the flip side, anyone with even an inch of water is battling mold and replacing sheetrock and bleaching wood, and needing to replace boilers and hot water heaters because they were ruined by salt water...and then there are the people who not only have their homes flooded but have boats floating in their front yards from 2 towns over ! No joke. ALL are trying to right themselves.

I can't even write about it in detail because it would become a book instead of a blog.

My house and family, and extended family too, fared very well with only power outages that extended about 6 to 7 full days. We all helped each other out: eating chili together, sharing freezer space, keeping the elders warm by the fireplace. Ahh, family togetherness at it's best, that does start getting old after about the 4th day....mainly for the people "without", but also for the people "with" because all we want for them is for things to get back to normal and for them to not hurt. But the people "with" totally understand the predicament and let's face it, it could have been a whole lot worse for everyone, including us...and we count our blessings time and time again...and then we help out some more.

Is there "survivor's guilt" going on all over Long Island? ....you bet.

There is this fog that everyone is in here. It's like we lost a week of our lives. Halloween? yeah, we did it - for the kids. Others postponed it and did it as a trunk and treat at the school parking lot...those who had enough gas to get there.

Did I even mention the gas shortage here? It was very "Mad Max" for a while. Desperate people trying to fill cans to fill generators. Cars needing to be pushed into the gas station after the car ran out of gas while waiting on a 3 hours line. Fist fights. Good times..good times.

Thank god things like this are getting better with even and odd gas days (i.e.. you go get gas on the even day of the month if your car license plate ends in an even number) and now that power is being restored more rapidly and that the gas is actually getting delivered to stations.

Back to the mental fog I mentioned before.

I am in the grocery store today and I see a few elderly people from the neighborhood. So I asked how they fared - the usual answer is power lost and fridges and freezer contents thrown out. But the answers today were followed by that they got very depressed about everything....from the lights going out, to depending on others, to seeing the aftermath, etc. etc.

It was something I wasn't expecting to hear from these people.

So I can only IMAGINE how the people without homes, electricity, etc. in the most devastated areas are feeling.

These thoughts have been mulling around in my head the last few days and then I happened to read in the local paper that post-traumatic stress was going to be very high in the next few months here...and in varying degrees.

No kidding. I see it and hear it when talking to the most upbeat of people. Heck, I feel it in myself!

I helped a newer friend of mine clean out her lower house level yesterday...and brought my radio, some hot chocolate and a smile. She thanked me just for being there to distract and listen and for my hugs and support. Sometimes just doing a little can mean the most to someone who is hurting.

So Sparkfriends...that is my quick update from Long Island. Help out any way you can....the entire NY, NJ, CT, PA and WV region was hit pretty bad and if you can reach out and donate anything to an organization to help...please do it.

In the meantime....keep on Sparking.





Thursday, October 25, 2012
Today, I took the time to get on the treadmill.

Woke up, no makeup, workout clothes on...enter the 2 hours it took to feed, dress, prep lunches etc, get the kids to school, yadda yadda yadda....and then I was faced with the decision to a) get on the treadmill or b) walk to work as is (not seeing anymore today) and sit at the office and get stuff done and walk home.

So I called my dad....and he said "Go get on the treadmill....I'll see ya later."

So that is what I did.




And I am so glad I did.

Popped in my favorite "Jane Eyre" movie - the one I watch when I am gearing up to break a sweat.

Put the head phones on and cranked up the tunes - yes, a movie IS on, but the sound is OFF and I like music and I have seen the movie so many times I know the dialogue by now. LoL

And while I was at it..I cranked up the incline to work on my cardio since I have been so abysmally sedate as of late.

Well - - I LOVE my body.

Love...Love...LOVE it.

It remembers things. Really...it does.

Cardio...incline of 5% at 3.5 to warm up...10 minutes in, I'm not breaking a sweat.

YAY!!! I thought I'd be waaaaay worse than that! Cardio isn't in the crapper after all! YAY!

So I cranked it up to 6.5% incline and started a run (yes, stupid me, I am on an incline - probably not smart, but you will know why in a sec) and jacked the speed up to accompany the tune that just popped onto my headset.

Get ready for it....It's embarassing as hell...and yes, it's a guilty pleasure:

Disney's ALL FOR ONE by the cast of High School Musical 2 came on my earbuds - you know the one - where they are all dancing by the pool and talking about staying together forever and ever after summer was over (Ok, you can barf now if you need to) LoL

It came on and the beat and the upbeatness of the song was just too much to take and yes, I started running, and smiling, and laughing at myself for even LIKING one of my kid's songs!

If anyone could have seen me in my dark little corner of the basement...you'd have laughed your butt off!

Ran the whole song too...and after that, I cooled down. After all, it's a gradual process to work back to where you were prior to sitting on you arse for so long! And I WAS on an incline and didn't want to injure myself (yeah, after the fact, d'uh to me!)...and so that got dropped down and I cooled down...and NO other song hit me that way after that one...so I was done with my half-hour of exercise in licketysplit time!

And I'm so glad I did.

And now...the day needs to start and I have to get some work done. Lots of things to do, as always, but sometimes to take the time for oneself is the most important thing to do.

I have to remember that more. Really.

Bring on the Turkey Trot 5K - Annie is back in action!





Monday, October 22, 2012
So the plan was to get a walk in today...and run a bit....

THAT was the plan.

But I am SUPER-efficient and decided to clean the shower with some Mold and Tile cleaner...the WHOLE tub, since it needed it...and so I did, while the kids were getting dressed and such. I even changed the shower liner! Oh yeah....I don't mess around!

Great right...well, the bleach smell absolutely, positively killed me.

Yeah, I know...well ventilated is important - trust me the fan was on, the door was open. I get it, but it also gets me in the lungs....no matter what.

That's why I rarely use the stuff...only for the grout line around the tub to re-bleach the grout and kill the creepers inside..what possessed me to do the entire tub with the stuff, I don't know....but I did....and now, it's like the smell is trapped in by sinuses and lungs.

Ick. And I studied organic chem, so you don't have to tell me about caustic fumes and such.

Still...it's still an ick.

A BIG ICK especially since I was all jazzed to actually start running again today.

So instead of a run, a fresh air walk will be what will be done...to air out these lungs thoroughly nice and calm like.

Lesson learned...let the tub be dirty until AFTER the workout and shower.







Wednesday, October 17, 2012
Seriously laughing today.....for the 3rd day...I am having a salad for lunch.

Oh yeah baby.....give me that pat on the back! I am being SOOOOO gooooood!




Sure I am....especially since it's the ONLY thing in my fridge at the moment besides eggs and milk and orange juice...oh, and condiments....LOTs of those.

Hold on...open the drawer - apples, grapes, lettuc, carrots, onions...I got more stuff...but seriously....after that, the thing is positively BARE.

And I just went shopping!!

For what I really don't know...I skipped the fresh produce section because I wasn't in that particular store where you get really great deals on stuff....I meant to go to that one, but I got side tracked.

Oh yeah...I remember, things for stocking up were on sale so I went to town on Juice boxes, cheese-its, canola oil, rolls, frozen pizza...etc. etc. So stuff is around....it's just not in the fridge necessarily!

I might as well clean the thing since it is so open - free - clear - bare.

Hhhhheeeeeeeyyyyy....I know why it's so uncluttered!


Picture this: cubscout picnic with 4 large bottles of ketchup...left to go bad, paid for by the pack, left for the cubmaster (my husband) to take home and store in his fridge.

The darn things are finally GONE!!!



And the beer - the extraneous summer beer supply is GONE!!!



No WONDER the thing is barren! All the clutter is GONE!

I will not lie...it is kinda cool-weird-sad to have such an empty fridge, but i'm taking it as a time to clean it really well and restock with new instead of what I HAVE to have in there to store.

Whoa...just realized it's metaphorical for other things in life.

Cool.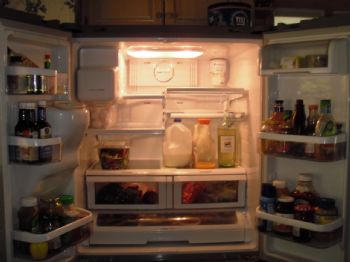 LOOK AT HOW CLEAN IT IS!!!!!!
LOL

And yes....that is big-arsed bottle of wine is mine...aaallll mine.





First Page
1
2
3
4
5
6
7
8
9
10
11
12
13
14
15
16
17
18
19 20 21 22 23 24 25 26 27 28 29 30 31 32 33 34 35 36 37 38 39 40 41 42 43 44 45 46 47 48 49 50 51 52 53 54 55 56 57 58 59 60 61 62 63 64 65 66 67 68 69 70 71 72 73 74 75 76 77 78 79 80 Last Page

Get An Email Alert Each Time ANNIEONLI Posts