| | |
| --- | --- |
| | BOBCATGIRL76's Recent Blog Entries |


Wednesday, April 16, 2014
Hey Everyone!

I posted this Transformation Tuesday pic on my Facebook and Instagram yesterday.




It never ceases to amaze me how unhappy I look in my before pictures when I look at them now.

Last night, I weighed in at Weight Watchers after 4 weeks and hit my 5% lost goal! 9.2 pounds in 4 weeks and I'm guessing maybe 10 pounds by Friday which will be a full month on Weight Watchers! If I were able to lose the last 30 pounds over the next 4 months, then I will have to attempt to maintain for 3 months until the wedding, which I think is doable for me.

I have to thank my friend Michaela who has been my accountability partner since I joined WW. Every morning, we text each other our weights as well as text throughout the day if we face food challenges or are feeling unmotivated to work out. She has really kept me honest and I definitely suggest finding an accountability partner if you need an extra push.

I'm in my friend Samantha's wedding on April 26, and I think there's a chance I could be at my lowest adult weight ever by then! I will make sure to post pictures of J.D. and I. You know how I love pictures!

Happy Wednesday everyone!







Monday, April 14, 2014
So last week, I had to give a presentation to high school seniors and their parents. I find that if I dress strictly business casual, I'm usually confused as a college student, so I pulled out all the stops and wore my new suit with size 10 skirt!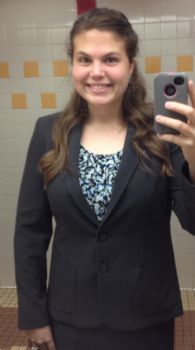 I've never loved taking pictures so much!

Then this weekend, we had beautiful weather, so I decided to take a run on Saturday morning. I wore my NikePlus watch for it's GPS capabilities and my HRM to get an accurate calorie burn. You can see why heart rate monitors are important. Over 100 calorie difference from my Nike Plus watch, which just estimates based on speed and weight.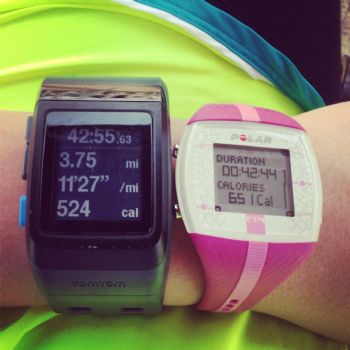 Finally, Saturday night, I had another bachelorette party for my friend who is getting married. It is so nice to be able to celebrate and not constantly be that friend who is on a diet. I ate veggies and fruit, but also had some cheese and crackers and sweets. It's all about moderation. I'm not eating cupcakes every night, so once in a while it's okay!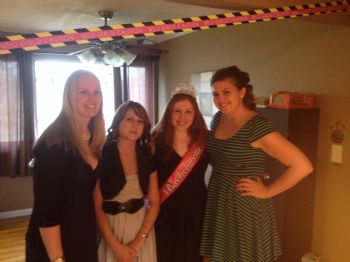 I'm still having minor headaches, and like many of you, my dad thinks it is from artificial sweeteners. It's going to be very hard to eliminate them since they are in many of the lower calorie foods that I enjoy eating like my greek yogurt. But I'm going to try and watch and avoid all artificial sweeteners this week and see if the headaches go away.

Hope you all had a wonderful weekend!






Thursday, April 10, 2014
Hey Sparkfriends.

Thank you all so much for all your comments, goodies and messages regarding my headaches. I finally went to the ER yesterday and was given a benadryl and nausea medication cocktail that somehow knocked the migraine out. They also did a CT scan and it came back normal so that's good. I'm just glad to be feeling better. I'm back to work today.

Tuesday evening, I had my weekly weigh-in at Weight Watchers and I was down 1.8 for a total of 8.8 in three weeks! I'm hoping for a 1.2 loss this week so that I can hit 10 pounds in four weeks. That would be an awesome rate for me and also mean I hit my 5% goal. I started at 188.2 and am currently at 179.4. The lowest I've ever been with SparkPeople is 174.8 so I look forward to hopefully passing that in a few weeks on my way to my goal weight and size for the wedding!

Thank you for all your prayers and positive thoughts. As for now, I am headache free and working on managing my stress in the hopes of preventing more headaches. I'm looking into starting yoga. J.D. even said he might try it with me, as long as he doesn't have to wear yoga pants!



Hope you all have having a wonderful day Sparkfriends!





Tuesday, April 08, 2014
To be fair, losing weight solved A LOT of my problems. I used to get upper respiratory infections, and a mix of bronchitis and pneumonia pretty regularly when I was overweight. My body struggled with breathing properly at 275 pounds, so it's no surprise that dropping 90 pounds has meant I've been upper respiratory infection free for almost 2 years now.

I also had terrible self esteem. This led to major jealousy issues with J.D. as well as just a depression about my life, that I never really verbalized, but that always weighed on me. My self-esteem and outlook on life has greatly improved. I'm definitely happier than I've ever been.

But the one thing that really bothers me, is that I've had headaches all my life. As a child, I had medicine in the nurse's office, and when I'd start to get a headache, I'd take some Advil, and be good in an hour or so. But since losing weight, I've developed some pretty serious migraines. One of the first ones I had was a few days after my half-marathon. This made me think that maybe I was just super dehydrated, but it lasted for almost four days. I've begun to have more of them over the past year. People ask if I've changed my diet, and I say YES, to MUCH healthier foods! Why would healthy food and an exercise plan trigger migraines?

It's such a downer for me, because I obviously want to continue on this journey, and I don't ever want to gain the weight back. I've contacted a local neurologist who can't get me in until May 20th. This morning I woke up with another terrible headache. I took my medicine for it, which helps, but makes me foggy headed and I just feel sick.

I know it was naive and silly to think that losing weight would make my life perfect. I don't think I ever believed that would happen. But I also didn't think that I would start having a problem after changing my diet and exercise routine, that I never had while overweight.

This is probably the third or fourth blog I've written on this topic, so I apologize for the repetition. I just wanted you all to know that I'm still here and still on track, but I've had a headache for the past 9 days, so I'm just trying to suffer through for now.

I'm thinking I may have to go to the Emergency Room tomorrow if it isn't better, simply to find some relief and possibly to be seen sooner than May 20th. I'm going to continue to try and research migraines and their causes, but every doctor I've seen so far can't find anything wrong with me.

I would never want them to find a tumor or something seriously wrong, but I just wish there was something they could pinpoint or tell me to change that could prevent them. I'm beginning to live in fear of the slightest tingle or inkling in my forehead that one is about to start because I know how debilitating they can be for days at a time.

Anyways. Thank you as always for you love and support Sparkfriends. I hope you all are doing well on your journeys.






Thursday, April 03, 2014
OH MY GOODNESS SPARKFRIENDS!

A few weeks ago, I told you about the photo contest that I entered with a photo of J.D. and myself on the football field. My caption read "After wearing his jersey for five years, I can't wait to wear his name for the rest of my life. I'll always be his number one fan."

Well yesterday, I received an email letting me know, I WON THE GRAND PRIZE! That means I get all of my invitations, RSVP Cards, Enclosure Cards and Thank You Cards up to a $2500 value, FOR FREE!

I know many of you cast votes for me daily and helped me get into the top 50 entries, and for that I can't thank you enough! I'm still in shock that the judges liked our photo enough to select it out of the over 1,000 entries. I'm honored and so thankful for all your support.

In other news, I'm feeling a lot better. I'm still a little fuzzy headed, but definitely glad to be back at work. And this morning I saw 179.6 for the first time since December.

Life is GRAND.

Thanks for joining me for the ride, Sparkfriends!



1 2 3 4 5 6 7 8 9 10 11 12 13 14 15 16 17 18 19 20 21 22 23 24 25 26 27 28 29 30 31 32 33 34 35 36 37 38 39 40 41 42 43 44 45 46 47 48 49 50 51 52 53 54 55 56 57 58 59 60 61 62 63 64 65 66 67 68 69 70 71 72 73 74 75 Last Page

Get An Email Alert Each Time BOBCATGIRL76 Posts