| | |
| --- | --- |
| | BOBCATGIRL76's Recent Blog Entries |



Wednesday, October 22, 2014
Yesterday, I had my first migraine in over a month. But boy was it a doozy. Woke up at 6am with the terrible shooting pain behind my left eye. Took some migraine meds and went back to bed hoping by 7am the meds would kick in and I could head to work. But the pain just got worse. I took another pill, let work know I wouldn't be in, then went back to sleep. Slept for most of the day but woke up feeling much better.

One day migraines are so much more tolerable that 4-5 day migraines, so I'll take it at this point.

Anyways, when I finally did wake up. I was feeling sorry for myself. Sick days just do that to me. Earlier, when the migraine first came on, it made me very nauseous, so there I was at 2pm, having not eaten a thing. And all I wanted was a DairyQueen Blizzard.

I decided to check my email, and low and behold, I had tons of wall comments and goodies congratulating me on being Motivator of the Day! I'd already been Motivator of the Day before so I was really surprised to see that I'd been honored again. But those goodies and comments were enough for me to go upstairs and grab some fruit to eat rather than driving out and getting the Dairy Queen I thought I wanted.

I've realized that I don't think I'm every going to be able to rewire my brain to not crave ice cream. Even when I was doing Whole30, that was the one thing I missed the most. I don't think I'm going to be able to change that. But one thing I can change is my reasons for eating. I saw on a few other blog posts ideas about intuitive eating, and only eating when hungry. And I'm definitely guilty of eating when bored, or because it's "breakfast" time or "lunch" time. Why does the clock suddenly hitting noon mean I have to shove food in my mouth?

It doesn't. I need to eat when I'm HUNGRY. When my body is demanding fuel and nutrition. Not because it's free and sitting on the lunchroom counter, or because everyone else is eating.

So that's what I'm working on this week. Only eating when I'm hungry as well as only eating enough to fill me up. While I enjoy my two eggs and sausage every morning, this morning I only had eggs and I'm not starving or feeling unsatisfied. So I'm just going to continue to track and count calories and see how it goes.

As always, thanks for your support SparkFriends. You mean so much to me.






Wednesday, October 15, 2014
So I wasn't able to work out last night.

I'm having some strange foot pain in my left foot. As crazy as it sounds, I'm wondering if it's turf toe from playing in the flag football game. All I know is I have a random shooting pain between my second and third toe whenever I push off from my left foot. I'm sure resting it is key, but I just don't know how it happened. Definitely can't run, but thinking I'll bike or do some elliptical which won't require pushing off with my toes.

Definitely hope it goes away soon, because I have some killer heels to wear under my wedding dress... in ONE MONTH! Yes, that's right, one month from today, I get married!

I'm very excited and I'm happy I decided to change my life before taking this big step for the future. The first blog I ever wrote said something like " I'm not even engaged yet, but I don't want to look fat in my wedding dress." Everything is coming full circle.

Also, found a sweet photo of my touchdown on Facebook.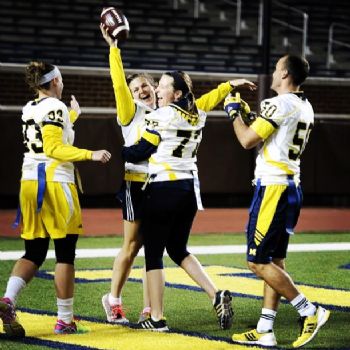 Man, I love my job. The family atmosphere here is so amazing. I'm really glad J.D. and I decided to move up here. It was definitely a positive step for our future.

Now, if any one has any suggestions on what I think are toe sprains, let me know please!






Tuesday, October 14, 2014
Hey Everyone!

Sorry for the delay. Last week was very busy as it was the last weekend I had to go home to prepare stuff for the wedding. But last Wednesday I played in the flag football game at Michigan Stadium. I got my own jersey (guess which number I traded for...)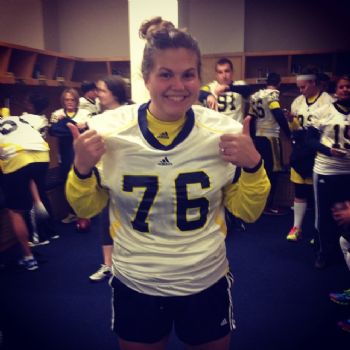 And I had my own locker name plate.





And in the 3rd quarter, while on offense, I made a run, got open, and my quarterback threw to me. And I CAUGHT IT. IN THE ENDZONE!

TOUCHDOWN!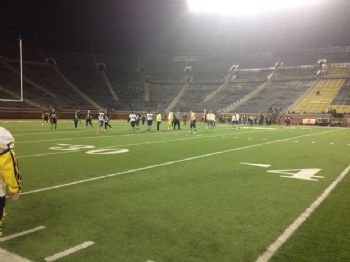 It was so amazing playing in such an awesome stadium.


Then I got to travel home with J.D. and picked up our marriage license!




And today, I started back to a whole foods diet modified. Going to attempt to limit my carbs and focus on my fruits, veggies and lean proteins, while also sometimes having some dairy in the form of skim milk and greek yogurt. I think this diet will have me feeling better and less sluggish. I've definitely been eating too many carbs as of late.

I'm going to try and go to my gym this evening after I get off work. I know I will be tired, but I also know that it's worth it, and if for no other reason, I'm excited to use the hydromassage again.

Hope you all are having a wonderful week.






Wednesday, October 08, 2014
Hey Everyone!

I'm involved in two separate health and wellness activities through my work. One is called Active U Autumn, and sets a goal of at least 120 minutes of activity a week, and the other is called Ready to Lose, and is a 24 week webinar program for weight loss. Both are completely free and have prizes at the end. I'm lucky to work at the University of Michigan where health and wellness are so important.

Anyways, yesterday in a department newsletter, there was a suggestion for the 100 Challenge, which consisted of 40 Burpees, 40 crunches, 30 burpees, 30 crunches, 20 burpees, 20 crunches, 10 Burpees, 10 crunches. And I thought, why not?

So I decided to try it at home. And before I even started I thought to myself, even if you only do the 40s that's great. And then I thought. No, that's not. You are capable of more than that, so finish the workout.

So I did. I wore my heart rate monitor and did the intervals and somehow completed all 100 burpees and 100 crunches in just over 20 minutes. And boy was it a workout!

But it was nice to do something other than just run to get my heart going.

Now tonight I'm playing a flag football game at the Big House, which will be SO cool! Even though I've been here a month, I haven't made it to a game, because I've been traveling home on the weekends, so tonight will be the first time I set foot in Michigan Stadium. I'm pretty excited.

I'll be sure to have J.D. take some pictures of me in action, though there are about 40 people on our team, and only 10 people on the field at a time, so I'm pretty sure I won't be playing that much. But it will be fun all the same.

If anyone is in the Ann Arbor area and would like to come watch the flag football game, you are more than welcome! It would be fun to meet you! Let me know if you plan on coming. :)

Have a great week Sparkfriends!








Monday, October 06, 2014
So I decided to pay the $19.99/month for the unlimited use of all Planet Fitness clubs. And you guys were right! The perks are awesome. I can bring a guest every time I go, so J.D. can come with me whenever he wants!

I have a flex schedule at work because on Mondays I have to supervise study tables from 6-10. So I get a 4 hour break during the day and decided to head to Planet Fitness near my work. Last night, I packed my bag with gym clothes, as well as a towel, shower shoes, and shower supplied so I could get really sweaty and still return to work fresh as daisies...



So today I did 15 minutes of elliptical, 30 minutes of treadmill and 35 minutes on the bike. Then after my workout, I used the hydromassage bed, which is basically a table with water underneath it that shoots up and massages you from head to toe. It was AWESOME! I can't wait to use it after my workouts especially on my sore legs. I think I will definitely be using the gym membership, not only because I paid for it, but also because there were no waits because of tons of equipment, and it really is a judgment free zone. I wasn't intimidated by anyone that was working out, and every one was really friendly.

Anyways, I feel like I'm back in the groove. I've had really healthy food, and feel great!

With a little over a month left to the wedding, I'm ready to buckle down and look and feel my greatest! Thanks for your continued support SparkFriends!



1 2 3 4 5 6 7 8 9 10 11 12 13 14 15 16 17 18 19 20 21 22 23 24 25 26 27 28 29 30 31 32 33 34 35 36 37 38 39 40 41 42 43 44 45 46 47 48 49 50 51 52 53 54 55 56 57 58 59 60 61 62 63 64 65 66 67 68 69 70 71 72 73 74 75 76 77 78 79 80 81 82 83 84 85 86 87 88 89 Last Page

Get An Email Alert Each Time BOBCATGIRL76 Posts