| | |
| --- | --- |
| | BOBCATGIRL76's Recent Blog Entries |


Friday, August 01, 2014
Holy Cow, it's August! Which means my birthday is just 4 days away now. Next Tuesday, I will be 25 years old!

And I don't think I've ever been healthier going into a birthday. Except maybe when I was born. I was a pretty healthy baby. Haha. You know, ten fingers, ten toes, the whole spiel.

I was talking to a friend the other day about how I plan to try and stick to Whole30 even when these thirty days are over. I may have a single cupcake and a scoop of ice cream to celebrate my birthday, but there's no guarantee that I will enjoy them the way I used to enjoy carbs and dairy.

I mean. I think I'll still like ice cream. Yeah. I'll probably still like ice cream.

But what I mean is that come August 6, Day 31, I don't intend to run out and eat a whole pizza, and some onion rings, and half a birthday cake.

I don't really miss bread or grains very often. I may introduce beans back into my diet, and I truly miss dairy in all it's glorious forms, so I'll probably try some milk, or greek yogurt to see how my body reacts. But after 25-26 days of restriction now, the greatest thing I've learned is that I don't NEED any of those foods that I used to include in my diet daily.

I started this journey in December 2011, at 275 pounds, eating just about anything I wanted, and in out of control amounts. The entire appetizer sampler from Applebee's was my dinner. I could eat a large pizza in two sittings, usually lunch and dinner. And it never occurred to me that these foods weren't a part of every person's diet. I just got angry that they seemed to affect me so negatively, while my skinny friends with "high metabolisms" could eat whatever they wanted.

But that's just it. Maybe some of my friends do eat those foods. But they weren't eating them in the proportions or nearly as often as I was. Now being on Whole30, I've had many situations with my friends who enjoy their alcohol, or their fried foods and pizza, and I've had no problem making the choice not to partake. I can eat healthy, maintain these friendships, and feel better than I ever have. Food does not control me. Are there days that I miss chocolate? Of course. Chocolate is a direct gift from God in my eyes. But when you eat it as frequently as I was treating myself to it, it wasn't improving my health.

Whole30 has taught me how to eat clean, and eat foods that improve my health. I will definitely eat some grains and dairy in the future. Hey, I might even have a piece of candy once in a while. But food will no longer be the main focus of my life. Eating used to be such a game to me. I will no longer exercise for 2 hours so that I can get away with that cheesy, fatty goodness I want for dinner. I will no longer save all my Weekly Weight Watchers Points for the Weekend so I can have a few drinks, and then deal with a terrible hangover.

I refuse to let my life revolve around food any longer.

There's just too many other beautiful things going on in this world.


*Edit* A Bunch of you asked for the playlist I use. I used Week 2 but there are a ton of different weeks on this site. Warning, these are the unedited versions of these rap songs, so please be aware of that! Also sorry for the curse word in the link....lol

www.kissmyblackass.org/podcasts/couc
h-to-5k/






Thursday, July 31, 2014
Last night, after reading the supportive comments and suggestions you all offered about my 5k running, I decided to go for another run.

I'd eaten a pork chop, green beans, and a sweet potato for dinner, and just felt like I had a ton of energy.

So I set out to run using my playlist from Couch to 5K Week 5. It is a playlist created by some woman and is a bunch of fast pace top 40 and rap, and she comes on and gives you prompts when to walk and when to run. It starts out with a 5 minute walk, then follows with 90 seconds of running, and then alternates between 2 minutes of walking and 90 seconds of running. The music is really upbeat so I decided not to walk at all, but instead to jog/run at a slower pace and then give it my all during those six 90 second runs.

I kept watching my watch, because I had it set to give me my current pace, and I felt good as long as it stayed below 9:40. But towards the end I started to drag and saw it slip into the 10 minute mark a few times. But for the last quarter mile, I gave my self a pep talk. If I ran past anyone they probably thought I was crazy. Just saying..."Come on Jan-Marie, push yourself, you can do this." And I pushed for the last quarter mile. And I watched as my watch hit 3.10 miles and saw this.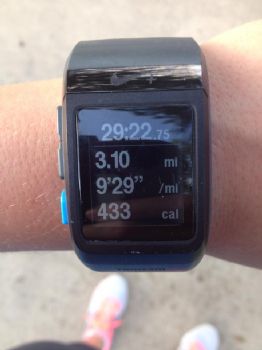 And this is what my face looked like.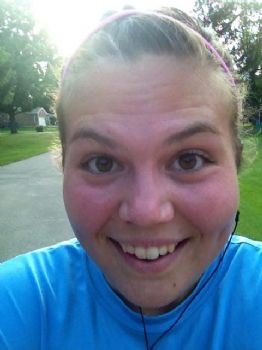 So today I woke up with all sorts of new confidence. I'm a size 8. I can run a 5k in under 30 minutes. I have a healthy body fat percentage. And I'm happier than I've ever been in my life. I'm wearing a horizontal stripe high waisted skirt with a belt today. I'm feeling amazing.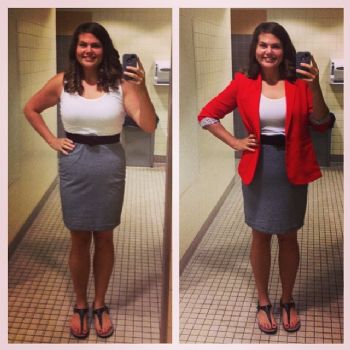 But I've got to tell you, it's funny. I think of all of you so often, and last night during that run, I kept thinking about how proud you all would be when I could finally say I ran a sub-30 5k, and that was a huge driving force behind my running. You all believed in me, so I believed in me. I can't tell you how much I appreciate your constant support on this journey. I'm sorry if I don't show it enough by commenting on your blogs or writing on your walls, but I am so grateful that you all are my SparkFriends. So thank you.





Wednesday, July 30, 2014
I woke up feeling much better today.

Thank you all for your prayers and warm thoughts.

I'm beginning to believe that my migraines may just be stress related, meaning I will probably have them most of my life. I just need to try and make my life less stressful.

As you all know, J.D. is in the job search, and we're getting married in November, so this point of my life is just a stressful time. However, running seems to help me destress as does yoga, so I'm going to keep trying to do those frequently.

The last three months of wedding planning ares supposedly the most stressful, so I'm going to hope that J.D. and my mom can help me out with some of the stressful choices so that I can avoid headaches. The fact that his migraine only lasted a day is still an improvement over my 4-5 day migraines.

So there's always a silver lining, I guess. Today I weigh-in at Weight Watchers at Work and I might finally hit 5 pounds down since I started tracking at work. It's definitely taken long enough but with weddings, holidays, showers and etc, I just made too many excuses. Whole30 has helped me realize that I just need to eat healthy to reach my goals.

I know. What a revelation right. *slaps forehead*

But I think that Whole 30 has given me the power to realize when a small indulgence is worth it, versus having small indulgences frequently because I think I can get away with it or balance it out with my exercise and other food choices. I don't need nearly as many sweets or fried foods as I was treating myself to during the 180-190's plateau of 2012-2014.

I'm going to reach the 155 that's on my driver's license by my wedding. I KNOW I CAN.






Tuesday, July 29, 2014
Today was a pretty crappy day.

I woke up with a migraine and just felt like giving up. I was so sure that Whole30 would be the cure for my migraines, and yet, now 3 weeks of clean eating, and I wake up with the same stabbing pain behind my left eye.

I'm not sure I'm ever going to get rid of these things. And that makes me sad. I have improved so many parts of my life and yet started getting migraines a year ago, after losing 90 pounds. I just feel so defeated by these headaches. I couldn't go to work because I was nauseous. So I went back to bed and slept til noon.

I did get to go to get my BodPod reading redone and I was right. I went from 29.8% body fat in November to 29.4% when he used the correct lung volume. Not a huge decrease but moving in the right direction.

So now I'm probably going to go to bed early in an attempt to lose this headache. Even taking my migraine medicine this morning, it continued throughout the day. So I'm really hoping a good night's sleep will really get rid of it.

While I could have thrown in the towel with Whole30 and said, I only did it to prevent migraines and I really want a piece of chocolate, even though that won't solve my migraine either...I didn't.

I'm going to see this Whole30 through. But it's back to the drawing board in terms of migraines.

Boo.






Monday, July 28, 2014
So a while back, I wrote a blog about going to a concert and almost being denied because I no longer resembled my driver's license. Well with my 25th birthday just 8 days away, I decided to go and get my license renewed because I'd done my hair nice this morning.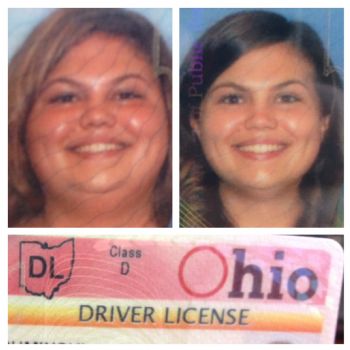 I've come so far, and am so much closer to my goal than I've ever been. I even had them lower my weight to my goal weight.

Last night, I ran a 5k in my neighborhood in 32:07. I'm hoping that at some point in my life I'm going to break 30 minutes, but the only way that's going to happen is if I keep trying. I've been in the 31-32 minute range for a while now. I can run one mile in under 8 minutes but I just don't have the endurance yet to sustain that speed over 3.1 miles.

As for Whole 30, I have hit a point they sometimes call "food boredom" where I'm not really hungry or desiring any food, but I still plan to eat my three meals a day. This morning I had eggs with proscuitto cubes, and for lunch I'm having roast beef, cauliflower, and applesauce with blueberries. I plan to make spaghetti squash with meat sauce for dinner.

Eating whole foods isn't nearly as hard as I thought it would be. For anyone considering Whole30 but unsure of the restrictions, I'll tell you what the book says. ANYONE can do ANYTHING for 30 Days. And battling cancer is hard, beating a drug addiction is hard. Drinking your coffee black and avoiding certain foods for 30 days is something you are totally capable of, you just have to be willing to put your mind to it.

I lost my first 90 pounds by tracking my calories and eating what I wanted. But there is no doubt in my mind that dining on 100 calorie snack packs and fat-free artificial sweetener loaded foods did not improve my health. Yes, I lost weight, but by putting a whole bunch of unnatural processed foods and chemicals in my body. I can honestly say I feel so much better eating fruits, veggies and organic proteins, than I did 22 days ago. So I hope some of you that are on the fence realize that you ARE capable of this. It's just 30 days.



1 2 3 4 5 6 7 8 9 10 11 12 13 14 15 16 17 18 19 20 21 22 23 24 25 26 27 28 29 30 31 32 33 34 35 36 37 38 39 40 41 42 43 44 45 46 47 48 49 50 51 52 53 54 55 56 57 58 59 60 61 62 63 64 65 66 67 68 69 70 71 72 73 74 75 76 77 78 79 80 81 82 83 Last Page

Get An Email Alert Each Time BOBCATGIRL76 Posts