| | |
| --- | --- |
| | BOILHAM's Recent Blog Entries |


Saturday, December 20, 2014
I've been training for another marathon. This one is in Tallahassee, FL on Feb 8, 2015. I'm just getting into the heavy mileage lately, and I'm feeling old as a result. Well, I am old, so I suppose that's okay.

Today I did a long slow run, it was a 17 miler. Ended up with just over 17 miles logged in.

The weather really cooperated today, it was overcast and only 62 degrees when I started out. I brought some candy, and a granola and cinnamon muffin to eat on the way. I didn't have my GU's or regular 'running food', since I'm away from the main home and visiting my get-away in Ocala, FL. So the nourishment I brought would have to do. I also carried about a quart of water in two different containers. No water stops on this run.

I went straight out for just over 8.5 miles, turned around and came back. This particular route has some rolling hills that can be pretty challenging for a person of my fitness level. At the age of 68, pretty much every longish run is challenging. This one was no exception.

I thought I'd start out really slowly at first, incorporating the warm up into the run, a strategy which works fine for me. I walked for a minute or so, and ran for a minute, then maybe at the half mile mark, I'd walk for 30 seconds and run for a minute. At that pace, I was averaging about 13 minutes a mile. After about a mile I sped up a little and continued to ramp up the pace slowly so that by miles 6, 7 and 8 I was doing around an 11 minute mile and feeling great. The hills weren't bothering me too much - yet.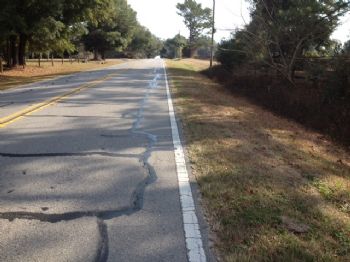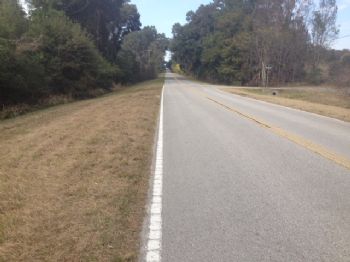 These are just a couple of the rolling hills on my run today. Pictures never do justice to show the hill's incline, at least my pictures don't. According to "mapmyrun" these hills are level 3 and 4 for cycling, fairly steep for me.


I turned around at 8.5 miles and I was just starting to notice my energy level was dwindling, but I kept up the pace for a while. For some reason, my watch stopped showing my pace every mile. I think I hit the wrong button at some point, when I was trying to adjust my HR monitor. No big deal, I just did the math in my head, and knew I was now slowing down somewhat. That's fine, I wanted to start slow, speed up, and slow down at the end anyway.

Around miles 11 and 12 I was really feeling tired. The hills now were bothering me, so I started walking more and running less. Even though I planned to slow down somewhat, I felt disappointed, because I was really tired and having a tough time even maintaining an average of 12 minutes per mile for the distance. My half marathon or 13.1 time was around 2:34 which was acceptable for a training run, but after all, it was a cool day which helped.

So, the last few miles I felt really bad. I finally just reconciled myself to keeping a pace I could manage without overdoing it. Still, there were hills to overcome, even though they were not steep, but even rolling hills bother me when I'm into the longer miles.

Then came the turn off to the house, only .4 miles to go. Woohoo! I really was beat and was looking forward to stopping and enjoying my completion of my 17 mile long run.

How terrific it feels to look back, and think about how bad I felt, overcoming that, and pushing on. I always feel great after a tough run.

We all train or compete at such different levels. Compared to some folks my pace is so slow! Others will say how well I do for a geezer, and I always appreciate hearing that.

The main thing I'd like any newer runner to take away from this is: Never compete with anyone else's time. There are always faster runners than you. Challenge yourself, at your own level. Don't go so slow it doesn't feel like a challenge, but continue to push just enough that improvement is inevitable. Train against yourself and relish your accomplishments, whether they be small or large.








Sunday, December 14, 2014
I'm not a joiner of clubs, but I do belong to a triathlon club website. One of the member posted a picture of a beautiful lady riding her triathlon bike during a race. She is competing in the race - I see her registration number on her arm.

I'm not being facetious when I say this lady is beautiful. You might think that, since she's not beautiful in the conventional sense. She is, however, beautiful.

I remember when I first started running. I was not a youngster, I was already old. So old, that a family member actually laughed in my face when I mentioned that I'd like to try to run a 5K. I can't forget his comtempt, masked as humor, as he asked me if the Boston Marathon was next on my agenda. "OK, it's on" I thought, I have to do this now, because I want to do it, and I have to show him I can, as well.

So, let's call that my baby step in courage. Yes, it took some courage, and yes, I did the 5K and even went on to do longer races.

Others have their own battles, overweight, injuries, illness and even missing limbs. They are the truly courageous, who overcome extreme adversity and go on to excell in their sport of choice. I love them all, and they inspire me and all of us who strive to better themselves.

Have you heard the joke about the woman who had wanted to lose weight first before she joined the gym? She didn't want to go there looking the way she did. Kind of funny, but sad, too. Many of us don't even get started because public perception might not go well for us. And there, my friends, is the point of this blog.

It takes courage to embark on a weight loss program, or any program in which you strive to better yourself. This lady has courage. She is, as I said earlier, not conventionally beautiful, but, wow, is she beautiful to me!

I loved this picture. It speaks to me and I hope it speaks to you. Have courage, dare to challenge yourself. Public opinion be damned.

Ride on, beautiful anonymous lady.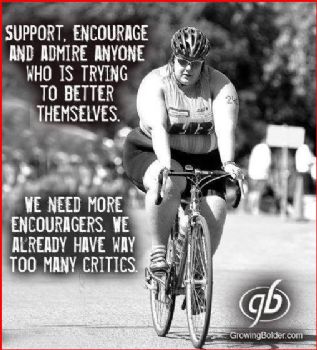 Friday, December 12, 2014
It's so interesting to me, how ones perceptions can adapt and change as you go about living your life.

My marathon training is in the ramp up phase now, just getting into the really long weekend runs. This week I decided to do my long run early, as I have other stuff to do tomorrow.

I rolled out of bed this morning and thought about my 15 mile long run today. "Well", I thought, "It's not a really long run, and at least the weather is cool, so it should be fun". Then that little light bulb went on and I realized that I just had (yet again) the thought that "15 miles isn't really a long run".

Hah! Tell that to some of your couch potatoesque friends. 15 miles isn't really long. They'll surely think you're nuts, I know many of mine do. And yeah, I too used to think those long distance runners were a little weird.

But I know a secret. And many of my sparkfriends know this as well. Your body can adapt to some very severe pressures, and grow and get stronger. Provided, of course, that you give that body time to rest coupled with proper nourishment. I kind of feel like it's a secret, because you don't have to do nearly the rigorous training that non-athletes believe one must do.

Take me, for instance. Please. (paraphrasing and a tip of the hat to Mr. Henny Youngman). I'm kind of a middle of the pack runner, and I train hard, but not too hard. My runs are mostly run for a while, walk for a while. I look old and slow out on the road when I'm training. That's my style, slow and steady. Sure, I throw in some faster days, but not too many. It gets the job done. My goals are completed even with that slow and steady pace. I doubt anyone who would notice me training would think, "there goes a real athlete, I bet he's a marathoner".

And, there you have the 'secret'. You don't have to look like an athlete to be one. You don't have to train like Arnold Schwartzenegger or Sylvester Stallone to be a middle of the pack athlete, but you'll be one. And you'll be way ahead of your couch potato friends. It's not nearly as difficult as it seems. It just takes patience, perseverance and a little knowledge to be an "age group" athlete.

If you are on the fence about running, maybe concerned about knee pain, shin splints, planters fasciatis and other things you've read about, I hope you understand that these things all can be avoided, if you start slowly and build up slowly. Take your time, learn about correct training, you will become much more than you believe you can.

My apologies to my friends who are tired of reading my rants about "how this old guy trains" and "good enough is good enough". I merely wish to encourage others to give it a try and possibly surprise themselves. I know I'm surprised at what I've done. For those who don't know me, I just turned 68 years old, feel great and remain uninjured.

And yeah, as I like to say, "I may be slow, but at least I'm out there".







Saturday, November 01, 2014
I got plenty of rest after my last Olympic triathlon in September. We all need to rest up once in a while. One can't just keep doing race after race, it will wear you down.

I have a marathon coming up in February, and my first 70.3 triathlon in April. Two pretty big races, but I'm up to the challenge. I've started training for the marathon using my Hal Higdon Novice program once again. It worked well for me in the past. This will not be an A race, as it's only 2 months before another long race, and I don't want to push too hard. As it is, during the marathon training I will be maintaining my triathlon training and even ramping it up towards the marathon buildup.

I have a fair base for both races, and I don't see a problem with training for 2 races simultaneously. I am planning on substituting a run day to a cycle day, and swimming on my cross training days. Kind of playing it by ear as I feel. I have both schedules posted on the 'fridge, and it looks like I'll still have 8 weeks after the marathon before the 70.3.

My plan is to rest only a few days post marathon, then get right in swimming and cycling. I'm not going to do much running, concentrating primarily on my cycling and swimming. Just a bit of maintenance running should take me through the half marathon portion of the 70.3. At least, that's the way I'm thinking.

I'm really excited about doing a 70.3 - it will be the Florida Haines City Half Ironman and it's right near my daughters home, so logistically it is just about perfect. I just need to restrain myself from going too hard on the marathon.

I haven't blogged in quite a while, so this is just an update to let y'all know what's going on with me.

Thanks for reading and have a great day.







Monday, September 15, 2014

I was concerned that I was doing this olympic tri a bit too soon after my first one, one month ago. But, it was local and I enjoyed the first so much, I was excited to try again.

After the first one, I rested for several days and got right back into training. I believe I trained adequately for this race. Plus, I took a nice 3 day break just before the event. For me, that give me plenty of energy on race day, for these 'longer' events.

I was kind of disappointed at the small amount of people who showed up. There were only 13 oly event athletes for this race. Strangely, there were 2 of us in the 65 - 69 y.o. age group.

This course has a pancake flat bike portion, and a decent run through a campground/park where it's mostly shaded. Boy, when I ran from shade to sun, it really made a difference. But, I do train a lot in the sun and heat, so it was not so bad. I knew what to expect.

DW decided to stay home for this one, again. The novelty has worn off for her, I suppose. What was once a big deal, has become a typical thing for her. She's very supportive and thrilled to hear my race stories after the events, but not enough to keep her away from her craft fairs, estate sales and other weekend events of her own. So, I had no one there to take photos. I found one photo of me on the race site. Here I am on the bike just getting started on the 25 mile ride. Still fresh and ready to ride.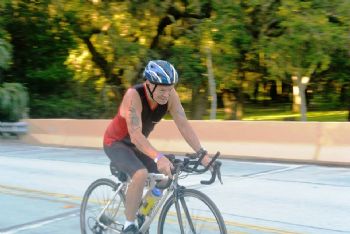 Felt good throughout the race until the very end, where the heat and humidity began to take their toll. No problem, I finished strong and even beat my previous time by 6 minutes. I was ecstatic with the results, 3:03:26.

My legs are a little sore this morning, not too bad. Just enough to remind me that I did a good job and pushed just hard enough on the course. Can't wait to do another.

Thanks for reading and have a great day.




1 2 3 4 5 6 7 8 9 10 11 12 13 14 15 16 17 18 19 20 21 22 23 24 25 26 27 28 29 30 31 32 33 34 Last Page

Get An Email Alert Each Time BOILHAM Posts