| | |
| --- | --- |
| | BROOKLYN_BORN's Recent Blog Entries |


Monday, September 29, 2014
I've learned a lot in my 5+ years here from the general articles, from the resources and discussions on team pages and from individual blogs and status posts.

Many of these have sparked changes in my life. Others don't fit the way I live and while effective for some wouldn't be realistic for me.

Some things are big like last year's decision to train for a half marathon – my longest distance in 6 years
.
Some things are small like buying organic yogurt, spaghetti sauce and carrots both for my health and to support those companies producing those items and the stores that stock them. Yeah, the cost is a bit higher but I believe the benefit is worth it.

Yesterday I bought "steel cut" oats. It was a new item in my supermarket which is making an effort to stock and promote healthy choices. I don't really know the difference in oats, but I do know that Sparker OneKidsMom eats that every day.

So just like Wheaties features athletes on their cereal boxes, in my mind's eye I saw OneKidsMom smiling at me from the box and I tossed it into my cart.

I can't be a triathlete like her. Way too afraid of swimming in open water.
I can't run as fast as she can either, but I'll keep trying.

So for now I'll imitate her personal "Breakfast of Champions"

Note: You can read about this inspirational sparker here.
www.sparkpeople.com/mypage.asp?id=ON
EKIDSMOM






Sunday, September 28, 2014
The Virginia 10 Miler is a wonderful event attracting a lot of community support and thousands of local participants as well as elite national and international runners.

Unfortunately for me Lynchburg is known as the "Hill City." I've written many times about how I hate hills. There's a very active running club there with a large contingent of senior citizen women who run those hills all the time.

Fortunately there's also a 4 mile option and yesterday was the 4th time I've attempted it since 2007 when I was a mere 60 years old.

We all start together including the separate 4 mile walkers division – over 3,000 of us. The Symphony Orchestra's brass quartet entertained beforehand and played the National Anthem for a classically trained singer. Members of the 82nd Airborne all ran with bib # 82 in honor of a comrade, a local man killed in Afghanistan just last week.

Rounded to the nearest tenth:
The first 1.5 miles is all downhill. I'm good at that. Gravity is my friend.
Then it's 1.7 miles uphill – an endless slog for me.
The last .8 to the 4 mile finish is flat.

Usually you check your pace at mile markers.
For me it was all about the 3 sections and this is how it worked out.
9:45 pace for section 1
11:06 pace for section 2 – endless killer hill (walk "breaks" totaled 8 minutes)
9:50 pace for section 3

I was thrilled with my final time of 41:53 (average pace 10:28). Only 10 seconds off my PR (5 years ago)

Because of the size of the race and festivities afterwards, age group awards are posted online and medals mailed.

I got 3rd place in my 65-69 age group, but only 3 SECONDS out of 2nd and 1:15 behind 1st place. I've never been that close to those athletic, speedy women before.

Lucky for me 2 other fast women elected to do the entire 10 miles. You know that 1.5 mile downhill at the start? That's what the 10 milers have to climb to the finish. Tough course indeed.

I felt great at the end and after the race things got even better (see yesterday's blog).

Yeah, I know. To race well on hills, you must train on hills. Maybe this time I'll actually do it.

Note: Race organization was superb. There were so many porta-potties that lines were almost non-existent. At the 4 mile finish buses were provided to take us back to the start (and the 10 miler finish). Lots of good healthy food, music etc. A great day all around.






Saturday, September 27, 2014
Today was my first real life encounter with a Spark Friend. Teri-rific and I ran the 4 mile option of the Virginia 10 Miler in Lynchburg. Nice that you don't have to do the whole 10 miles to get a finisher's medal.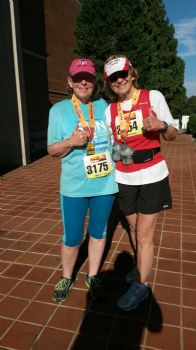 Then we were joined by our daughters (and Teri's daughter's friend) who all did the 10 miler.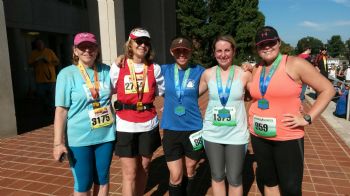 Their medals are REALLY nice!

As we were leaving, my DD (Sparker Hayburner1969)-center in the above photo) pointed out one of the honored guests at the event.

Kathrine Switzer was the woman who entered the male-only Boston Marathon in 1967. I remember when she was dragged off the course of that "male only" event.

My DD told her how her act inspired me, her mother, to enter our town's Labor Day bike race using only MY first initial. It was 1973 and I had the only bike with a baby seat on the back. No one stopped me like happened to Kathrine, but it became clear that not only men were interested in participating. Subsequent races included a women's division.

This is a photo I will always treasure.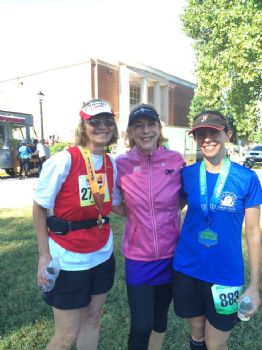 I'll write about the actual race tomorrow once official results are posted.






Thursday, September 25, 2014
Like other sparkers I often write about my efforts to encourage DH to adopt a healthier lifestyle.

Looking through my blogs I noticed that I never included his picture.
So here we are.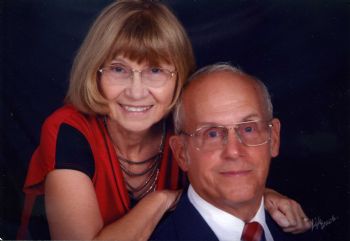 When the photographer had us pose like this, I thought it was silly. Now I like it.
We've been together a long time. Here's our first date in June 1963.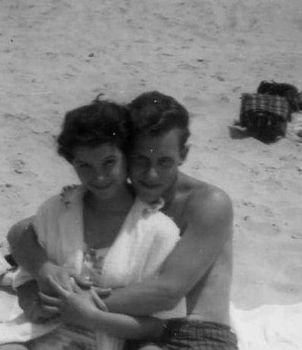 My hair was dark and he had hair.

We met at a party the night before.
I was invited at the last minute, but told to say I was 18.
I was almost 16.

51 years later he still calls me "the kid"

Edit:
DH is only 2 1/2 years older than me, but back then:
he was in college and I was in high school
he could drink legally and I couldn't
he could drive and I couldn't

So it seemed like a lot.







Saturday, September 20, 2014
That's the moment in time when we realize that we have to make some changes, even if we're not sure at that moment what they should be.

Here I am on Dec 6, 2008 holding the mug which was the award for first place in my age group in our town's annual 5K. Notice the smile (grimace?) on my face. Next to me is my daughter (sparker Hayburner1969) holding a turkey – my award for being the oldest woman running.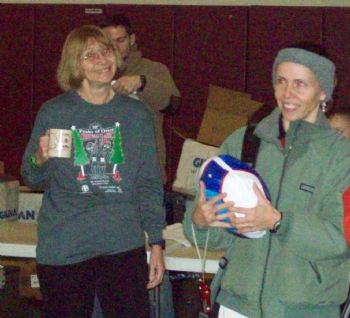 I wasn't unhappy with my prizes, but I remember the thoughts going through my head at that moment.

My running times had been gradually getting slower even though I was training the same as ever. This race was my slowest 5K ever. The result wasn't bad "for my age" but I was wondering what else I could do.

In my 20s I considered myself to have a "small" frame
In my 30s I revised that. I figured I had a "medium" frame.
By age 40 I had redefined myself again. I had a LARGE frame so I really wasn't overweight. Those extra pounds were just filling in what I needed all along.

So there I was active, fit and dragging 25 extra pounds around happily in denial until Dec 6th 2008. After all, my body was also active and fit 25 pounds ago so why did I need to carry it around now?

On Jan 1st I decided to seriously evaluate what I was eating. I found Sparkpeople and that was exactly what I needed. My daughter gave me a food scale and the food tracker was a real eye opener. I wrote yesterday about my distorted ideas of "portion."

VERY small gradual changes in my eating habits allowed me to VERY slowly drop the extra weight. I didn't feel deprived. It was so gradual, my body hardly noticed. Yes, it was easier because I was active. Exercise was never my problem. Food was. As they say "you cannot outrun your fork!"

One year later in the very same race I ran over 3 minutes faster. This time I didn't even win. A woman from the next city ran a 28. However, I had already won. I reached my goal weight at Thanksgiving 2009 and have been hanging in there ever since.

Yesterday BA5454 wrote that she has run at both 175 lbs and 125 lbs.
She said, "Guess which is easier."

So thank you BA5454 Your blog reminded me of my own journey.

Note: This isn't about winning. In the end we're really only competing with ourselves. I understand that with age we will all slow down in a lot of ways. Speed like success is relative. I know I can't turn back time, but with a healthy lifestyle, I'd like to slow it down a bit.

Now my smile is genuine.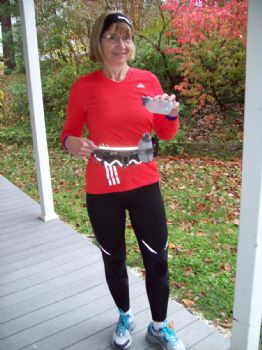 1 2 3 4 5 6 7 8 9 10 11 12 13 14 15 16 17 18 19 20 21 22 23 24 25 26 27 28 29 30 31 32 33 34 35 36 37 38 39 40 41 42 43 44 45 46 47 48 49 50 51 52 53 54 55 56 57 58 59 60 61 62 63 64 65 66 67 68 69 70 71 72 73 74 75 76 77 78 79 80 81 82 83 84 Last Page

Get An Email Alert Each Time BROOKLYN_BORN Posts