| | |
| --- | --- |
| | BROOKLYN_BORN's Recent Blog Entries |


Saturday, July 19, 2014
Scarlett O'Hara and I have something in common.
No, it's not her 20" waist. It's a vegetable.

Remember the scene in "Gone with the Wind" when Scarlett shook her fist at the heavens and swore that she would never be hungry again? She was holding a TURNIP.

All that survived the devastation of the war was the turnip.

In our 2nd year of growing our own food DH & I are eating a LOT of turnips, pounds and pounds of turnips. In our private little war zone it's survived all kinds of danger. It's one vegetable that doesn't appeal to our wildlife, or bugs, beetles or birds.

The turnip greens stand tall and proud marking their location, just waiting for us to dig them out. Rain or drought, they just keep growing.

As I offered our surplus to neighbors and looked for recipes, I realized that the turnip is not a popular vegetable.

Scarlett's oath implied that only the starving would eat turnips.

I learned that:
Traditionally turnips have been the food of "cows, pigs, sheep, the desperate, and the poor."
The Romans used to hurl turnips at unpopular public figures.
"Turnip eater" meant a country bumpkin in the 15th century
Charles Dickens in his novels used "turnip" as a synonym for a perfect idiot

So what does it say about DH and me that we're willingly eating turnips and even liking them?

Maybe it's genetic. I'm a descendant of sturdy peasant stock who probably ate a lot of turnips.
DH is so happy to have a gardening success that he'll gladly eat anything he grew.

So far we've made:
Turnips, carrots and onions in the pressure cooker
"Balsamic Root Vegetables" (turnips, carrots, sweet potatoes, cranberries) in the crock pot
Roasted turnips with assorted spices
Even "turnip fries" which you'll never find on McD's menu but they were OK.

In case they are unfamiliar to you, they look like this.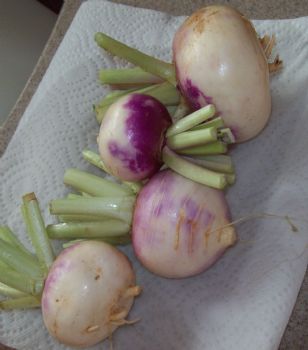 The source of my historical information:
"The Vegetable that Terrorized the Romans and Industrialized England"
theplate.nationalgeographic.c
om/2014/05/08/the-vegetable-that-terro
rized-romans-and-helped-industrialize-
england/






Thursday, July 17, 2014
Yesterday was supposed to be a strength training day, but by late afternoon I was laying on the couch resting on my laurels.

I was proud of myself. I had bashed my knee on a piece of furniture the night before and skipped running. However, I did walk 2+ miles outside and finished up 2 more at the gym plus the rowing machine. Yea me, right? So I DESERVED to relax and watch TV.

While our grandchildren were visiting last week, we watched the Harry Potter movies AGAIN.

During our June trip to Europe we visited the locations around London where they were filmed and even spent 3+ hours on the studio tour (a fascinating place for fans of the series). It was fun to recognize the locations and props we had seen in person, but I always fell asleep before the end of the movies.

So I decided to catch up on what I had missed.

Near the end of "Harry Potter and the Chamber of Secrets" Dumbledore said to Harry,
"It's not our abilities that show what we truly are, it is our choices"

Wise man - he could be a spark motivator.

So, I continued to watch TV, but I picked up my dumbbells (which I keep in full view right by the TV) and completed an ST session.

Later while catching up on news stories online I came across a poignant remark by the young girl who survived the massacre of her family. At their memorial she also quoted Dumbledore.

"Happiness can be found even in the darkest of times, if one only remembers to turn on the light." ("Harry Potter and the Prisoner of Azkaban")






Wednesday, July 16, 2014
I can fall asleep anywhere – on the couch, in a recliner, on any padded flat surface, even on a plane if I have something or someone to lean against.

Last night I was in a spare bedroom watching a movie that DH wasn't interested in.
I woke up in the middle of the night and promptly bashed my knee on a dresser. This room is a lot smaller than MY bedroom.

The knee feels OK, but I'll skip running and just walk today to test it out.

Yesterday, I posted a blog about being aware of your surroundings – "Be Careful OUT there"

I should amend that to being careful ANYWHERE or at least don't walk around in the dark.

I shouldn't be surprised. I have an entire history of klutzy accidents that have nothing to do with running or any fitness activity.

In 2006 I tripped over a planter outside a restaurant. I was checking out the location of the "Cheesecake Factory" and not looking where I was going.

In 2011 I tripped over a step at a buffet while checking out the dessert table in the distance.

In 2012 I fell while walking down a banked driveway and looking at the "beautiful moon."

The moral of this story: I've got to pay attention to what I'm doing wherever I am.






Tuesday, July 15, 2014
My Spark email this morning contained a link to an article about Inspirational Workout Songs. I agree that music has the power to motivate us. I would even choose my fitness classes partly on the type of music the instructor used.

However, the photo with the article showed a man and a woman running outside.

I left a comment about the importance of being aware of your surroundings and decided that after my run I would share in my blog a scary experience of my daughter's.

Little did I know that I would return from my run with an experience of my own.

I didn't get very far when I heard a soft "jingling" sound approaching from behind.
I turned around to see a small dog running at high speed.

OK, the dog was small, but I remembered him. Last winter he jumped up on me and ripped a hole in my new tights. Now I was in shorts, it would be my skin messed up this time. Fortunately, I heard him coming and was able to react.

My aggressive attitude slowed him down and he darted across the street to "greet" a large black lab being walked on a leash. Cars fortunately stopped, but the lab reacted defensively. Now the lab's owner was yelling at the dog too. She told me where the owner lived.

We walked over there together. The dog followed and I told the owner about my tights and that he should keep his dog contained.

Now back to my daughter's story.

When she was a college freshman she was out for a Sunday morning run. A man came up behind her and grabbed her. She elbowed him off and ran to a Seven-Eleven store where she found a police car. She rode with them and they got the guy.

So yes, music is motivating and inspirational, but consider the effect of not being able to hear a mugger, a dog, or even the warning bell of a bicycle before it's too late.

Everyone thinks it won't happen to them, until it does. Be fit but stay safe.







Sunday, July 13, 2014
My current status says that last week I recorded my 1st 40 mile week EVER.

This is significant because:
I've been running for nearly 30 years and have never done that before.
I usually cut back in the summer (It's HOT here in the South)
I'm not training for anything (see above sentence)

Yet since July 1st I've been getting outside at 6 am to get a few miles in. When the heat and humidity drive me inside, I finish up at the gym.

I don't need extra cardio. My average 20 – 25 miles a week keep me maintaining nicely especially in the summer when it's so easy for us to canoe or kayak on the lake.

My extra push is to support my team.

I live outside of a small town between 2 cities (population each approx. 70K). Each city regularly runs "challenges" to get people active.

In the current challenge we record our daily mileage running or walking (treadmill OK, elliptical No). Steps in daily activities don't count either.

In a recent article our local paper called our church – "The Runningest Church in Town." So of course, we have a team. I like that we encourage taking care of our bodies as well as our spirits.

You don't have to be on a team to join a challenge, but just like on SP, the effort to improve is easier with the support of friends.

As we enter our miles we can see our individual and team position in the list. Even with my current "high" mileage, I'm at half what the leaders are doing and that's perfectly OK. It's about pushing just a little bit more than you're used to.

This current challenge involves miles, but the last one recorded minutes of exercise.

One member of our team finished that challenge in 2nd place out of 1000 participants.

This is significant because she is 91 years old!
Now that's a goal to work toward.




1 2 3 4 5 6 7 8 9 10 11 12 13 14 15 16 17 18 19 20 21 22 23 24 25 26 27 28 29 30 31 32 33 34 35 36 37 38 39 40 41 42 43 44 45 46 47 48 49 50 51 52 53 54 55 56 57 58 59 60 61 62 63 64 65 66 67 68 69 70 71 72 73 74 75 76 77 78 79 Last Page

Get An Email Alert Each Time BROOKLYN_BORN Posts