| | |
| --- | --- |
| | BUTRFLY_FREEDOM's Recent Blog Entries |


Thursday, May 03, 2012
First of all, I just want to say how very touched I am at all of the comments on my previous post. Fellow sparkers, your enthusiasm has motivated me and to be honest, I really needed it right now! Specifically, motivation to continue this weightloss journey.

See... I know I can do it. I know how to do it. I know I need to do it. But WANTING to do it is a completely different ballgame!

Our wants tend to dictate most of our lives. We want to eat those deserts. We want to veg in front of the tv. We want a million bucks.... or whatever. We all have wants. And it's up to us to fulfill those wants or to ignore them. Not all wants should always be fulfilled.

For instance, lets say we want to lose 30lbs. We've wanted to lose that 30lbs for 5 years. The want to lose it is all we think about.

Except for chocolate cake. We looooove chocolate cake. We want it all the time.

But if we give in to that want for chocolate cake every single time the mood strikes, we won't be able to fulfill our other want: to lose 30lbs.

We have to decide what we want MORE: the cake or the weightloss.

If I'm being honest, I'd say I want the weightloss more, but the cake more often. Which in turn, makes the cake a little bit more powerful over time.

Which is the beginning of slumpsville. Once you get to the point that the cake has "better" rewards for you than getting the weight off, your motivation is gone and you're sitting right in the middle of slumpsville.

Maybe you realize where you're at and high-tail it outta there pronto or maybe you pull up a chair and stay a while, but either way eventually you have to go home. Slumpsville is a vacation town. It's not a suitable place to lay down roots.

But how do you get motivated to leave when you have chocolate frosting flowing through your IV drip?

Well, I've been working on disconnecting slumpsvilles hold on me for about a month now and I'm finally waving goodbye. It's been hard and agonizing at times, but I'm making it.

I found this wonderful blog post about getting our of your slump, and it's full of motivational advice. I was originally just going to share it in one of my teams, but I figured a LOT of people could benefit from it, so I opted to put it in my blog.

Let me know what you think. What gets you motivated?

zenhabits.net/get-off-your-butt-16-w
ays-to-get-motivated-when-youre-in-a-s
lump/






Monday, April 30, 2012
April 30, 2011 was a day that changed my life. I got in my car that morning with the full intention of returning home in an hour, relaxing for a bit and then heading off to work. Life, however, had other plans for me.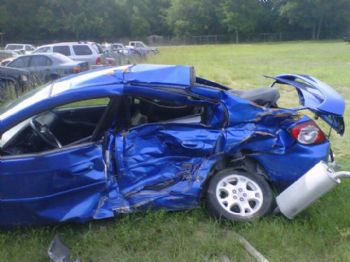 A split second was all it took to change those plans and set me on a completely different course.

Instead of sitting at my desk at work, I was lying in a hospital bed forbidden from moving - not that I could anyway.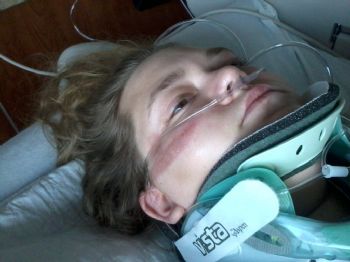 I spent one week in the hospital and two in a nursing home nursing all of my broken and hurting parts: broken ribs, vertebrae, and foot. The most painful of these was having broken ribs and the longest lasting was the foot.

It was three months before I could bend over without feeling like I was re-breaking my ribs and six months before I was able to put a shoe on my foot.


But then you guys already know that.

What you don't know are some of the non-physical changes that happened. When I woke up the morning of April 30, 2011, I was working for a job that I hated, driving a car that I hated (and making payments on it that I had no way of getting out of). I was generally unhappy and very much a pessimistic.

And that car accident changed everything.

I never returned to that job (or any job, for that matter) and my car was totaled - problem solved. I'm not making light of anything here, simply pointing out the irony. And even when I was crying and feeling like the pain would never end, I was still happier. Course I didn't realize this in the moment. But I do now, looking back.

I saw how much my family and friends loved me and what they would be willing to do for me. I saw how fragile life was and how strong a person can be when they have to be.

But I think most importantly I saw what a waste it is to spend time being unhappy, worrying about things you can't change, and not changing the things you can. From this I found my new path.

My point here is to never waste your time. Use the life and time you are given. Don't waste it crying about yesterday or worrying about tomorrow. The Buddha said,


"Do not dwell in the past, do not dream of the future,
concentrate the mind on the present moment."


Concentrate on the present because it is all we really have. The past is gone, the future has yet to come, but the present --The present is LIFE.





Thursday, March 22, 2012


See my pretty new bowl?

I was grocery shopping last night and just happened to pass by this little lovely and I couldn't help myself! I mean, it's orange! It's only my favorite color! lol

That wasn't the only highlight of my trip to the store... see that tangelo up there too??? THAT made my day lol. See... I've been hunting for tangerines or tangelos for MONTHS. I have hardly seen them anywhere and when I have, they have looked horrible... like, I wouldn't have eaten them if they were giving them away for free.

I don't eat oranges. They just don't have enough flavor for me. They are all sweet, but muted, like if I poured out half of my chocolate milk and replaced it with water. Ick. It tastes like all sugar and no orange taste.

I love tangerines/tangelos because they are tangy! They are sweet, but they are also tart and full of flavor. They are hands down, my all-time favorite fruit. And it seriously irks me that I finally find some just as their season will soon be coming to a close. Boo.

Either way, I snatched me up a bag of these beautiful orange orbs and I didn't care one bit that the bag cost me $4... THEY were MINE. My fiance thinks I've lost my mind.... eh maybe just a little bit.






Friday, March 16, 2012
Over the years, I've amassed quite a list of reasons why I want to lose weight. Given an hour, I could probably show you a highly detailed chart of 300+ reasons complete with categories and subcategories. But I never sat down and really thought about a different kind of why: why I'm overweight to begin with.

Sure, I've always had a vague inner knowledge of "why", but I've never given it much thought. My generalized why was always the same.... I've always been this way.

While that is somewhat true, it's not the whole truth. I've started reading Savor by Thich Nhat Hanh (and nutrutionist Dr. Lilian Chueng) and though I've only read one chapter, I'm already being forced evaluate things I'd never considered before.

As far back as I can remember I have been bigger than my friends. I didn't look "fat" per se, but I was bigger. Wider hips, protruding stomach (which I always attributed to my dads side of the family - My dad and his brothers all have thin frames ,but have a large belly). Maybe that is genetic, maybe not.

As a teen I found great ways to hide it by wearing tight jeans to flatten under my bellybutton and "sucking" in to hide my belly. My legs and arms were pretty normal.

According to the book a child with one overweight parent is more than TWICE as likely to become an overweight adult and two overweight parents just increases those odds. BOTH of my parents were overweight as were each of their parents (I never met my moms dad, so I can't say he was overweight, but all the rest of them were). AND both my dad's and mom's siblings were all overweight too, some morbidly so. I point this out, not only for a genetic link.... but as an indicator of lifestyle.

My paternal grandfather had a hot fried breakfast every single day of the week, including multiple eggs, bacon, grits, sausage, bread, butter, etc. Both him and my grandma had diabetes, and she had several open-heart surgeries.

I grew up in the south with fried food as a staple. My mom did cook everyday, but it was usually greasy and fatty. She was president of the Clean Plate Club. I remember countless times having to sit at the table for hours because I didn't want to eat some food I thought was gross at the time.

We were also poor. Because of this we rarely ate out. Some people may think this is a good thing, and at the time, I'm sure it was. BUT...and this is a big "but".... It made me feel extremely deprived. I remember at school, I always had school lunch (it was free) and I never had money to get anything from the ala carte menu. So, I'd eat super slow, calculating every bite, so that my meal would last as long everyone else's so that I didn't have to sit there and watch everyone munching down on ice cream. Again, there is a BUT here. This made me feel horrible. Back then, "Poor" was a much worse thing for me to be than "fat", though I really wasn't "Fat".... just a lil overweight.

Anyway, this feeling of deprivation, led to lots of overindulgences when I had the opportunity. On school field trips, I'd splurge and get a supersized "value" meal instead of the dollar menu that my parents forced us to shop from on the rare times we did eat out.

I was 180 when I graduated high school. I wanted to be thinner, but I didn't want to do anything about it. August of that year, I started my first job. It was only 3/4 mile from my house, so on my lunch breaks I would come home to eat. My lunch was usually the same, a box of Kraft mac and cheese.

Another memory I have is of Butter Pecan Ice cream. My mom and I loved it. Sometimes, she would buy a half gallon of it, we would split it down the middle and down it in one sitting. We did this a couple times.... and I can no longer stomach the stuff. Makes me queasy thinking about it.

But thankfully, I stayed in the same weight range for a couple of years. During this time it found it harder to hide my belly. I had strangers ask my so many times "how far along are you?", "Is it a girl or a boy?" that eventually I just played along. It was less embarrassing to pretend than to admit that I'm just fat.

Then I moved 3 hours away to Orlando, Florida with my then boyfriend. Prior to the move, I lived in a small town where eating out was difficult simply due to the long drive to get there (10+ miles). But after the move, I had probably 30 different places to choose from in a half mile radius (probably more than that). I literally stopped cooking. My boyfriend and I ate twice a day, lunch and dinner, both at some fast food joint.

When I hit 206, I joined SP and lost 6 lbs... at which point I went on vacation and subsequently so did my diet.

I moved again, closer to home, and still maintained the habit of eating out everyday. Some weeks were difficult because we couldn't afford to eat out. Many times i literally lived on Ramen, if I ate at all. This reinforced overeating. Find the cheapest, largest portions and get stuffed. You don't have to eat as often if your stuffed. When I met my then boyfriend, I could barely finish a quarter pounder meal. When we separated 7 years later, I had no difficulties finishing a large Triple Whopper meal (yes, I said TRIPLE).

I am happy to say that I'm no longer able to finish a triple whopper meal, no matter what size it is... but I am still plagued by wanting that "overstuffed" feeling. It's gone beyond a desire of self-preservation (not knowing when I'd next eat). Now, its much different. I HATE feeling hungry. It's not just my stomach that's involved. I get sick when I get hungry. I get a headache, I feel weak and woozy. Sometimes I feel lightheaded, like I'm going to pass out. And this can be from just an hour of feeling hungry. I'm still learning which foods make me feel fuller longer, but a couple years ago, I had no concept of this idea. I assumed to eat healthy, you had to eat small and eat salads. So I gave up. I'd rather be fat than be hungry. And at 242, I was definitely FAT.

Thankfully I'm learning that I don't have to be fat nor hungry. But changing your mind is a lot harder than changing your diet.

Essentially what this blog boils down to is laziness. I didn't want to cook, and I didn't. I didn't want to get sweaty, and I didn't. I didn't want to do anything that required the least bit of effort, and I didn't. That and bad food just tastes so damn good.

I'm currently working on the laziness (by default I now cook almost every day) in my life and I think that alone will be more helpful to my weightloss endeavors than any other single thing.







Tuesday, March 13, 2012
I am super stoked about this challenge! I can't wait to see where this takes me!


Why are we taking this challenge? I am doing this challenge for a couple reasons. First, because it sounds fun! Exercise has to be fun right? Also, I am doing this to prove to myself that if I can lose 5% now, then I can do it again in the future!

Why are we loosing weight? So very many reasons ranging from health to vanity. I want to limit as many cancer risk factors as possible since it runs in my family... along with heart disease, high blood pressure, high cholesterol, diabetes, etc etc. I also just want to LOOK better! I want to look how I feel! I want to be less round (although, my butt could use a bit MORE roundness if I do say so myself), less flabby. More firm, strong. I want muscles!

What do you want to change? I want to change my weight. I want to change my addiction to sugar. I want to change my dislike of exercise into LOVE for it. I want to WANT TO exercise!

How do you want to look and feel? I want to feel powerful. I want to look proportional. I don't really care about the number on the scale... I just want to be healthy, and overall, much flatter, especially in the gut!

What things will you be able to do in the future with a slimmer healthier body? I will be able to walk the stairs without huffing and puffing. I will have an easier time climbing that mountain. I will, dare I say... run? I will be able to breathe easier. I will find clothes shopping less difficult. I won't be the one telling everyone else to "slow down, wait for me."

Woo! 100's here I come!!!!!!!!!!!!!!!!!!!!!!!!!!!!!!!!!!!!!!
!!!!





First Page
1
2
3
4
5
6
7
8
9
10
11
12
13 14 15 16 17 18 19 20 21 22 23 24 25 26 27 28 29 30 31 Last Page

Get An Email Alert Each Time BUTRFLY_FREEDOM Posts