| | |
| --- | --- |
| | CAKEMAKERMOM's Recent Blog Entries |




Saturday, July 26, 2014
I woke up in a good mood, having slept in a bit. I was planning on getting a bunch of stuff done. Then I walked out of the bedroom and saw my husband home. There went all my plans and the good mood.

We did manage to get the kids out to a park in the afternoon to let them run off some energy. I tried to find some GeoCaches, but failed in the attempt. I wasn't about to walk in waist high weeds, I'll go back when the grass dies in the fall. I can't find them all, but I try to enjoy the time I take to find them.

I started my day out with my normal breakfast, still using the cranberry nut blend on top. Calories: 415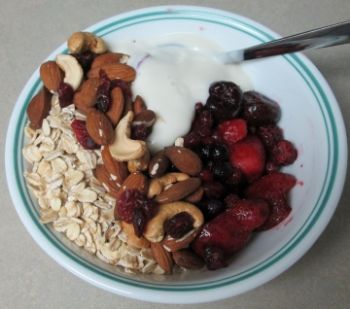 We had lunch before we attempted to leave the house. I just had what I've been having frequently lately, veggies, hummus, and one of those cookies we made the other day (yes, there's nuts and jam on them, so kinda healthy?). Calories: 294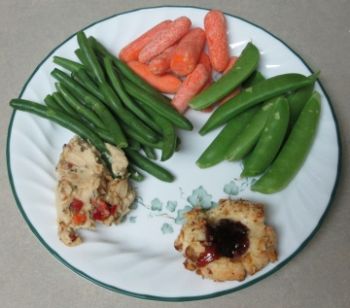 While I was waiting for dinner later (my husband ran out for some ingredients) I had some more cookies. It was practically dinner time at this point and I was starving. They held me over until I could assemble a sandwich. Calories: 244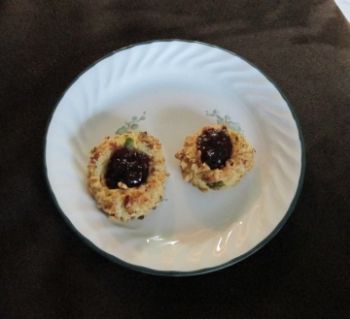 Then I finally got to make my dinner. It was a cheese sandwich with mustard, a tomato, and some dill pickle chips. It may be odd, but I like it. Calories: 470



I was quite full after all the food near the end of the day, so I didn't need any more snacks at that point. I was also quite tired after the kids finally went to bed (my son really put off cleaning his room) and I went to bed as soon as he was done. I really have to figure out how to manage my husband unexpectedly being home without it affecting my mood.

My ladybugs showed up in the mail so I should be aphid free within the week! I didn't put them out because the weather looked ominous for the night, they got to stay inside for the night before being let free. I don't want to spray my plants to get rid of the salad eating bugs when this is a perfectly easy way to get rid of them and the ones that are likely infecting the neighbor's plants too.

Total calories: 1,423
FitBit step count: 1,970





Friday, July 25, 2014
It ended up being a quiet day where I didn't do much. The computer sucked me into a lot of games for the day. I had therapy appointments for all of us at the end of the day, so I was able to get some stuff out that needed to be out. I'm hoping that we'll have some tools for me the next time I see her so I don't have any more panic attacks, I've never had them before this year and now I've had 2. It's a scary thing and I couldn't imagine what all the incoming troops have to go through since I can imagine it's worse than what I'm going through. I did manage to calm down so much that I got tired from all the stuff that went on on Tuesday. Fortunately I think my husband understands better what happened on Tuesday too.

My son's sunflower is opening! It's just a little variety he got from the plantmobile that came to his school at the end of the year and fortunately I have to room to let it grow. I also remembered to water it enough this year, last year I think I killed off my daughter's flowers.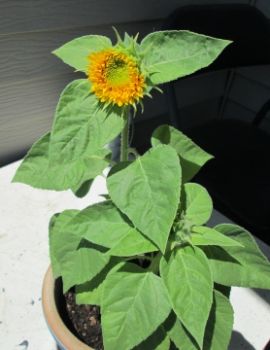 I had my normal breakfast. Calories: 415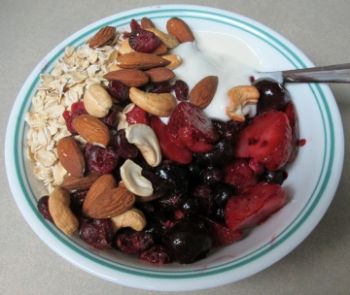 Lunch was simply thrown together and I couldn't resist one of the cookies we made yesterday. Calories: 268



I also couldn't resist them for a snack a little later either. Calories: 244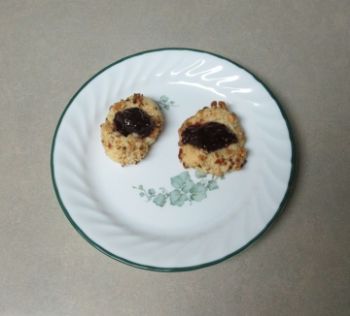 My husband needed to be somewhere after our therapy session, so we just went out afterward. I got water in the cup and only used a little bit of the dressing on the side of my half salad. Calories: 215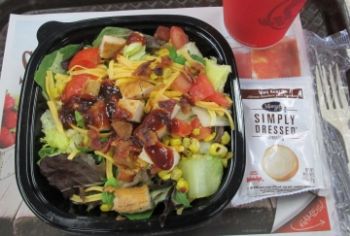 When we finally got home, I was craving the cherries we picked up the day before. Calories: 147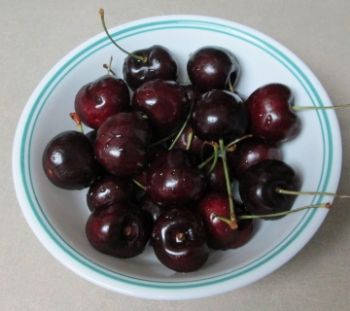 And I wanted popcorn with what we ended up watching before bedtime (Farscape this time). We shared it. Calories: 80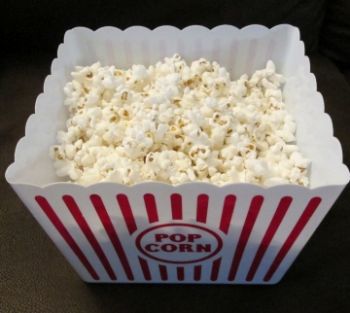 When my head hit the pillow, I managed to fall asleep more quickly than usual. I must have been tired if I was able to go to sleep that quickly.

Total calories: 1,369
FitBit step count: 2,406





Thursday, July 24, 2014
Although I started my day out with high anxiety, as the day went on, I managed to relax enough to do some stuff with my daughter. Fortunately it was just her some and not both kids or I probably wouldn't have been able to relax as well. We even managed to get the laundry done, only 4 loads this week! The end of the day helped calm me too as my husband put on some of our Dr. Who we've been watching, he keeps borrowing some of the ones from the library we can't see on Netflix. Now we're really caught up on the current ones.

I started out my day with my normal breakfast. Calories: 415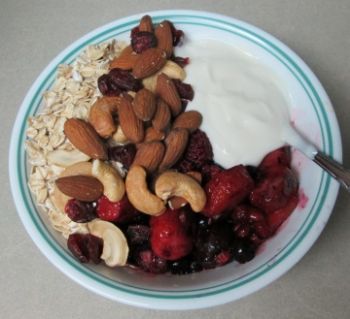 I didn't get hungry until after noon, I just grabbed the rest of the leftover pizza. Calories: 380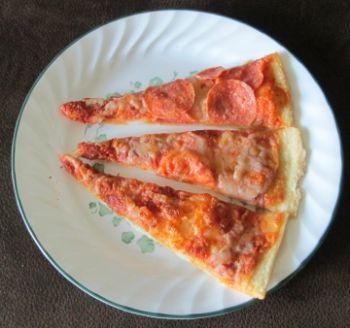 We made cookies today. My daughter likes making the jam thumbprints. She ground the nuts and I fixed the settings on my stand mixer (it was mixing way too high, factory settings my butt) then we rolled out the balls together and got them all nutty. I let her put the jam on when they were done. I love when we get to do things together, just the two of us. I had two when they were done. Calories: 244



I sent my husband up to the store and he brought home some fried chicken. I will admit this was a veggie free day, not necessarily a good thing. Calories: 532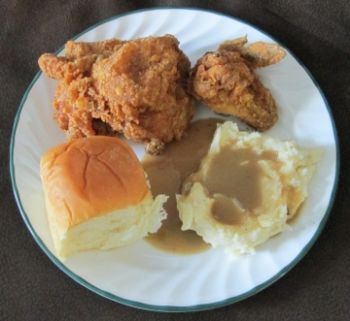 The scale did dip this morning to under 175, so it was time to take the next picture. I'm not sure how, but I feel like I look fatter than the last picture, perhaps it's because I wasn't standing as straight? At least you can still tell the 10 pound difference if you cant tell the 5 pound difference. No matter what, my clothes are fitting better, so that's all that counts. That means I only have 25 pounds to go.




I'm not surprised that the scale did that to me. It frequently holds onto the weight then drops it down dramatically the day or two after an "official" weigh in day. If it stays down, I get to change it the next official day on Tuesday.

Total calories: 1,571
FitBit step count: 2,344



1 2 3 4 5 6 7 8 9 10 11 12 13 14 15 16 17 18 19 20 21 22 23 24 25 26 27 28 29 30 31 32 33 34 35 36 37 38 39 40 41 42 43 44 45 46 47 48 49 50 51 52 53 54 55 56 57 58 59 60 61 62 63 64 65 66 67 68 69 70 71 72 73 74 75 76 77 78 79 80 81 82 83 84 85 86 87 88 89 90 91 92 93 94 95 96 97 98 99 100 101 102 103 104 105 106 107 108 109 110 111 112 113 114 115 116 117 118 119 120 121 122 123 124 125 126 127 128 129 130 131 132 133 134 135 136 137 138 139 140 141 142 143 144 145 146 147 148 149 150 151 152 153 154 155 156 157 158 159 160 161 162 163 164 165 166 167 168 169 170 171 172 173 174 175 176 177 178 179 180 181 182 Last Page

Get An Email Alert Each Time CAKEMAKERMOM Posts