| | |
| --- | --- |
| | CAREN_BLUEJEANS's Recent Blog Entries |



Friday, August 29, 2014
Quitting is only staying down. If I stumble, and haven't been doing great, in other words, I put on about 5 pounds from my best (recent) low weight, I only quit if I stay down.

I'm worth it, I deserve to be fit and happy and health. I can pull this off. I'm not trying to catch up. I'm starting where I am today. I got up with the alarm at 5:30, got into my workout clothes I laid out the night before, and did a challenging 30 min full body workout. Great workout!

I've recently heard from an online friend. We were in a women born in the year 1960 WW group. A bunch of us got to be really close, and continued on to be Facebook friends. Her daughter is moving to my town, and she asked if she could contact me. I'm thrilled.

But also it reminds me of just how long I've been at this, and I'm still not at goal. I can't change that, but Holy Cats! I don't want to still be struggling along in another 7 years. OK, I'm in a much better level of fitness. Since then I've taken up weight lifting, zumba, trx, and a host of other group fitness classes that I couldn't have done back then. I was just doing diet with WW. I'm also in a better head space. I've ditched the harsh self-judgement, the all or nothing thinking, rebelling against the "plan" as if it were imposed upon me. No, it's my plan, goals, etc.

I never, ever quit.

~~~~~~~~~~~~~~

Motivational quote:

"I get knocked down
But I get up again
You're never going to keep me down"

Chumbawamba - I Get Knocked Down lyrics






Thursday, August 28, 2014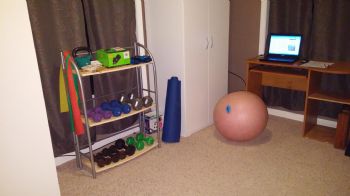 This is MY home gym, not something off Pintrest or some magazine. I got up this morning & worked out with a video on line. It was great!

Kettlebell, jump rope, ankle weights, weighted gloves, dumbell sets 3 to 15 pounds, resistance bands, yoga mat, stability ball, computer for online workouts.






Wednesday, August 27, 2014
Today after work, I have a little time before dinner and 6:45-8:30 Back to School Night, to get my room unpacked enough to do a workout in the morning. Do you think I can do it in about 2 hours? I'll grab my water bottle & give it a try.





Tuesday, August 26, 2014
I weighed in this morning at 174 (+.6), and was feeling ok with that number, until I saw the video of the ice bucket challenge my son posted, with me pouring the water over his head. I look rather chubby. I want to be slim, fit & healthy. I've reconciled myself to not being a runner. But I love to lift weights, do zumba and other group fitness classes. I have to ditch the excuses, and just do what I know works for me.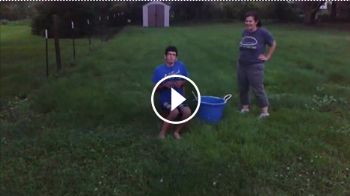 (Don't click on it; it's just a screen shot.)

I'm all moved in. It was a stressful, happy "I did it!" time. I love the house. It's really comfortable and quiet. I'm still unpacking and trying to find stuff. I thought I lost my fitbit, but it was in my bathrobe pocket. So happy I found it.





Saturday, August 23, 2014
It's moving day, and I'm not planning on eating well at all! There's no food in the house, and all the dishes and pots are packed. We're going to McDs for breakfast, pizza delivery for lunch, and oops I forgot to plan dinner. Maybe eat out.

We got a few friends to help. It's going to be a hot one! In the 90s with lots of humidity, which calls for lots of water.

6:30-breakfast
7-9 packing
9-drop off dog at new house (I dropped the cats off yesterday)
9:30 riding lawnmower delivered
10-4 rent u-haul

I need to do some food shopping. Maybe tomorrow. I also need to clean the apartment to get my security back. We're only moving a few miles.

I'll be out of touch for 2 days. The internet is scheduled to be installed Monday.

I'm so excited I get to sleep in my new house! Monday I leave for work and my kids leave for school from my new house.

My bedroom is two 9'x12' rooms with a 5' opening between. I'm going to make one side a bedroom, and the other a home gym. Yoga mat, stability ball, dumbbells, kettlebell, step, and a my computer to watch workouts. I don't have cardio equipment. Just a jump rope.



1 2 3 4 5 6 7 8 9 10 11 12 13 14 15 16 17 18 19 20 21 22 23 24 25 26 27 28 29 30 31 32 33 34 35 36 37 38 39 40 41 42 43 44 45 46 47 48 49 50 51 52 53 54 55 56 57 58 59 60 61 62 63 64 65 66 67 68 69 70 71 72 73 74 75 76 77 78 79 80 81 82 83 84 85 86 87 88 89 90 91 92 93 94 95 96 97 98 99 100 101 102 103 104 105 106 107 108 109 110 111 112 113 114 115 116 117 118 119 120 121 122 123 124 125 126 127 128 129 130 131 132 133 134 135 136 137 138 139 140 141 142 143 144 145 146 147 148 149 150 151 152 153 154 155 156 157 158 159 160 161 162 163 164 165 166 167 168 169 170 171 172 173 174 175 176 177 178 179 180 181 182 183 184 185 186 187 188 189 190 191 192 193 194 195 196 197 198 199 200 201 202 203 204 205 206 207 208 209 210 211 212 213 214 215 216 217 218 219 220 221 222 223 224 225 226 227 228 Last Page

Get An Email Alert Each Time CAREN_BLUEJEANS Posts