| | |
| --- | --- |
| | CLAIREINPARIS's Recent Blog Entries |



Sunday, April 13, 2014
Meeting Sparkfriends is one of the joys of Sparkpeople! Especially when you meet Sparkfriends you have been in touch with for quite a while, across the Ocean, and especially (in my opinion) when you go hiking together!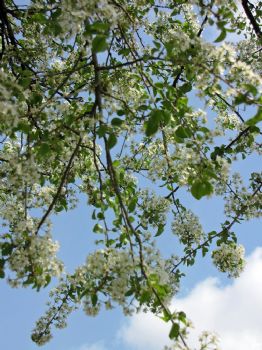 Yesterday was a perfect day for meeting a Sparkfriend – a perfect day for a hike! It was sunny but about 18C (65F), which meant that even in the sun for 4 and a half hours, we weren't melting!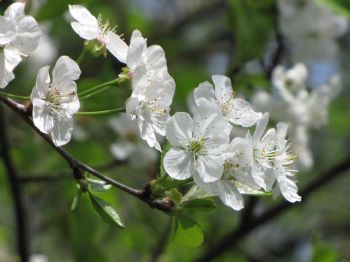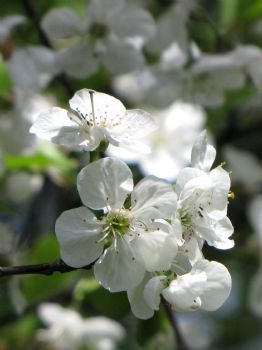 Spring was everywhere, and the birds were singing like crazy. I 'played safe' and took Sara (SARAWALKS) to an area I know well, North-West of Paris, near Magny-en-Vexin. But I had never been on that particular hike, so we discovered it together (and got lost together too when, chatting chatting chatting… we missed the path and walked for about 20 minutes in the wrong direction, haha!).




It didn't matter. We found our path again and happily went on!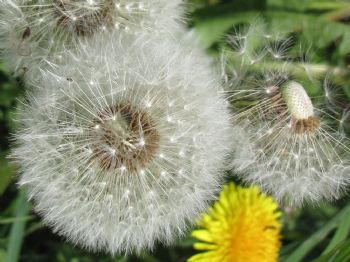 When we left the woods, we discovered Genainville, nestled at the bottom of the hills, below the canola fields.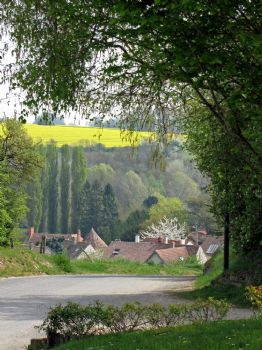 It really was a pretty little village, and we enjoyed crossing it, looking at the old walls, doors, gardens...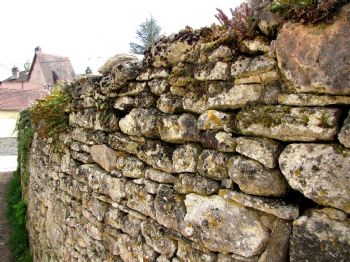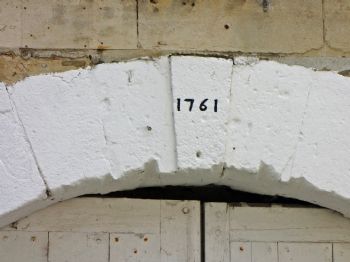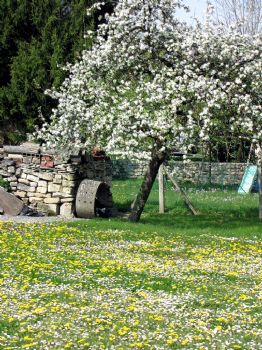 following a stream…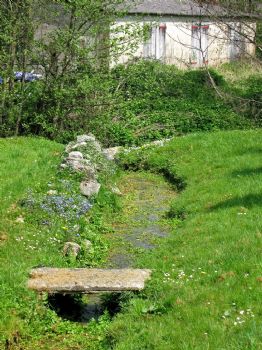 … smelling the flowers (hello Sara!)…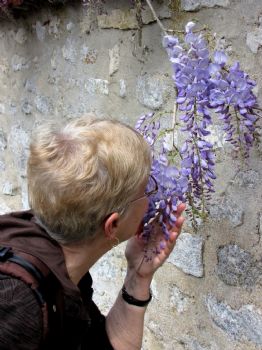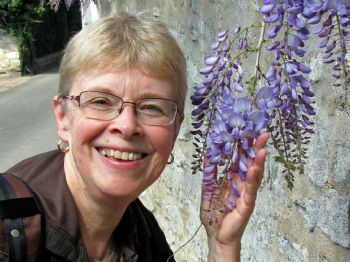 Ahhhhh these wisterias near 'rue du Chat Noir' (Black Cat street) were gorgeous!!!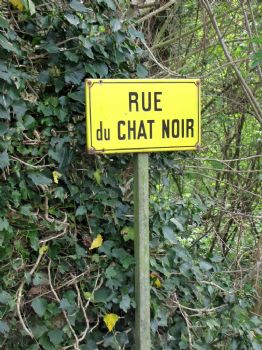 Then we were in the countryside again…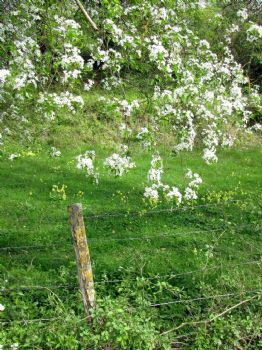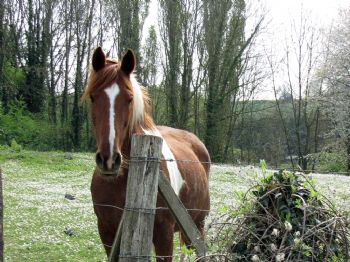 I hadn't expected to see any wild orchids but we found lots (all 'orchis purpurea'), all in a small area, in the woods… They were just starting to bloom. What a treat!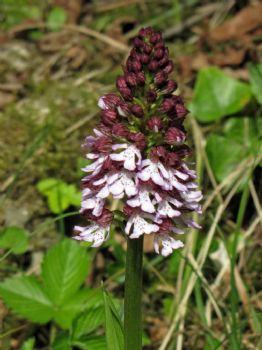 My guidebook had made a big thing of the Gallo-Roman ruins we were going to see on the way. Hmmmm… I am sure they were extraordinary, but we couldn't see much of them behind the high fence! So we could only imagine the 4,000 seat-amphitheater, the baths and other impressive discoveries! Sigh.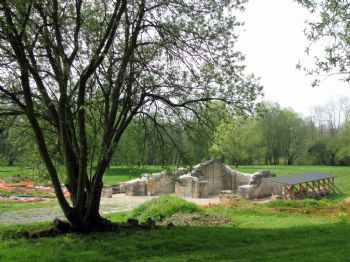 As we left the Gallo-Roman site, having seen some sheep on the way (I think they were used as lawnmower!)…




… I could tell Sara is much braver than I am! We passed this little house covered with graffiti, and she went right in to see what there was in there.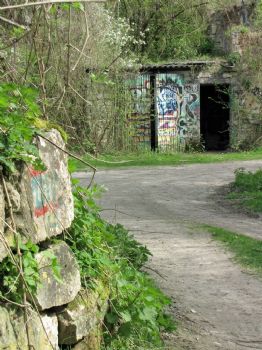 By then, we had almost reached the middle of our hike and it was time to eat our sandwiches! We found a nice spot in the woods!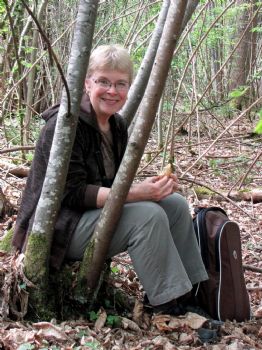 I never stop during my hikes. I think that is a mistake. If I stopped half way like we did, I could walk much further. I'll try and do that next time because I would really like to start walking further. We walked for about 11-12 miles in total, which is more than I have been hiking lately (and my feet and muscles are OK today).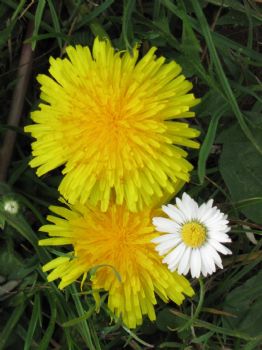 Afterwards, we walked through the open fields for a while, mostly canola and wheat fields… enjoying both the smell and the bright colors.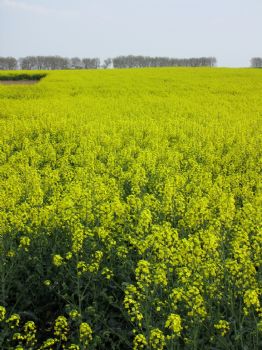 Shortly after we passed Maudétour-en-Vexin's cemetery…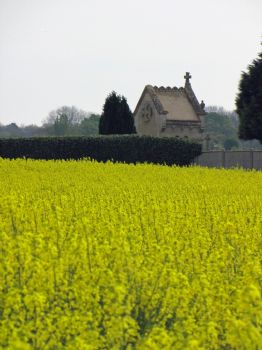 … we saw some curious mushrooms (?) in the grass. Do you have any idea what these are? [EDIT: Many thanks CRYSTALE8 who wrote to tell me these are field/common horsetail (equisetum arvense). Thanks to LIZALOT, who had answered a previous question on one of my blogs I was able to recognize horsetail later in the season (it looks completely different!), so now horsetail has no secret for me!!!]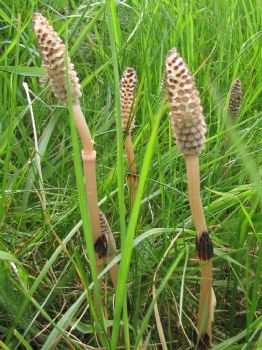 We crossed a road at the entrance of the village, turned right, and we were in the fields again…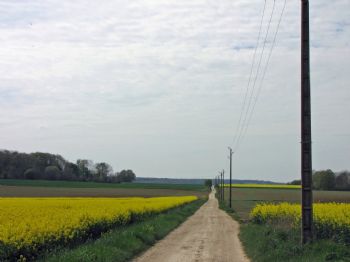 I don't usually enjoy straight paths like these crossing the fields. When I walk by myself, I like the discovery aspect, wondering what lays ahead. A straight path doesn't leave that much to imagination! But, walking with Sara, I couldn't get bored as I listened to the fascinating story of her French Huguenots ancestors (we are talking 16th century here!).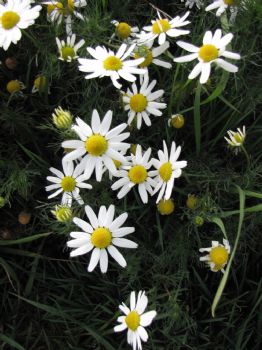 The last part of the hike was through the Bois de la Moinerie (Monastery's woods)…




… where we finally saw some bluebells! I had been wondering where they were hiding as all the woods in my area are covered with them.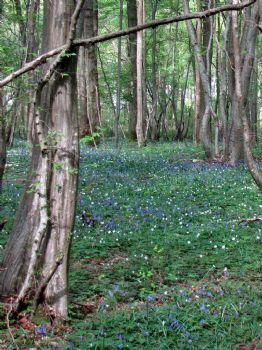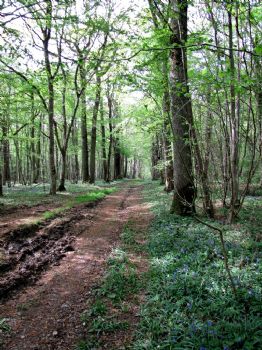 After we crossed this little hamlet, we were back in Villarceaux where I had parked the car…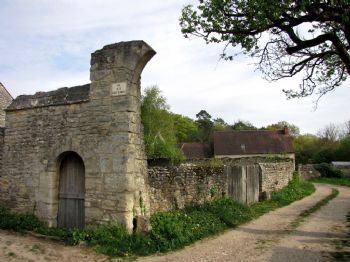 But it wasn't the end of our day! We first stopped in Magny-en-Vexin for a drink in the heart of the village (forgot to take a picture!), and then had dinner in my favorite restaurant, around the corner from where I live. Let me just show you Sara's starter: fried camembert with honey. (I had a parmesan and foie gras salad.)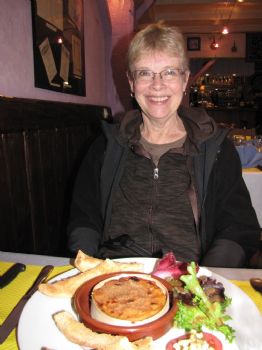 Ah yes, this was just the starters. :) A good thing we had just had a long hike and were quite hungry. Still, we couldn't make desserts, it was just too much!

Thank you for reading... As you can see, I had a beautiful Saturday! I hope you enjoyed sharing it with Sara and I! Enjoy your Sunday!







Sunday, April 06, 2014

Hello dear Sparkfriends!

Hikes are unforgettable in the Paris area in April… there are so many flowers!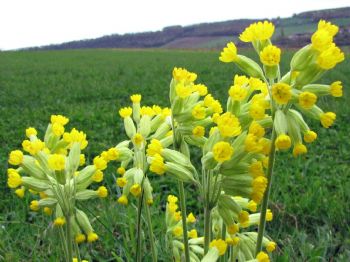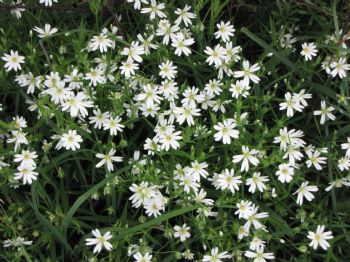 I had kept this hike for this time of the year, hoping I would see wild orchids. It was a bit too early and they weren't out yet, but it doesn't matter, it was such a beautiful hike anyway! I might come back next year in May to look for wild orchids.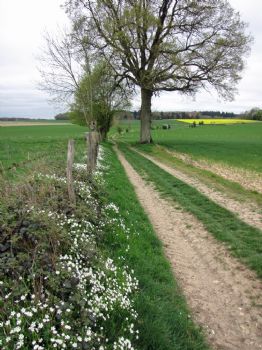 As I was walking happily on these unknown paths (which felt so familiar still as I know this area West of Beauvais well), I was thinking that it only happened once or twice for me to be a bit disappointed by a hike. I am so lucky!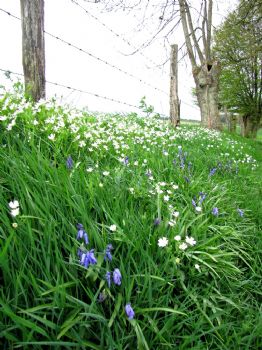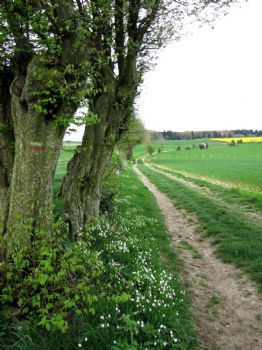 The canola fields in full bloom added to the pleasure of the hike as they smell so beautiful!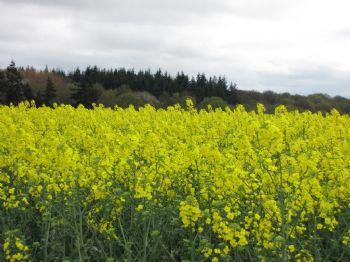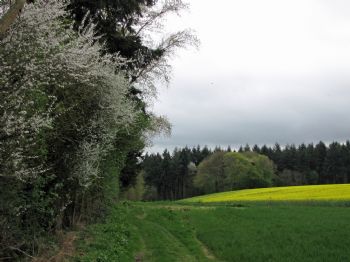 They were even more gorgeous when the sun appeared between the clouds… they looked like they were glowing!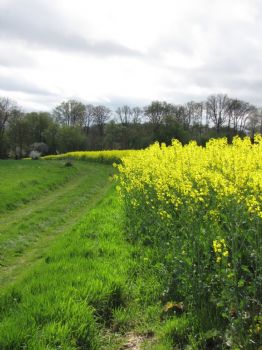 For the first part of my hike, I crossed some villages, sometimes walking through high grass. I am so glad when this happens that I have my boots and long trousers! That way I am not too worried to walk on a snake.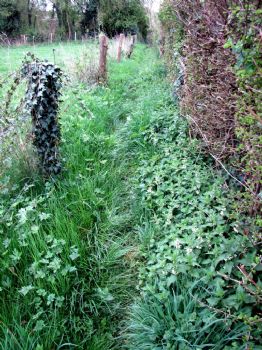 Then I climbed up the steep path leading to Mount St Helen (Mont Sainte-Hélène). The view from the top was a reward, everything was so green and new!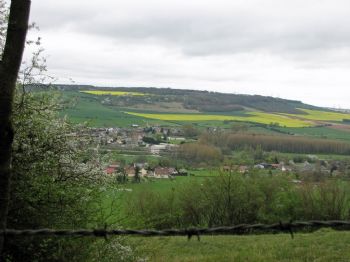 On the other side of Mont Sainte-Hélène, I walked on many countryside paths, sometimes stopping by to say hello to some distant cows…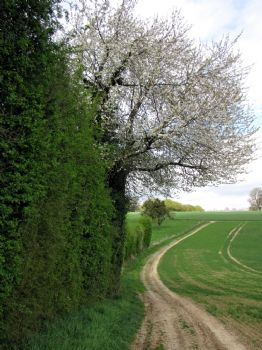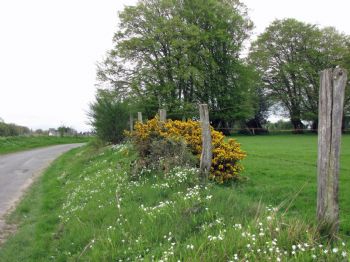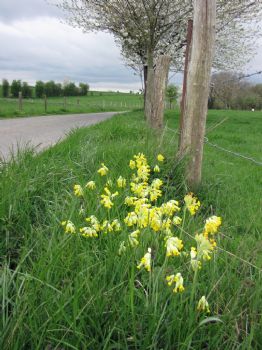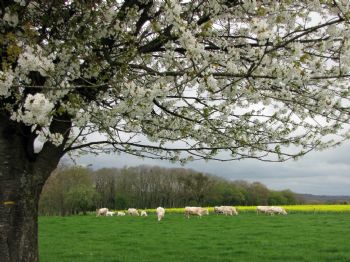 … or snails (doesn't it look huge next to my foot?!)…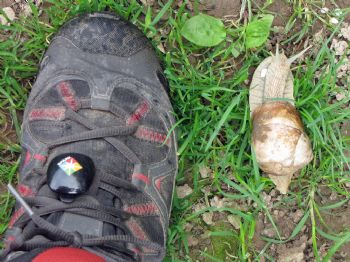 Then it was time for the highlight of my hike… the top of Mont Sainte-Hélène…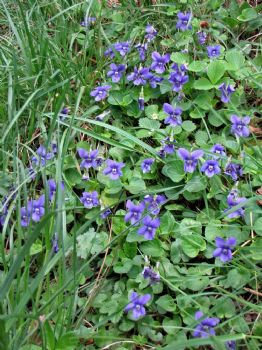 Part of it was covered with woods, of course full of flowers!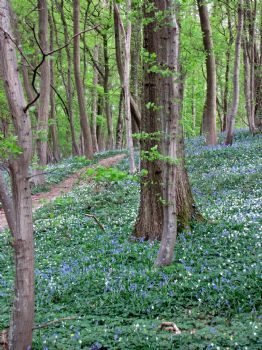 … some violas/violets, but especially lots of wild anemones and bluebells… Honestly, my pictures don't do it justice, it was breathtaking!!!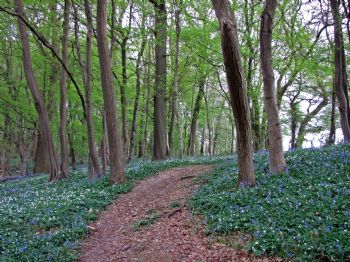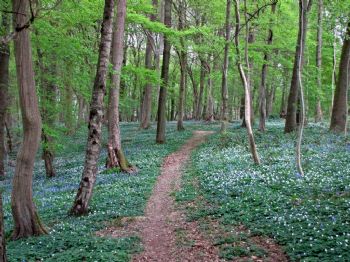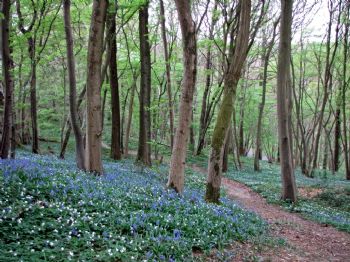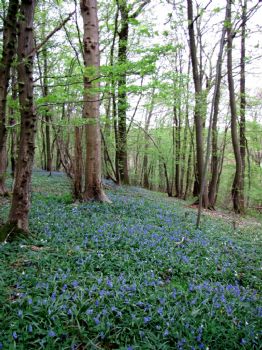 The rest of Mont Sainte-Hélène was much drier, with limestone soil (this is where orchids are usually found).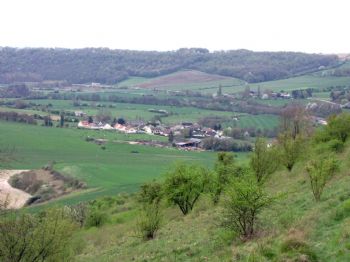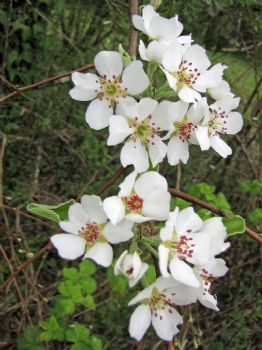 There was a moving tomb (but with a modern monument) of Brother Jean Sacy, a hermit who was killed in 1700 "by 4 bandits". Isn't it nice that his tomb was kept until today? I hope it will stay here for many more centuries.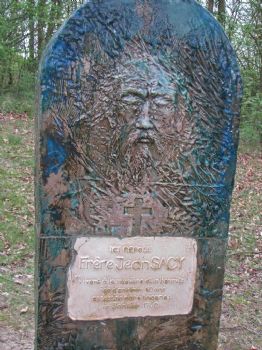 One last look on the countryside below…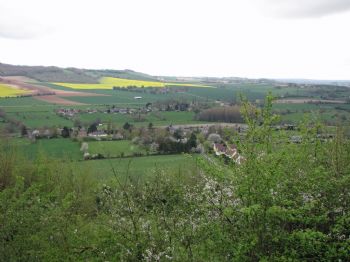 … and my knees started telling me they weren't happy as the path down was quite steep by my standards (remember I never hike in the mountains, there are none near Paris!).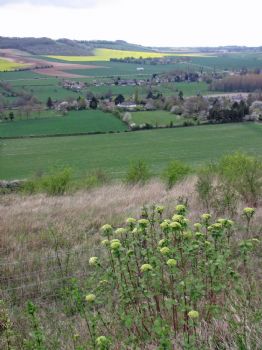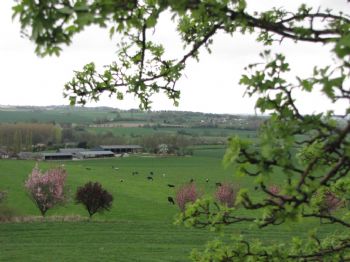 So I was quite happy when Saint-Pierre-es-Champs was in view again and the path was more or less flat…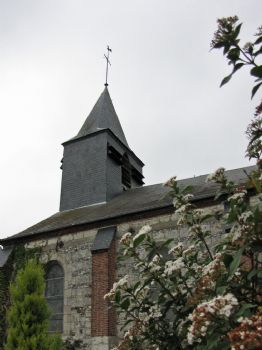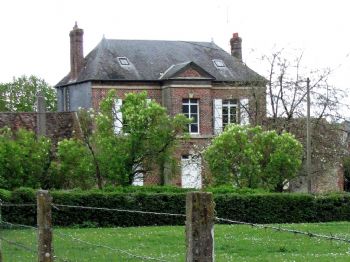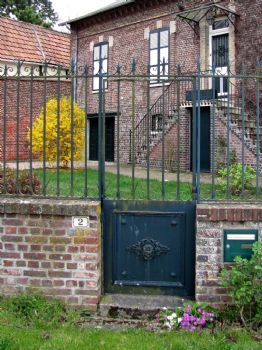 I hope you enjoyed sharing my hike! I felt guilty I was going hiking rather than visiting my Mom at the nursing home (I went yesterday, but I know how visits are important for her, who lives in the present). But all my stress and worries seem to have disappeared tonight, so I am really glad… My hikes make me stronger, I shouldn't forget that!

Have a beautiful week!







Wednesday, April 02, 2014
Hello dear Sparkfriends!

Life being a bit crazy at the moment, I have decided about 10 days ago to get into 'High Stress gear': as it is difficult to fit a hike at weekends (I will go back to my hikes though, don't worry!), I am going on daily walks in the neighborhood instead. It could make me sad or sorry for myself… but it doesn't because I am happy with my neighborhood!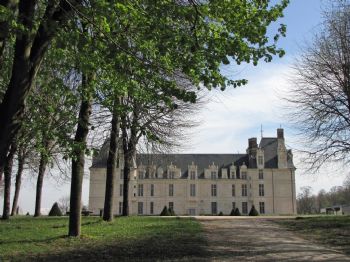 You see what I mean?


This beauty (built between 1538 and 1550) is 5 minutes away from my office and 10 minutes away from home. Usually I walk there on Mondays with my friend Sabrina (have been for years… we used to run there!), but at the moment it is 5-6 times a week. And I can say it is keeping me sane!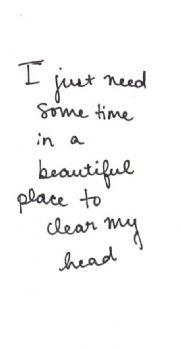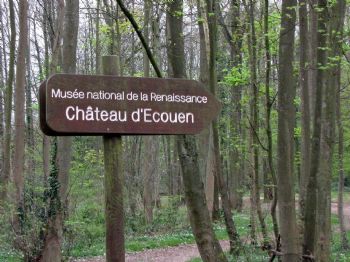 The woods are gorgeous all year long, but at the moment, they are just magical, covered with wild anemones, and with the bluebells just starting!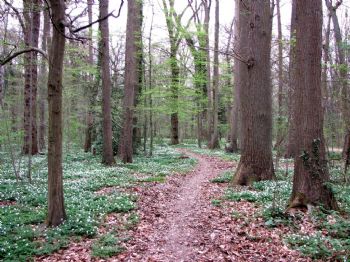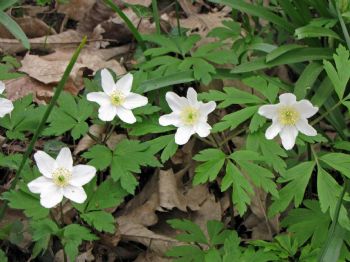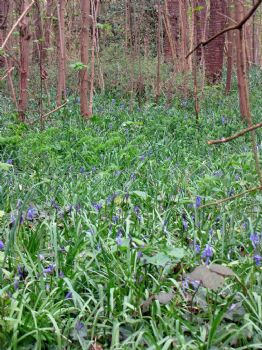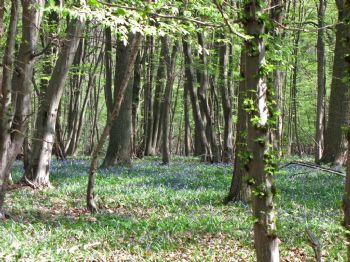 There are plenty of other flowers too (lots of violas), and throughout spring and summer time many more will be appearing and disappearing in turn. I look forward to the wild asparagus and garlic for my salads!




As the castle is built on top of the hill, some of the paths are very steep and make for a great workout.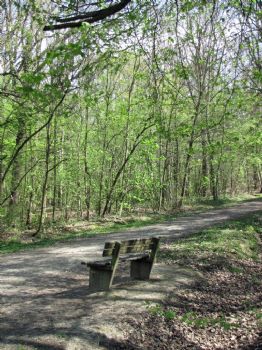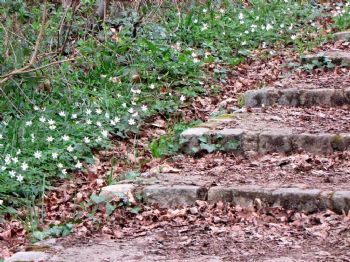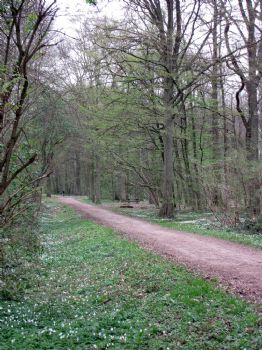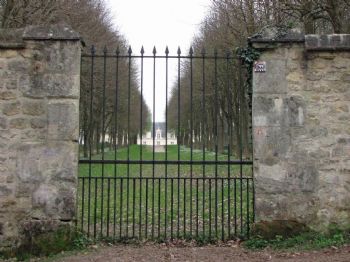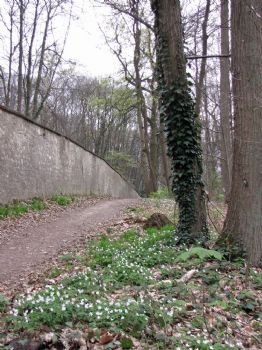 After one hour walking in the woods at lunch time I go back to the office a bit sweaty but full of energy and with a very sunny morale. This is the last view on the castle before I go back to my car: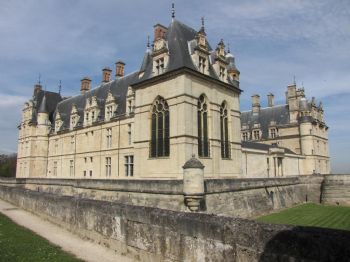 Then these days, when I arrive back at the office, the view on the garden below is equally enchanting (this is actually the view from the library)…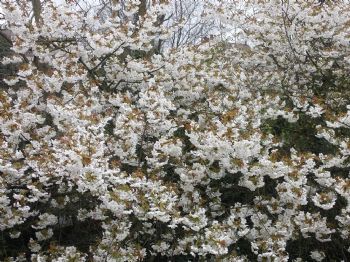 … really, I cannot complain!

Several of you have asked me how things have evolved for my Mom since my last blog.
www.sparkpeople.com/mypage_public_jo
urnal_individual.asp?blog_id=5653763
First of all, I want to say THANK YOU so much for all your support! It was overwhelming. You are wonderful!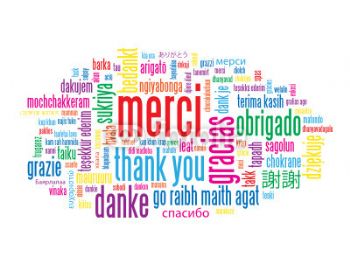 I was also touched by the fact that several of you knew exactly what we were going through because you went through the same, and that is very sad. Thank you for sharing your own experience with me.

Well, the situation at the nursing home got extremely worse last week (they were FURIOUS I had made an official complaint with the authorities), and last Friday I met with the director and his team. All the trainings I have been following for my job throughout the years in Communications ('Non-violent Communications' in particular!) came very handy. Actually, I treated it all like a business meeting... I stayed calm, even when the director kept looking at his emails or going back to saying how furious he was (I was glad the rest of the team behaved in a more professional way)! But I demanded for my Mom to be treated like a human being from NOW on, with a clear plan of action and a meeting in one month's time to assess it all. It looks like it worked. My Mom had her first shower in 5 months (!) and is now taken to the bathroom several times a day, or when she needs to go. It sounds so obvious, doesn't it? Well, it took us 5 months to get this, and filing an official complaint.

So, thanks again for your support, and I hope I can only report positive, encouraging changes from now on! The enquiry into the nursing home following my complaint is of course continuing (hence the director's anger!), but that isn't the side that I am the most interested in. I just want my Mom to be as well as she can possibly be, despite this dreadful Alzheimer's.

Let's end with a view of my dear woods, as they always bring a smile on my face and I hope they bring one on yours too... :)








Saturday, March 22, 2014
Hello dear Sparkfriends,

I don't often post a really personal blog, I mean more personal than my hikes and travels! I wondered about sharing about this side of my life again. It is very sad, but it is a huge part of my life, and, I know, part of the life of several of you who read this. This dreadful disease, Alzheimer.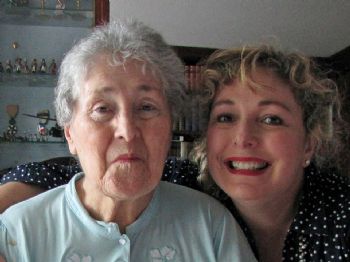 My mother has been suffering with Alzheimer for a couple of years now. But her state deteriorated extremely quickly and badly into dementia last summer (when the photo above was taken), and my father said he couldn't take care of her anymore.

We found a nursing home for her nearby, and she entered there early September. One week later, as I was visiting her at dinner time, I couldn't wake her up. She was in overdose (they gave her extremely strong medication so that she would be quiet). She spent 6 weeks in hospital after that. I refused to send her back to the nursing home (my father didn't want 'yet more change' for her and wanted to send her back there… no.way.). So we found another nursing home, which was highly recommended to us (equally very expensive I should add… if my mother hadn't taken a special insurance about 15 years ago, which pays a big part of it, we could never have afforded it!).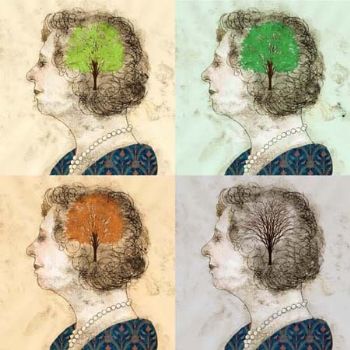 (Illustration by Cap Pannell)

Let's try and be positive: this place is not nearly as bad as the previous nursing home. But there are lots of things there which are still abuses – like refusing to take her to the bathroom, even though we are there and asking for it (imagine what happens when we aren't there). My father has been complaining about it and asking for help for her every single day since she entered there at the end of October. With no results other than to be seen as someone 'being difficult'.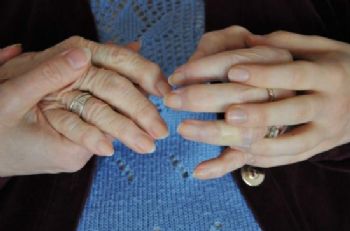 Me? I have been visiting as often as I could, agreeing with my boss that I would do less trips so that I could be with her more 'until she was settled'. I have been kissing her, holding her hand, stroking her cheek, trying to comfort her, taking her to the bathroom too… and also crying all the tears in my eyes, sometimes in front of her when I couldn't help it (she cries a lot, and panicks too... she is most of the time extremely worried and sad...), sometimes in front of the staff when I couldn't believe how horrifying it all was…




I have been trying to smile a lot, with her, with the staff. There are a few I really like, who are kind to her. With the others I have played a 'happy' role, for my mother's sake. I know their job isn't easy, and that they haven't chosen to take care of old people: they just do what they can to earn a living. I wish they would do another job, and so do they probably, sadly.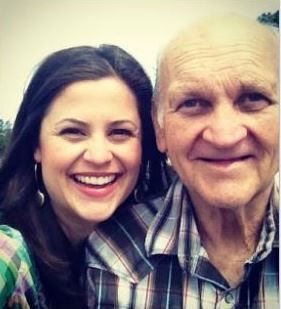 It is about time I tell you about my hero, someone who has been a huge inspiration for me ever since I discovered her blog, 'The Upside to Dementia?'
upsidetodementia.blogspot.fr/
Her name is Kristen. She is a young Californian actress and writes about her father's Alzheimer. It is funny, it is sad, it is inspiring… She has been fighting so much for her Dad, talking about Alzheimer with politicians, etc. I can never thank Kristen enough for helping me understand and see Alzheimer differently. There ARE funny times, there are times with great joy (my mother was never the caring type, and now she keeps telling me she loves me… isn't that beautiful?). And thanks to Kristen, I have learned to cherish those times.

I cried when a few weeks ago, Kristen's Dad died. They had both become part of my life so much.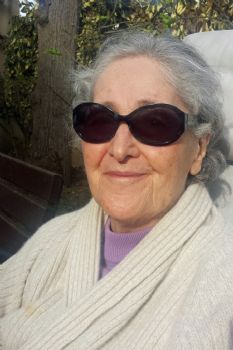 This is a picture of my mother last Wednesday, on her 81st birthday in the garden of the nursing home (by the way, without Kristen's inspiration I would never have thought of taking pictures of the 'good times' with my mom!). I had taken the afternoon off, and brought her a piece of brownie from a special 'patisserie' and some apple juice (I discovered she now loves apple juice for some reason!). It was the most precious afternoon. She was calm, happy, cuddly… We spoke more than we had since last Summer.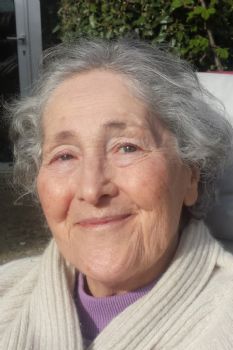 The previous day had been different, when my father and I rang for help for 40 minutes without any result (I had never asked for help, only my father, now I could see all he said was true!). I was suffering with my sciatica that day and couldn't help my mother in the bathroom. As for my father, he has Parkinson and is 81 too… He went to see the director, and only then did we get someone to help!

At that moment, I decided to ACT. No more overwhelming sadness, I would look for help to try and have my mother treated differently. The following day, I filed an official complaint with an office dedicated to it in my area. I was in shock such an office existed, in a sense (it was recommended to me by my local Alzheimer association representative). I know there are no perfect nursing homes, but I want her to be treated like a human being. I don't think it is too much to ask. I will fight because my mother is fighting every day this dreadful disease.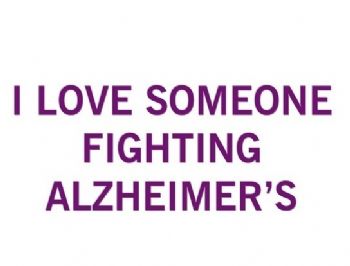 OK, this is a heavy blog. I am sorry for this! I hope it isn't just me venting about it all but that you can find some inspiration too (if only from Kristen's blog!) if you are in a similar situation.

I want to end with something a bit positive. Yesterday afternoon, when I visited my mother, I thought I had landed in 'nursing home paradise'! Everybody was helpful, they even came twice to check she was OK during the 2 hours and a half I was there… Unheard of! I didn't realize they would be informed about my complaint so soon. It could also be that on Wednesday, I spoke to the management because a nurse had changed her dressing in front of me… without cleaning the wound! Maybe they realized then that they had gone a bit too far… I don't know. Let's just hope this is the beginning of a change! In any case, no more paralyzing tears, I am in warrior mode!

And now, please excuse me, it is time for my Saturday hike! :) I might just walk and walk today, with no picture... We'll see.

Thank you for reading! Thank you for being the best Sparkfriends I could hope for!







Sunday, March 09, 2014
Hello dear Sparkfriends,

We are having the most gorgeous weekend in the Paris area (and all over France actually)! So yesterday was another wonderful, sunny hike. It was even warm! 18C (about 64F).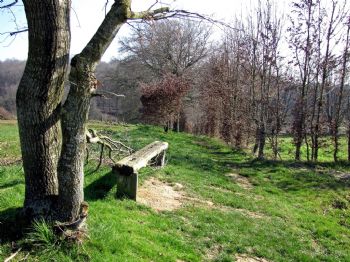 I had originally kept that hike near Beauvais for the summer, and it was probably wise. Actually, I'll write on my hiking book: "A refaire par temps SEC." (Redo by DRY weather.)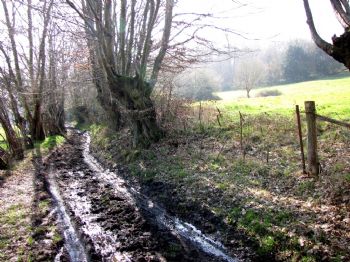 Most of the time, I just laughed at the terrible mud! But once or twice I didn't feel like laughing, when the mud got inside my boots because it was so deep. Yuk. I even said it out loud at some point: "Yuk yuk yuk!!!" Somehow saying it in English in the middle of the French countryside felt more acceptable, not so childish! ;-)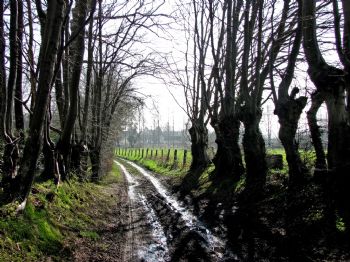 But apart from the mud it was fantastic. And all my body is aching today so it was definitely great exercise (mostly from trying to avoid falling!).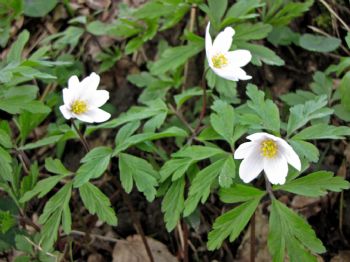 It was full of flowers again, both in the countryside and in the gardens. Lots to enjoy!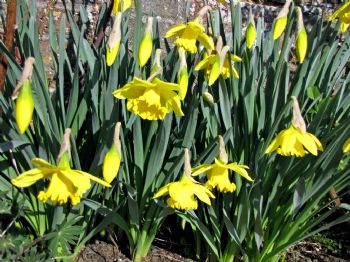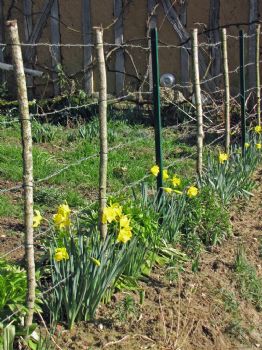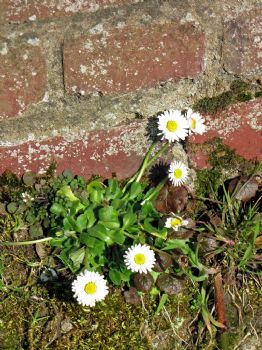 These violas were especially delightful, looking like a green carpet with blue dots…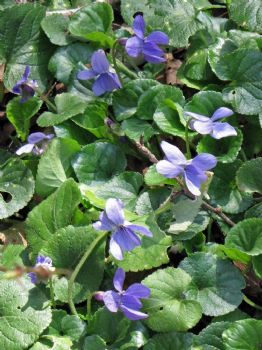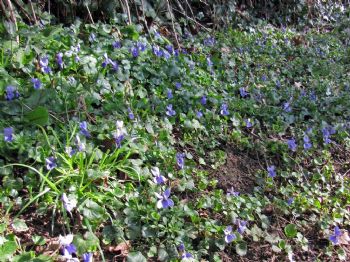 There were some brooms too, which I haven't often seen during my hikes around here. I don't know how long they last… Do you know whether they bloom all through spring and summer?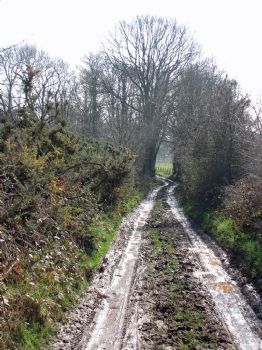 About three quarters of the hike was through the woods, or between the woods and the meadows.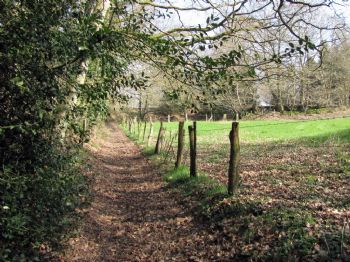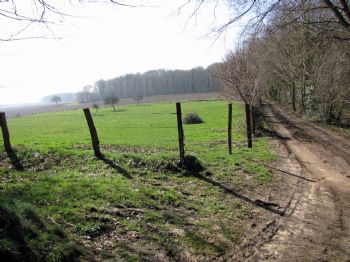 This is partly why I had originally kept it for a hot summer day. But I enjoyed seeing the new little leaves as well as the new ferns that covered the sides of the path in places…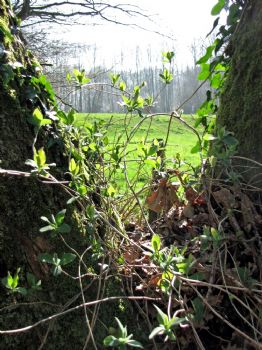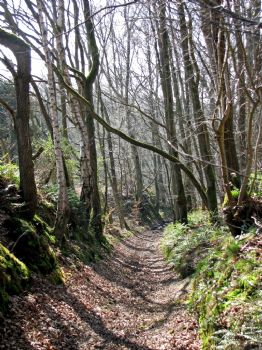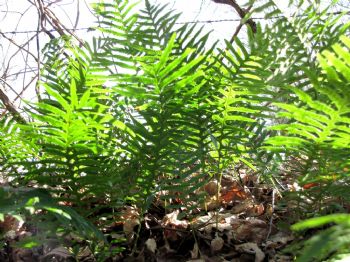 At some point, as I was happily walking down a hill, I saw something a bit strange at the bottom of it, right in the middle of the path… never seen anything quite like that…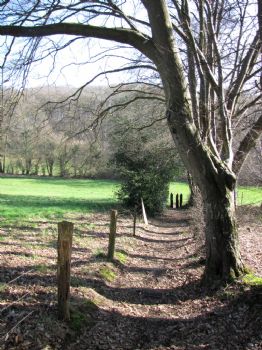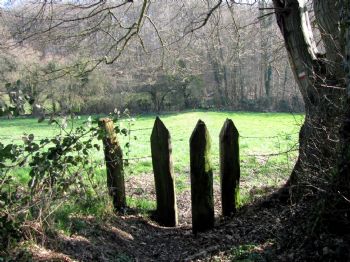 I understood this was to stop motorbikes getting on the path and ruining it all, yet would it stop me too?! The space didn't look very big. They could as well have put a sign up: "No fat hiker allowed here"! But at the end I went through it fine.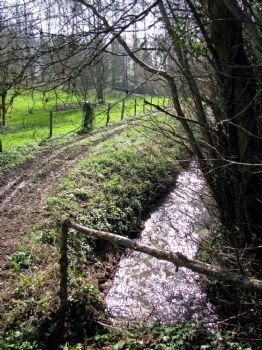 Although I crossed a couple of villages and hamlets…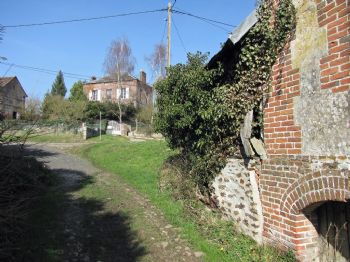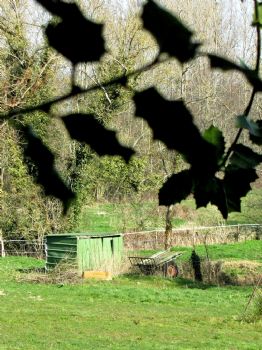 … as usual, I didn't see many people. I guess only a crazy Parisian would have been hiking on these paths this weekend, crying 'yuk yuk yuk' as she tried to get her feet back from the mud!!! The locals were wiser, working in their gardens or taking their children for a pony ride.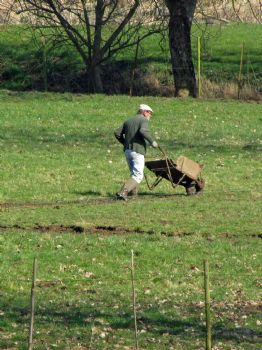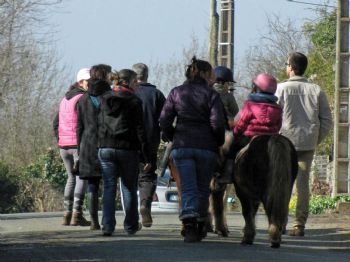 (Sorry the picture isn't good, I didn't dare and take the picture until they were quite far away!)

What I saw a lot of was horses!!! There seemed to be a few in each single meadow!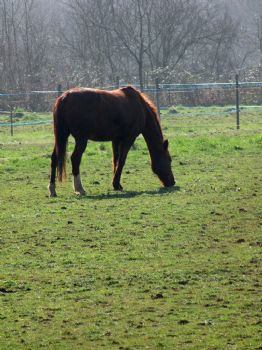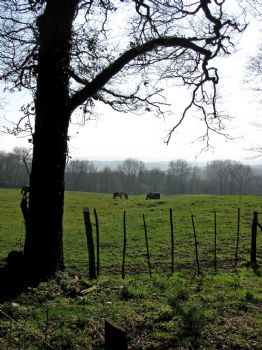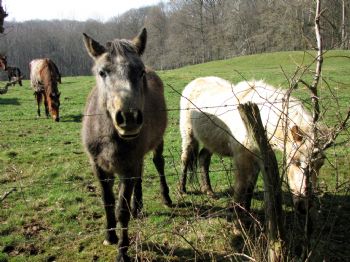 These ones surprised me as I had thought I was deep in the middle of the forest!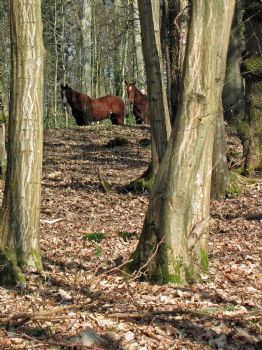 And that was it! When I got back to La Chapelle-aux-pots, I felt almost sad it was over… but very glad to be out of the mud! :)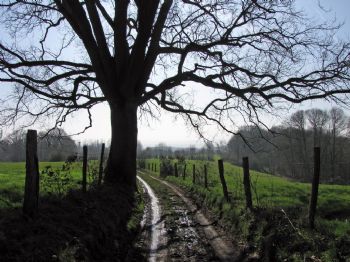 I hope you enjoyed sharing my hike! My Internet connection is still not back, so I am grateful for cafés with Internet access (although I only use them once a week, to upload my blogs! I am rediscovering how wonderful it feels to read rather than work or surf the Internet on evenings… still I know I'll be doing it again as soon as my Internet is back, and I'll be very glad to be Sparking more again!).

Thank you SO MUCH for all your wonderful comments on my blog last week. It was definitely one of the most popular so far (over 200 comments… wow!).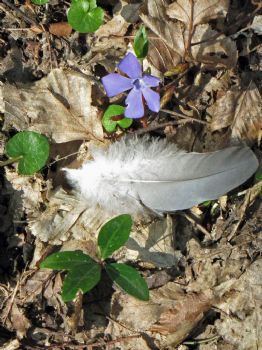 1 2 3 4 5 6 7 8 9 10 11 12 13 14 15 16 17 18 19 20 21 22 23 24 25 26 27 28 29 30 31 32 33 34 35 36 37 38 39 40 Last Page

Get An Email Alert Each Time CLAIREINPARIS Posts