| | |
| --- | --- |
| | CLAIREINPARIS's Recent Blog Entries |



Saturday, October 18, 2014
I am sorry for the dramatic title, but today was an eventful hike indeed! I don't think I like those, I'd rather have one of my usual hikes, where the worst that can happen is to get a bit lost... And speaking of getting lost (to start with the fun bit!), I haven't lost my touch!

Although it hadn't happened in a few months, I still know how to get completely at the opposite of where I am supposed to go during a hike!!!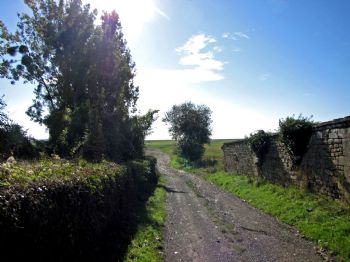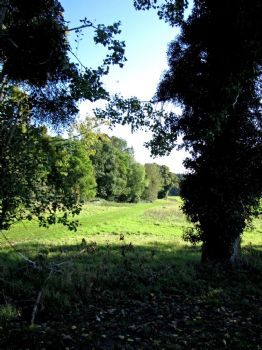 It is especially stupid as today's hike should have been really easy! Mostly flat and straight, through the beautiful Vexin countryside!




But I used directions prepared by an association I already had had problems with. I think out of the 3 hikes I did that they prepared, all 3 were very badly done! I.e. poor maps, no signs and almost no directions. The best way to get lost!!! If I could remember where I got these 'hiking sheets' from, I would go back and tell them they are really unreliable!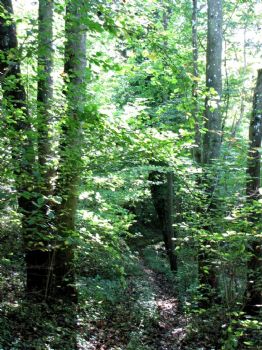 Because really I did get lost brilliantly!!! I took the wrong path in the woods… it wasn't straight at all, so I lost my sense of directions (and of course I thought I was on the right path!)…




I ended up completely West in Blamécourt when I thought I was completely East in Nucourt.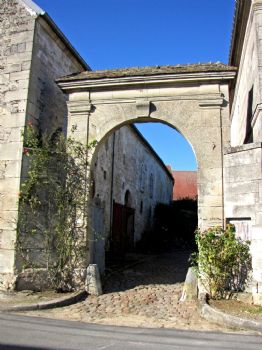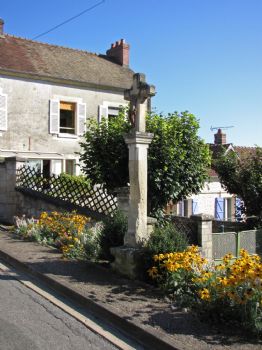 Of course paths didn't match what I saw on the map, I didn't understand but I kept going, walking through the countryside and crossing a village with a funny old water pump with an animal head…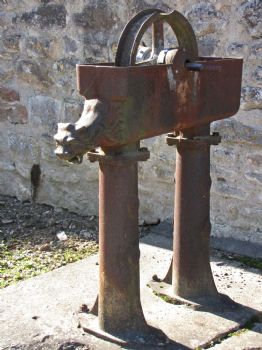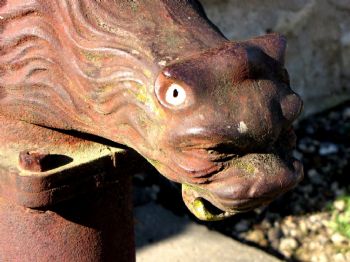 And as I left the village, there was a sign with its name, and I just stopped and laughed out loud. Suddenly it made sense! I really was completely in the wrong place!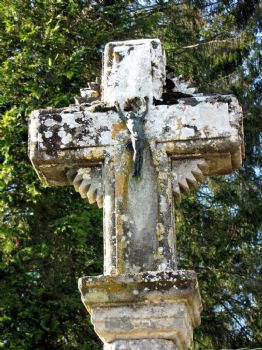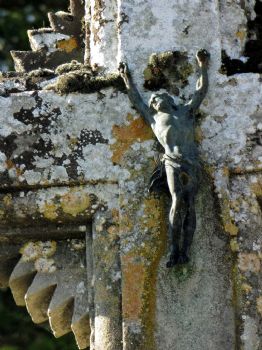 Luckily, that village still appeared on the very poor map I had in my hands, so I was able to find my way back, cutting through the countryside. It was such a gorgeous day I didn't mind at all, and the area is so beautiful! (In France most paths are public, i.e. everybody can walk on them, so if you have a map that shows the paths properly, you are fine!)




But it is never a good idea to be creative in terms of 'paths finding' during hunting season! I ended up on footpaths that weren't official ones (not recognised by the hiking federation and clearly marked)… and suddenly, as I came out of some woods…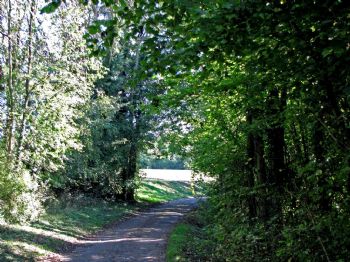 … I heard a very loud BANG that sounded way too close for comfort!!! Hmmm what to do? Well I kept going, slowly, and singing at the top of my head!!! I think between cows (see my blog from two weeks ago!) and hunters, I'll choose cows anytime!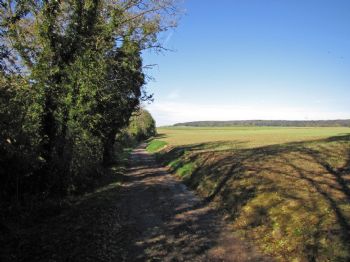 When I finally came completely out of the woods, facing the fields, I saw about 10 hunters facing me in the distance. My goodness, they had been shooting animals in these woods! I don't know between them and me who was the most unhappy to see the other(s). I am sorry I interrupted your little Saturday afternoon game, guys! And very glad you didn't permanently interrupt my life!!! I didn't like the sound of your BANGS at all. (No, I didn't say anything, I am not that mad... and they were too far anyway... I just left as quickly as I could!)

I won't lie: I was a little wobbly on my feet for a while after this! And I was glad I basically only had to cross one last big field before I reached Serans again.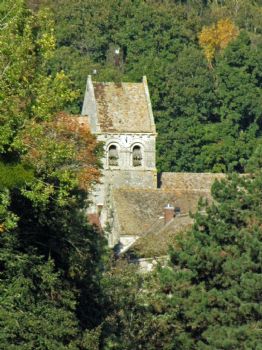 The church looked wonderful as I saw it appear in the distance! PHEW. Now can I go back to my usual uneventful hikes please? I would love the same sunshine next week, but NO HUNTERS, or at least very far away from me!

Thank you for reading, friends. And please don't worry, I'll be more careful next time and make sure I have a good map with me so that I don't get lost. I hope you are having a fantastic weekend!







Saturday, October 11, 2014
I had wanted to do this hike a few weeks ago already, to commemorate the 100th anniversary of the terrible Ourcq Battle that took place in these fields and on these paths 6-9 September 1914.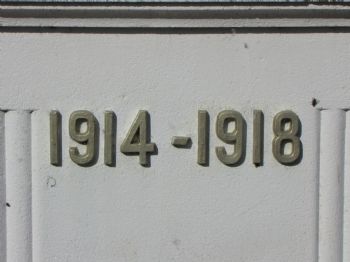 It was the very beginning of WWI, and everybody thought it wouldn't last, and the boys would be home in no time. Sadly, as we now know, it wasn't what happened.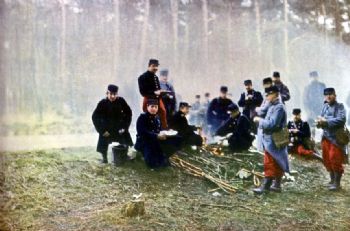 And the 534 men who are buried in Etrépilly were among the first ones of a dreadful series.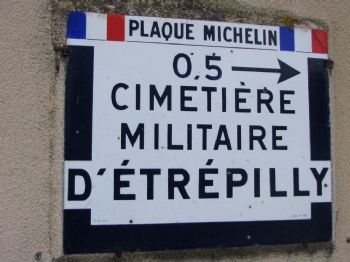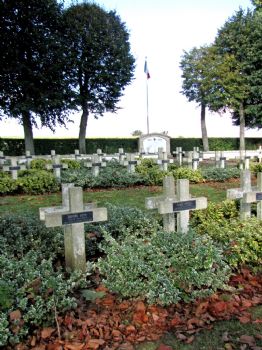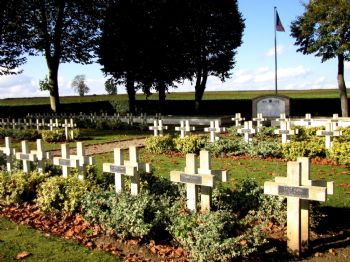 Today's hike was obviously different from any other one.




Yet it was a beautiful sunny day and if you didn't know what happened here it was just so peaceful…




… with views almost as far as the eyes could see… not too difficult to imagine the battle fields there…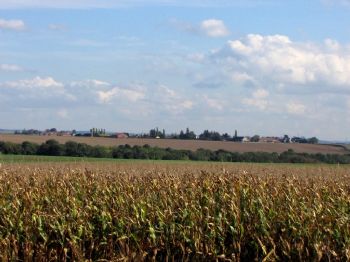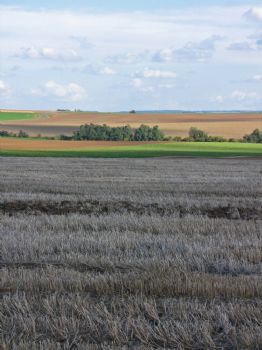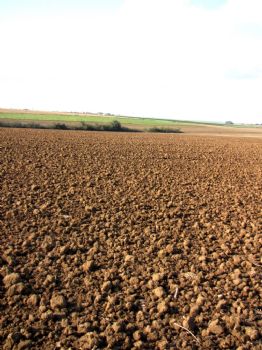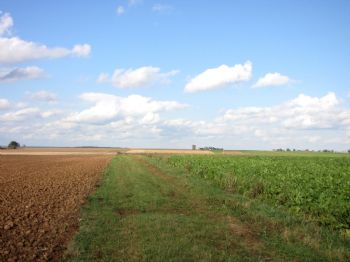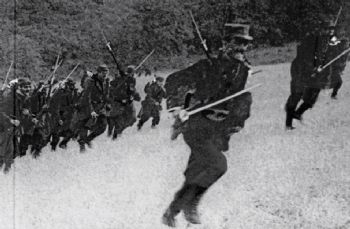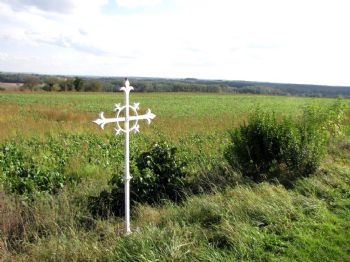 When I saw Poligny's farm, near Puisieux, I remembered what I had read on the Internet before I left: that several farms were in the middle of the battle fields and were bombarded. There wasn't much left of Poligny's farm after the battle, as it was both bombarded and then burnt by the Germans.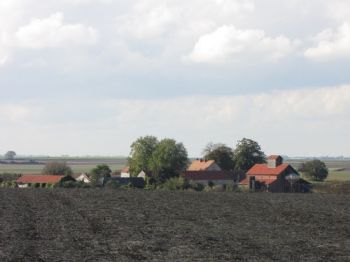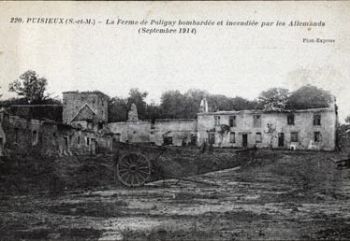 When I reached Puisieux…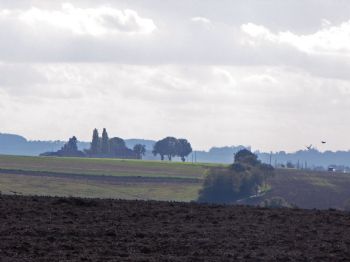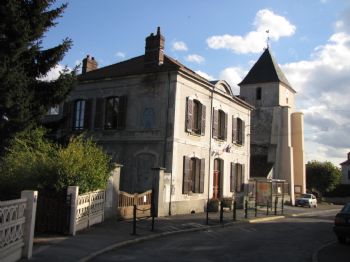 … I suddenly understood better how close the troops were: the Germans were in Etrépilly and the French were in Puisieux. Very very close. It took me one hour and a half, but the path wasn't a straight way at all. I expect that through the fields it would have taken maybe 30 minutes, even with the heavy backpacks that the soldiers had to carry.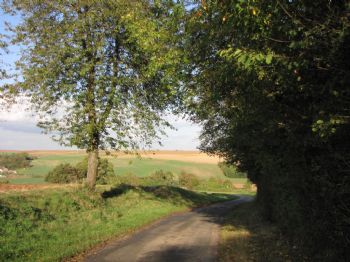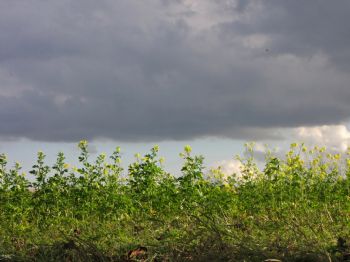 Shortly after I left Puisieux, I reached Champfleury's farm which was also bombarded (and I was so glad to see that, like Poligny, it was rebuilt and still exists today).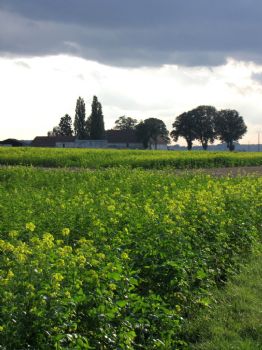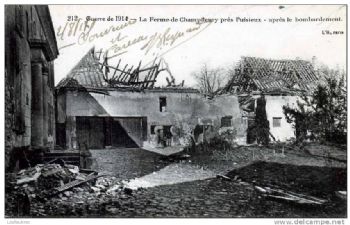 After watching the sun play with the clouds for a while (how fitting… it definitely added to the feeling of being in a place with History)…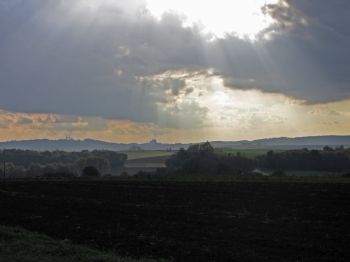 I crossed some woods and more fields again in the beautiful late afternoon light…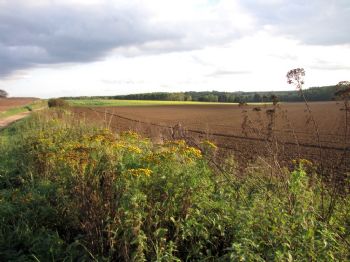 … and this is when I saw today's treat… ohhhhhh… fields after fields of beautiful purple and yellow flowers!!! I couldn't believe my eyes. I had never seen these purple flowers, and the smell was gorgeous. It felt like Spring in Autumn! Despite the heaviness of the History of this place, I couldn't help it and had to smile.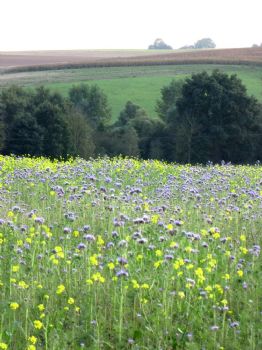 I really don't know what these purple flowers were .They weren't thistles.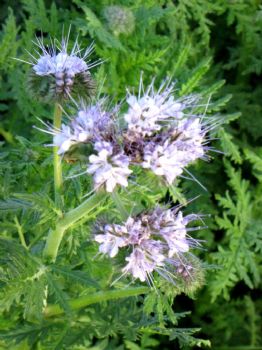 As I entered Etrépilly, this house also brought a smile to my face: it was old and not in good shape at all, badly in need of repairs… but with friendly red geraniums in the window boxes.




It was time I got back as the sun was slowly disappearing…




I hope you enjoyed sharing today's hike through a somber page of French History. In the next couple of years, I'll try to go hiking in some of the areas where the 1914-1918 battles took place and show you also some cemeteries from foreign soldiers who came to fight for us, there were many countries...

Thank you very much for reading! Take good care of yourself and keep sparking!







Sunday, October 05, 2014
It feels like ages since I last went on a hike, although it is only a little more than a month. So much has happened since then! September was mad, with 3 weeks away from home in total.

But back to today's hike!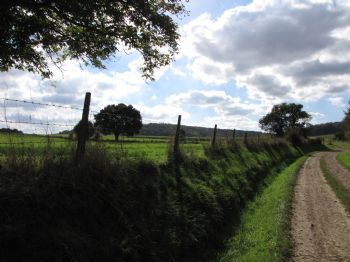 I went to Sigy-en-Bray today, in the beautiful hilly Bray area that I love so much, between Picardy and Normandy. The sun was shining bright (with just enough clouds to make the sky interesting!), when it was very grey and wet back home. Yay!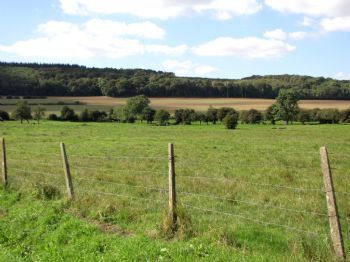 Sometimes it takes me a while (an hour or so) to feel 'fully into it', but today after only about 10 minutes, I could tell my stress was disappearing, I was breathing better, I was smiling at the cows I met and I was just my usual ridiculously happy hiker!!!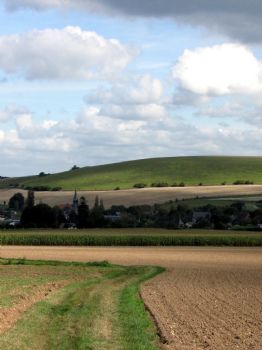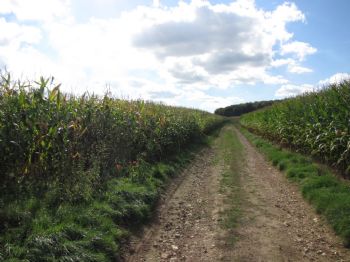 I needed that. September was tough. I loved Rome but struggled with the meetings. I didn't like the Gulf, and won't get more into it as I don't want all of you to get depressed! ;-) But I didn't get any time for sightseeing (hence no blog), and maybe that's not a bad thing. I so love my trips usually, it is this enthusiasm I want to share! And I can already assure you I'll LOVE the next one in November in Athens, Greece! So looking forward to seeing my dear Sparkfriends Elle and Lena again there!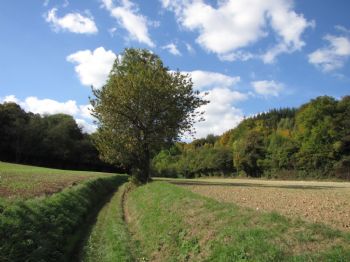 So today's hike was really needed, and it didn't disappoint! It was cooler but still very summer-like. It felt more like late August than early October.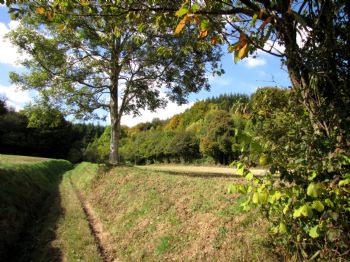 I crossed fields and woods…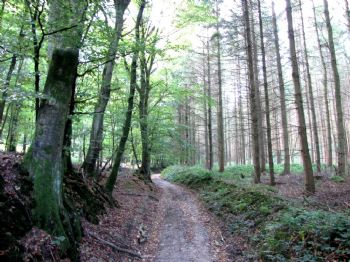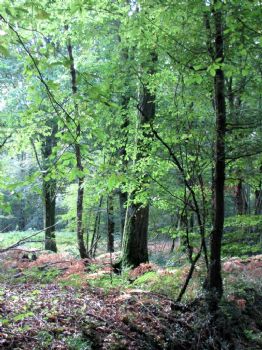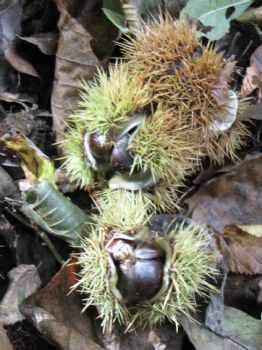 … and a couple of villages too…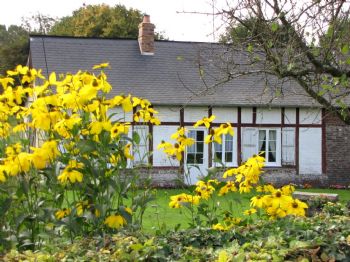 (Hello you, you are a very cute little goat!)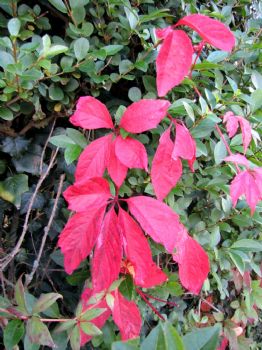 One of my Sparkfriends kindly wished me lately to enjoy the colours of autumn. To be honest, there isn't much to enjoy at the moment, as the beautiful colours are usually found in the first two weeks of November here. But there were a few, and also lots of red and blue berries, edible or not.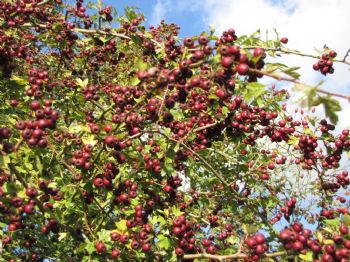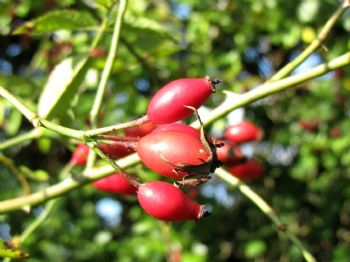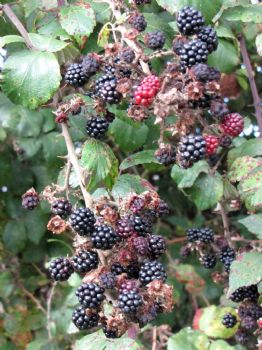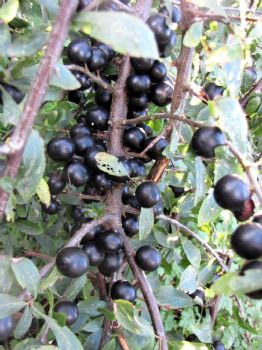 At some point I got all excited… My guidebook said to push the gate of a field, and to walk by the fence for a while (that was about 10 minutes or so) before leaving it through another gate.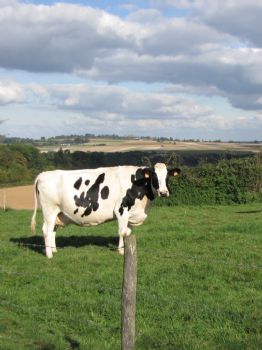 It was the first time I had been in a field with cows and I thought it was pretty cool. Well, no. It wasn't cool at all. It was actually SCARY. When I reached the area where they were, they started running towards me, all 10 or 15 of them or so and I started realising they weren't scared of me and they were coming very very close. I tried not to panic and I shouted: 'Non, non!' (they did look like they would understand French better, haha!) and 'Shhhhhhhhhh' pointing my finger at them (not sure why… being scared you know…), while feeling extremely stupid and urban!!!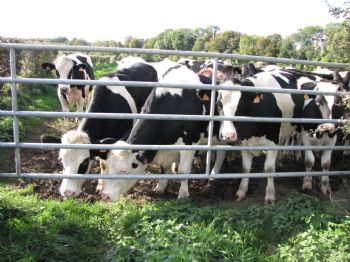 When I finally saw the gate I really hoped I would make it there in one piece. I opened it as quickly as I could, keeping an eye on the cows and still shouting at them, and when I was on the other side I took the picture above. My goodness, I am really glad I didn't fall, I fear they might have stamped on me!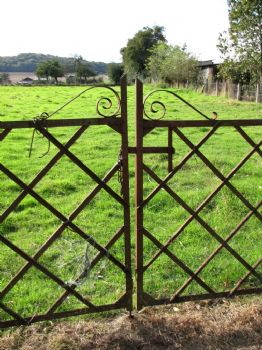 I just googled 'crushed by a cow' and it is pretty scary the number of people who are killed by cows every year. So… very glad I made it safe and sound! I told someone who was worried for me when I flew to the Gulf that I was probably more at risk driving to work here every day… I didn't think of hiking among cows! ;-) It took me a few minutes to find cows 'cute' after that, but I couldn't resist the little calf in the shade in a nearby field…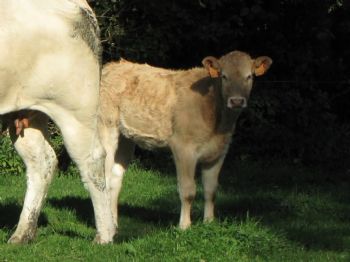 … nor these sheep who didn't move an ear when they saw me!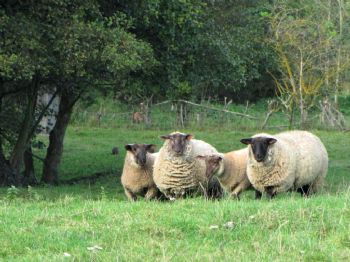 When I saw Sigy-en-Bray's abbey in the distance, I knew the end of my hike was near. It was a very short 2 hours and a half hike today (10K).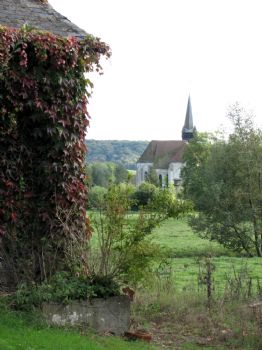 I passed by some houses and the cemetery…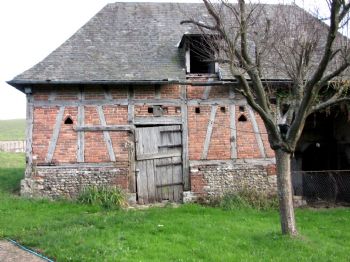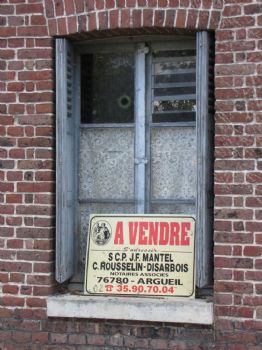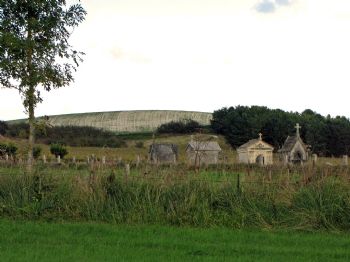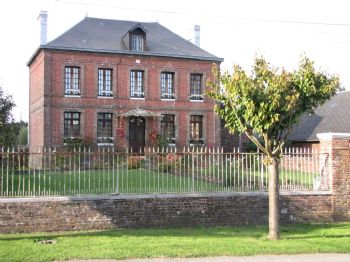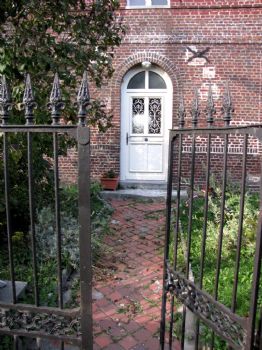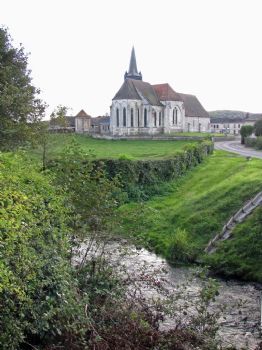 … and indeed reached the abbey where I had parked, without any more scare! :)

Tonight I am so delighted with today's hike, so grateful to live in an area I love. And I can tell it took all my stress away and I'll sleep much better tonight.

Thank you for reading dear friends! Have a beautiful, healthy and exciting week!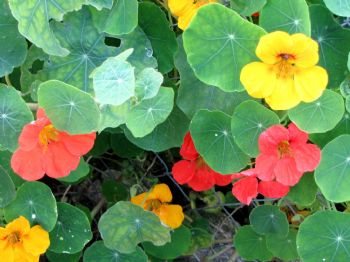 Saturday, September 13, 2014
I am really glad so many of you have been enjoying my blogs about Rome! I am now back in Paris but still remembering with delight the few hours I had to walk around the Eternal City.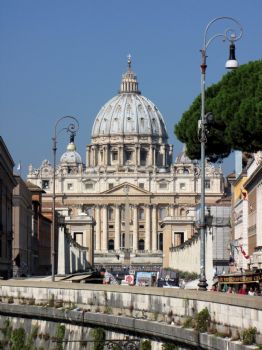 I haven't shown you many 'touristy' places as such, because I had seen these during my previous visits to Rome – and they are rarely the places I find the most atmospheric! But I did see some of the main attractions of Rome, although many were covered with scaffoldings. Ugh. A bit sad.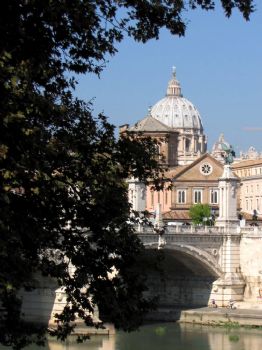 Ah well, Saint Peter wasn't, it was gorgeous. And this is where I left some of my colleagues who were going to visit the Vatican. I headed to the Castel Sant'Angelo (the big round castle below), and crossed the Ponte Sant'Angelo bridge with all the wonderful angels. They all hold a symbol of the crucifixion of Jesus, such as a cross, a crown of thorns, a whip, etc.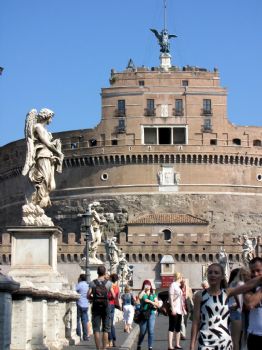 (It was a gorgeous day. You'll see it looks very grey on some of the pictures, and that is because some were taken a couple of days before, when it was raining!)
I headed to Piazza Navona, which I had last seen almost 30 years ago, under the snow and completely empty. Well, it was crowded to say the least!!! Very touristy, but still gorgeous.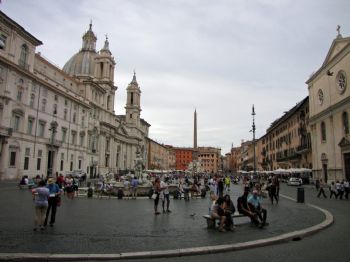 It is well known for its oval shape (it used to be a Roman stadium, built in 86 BC) and its 3 Renaissance fountains.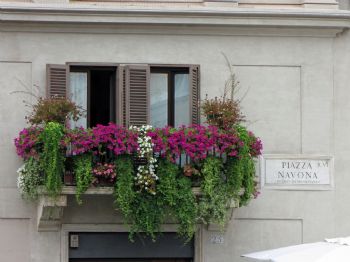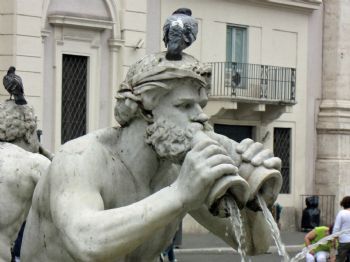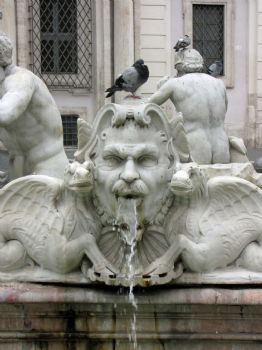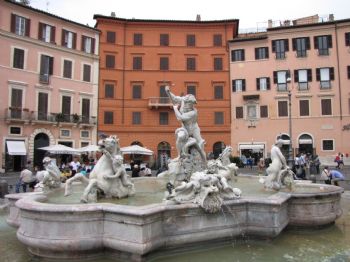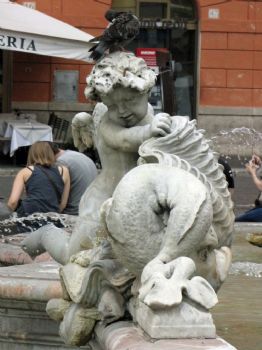 From Piazza Navona, the Pantheon was very close (well, let's be honest, everything is close in Rome… no need to use the underground nor the bus if you don't have an appointment in the next 30 minutes!). The Pantheon was built 1,800 years ago. Its name refers to the building's original function as a temple for all the gods.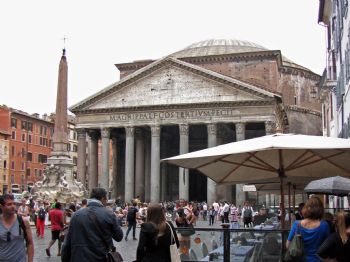 This is one of the things that make Rome truly unique: because the ancient temples were transformed into churches, like the Pantheon, they weren't destroyed. So you can still admire them today!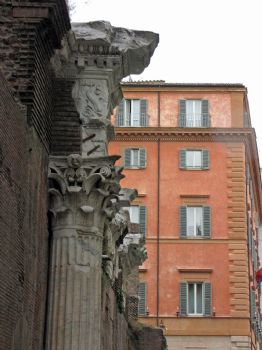 You know, Rome is amazing. And this comes from a Parisian! :) There is so much to look at… Every building seems interesting, every street has something special. It is incredible.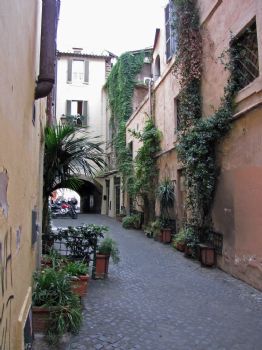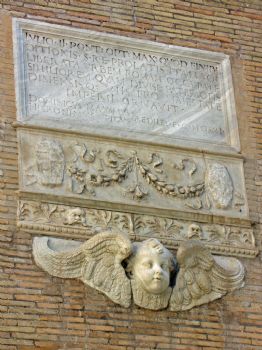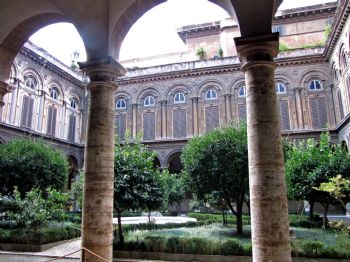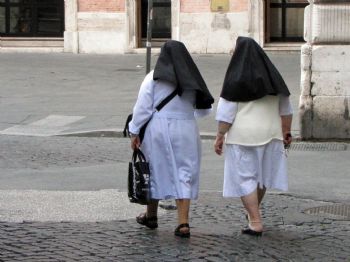 I wanted to see Fontena di Trevi (Trevi Fountain) on the way, but there was nothing to look at… covered with scaffoldings! Argh. So instead let me show you this lovely nearby Virgin Mary and Baby Jesus painting, framed with wooden angels.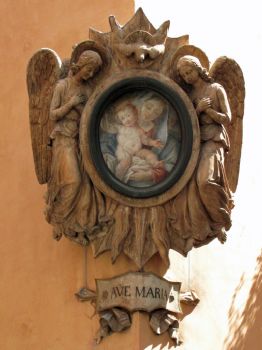 What do you think? :)

I was disappointed when I reached Piazza di Spagna as well (the Spanish Steps), because the church was also covered with scaffoldings! : ( And what wasn't covered with scaffoldings was covered with tourists, haha.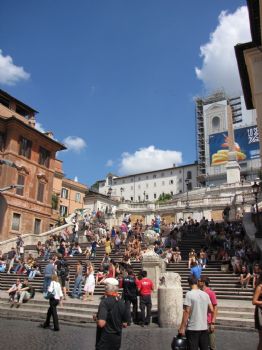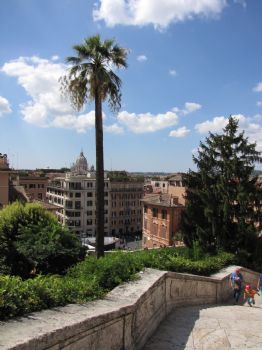 It was about time I reached my destination: the villa Borghese gardens. I needed some peace and quiet. Next time I'll visit Rome, I'll aim to spend much more time in the villa Borghese gardens. It is such a beautiful place! And I would have liked to visit its museums too, especially the Modern Art one, but there was no time: late afternoon, I had to meet my colleagues near the Coliseum.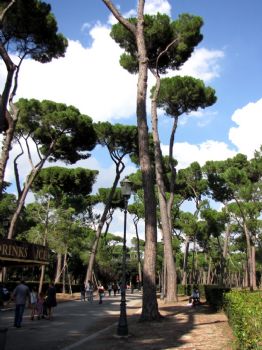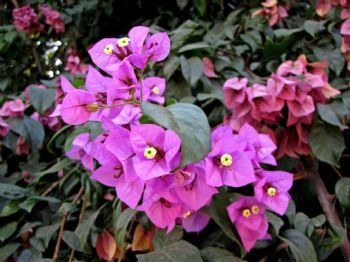 I walked and walked and finally found what I had been looking for: the lake and the precious little Aesculapius Temple.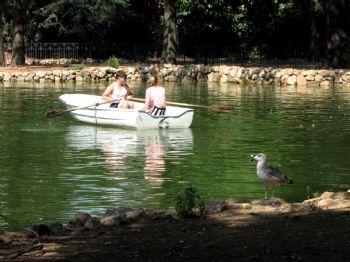 In the nearby little café, I bought a tiramisu and pistachio ice-cream. Hmmm!!! I didn't have much time to enjoy the gardens afterwards though, I had to walk fast to the Coliseum if I didn't want the coach to leave without me!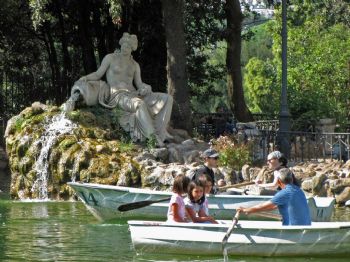 Just a quick stop on Piazza Venezia…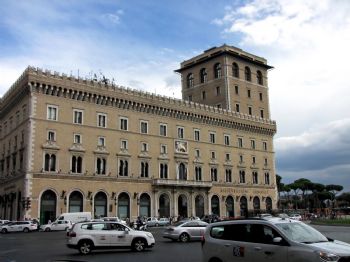 And I finally reached the Forum. No time to visit it again this time, but believe me it isn't to be missed! I visited it twice in the past and want to see it again in the future. Just imagine… an ancient city coming back to life under your feet!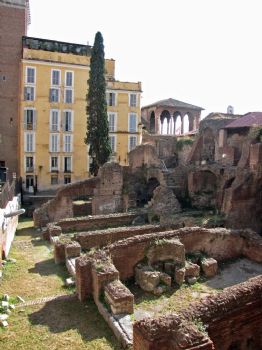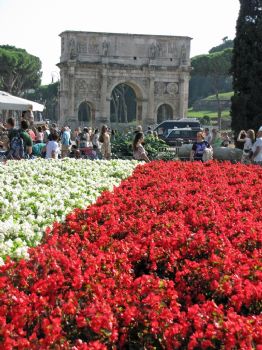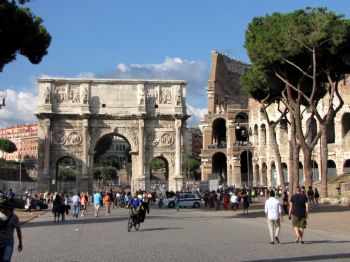 And then finally, the Coliseum! It was completed in 80 AD and is the biggest amphitheater in the world: it could hold between 50,000 and 80,000 spectators and was used for gladiatorial contests and public spectacles such as mock sea battles, animal hunts, executions, re-enactments of famous battles, and dramas based on Classical mythology.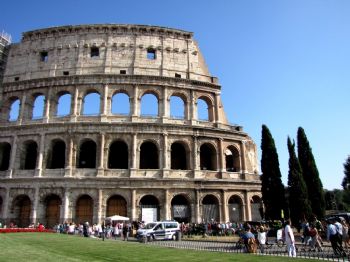 And here ends the last one of my blogs on Rome! I have been so encouraged by all your comments, thank you so much again! On Wednesday, I am off to visit some of our projects in the Gulf, and so I hope I'll be able to post a few pictures of Bahrain, Kuwait or Dubai.

But for now, ciao! Have a wonderful Sunday dear Sparkfriends!




Rome - Part 1:
www.sparkpeople.com/mypage_public_jo
urnal_individual.asp?blog_id=5772722

Rome - Part 2:
www.sparkpeople.com/mypage_public_jo
urnal_individual.asp?blog_id=5775280







Sunday, September 07, 2014
In my previous blog about Rome, I mentioned the little street where I stayed (I am still in Italy but now outside Rome attending meetings): via dei Chiavari. The picture below is of a little square right next to it, called 'Largo dei Librari'.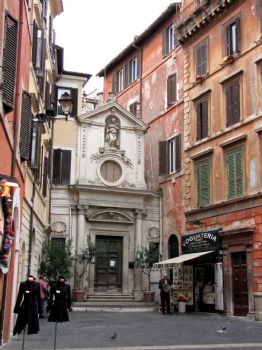 I liked it, and it was surprisingly quiet in a very busy area (at least quiet at day time!). This is in the Campo dei Fiori area, for those of you who know Rome a little.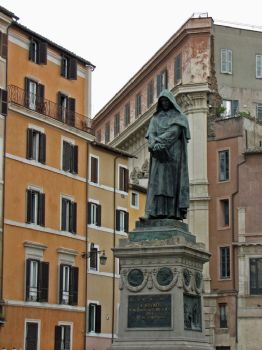 Campo dei Fiori is a square (which used to be a field of flowers centuries ago, hence its name!). At its centre is the statue of philosopher Giordano Bruno, who was burnt on this square (long story! you can find all about it on the Internet!).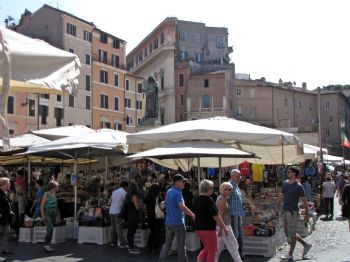 Now, every morning, it is the location of one of Rome's well known market. It was a bit too touristy for my taste, but there were still some lovely fresh products.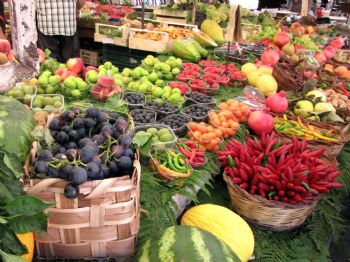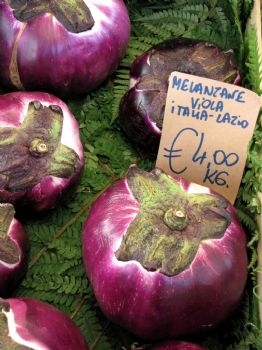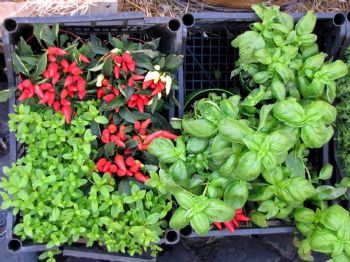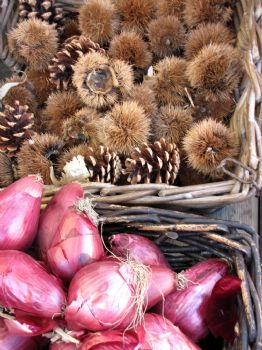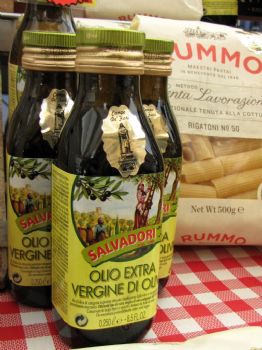 I really liked all the area around Campo dei Fiori actually, all the little streets and shops…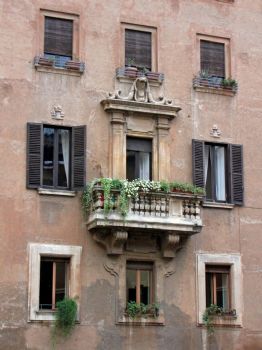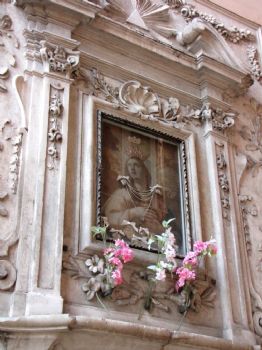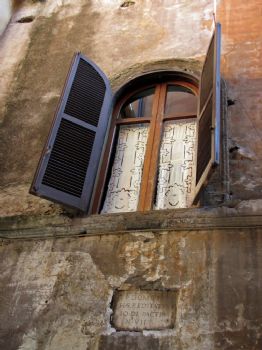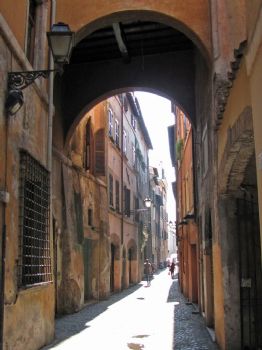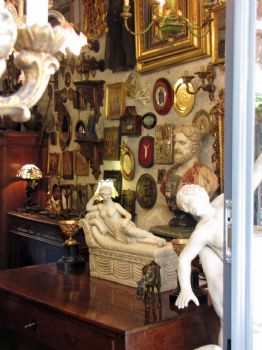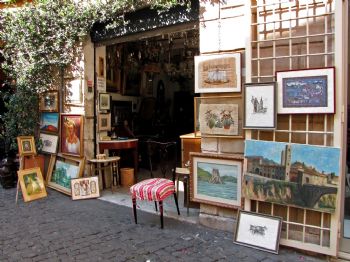 As I was walking around the area, looking at my map and stopping to take pictures, I suddenly saw the French embassy, the Farnese Palace, ahead of me, and a stream of memories came rushing. My mother and I stayed in a little hotel (or hostel? not sure how you would call it!) that was run by nuns on Piazza Farnese, many years ago.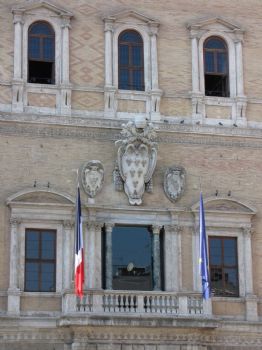 I was a teenager back then and it was one of the very rare occasions when it snowed in Rome. It was magical. I had completely forgotten we stayed on Piazza Farnese until I saw the embassy and remembered it was very near. I didn't remember which building it was though.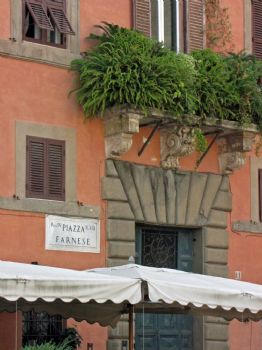 Piazza Farnese is only a few minutes' walk from the Jewish Ghetto (established in 1555, and controlled until 1870), an area of Rome I had never visited and wanted to see, away from the crowds. It was a bit touristy, but not too much, and very pleasant, with its medieval buildings.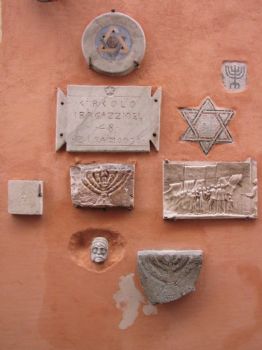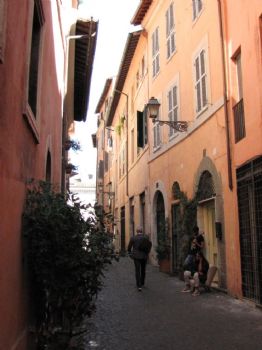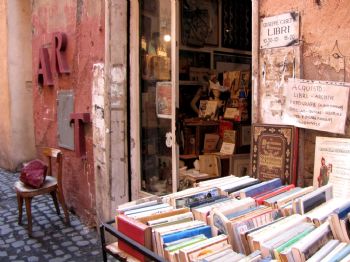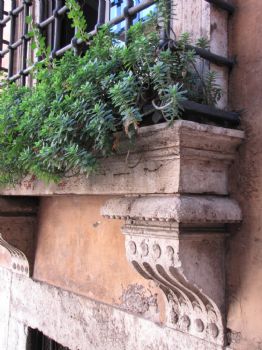 Difficult to think that it used to be one of the poorest quarters of the city (here a 19th century view of the Ghetto I found on the Internet).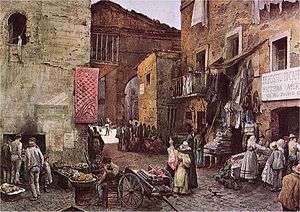 Like all parts of Rome, the Jewish Ghetto has lots of Ancient buildings as well. Here you can see a small part of the Teatro di Marcello (Theatre of Marcellus, inaugurated in 12 BC!) on the left, with the Synagogue in the background.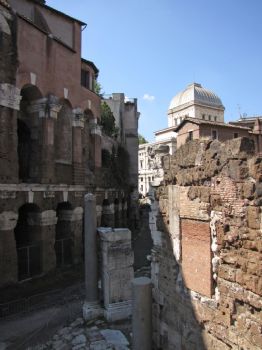 More of Teatro di Marcello…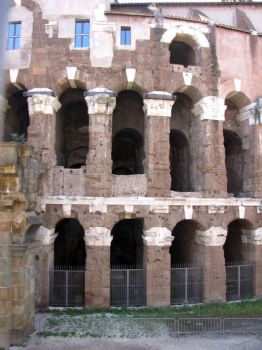 Sadly, the Porticus of Octavia, which I really wanted to see, was covered with scaffolding. Here is the only part I could see!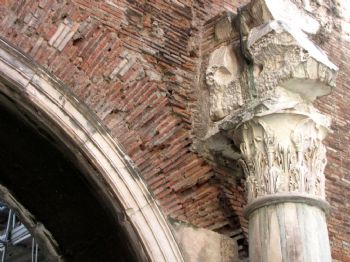 Ah well, I'll have to go to Rome again soon I guess! :) At least I was glad to see the Turtle Fountain again. I think it is my favourite in Rome!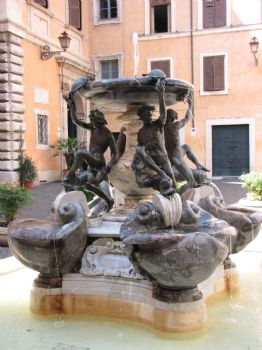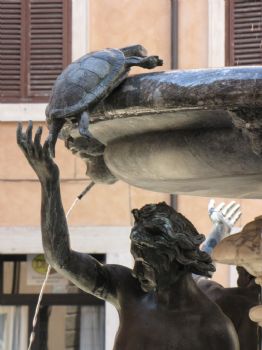 Nearby, I didn't want to miss the amazing courtyard of Palazzo Mattei. It is a strange place, covered with statues. I loved it because it is so unusual and there is so much to look at!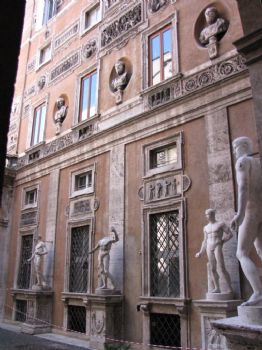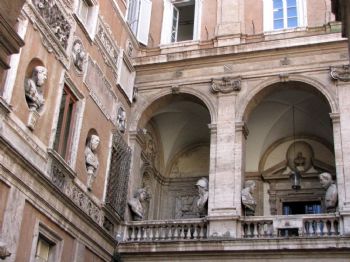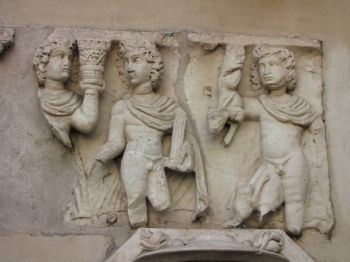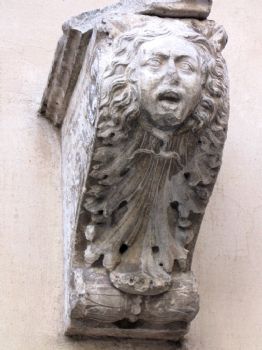 And here ends my visit to the Jewish Ghetto and my second blog about Rome!

Thank you so much for following through the Eternal City's little streets! I am struggling with difficult meetings and very poor Internet connection here in Italy, but will post my last blog about Rome later this week!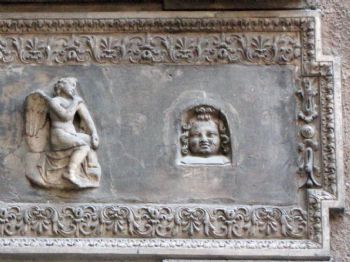 Ciao!





Rome - Part 1:
www.sparkpeople.com/mypage_public_jo
urnal_individual.asp?blog_id=5772722

Rome - Part 3:
www.sparkpeople.com/mypage_public_jo
urnal_individual.asp?blog_id=5779239



1 2 3 4 5 6 7 8 9 10 11 12 13 14 15 16 17 18 19 20 21 22 23 24 25 26 27 28 29 30 31 32 33 34 35 36 37 38 39 40 41 42 43 44 45 Last Page

Get An Email Alert Each Time CLAIREINPARIS Posts