| | |
| --- | --- |
| | CLAIREINPARIS's Recent Blog Entries |



Saturday, August 30, 2014
Gerberoy is on the list of France's Most Beautiful Villages. And rightly so in my opinion…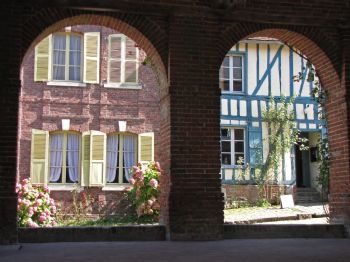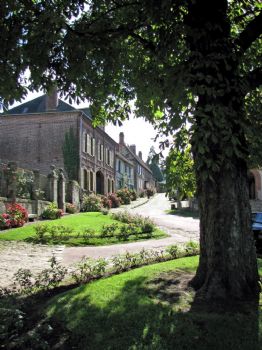 Even without the roses that Gerberoy is well-known for and which had been mostly destroyed by the awfully wet summer we have been having!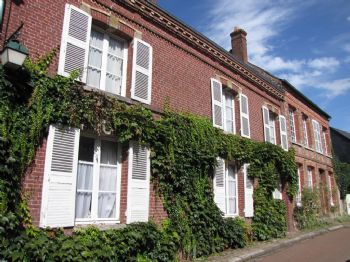 This medieval village is simply charming, and if you have been reading my blogs for a while, you have already heard plenty about it! But not this year! I thought it was about time I went for a visit. : ) I did this 3-hour hike 1.5 year ago in the snow and for me it remains one of my most unforgettable ones! Here is the blog about it if you are interested:
www.sparkpeople.com/mypage_public_jo
urnal_individual.asp?blog_id=5214514

It was great also by this sunny late summer afternoon.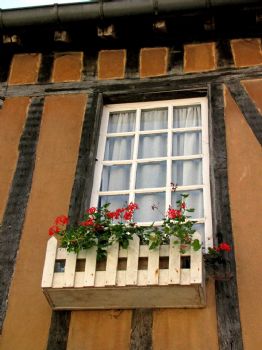 I started in Songeons, a village North of Gerberoy...




... and made my way through the countryside. The area, called the 'Pays de Bray', is in my view the perfect countryside! Let me show you where it is on the map, compared to Paris.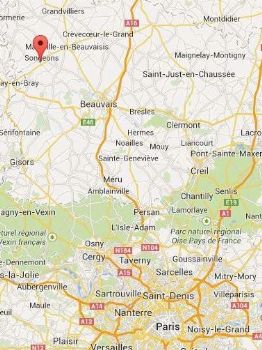 It is hilly, very green, with shady little paths and all kinds of fields…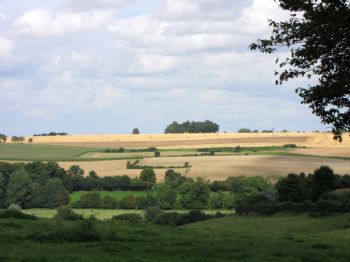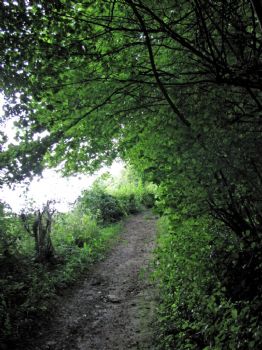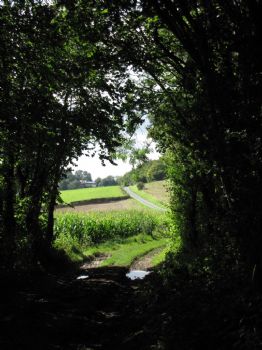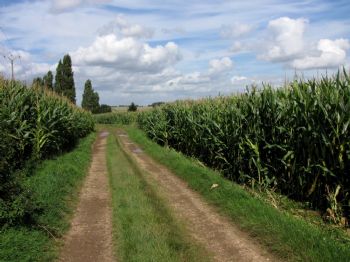 There were benches by the side of the path in a few places. Very nice to spend time enjoying the view!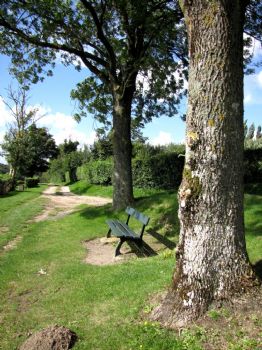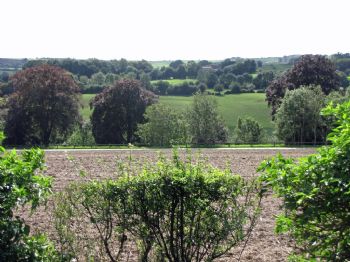 As always, I didn't meet many people (not even in Gerberoy, which was rather quiet after what I understood had been a crazy day with a reunion of Mercedes cars lovers… very glad I avoided the crowds!)…




… but saw plenty of cows (even cute little calves!) and horses too.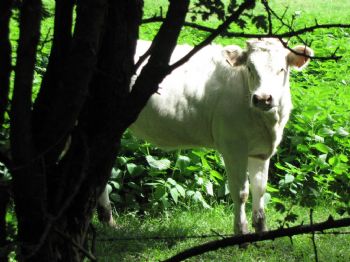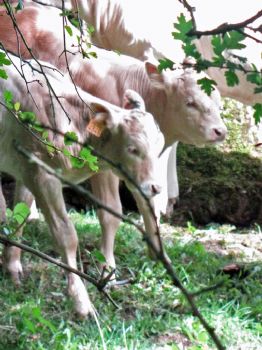 Oh and some sheep as I entered Gerberoy! I love how the church seems to be coming from underneath!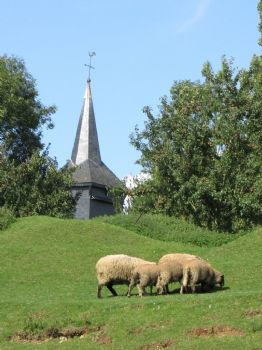 But the first sign of Gerberoy, as in many French villages, had been the cross on the side of the road.




And then I passed the little pond with the waterlilies and gold fish…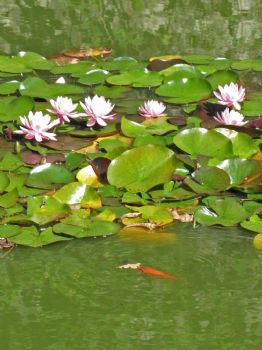 … and entered Gerberoy…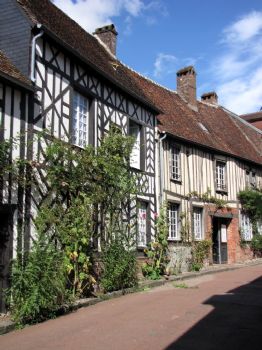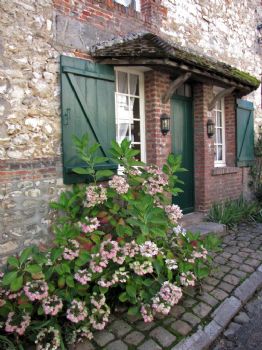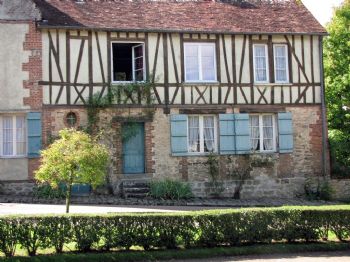 The blue shutters house, probably the most famous, was as pretty as ever, despite the almost complete lack of roses…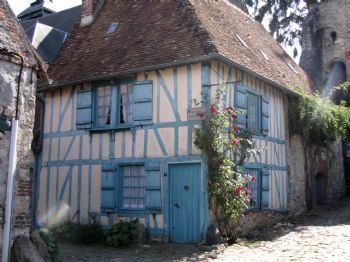 Good bye for now Gerberoy, I'll try and come back in a few months!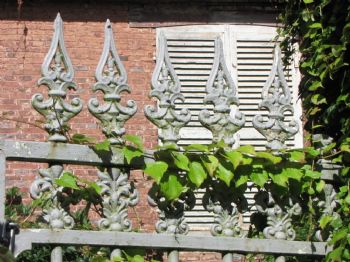 After a short part in the countryside, stopping on the way to eat blackberries and hazelnuts (hmmmm delicious!!!)…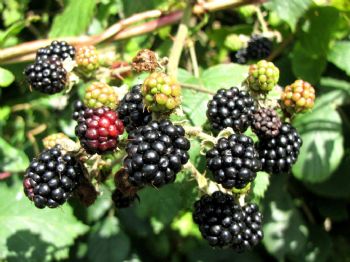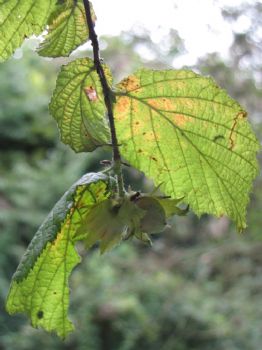 … and admiring the wild cherries (which I didn't taste as they are usually bitter here)…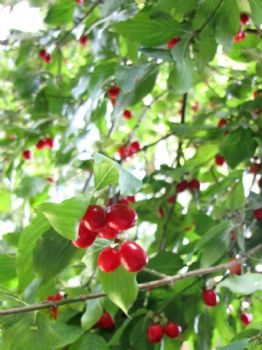 ... the last part of the hike was through the woods…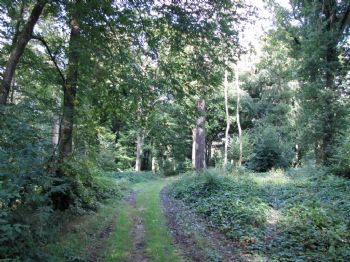 I remembered this plant (below) from previous walks in the area, but I think I never managed to find its name. If you know it, please share! :)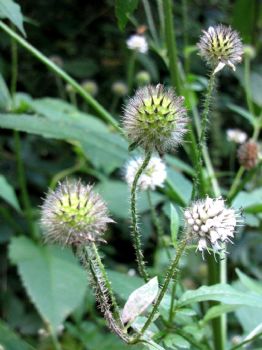 Then there was this colourful moth… I don't think I had ever seen any like this!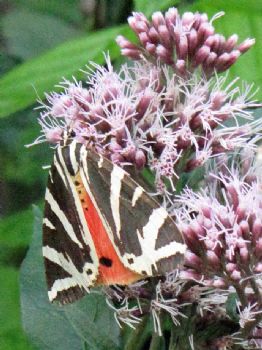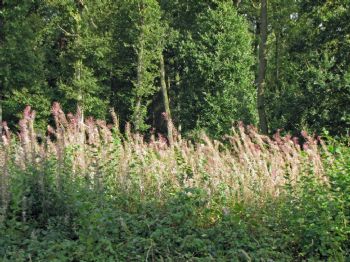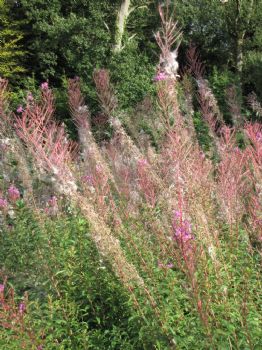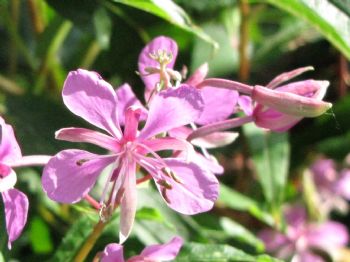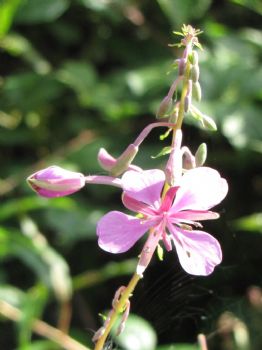 I hope you enjoyed sharing my hike! I'll try and fit another one in on Sunday, but not sure yet… I have lots to do to go back to work on Monday as I am off to Rome, Italy, on Tuesday morning for over a week! Packing again! (Although I went twice in the past, I am really excited to go back, despite the endless meetings that will fill most of my days there!)




Have a beautiful weekend! Thank you for reading!






Friday, August 22, 2014
For most of my hikes, I drive about one hour away, and it really feels like I am on a mini-vacation. Well, not this morning, I only drove about 10 minutes to reach my starting point... I very much hiked on my doorstep! Or I should say on my mother's doorstep as I was very near her nursing home at some point.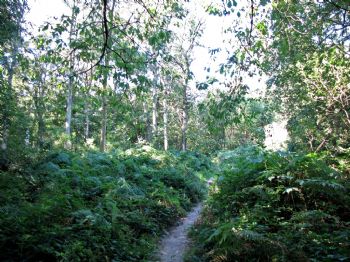 Most of today's hike was through the woods, the gorgeous Montmorency Forest North of Paris. As I said, this is home to me, yet I really don't know this forest much. I live between two forests, Montmorency and Ecouen, and Ecouen, much smaller, I know very well. If you have seen my 'routine walk' blog, that was in Ecouen.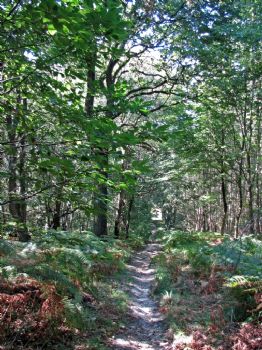 Anyway, back to Montmorency Forest. It is quite big (by Parisian suburbs' standards!). So I saw only a small part of it today, near Bouffémont, and the Château de la Chasse, where the kings used to stay when they came hunting (it means Hunting Castle). It is built by a lake, which I thought was quite enchanting today.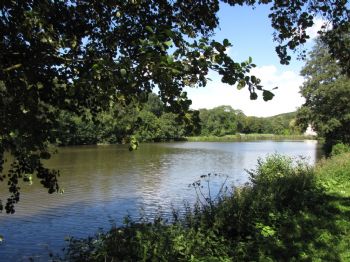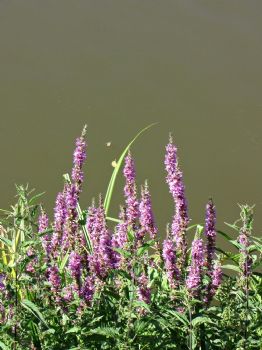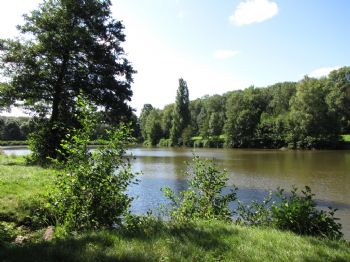 Now let me tell you the Château de la Chasse looks very strange because the towers of this 12th-century castle were cut (centuries ago), and it just looks a bit wrong in my opinion. But in a lovely way. A bit unbalanced, but fun (and hey, this isn't a Disney castle we are talking about but a proper medieval castle, so Claire, show a bit of respect please!). LOL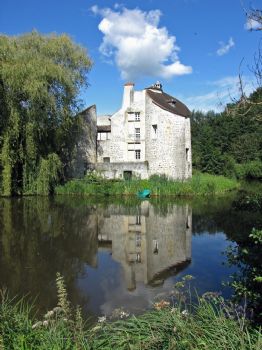 And the middle part of the castle, between the two towers, looks just like a normal French house! Very strange. There is no way it looked like this in medieval times of course… But again, it is quite charming!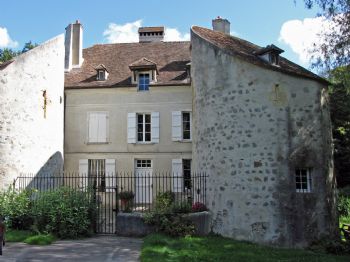 And I am not the only one to feel that way. I have only been once in my life to Château de la Chasse before, even though it is very close to home, and that was to post a blog about it a couple of years ago! Otherwise I never go there, because at weekends it feels like the motorway at rush hour, only with pedestrians and cyclists instead of cars. It is mad. But I only saw about 15 people there today, plus two groups of young children. So that was OK, even for a loner like me!!!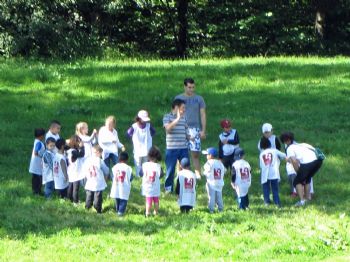 The castle was the middle of the hike and felt a bit like the purpose of it, so I was wondering whether I would find the hike interesting again after I left it behind.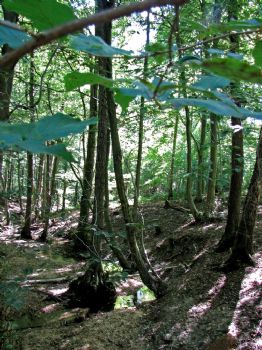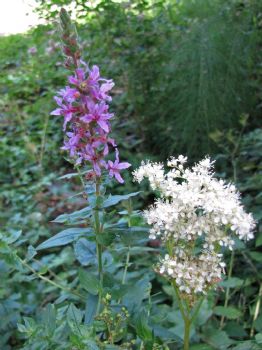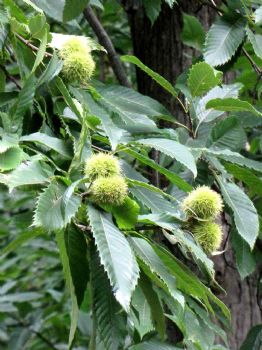 Well, Montmorency Forest keeps one busy!!! Not only there is always something to look at (beautiful trees, among other things), but the steep paths keep you on your toes too!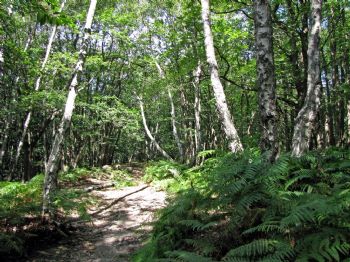 First I stopped at Fountain Saint Radegonde. Its water was supposed to cure sterility and was a very popular destination in the 16th century. It used to be next to the Priory of Notre-Dame-de-Bois-Saint-Père, which doesn't exist anymore. It is only the woods around the fountain now.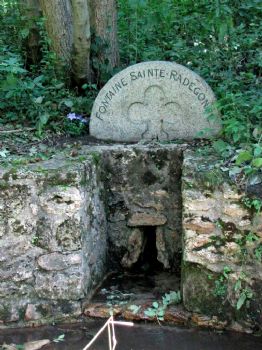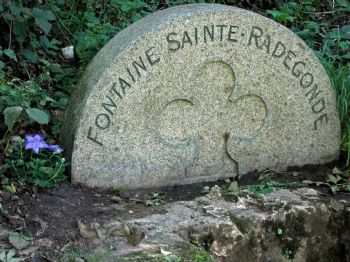 In the second part of my hike I also crossed an area with lots of heather… I so love heather… so romantic!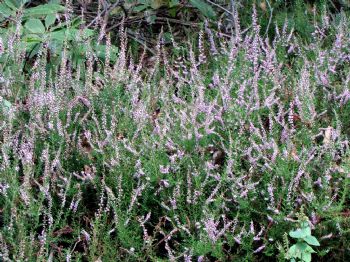 I forgot to mention the spiders! Well, this hike could have been called 'Hiking with spiders' because I have never walked through so many webs I think!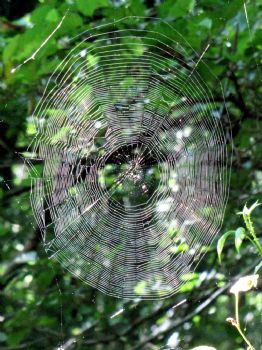 After a long difficult muddy path…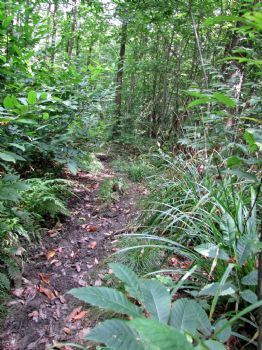 … I reached Bouffémont's cemetery. I don't like French cemeteries, they usually look sad and don't have much greenery. Bouffémont's cemetery was different as it was right by the woods, and with lots of beautiful trees in it too.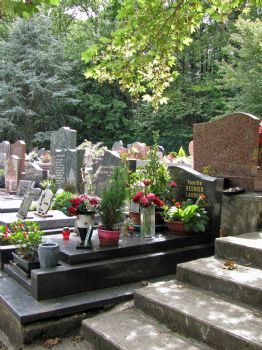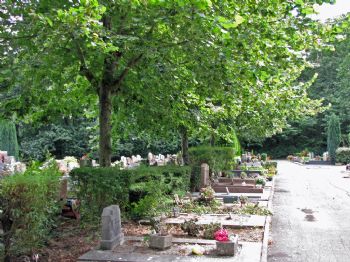 I was almost back at my starting point, but the last part of the hike wasn't the less demanding one… my goodness, my knees and ankles are reminding me of this every minute tonight! But it was soooo worth it, a beautiful 3.5 hour-hike!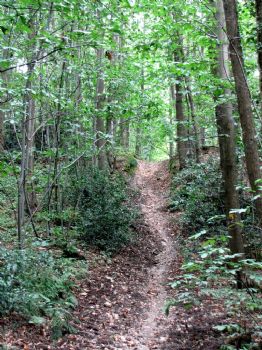 After some lunch at home I drove to my mother's nursing home to spend time with her this afternoon (aren't vacations just great?!). We had a good, peaceful time in the garden. Thank you all for asking about her lately. She has settled really well into this nursing home, which is like night and day compared to the previous, dreadful one. And look at the view when I am with her in the Alzheimer's Unit little garden (I was told by the director that they would improve the garden by the way, it is… a bit bare to say the least!)…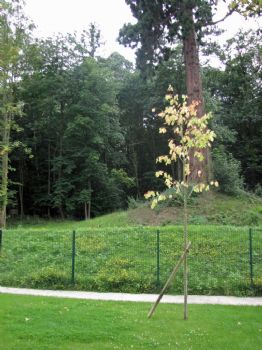 At times there are deers coming out of the forest… It is so good to be so close to nature… Now I think I'll remember today's hike each time I am in that garden with my mother and imagine all the wonderful paths behind these trees!

Thank you for reading! Have a fantastic weekend!






Tuesday, August 19, 2014
Jouy-sur-Morin, where I was yesterday, is a 1.5 hour drive from my home North of Paris. A bit too far away for a 3-hour hike! But today I had to go to that village to collect something I had found on 'Le Bon Coin' (the French equivalent to Craigslist). So I immediately looked in my booklet about Seine-et-Marne's hikes (that is East of Paris), and guess what… there was a hike precisely around Jouy-sur-Morin! Awesome.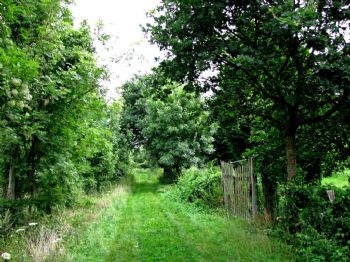 One of the most pleasant and different things about this hike was its many wide, grassy paths covered with dew. Hmmmm so comfortable under the feet, you almost feel like you are bouncing!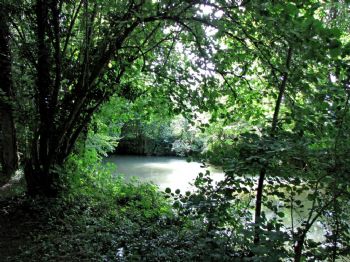 The name of the village says it all: it is built by a river called 'Le Grand Morin'. After walking by it for a while, I turned into the woods before this big house… It was steep!




But more wide, grassy paths welcomed me at the top, with lots of wild flowers on the sides.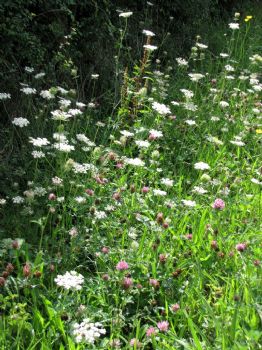 I thought I would take a picture of this plant to show you! This is the last stage of the canola (rapeseed). Those of you who read my blogs regularly may remember the beautiful yellow fields, then, a couple of months ago, what looked like some kind of green branches. Well, this is the last stage now, before the harvest: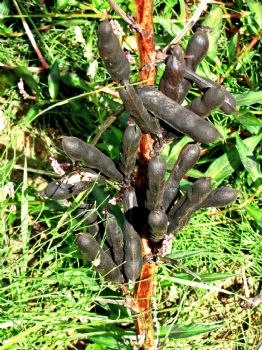 In the Beauchien ('beautiful dog') hamlet…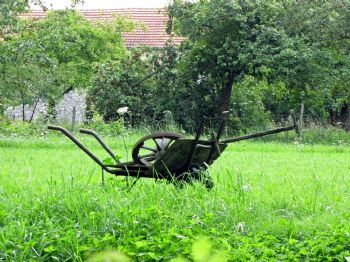 … I had a lovely surprise: plums! A tree covered with them, perfectly ripe!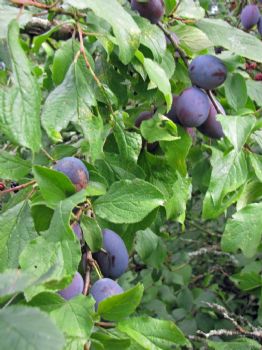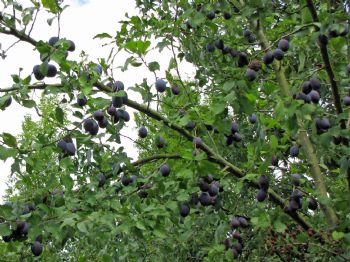 It was very welcome because I had only brought a few biscuits for my hike. And then of course there were blackberries everywhere (I had counted on them when I only brought a few biscuits!).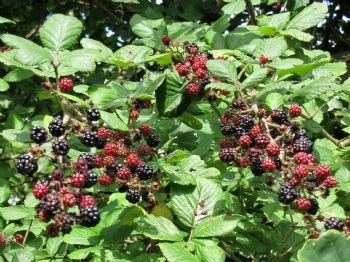 There were lots of apples too, but they aren't ripe yet I think.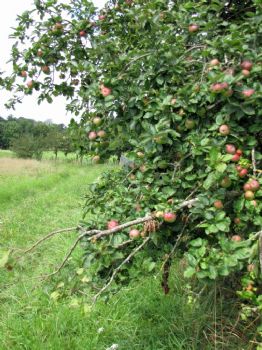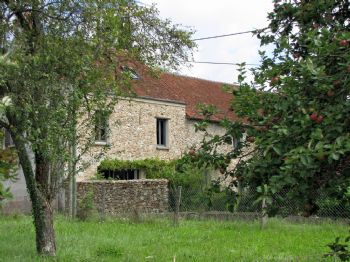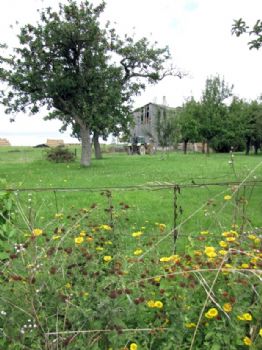 My favourite hikes are a mixture of hilly fields, villages and woods. With a river or two if possible! I had all that during this hike and wasn't bored for a minute (I get bored quickly on long, straight paths!).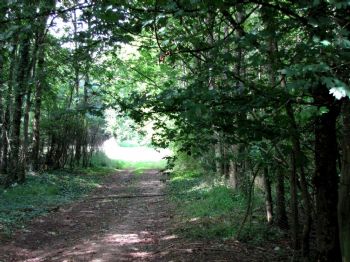 There were also some nice views on the countryside from the top of the hills.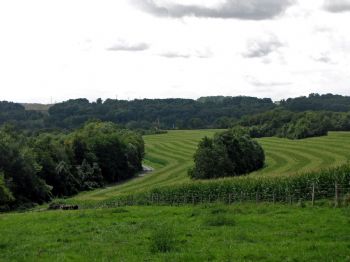 I followed a corn field for a while, and that brought a big smile to my face. I love the sound of the wind in the corn fields!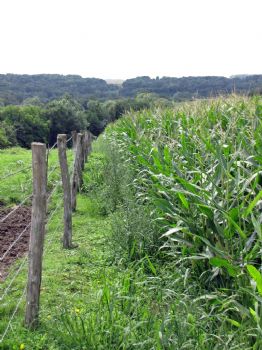 The view on the other fields and the farms in a distance was lovely too. This is a typical farm from that part of the Paris area, the Brie (yes, like the cheese! it is the area where it is made).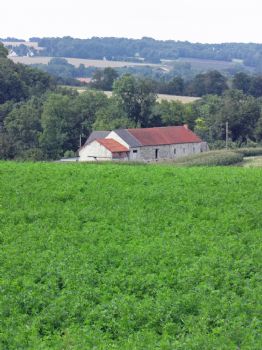 I crossed the hamlet of Champgoulin…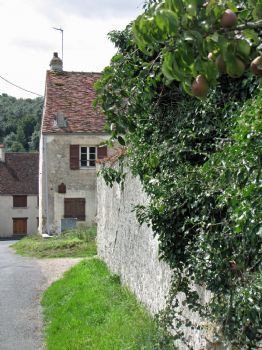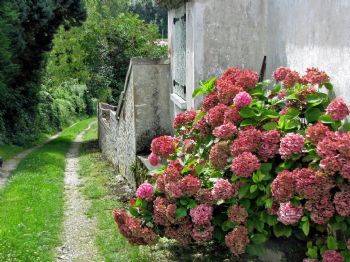 … and reached Crèvecœur via 'rue de la papeterie' (paper mill street)…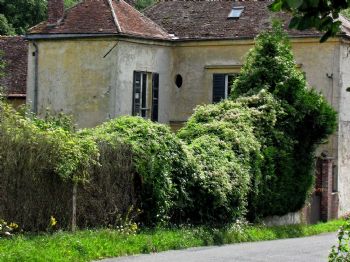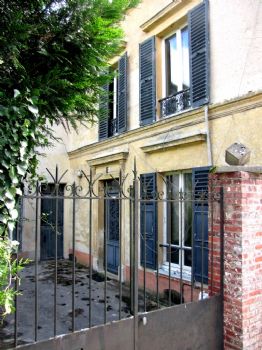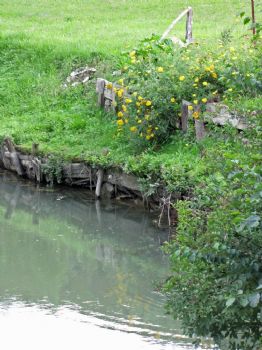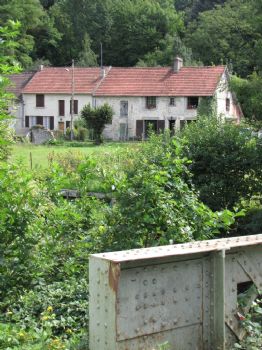 The paper mill looks very different and modern today, I much prefer the way it looked in 1900 (I found this old postcard on the Internet).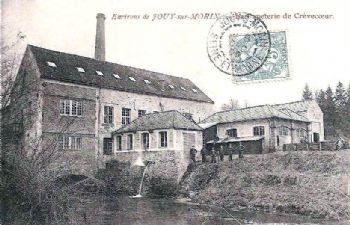 The hamlet of Crèvecœur has an air of faded grandeur, which is a bit sad, and the railway nearby was abandoned a long time ago.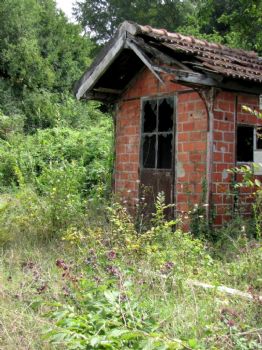 Another steep path in the woods, and a nice view to enjoy…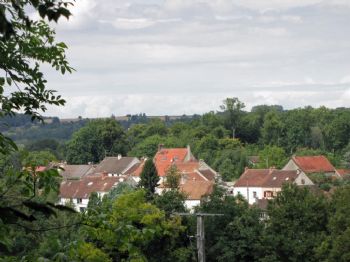 … and then I walked by the meadows and pastures for a while…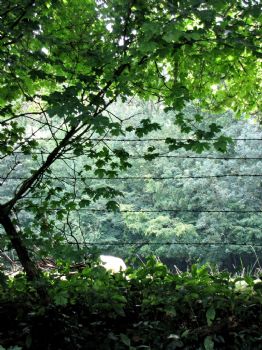 I was excited to find some crocuses on the side of the path, but it was bittersweet… You know what the (French) song says… "Colchiques dans les prés, c'est la fin de l'été"… "Crocuses in meadows, it's the end of summer". Actually, I am surprised these flowers are called 'crocuses' in English. In French, crocuses are the Spring flowers, very similar to these, that are found in the gardens. The wild, late summer version is called 'colchique'. Is there no specific word in English for those? "
[EDIT... Thanks to COLOR-BLUE, I got the answer... "Colchicum autumnale, commonly known as autumn crocus, meadow saffron or naked lady, is a flower that resembles the true crocuses, but blooms in autumn." (Wikipedia) Thank you so much!!!]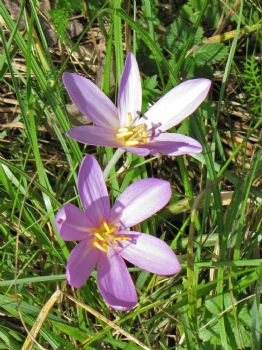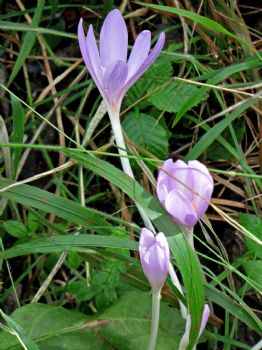 I was walking on another wide grassy path, enjoying the sun on my skin and thinking that I didn't really want this lovely hike to end…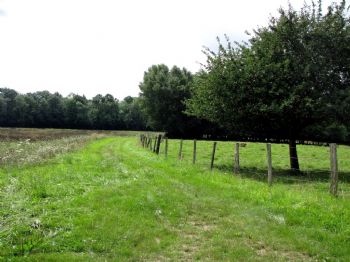 when I turned to take a picture…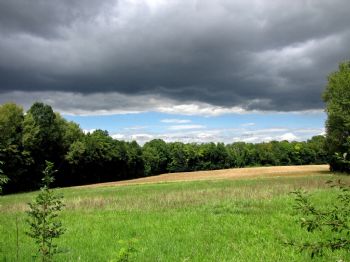 Oh.la.la. Would I have the time to reach my car before the rain started? I was about 15 minutes away.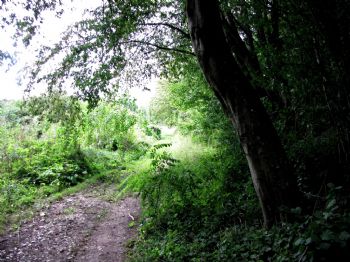 Well, it took me less than 10 minutes, half walking half running, only stopping a couple of times to take a picture!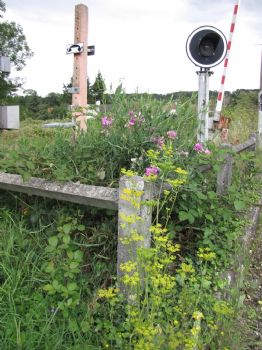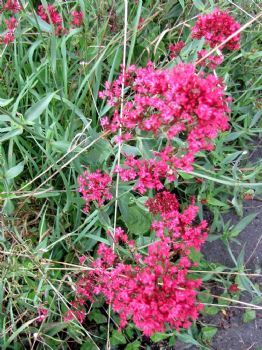 As I reached my car at Jouy-sur-Mourin's abandoned station, it was pouring rain! Phew, just in time!!!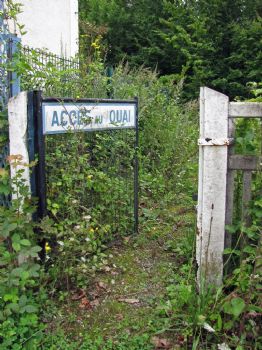 Thank you for reading! I love being on vacation! I hope you are having a great week also.







Sunday, August 17, 2014
Look at the sky that welcomed me as I reached Bréançon, in the Vexin area, this afternoon…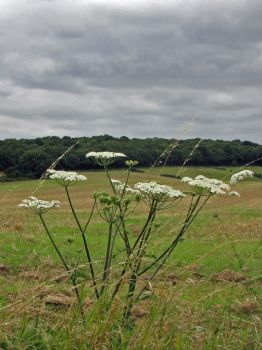 Yet, the weather forecast was for a nice afternoon with no rain, so I decided to trust them!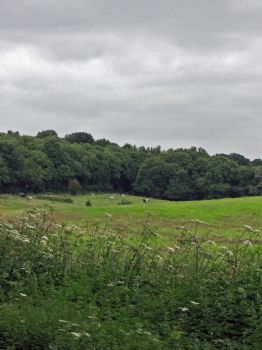 I must say this weather was very nice to walk in, cool and refreshing, as long as you didn't stop to think: "What if there is a thunderstorm?!" I decided not to think!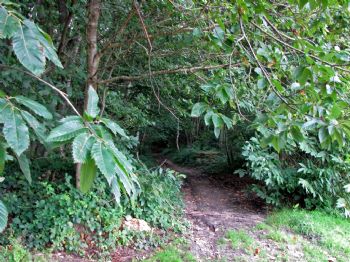 Yet when I entered the forest, it was like a completely different world to the one I am used to on my hikes… It was… alive. Full of noises. The loud wind, the branches sounding like they would break any minute, the animals more 'present' than usual.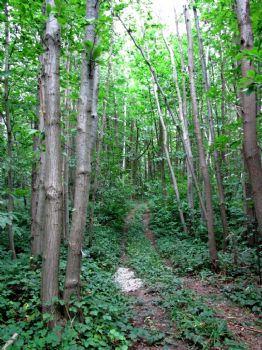 It was interesting and fun in a way, but also a bit scary. I hard survived a dementia patient's attack yesterday (more on that later!), I didn't want to take a tree on my head today!



Well, you'll be very glad to hear I didn't. I only got my hiking boots a bit wet, but as they are perfectly waterproof, that was no problem (this is the wettest summer we have had in France since 2001!... awful for a hike lover like me to cancel hike after hike because of the weather!).




I should stop complaining because that also means we have lots of flowers…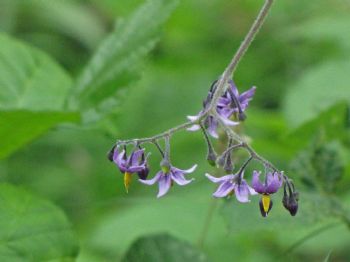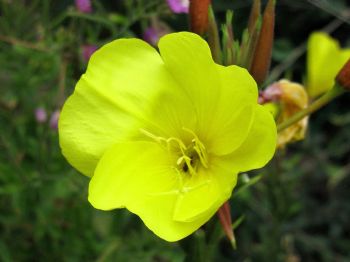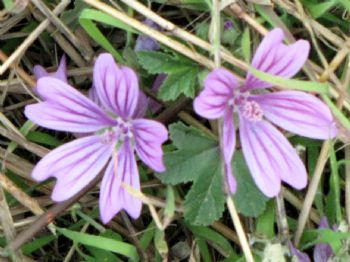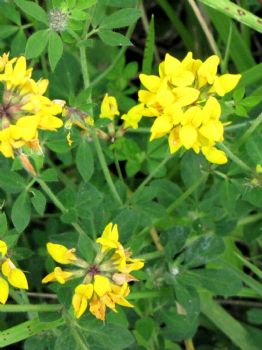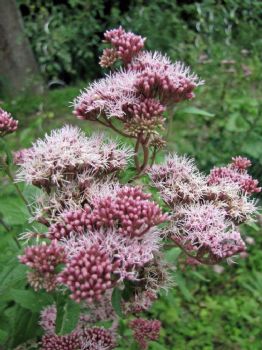 … and it's also a good year for blackberries! In places, the sides of the path were covered with them!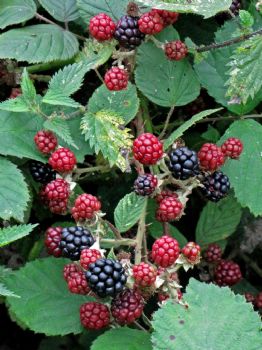 I had actually done part of that hike in the past, but was still very happy to do it again. I might try to do it again at a completely different time of the year, in the snow for example if we get some this year (we didn't last winter).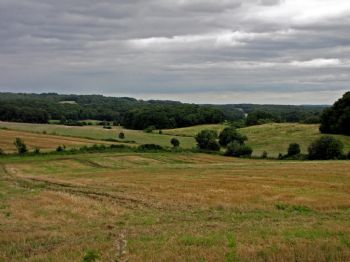 The views on the countryside were really beautiful and serene. Who would think this is only about 40 minutes away from Paris?!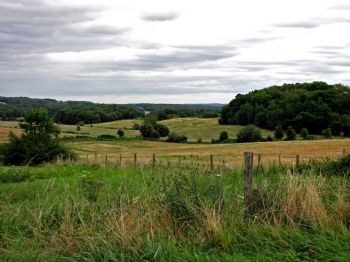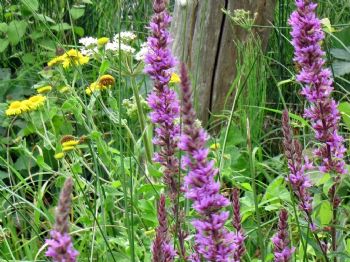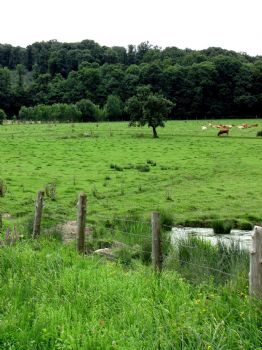 Although it might technically speaking be called the suburb, you definitely feel like you are very far away from Paris, in the middle of nowhere! This is what I love so much about my hikes.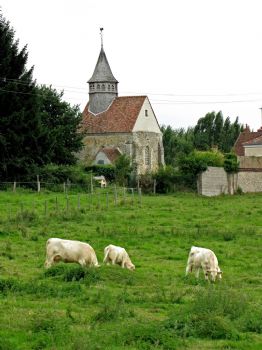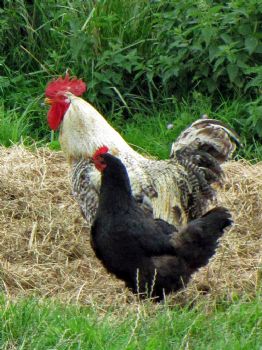 And making new friends, of course!!!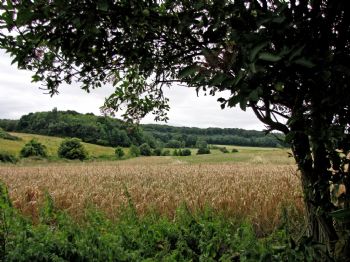 The first part of the hike had been through the woods, but the last part was mostly through the fields.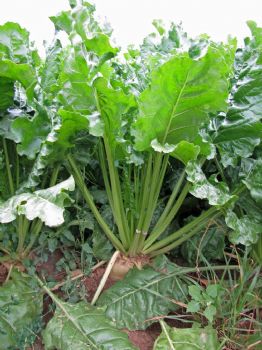 The beetroots (cultivated to make sugar in the North of France, they are huge and white... very different from the ones you put in your salads!) were starting to look quite good.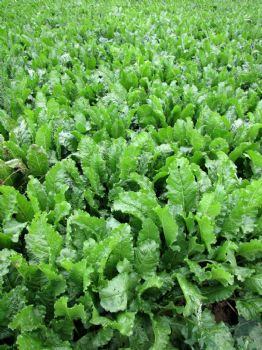 I said earlier it was a good year for blackberries. Well it is also a good year for apples, look at this tree! :)




These horses seemed pretty content in their pasture, they didn't even look at me as I passed them by.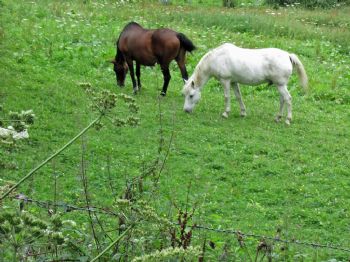 I turned into one last path, avoiding the mud as best as I could…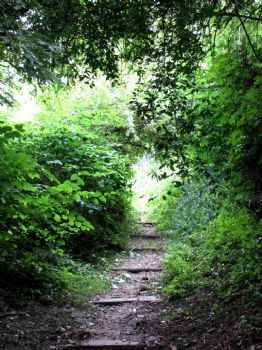 … and I was back at my car near Bréançon's church!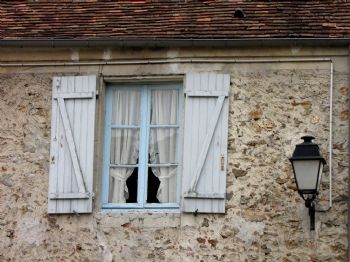 Thank you so much for reading my blog today!
Thank you also for all your kind words on my feed after I shared about my nasty experience of being attacked by a dementia patient at my mother's nursing home on Friday (I am so glad for my mother's gentleness despite Alzheimer's). The old woman screamed, pulled my hair, grabbed my shirt, and bit my arm. It was all very quick and violent. For a moment I even thought she was going to make me fall! I was focused on the pain of her pulling my hair (an unbearable pain for me! from now on I'll put my hair in a bun when I visit my mother!), but I have the 'nice' shape of her front teeth on my forearm now! I was very glad for all the staff (it took 5 of them to get her off me!) that came to my rescue, and even more glad my mother didn't see anything as she had her back to this incident and was sound asleep. Not sure what will happen next… the old woman seemed in a good mood yesterday so let's hope it is a one off (although she is always verbally aggressive, and even more so with me for some reason!). For those of you who have met me, you'll see how funny this really is: I am 6ft and far from thin! Only a dementia patient could attack me I think!!! Yet her dementia made her incredibly strong!

Let's end with a lovely scene of today's hike, much nicer to focus on…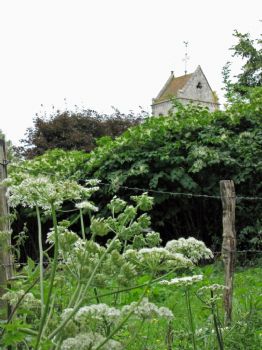 Wednesday, August 06, 2014
I had taken the afternoon off yesterday to go on a hike, but by the time I managed to leave the office, it was 2.30pm already. Too late to drive for an hour to reach the beginning of my hike! So, I decided to do a hike I had always left 'for later', even though it is only 15 minutes away from my office.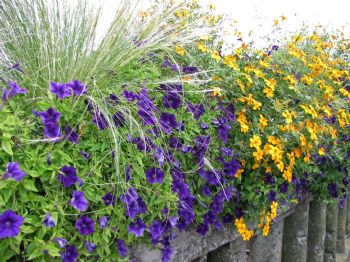 Why? Oh because I am prejudiced! Completely! Because the hike started in Goussainville, which is seen as a 'difficult' suburb town. And were my prejudices shaken? Yes! And I love that! The only people I met were very friendly, enjoying a chat in the sun, running or taking their dog for a walk.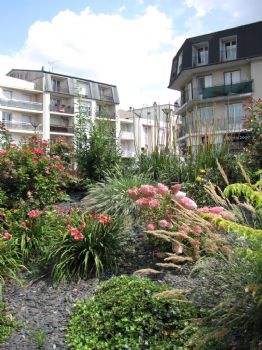 So yes, the beginning of the hike (and the end) was through the town, which isn't the prettiest in the Paris area. But the hike didn't go through any of the 'rough' parts, and I found some nice buildings and lots of flowers to look at, so I was happy. : ) As my friend Liz told me this morning when I explained two colleagues had tried to discourage me to go on this hike, "if you expect ugliness you will see it and if you expect beauty then you will see it". I don't know whether I expect beauty, but I definitely look for it!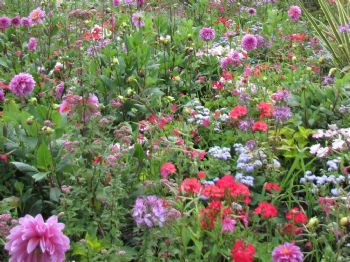 Of course I hadn't come for the urban part and felt immediately better when I turned on a path through the fields.




Bye for now Goussainville…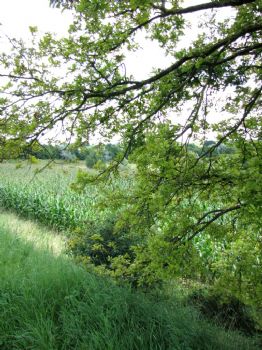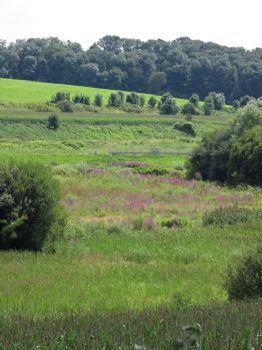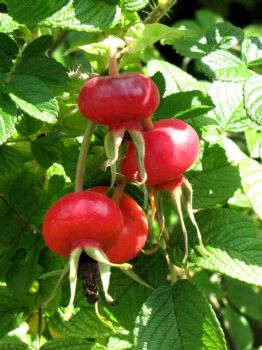 Let's be honest: it wasn't quite bliss there. It was very near Charles de Gaulle airport, which is the main Parisian airport.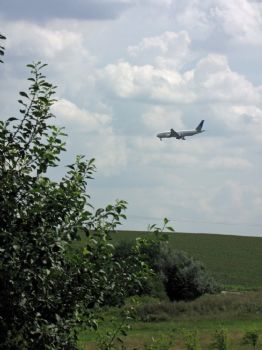 If I add that I had just been following the railway for a while and that I was about to go walk under the motorway, you'll understand that I couldn't quite listen to the birds as much as I would have liked to! But it didn't last.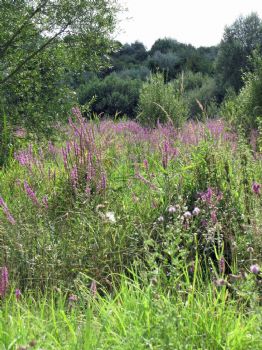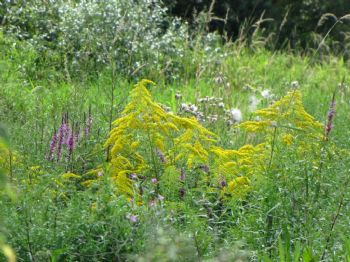 As I was approaching Louvres and admiring the flowers, I noticed something completely unexpected in the distance…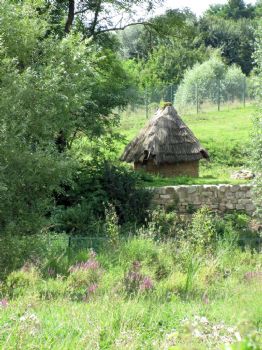 What is that?!!! I had to look at it closely. Well, I couldn't because there was a gate, but at least I got an explanation: this is one of the typical medieval houses from the area which were rebuilt lately. Some ruins from 11th century Osteville's Castle were also found. If you want an idea of how it used to look like when it was destroyed during the Hundred Years' War in 1438, here is a short video I found:

www.dailymotion.com/video/xettaw_le-
passe-du-chateau-d-orville-revel_creation

Ahhhh it could only be a great hike then. Lots of flowers and even a castle! Who would have thought? : ) One last look at the medieval habitation from a distance, above the corn fields…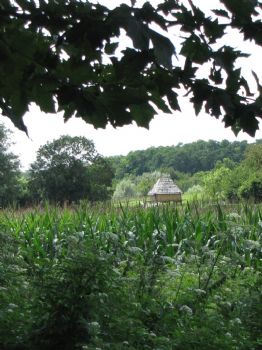 … and a lovely walk by the river…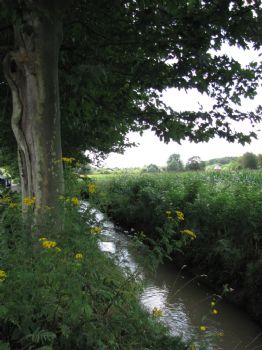 … and an elegant horse as I entered Louvres…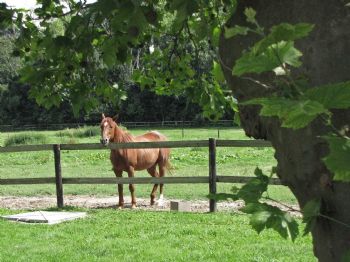 Some of you have asked me whether I feed the horses. No. This is partly the reason why I don't: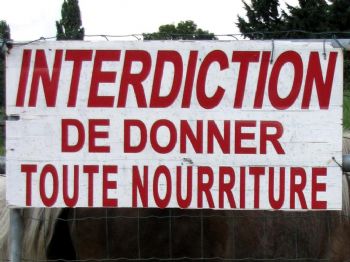 It is often not allowed (imagine dozens of people feeding these animals every weekend? They would become obese!).




Next to the meadows where the horses were, was a beautiful farm, "la ferme du Secrétain". The sign outside it explained that it has been here since the 12th century.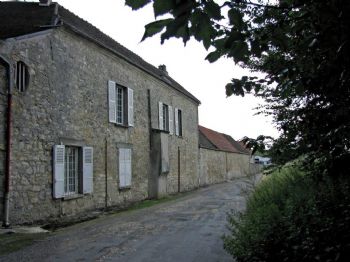 Let me quote it…
"At that time it belonged to the Sacristan of the large Benedictine priory of Saint-Martin-des-Champs in Paris... Part of the priory's revenues came from operation of the farm... Its origin and size made the farm a fief in its own right... Today it remains one of the five major agricultural operations in Louvres."

I found on the Internet a picture of the farm from about 100 years ago. It looks like a beautiful farm! (This is inside the farm's courtyard, where of course I couldn't go, but I suspect it looks very similar today!)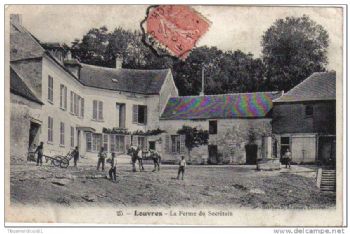 I left Louvres behind…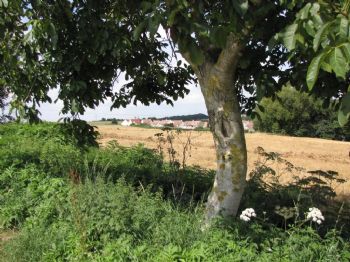 … and walked in the middle of the fields for quite a while, all the way to Fontenay-en-Parisis.
I had thought it might get boring (I don't like it much when the path is all straight and flat!). But it wasn't: it wasn't flat but a little hilly, and there was a lot to look at!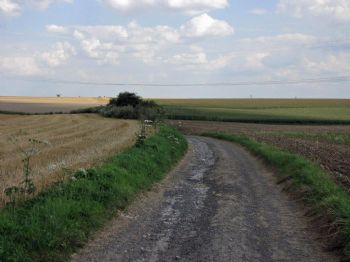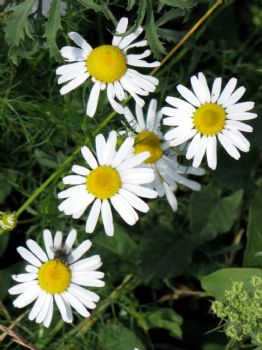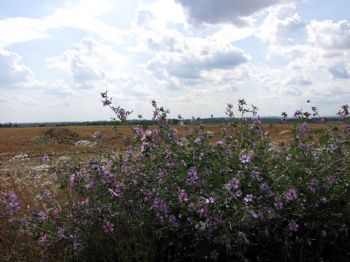 With my camera's zoom I took a picture of part of the skyline hardly visible in the picture above behind the flowers… You can see one of Goussainville's more 'difficult' parts: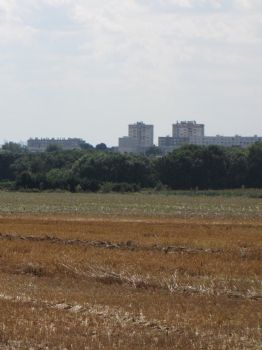 This contrast between the urban and the rural, the old and the new, was one of the main interests of this hike, and it was quite moving.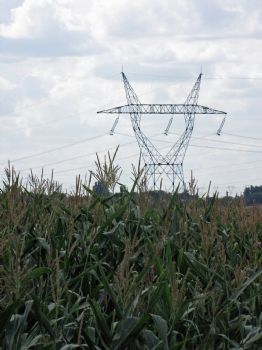 In the distance, I saw Fontenay-en-Parisis…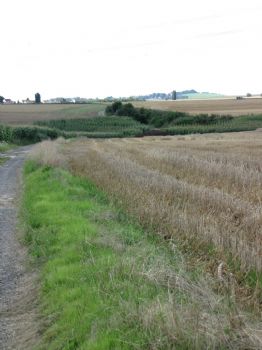 … and a little while later I was looking at its early 19th century castle, now part of a nursing home…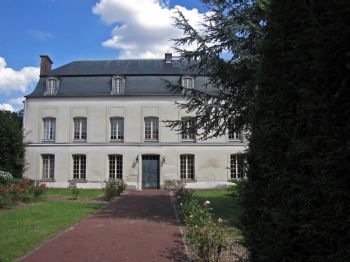 … and its lovely church…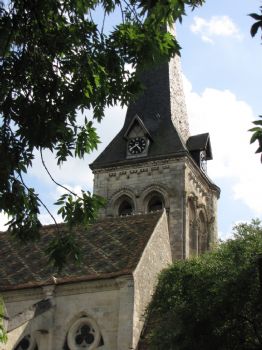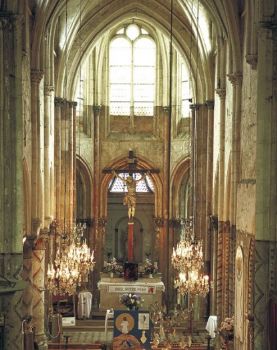 An old lady was going on a little stroll near the church and enjoying the pleasant late afternoon heat like I did.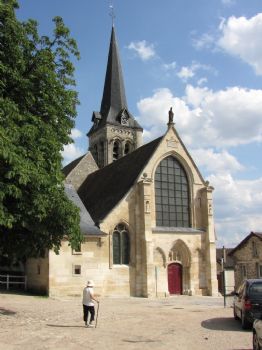 When I left Fontenay-en-Parisis, I walked through the countryside for a while…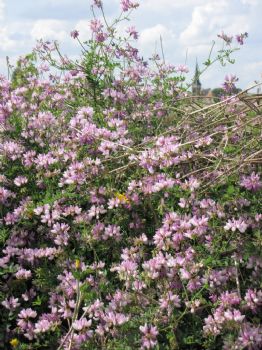 … but then it was time to 'cross' the big Francilienne motorway again.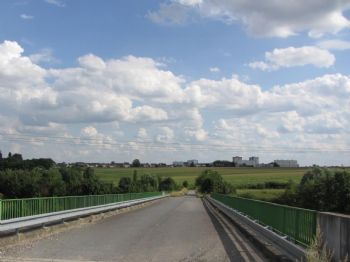 (In the distance you can see Goussainville's skyline again, this time quite close…)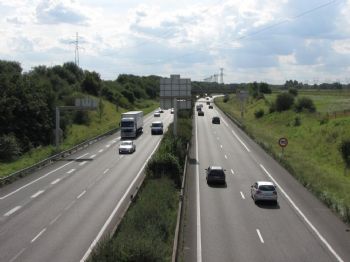 The Francilienne is the motorway that goes around Paris (not right next to it, which is the Périphérique, but a bit further).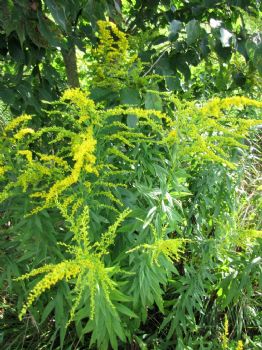 Ahhhhh... nothing says 'August' like these beautiful goldenrods, which lined the path all the way to Goussainville. I love them!

Thank you so much for coming with me on this hike! I hope it will inspire you to discover your own area better and take lots of pictures to show us!






1 2 3 4 5 6 7 8 9 10 11 12 13 14 15 16 17 18 19 20 21 22 23 24 25 26 27 28 29 30 31 32 33 34 35 36 37 38 39 40 41 42 43 44 Last Page

Get An Email Alert Each Time CLAIREINPARIS Posts