| | |
| --- | --- |
| | CLAIREINPARIS's Recent Blog Entries |



Wednesday, December 03, 2014
Hello dear Sparkfriends,

La vie est belle! Life is beautiful!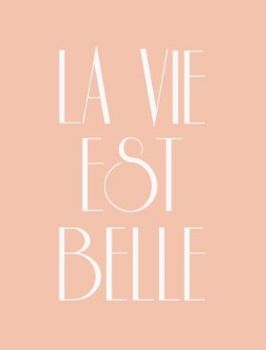 If you have been following my hikes and travels for a while, you know I am convinced of it. Yet, life can also be tough. I gained about 100lbs in 3 years for several reasons too personal to explain here, and I didn't manage to lose them later. (Before you ask... Healthy eating – check! Exercising – check! Counseling – check! I conquered the binges and stopped gaining weight in 2012, but I didn't conquer overeating...)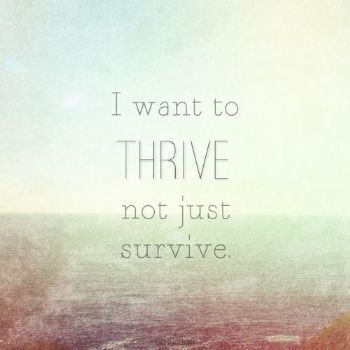 I was very much hesitating to share about this surgery. I always dread feeling judged… but I laughed and thought the decision had been made for me when one of my Sparkfriends commented on my weight loss status yesterday by writing: 'It is already working wonders'. Hmmm the 'secret' wasn't going to last very long!!!!!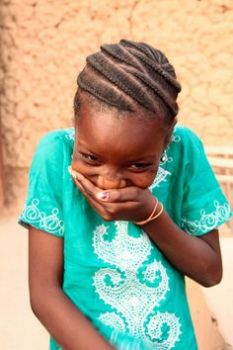 So yes, after lots of soul searching (about a year in total), lots of research, last summer I took the decision to go for weight loss surgery – in my case sleeve surgery. 85% of my stomach was removed in the shape of a sleeve, like this: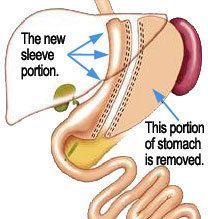 I am NOT saying it is the best solution, nor will I become a champion of weight loss surgery, believe me!!!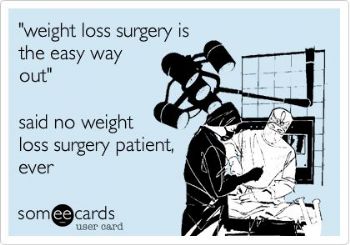 But for me it was the way forward. I was stuck, obesity-related health problems were slowly appearing (sciatica, heart arrhythmia, very uneven blood pressure with dramatic lows and highs, esophagitis, painful knees and hips) and I didn't want it to limit my life. I wanted to succeed at weight loss for a change!!!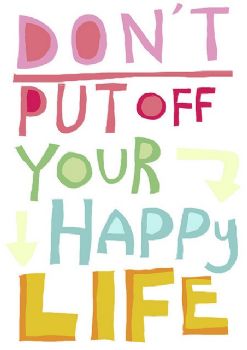 Sorry if I sound a bit defensive. : ) To be honest I have received only one very negative reaction, of someone who told me: "Don't do it." All the other ones, either my very few Sparkfriends who knew or friends in 'real' life, have been mostly supportive, one way or another. Some said they didn't understand because they aren't obese themselves, but they were there for me.

One of my colleagues at work gave me a tiny bowl that looks almost like a doll's one, which I am using for every meal at the moment, and it always brings a smile to my face. Thank you Francine!




I read on the Web people who seem to advertise this surgery as being very easy and painless. I disagree. It is tiring, it isn't painless in my case, and although you are quickly out of the hospital, it can take a while to recover (in France the minimum sick leave is 3 weeks for sleeve surgery).

I have been really struggling to eat/drink again (I am on a liquid diet until tomorrow). Hence the feeling of being extremely tired I suspect. But all in all, it is going better every day and I am delighted I have already lost almost 7 kilos (15lbs). It hadn't happened in a while!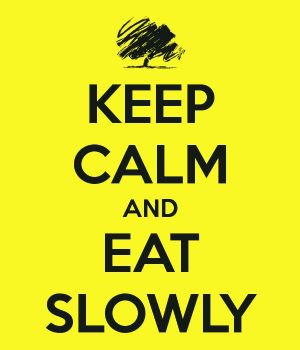 Here is where I spend most of my time: reading in my chair! (Next sewing project should be to make a proper slipcover for it, hopefully around Christmas!)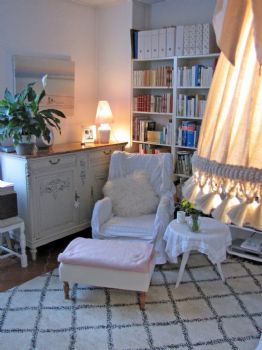 I also take a long nap every afternoon and I am glad my bedroom feels like my little 'nest'!




Finally I would like to share this picture with you. I find it interesting because of the last paragraph…




"Failure to exercise, frequent snacking and poor dietary choices are the common reasons for weight loss failure after gastric sleeve."
It rings a bell doesn't it? Indeed, this is no magic!!! And I definitely intend to keep eating healthily and exercising (and seeing my therapist too), so there will be more hiking blogs coming soon!!!

Thank you for reading! Let me end by wishing you a beautiful Advent Season!







Tuesday, November 11, 2014
Hello dear Sparkfriends,

Greetings from Athens, Greece! That was the view that greeted me when I reached the hotel on Saturday evening…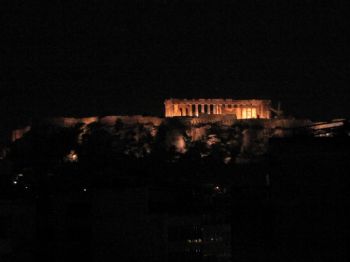 Striking no? For me however, being in Athens isn't just the beauty of the city and the excitement of work meetings (NOT!!!), but of course…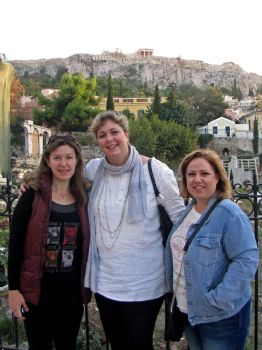 … meeting with NUOVAELLE and BLOOMINGLENA again! - We first met back in February 2013 when I had a few hours in Athens between flights. The blog is here if you want to have a look:
www.sparkpeople.com/mypage_public_jo
urnal_individual.asp?blog_id=5268812

As I visited Athens a couple of times in the past, we didn't do all the touristy sites: I especially wanted to spend time with Elle and Lena getting to know them better! (Before I continue, I should say that as I am writing this blog tonight I am listening to a Greek singer I discovered thanks to Lena, called Haris Alexiou... Apparently she is very well known but to my shame I didn't know her! Here is a link to listen to one of her songs:
www.youtube.com/watch?v=rtMNdECxq2M Enjoy!)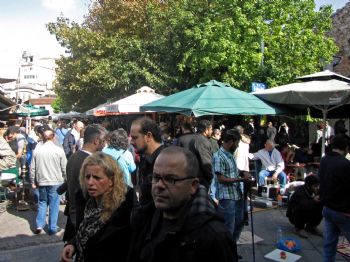 But I love flea markets and antique shops, so we walked around the little shops and stalls near Monastiraki. It was very busy, but not more than a Parisian flea market on a Sunday, and I loved it!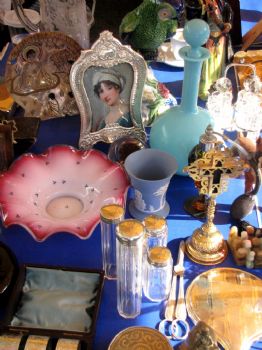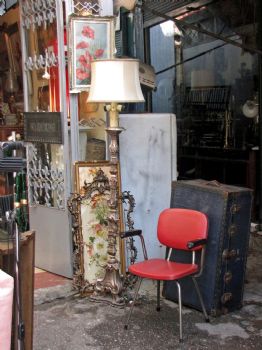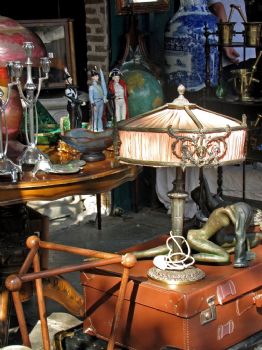 (Looking at this lamp above on the right, I am really regretting I didn't ask for the price… yes it would have been crazy taking it back home on the plane, but it is exactly the kind of thing I like for my home! Ah well, too late now!)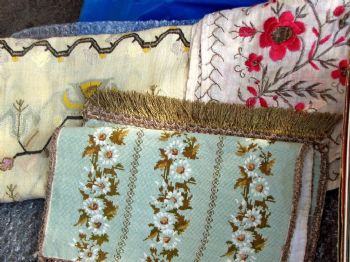 If you are into embroideries and laces, believe me this flea market is the place for you! It was very small, but there were even more by square meter than in French markets!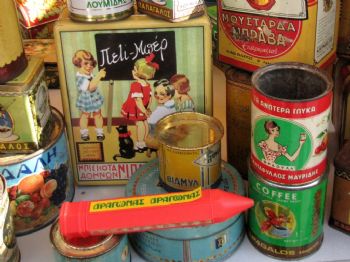 But I think the stall Elle, Lena and I enjoyed the most was the one with all the old boxes of all kinds. Of course for me, anything with Greek writing is exotic too, but even apart from that, they were fun!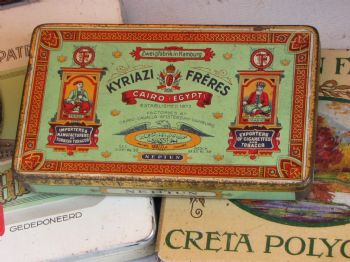 Ohhh I forgot to tell you! It was the day of the Marathon! Everywhere we walked in the afternoon, we saw people in running clothes, some with their medal around their neck. It was very fitting for a day 3 Sparkfriends meet!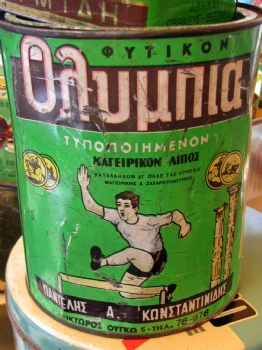 In the little streets going up the hill there were mostly second-hand books stalls…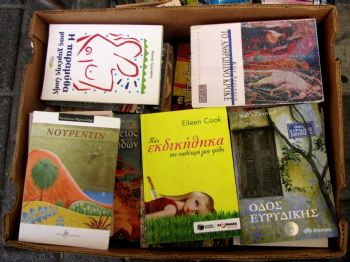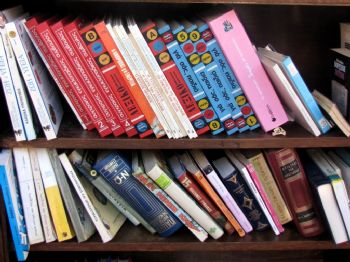 … and, to my surprise, birds in cages! I should have asked Elle and Lena whether these were people's birds or whether they were for sale!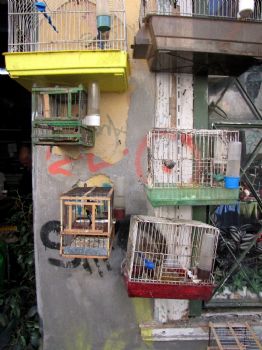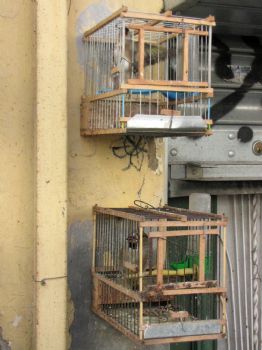 By then we had reached the Roman Forum, and Elle and Lena found a great place for us to eat, in the shade but with a great view!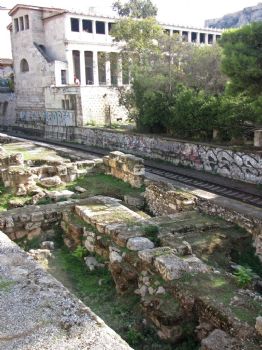 I tend to be suspicious of restaurants in touristy places, but this one was great!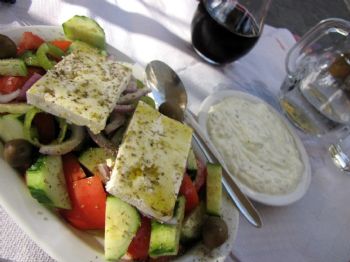 The Greek salad didn't disappoint, and Elle explained to me the herbs on top are oregano, not thyme as I had always thought. So I'll try to redo this at home, although the beautiful Greek olive oil really is the secret ingredient!

Have you ever had fried feta cheese? Give it a go if you have a Greek restaurant nearby, it may not be very healthy, but you only need a small piece to enjoy the taste! : )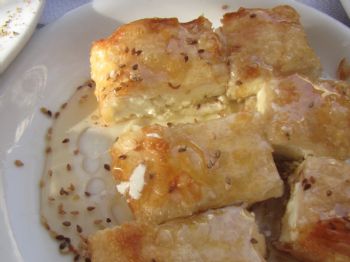 Same for fried aubergines/egglplants! They were great!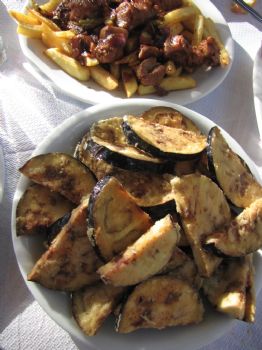 I had ordered grilled octopus and that was a special treat for me. I could have seafood everyday I think!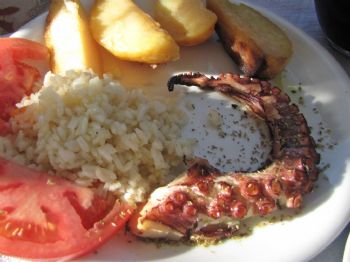 After our late lunch we walked further up the hill…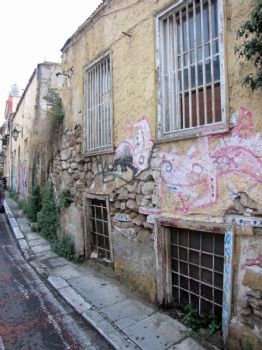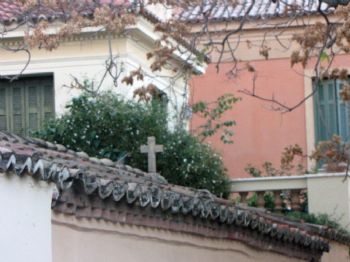 ... to well-known Plaka. It is very touristy but so pretty!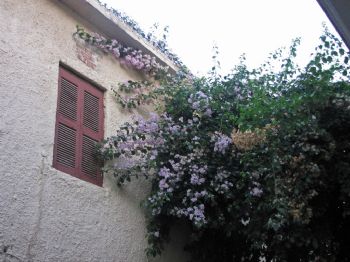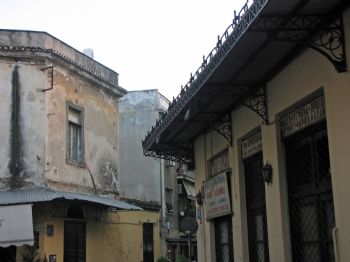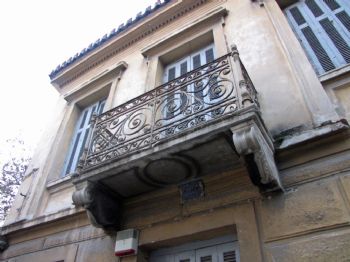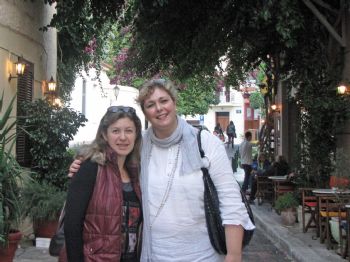 (Elle and I in Plaka)

We walked further up the hill (I id 18,000 feet in total that day, so we didn't just eat and chat you know!!!)... and ended up near the Acropolis Museum, which I definitely want to visit next time. This time my sciatica presents me from standing still (I must keep walking all the time or it really hurts) so we didn't go in. But the building itself is a work of art!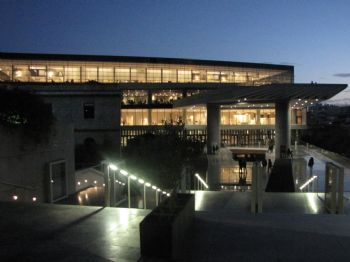 What a lovely time!!! And you know what? Lena and I met again tonight for a walk and dinner after work and we enjoyed chatting, chatting, chatting!!! About (healthy) food and exercising of course (Lena loves zumba and recently discovered pilates too!), travels, friendship...


It was the perfect way to celebrate the near end of my meetings before heading back to France tomorrow. I am feeling quite sad tonight though, I will really miss Lena and Elle and I wish I could come to Athens regularly (or they to Paris)... Believe me I have rarely been disappointed when meeting Sparkfriends, but Elle and Lena are extra special with BIG hearts and very warm personalities! Thank you both for taking such good care of me during my visit, dear friends!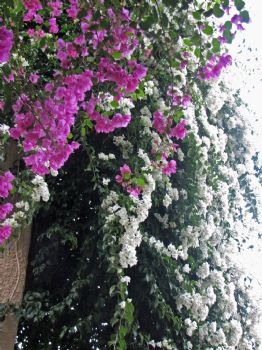 I'll end with these bougainvillea flowers to send you a bit of Athens's sunshine and warmth!
Thank you for reading friends!






Sunday, November 02, 2014
Do you know Vétheuil?




If you are a Claude Monet fan, you actually know Vétheuil! The painter lived in the village between 1878 and 1881 and made over 100 paintings of it.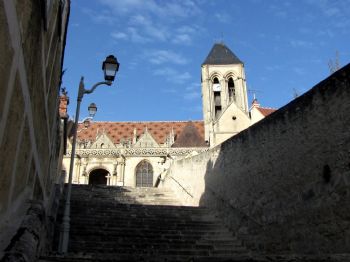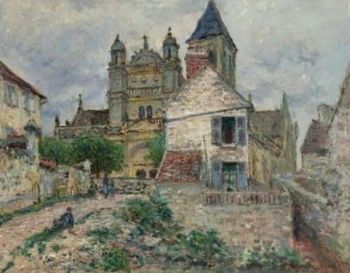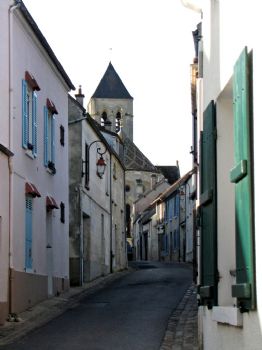 The hike I did yesterday was through the villages and the countryside…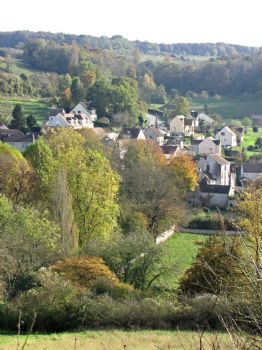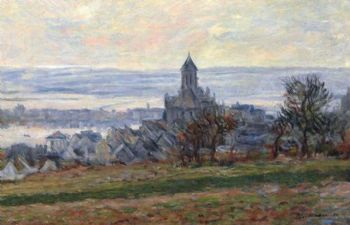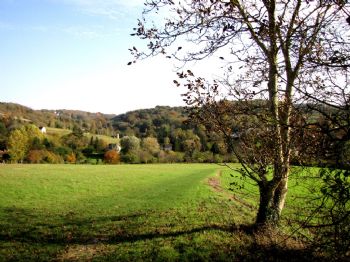 … but one of these days when I go to Vétheuil I want to find the view Monet painted the most, from across the Seine. So beautiful!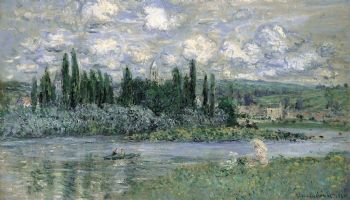 That was a short hike. I should probably say a gentle walk (2 hours and 10 minutes), but it was hard work as it was steep in places, and my sciatica wasn't happy (a colleague who did it last week said it was all flat… hmmmm it was far from flat!).




But it was sunny, warm, a gorgeous area, and I took things easy! I couldn't believe it was 1st November, I was wearing a light linen shirt, it was that warm!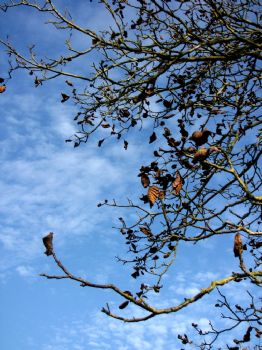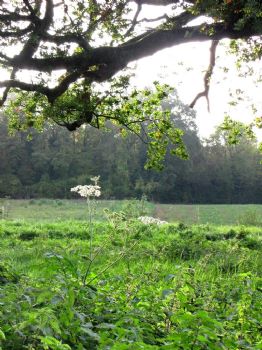 And you may have noticed already, the autumn colours are definitely starting to appear. They should be at their best in about 2 weeks, when I am back from Greece (I'll be in Athens for work, woohoo!). But it was definitely starting.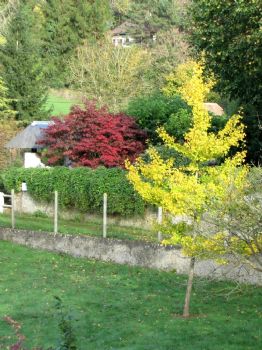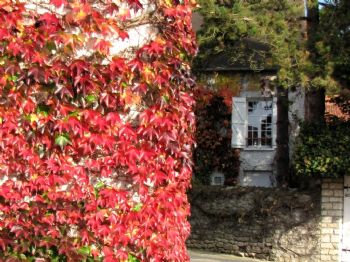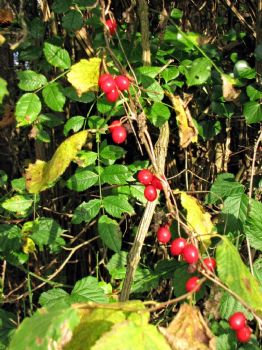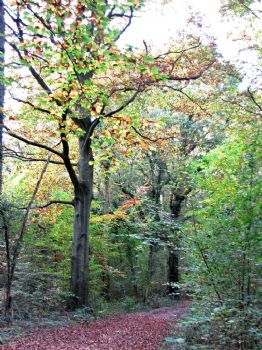 My favourite part of the hike was probably as I followed a little creek… I loved how it sounded…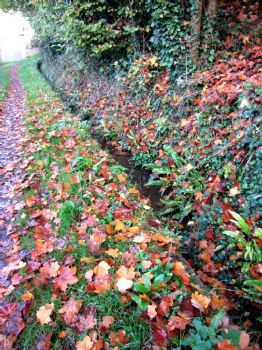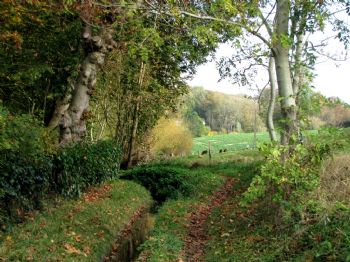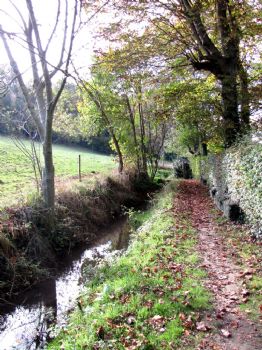 I share the views of my hikes, but never talk about the sounds much. They are so much part of the pleasure of hiking in this area though… Complete silence…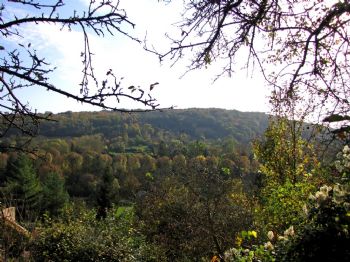 the sound of the leaves under my feet…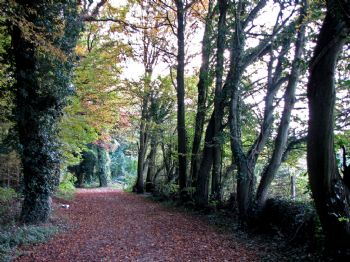 a church's bell in the distance…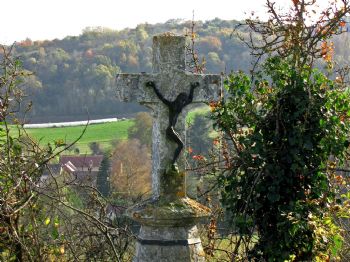 the birds in the trees nearby…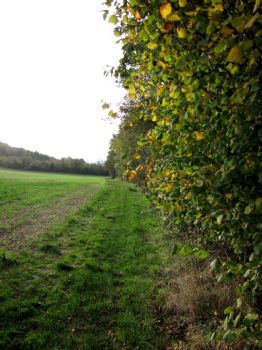 the cows' and horses' roar…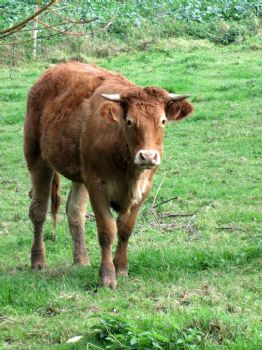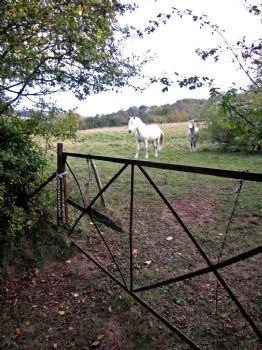 I think it is partly thanks to all these wonderful sounds that I never feel lonely during my hikes, and also that I prefer to hike alone to really listen to them.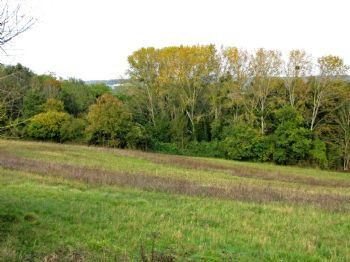 Even though yesterday's hike was short, it had all I love in a hike, and made me feel like I had been far away, both in terms of geography and time, on a great holiday!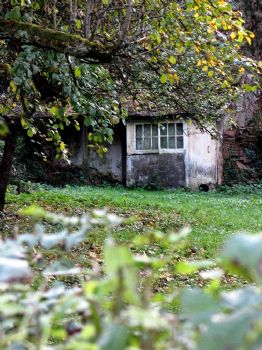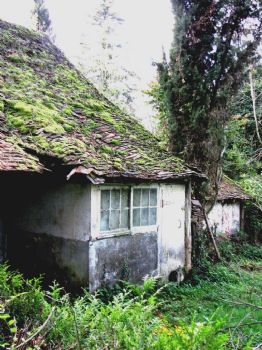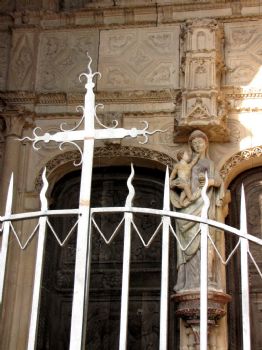 Isn't it a fantastic feeling to have? I'll definitely go back to Vétheuil though, and then a little further to Giverny again!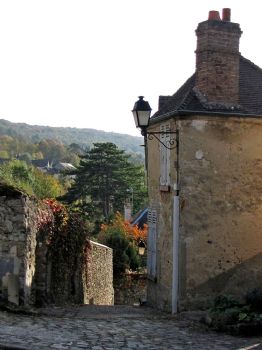 Thank you for reading dear friends! Have a sparkly Sunday!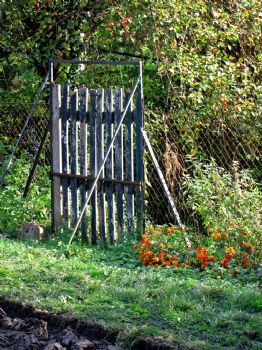 Saturday, October 18, 2014
I am sorry for the dramatic title, but today was an eventful hike indeed! I don't think I like those, I'd rather have one of my usual hikes, where the worst that can happen is to get a bit lost... And speaking of getting lost (to start with the fun bit!), I haven't lost my touch!

Although it hadn't happened in a few months, I still know how to get completely at the opposite of where I am supposed to go during a hike!!!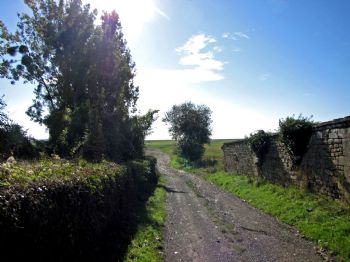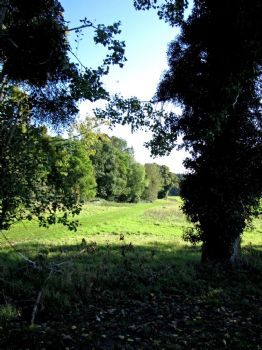 It is especially stupid as today's hike should have been really easy! Mostly flat and straight, through the beautiful Vexin countryside!




But I used directions prepared by an association I already had had problems with. I think out of the 3 hikes I did that they prepared, all 3 were very badly done! I.e. poor maps, no signs and almost no directions. The best way to get lost!!! If I could remember where I got these 'hiking sheets' from, I would go back and tell them they are really unreliable!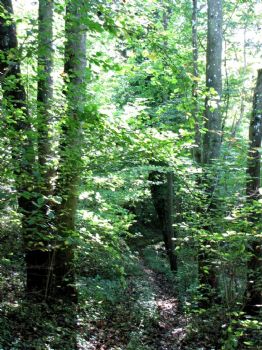 Because really I did get lost brilliantly!!! I took the wrong path in the woods… it wasn't straight at all, so I lost my sense of directions (and of course I thought I was on the right path!)…




I ended up completely West in Blamécourt when I thought I was completely East in Nucourt.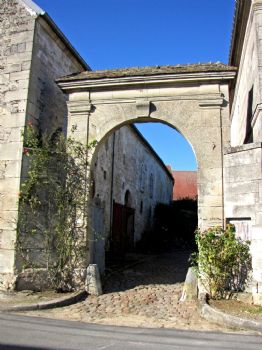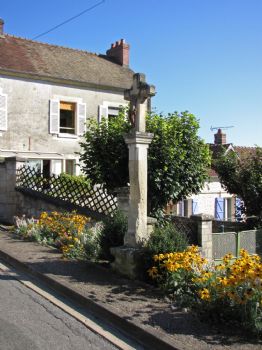 Of course paths didn't match what I saw on the map, I didn't understand but I kept going, walking through the countryside and crossing a village with a funny old water pump with an animal head…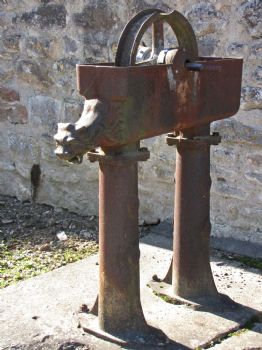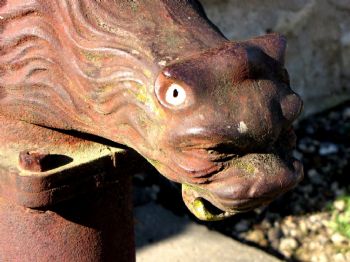 And as I left the village, there was a sign with its name, and I just stopped and laughed out loud. Suddenly it made sense! I really was completely in the wrong place!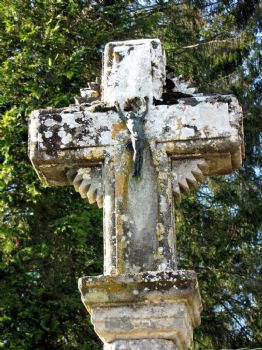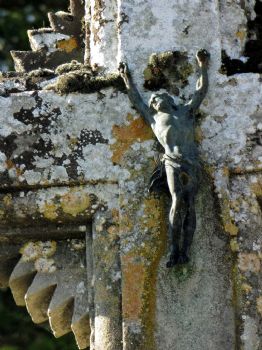 Luckily, that village still appeared on the very poor map I had in my hands, so I was able to find my way back, cutting through the countryside. It was such a gorgeous day I didn't mind at all, and the area is so beautiful! (In France most paths are public, i.e. everybody can walk on them, so if you have a map that shows the paths properly, you are fine!)




But it is never a good idea to be creative in terms of 'paths finding' during hunting season! I ended up on footpaths that weren't official ones (not recognised by the hiking federation and clearly marked)… and suddenly, as I came out of some woods…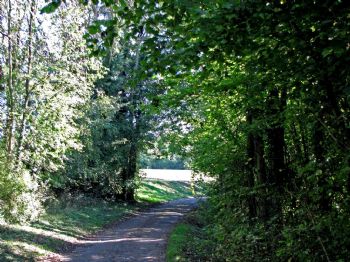 … I heard a very loud BANG that sounded way too close for comfort!!! Hmmm what to do? Well I kept going, slowly, and singing at the top of my head!!! I think between cows (see my blog from two weeks ago!) and hunters, I'll choose cows anytime!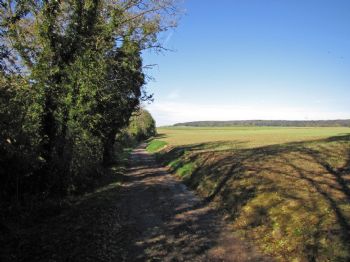 When I finally came completely out of the woods, facing the fields, I saw about 10 hunters facing me in the distance. My goodness, they had been shooting animals in these woods! I don't know between them and me who was the most unhappy to see the other(s). I am sorry I interrupted your little Saturday afternoon game, guys! And very glad you didn't permanently interrupt my life!!! I didn't like the sound of your BANGS at all. (No, I didn't say anything, I am not that mad... and they were too far anyway... I just left as quickly as I could!)

I won't lie: I was a little wobbly on my feet for a while after this! And I was glad I basically only had to cross one last big field before I reached Serans again.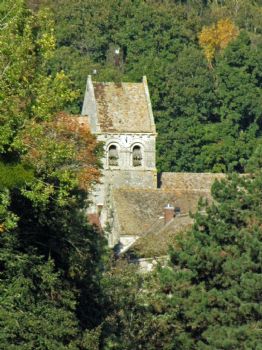 The church looked wonderful as I saw it appear in the distance! PHEW. Now can I go back to my usual uneventful hikes please? I would love the same sunshine next week, but NO HUNTERS, or at least very far away from me!

Thank you for reading, friends. And please don't worry, I'll be more careful next time and make sure I have a good map with me so that I don't get lost. I hope you are having a fantastic weekend!







Saturday, October 11, 2014
I had wanted to do this hike a few weeks ago already, to commemorate the 100th anniversary of the terrible Ourcq Battle that took place in these fields and on these paths 6-9 September 1914.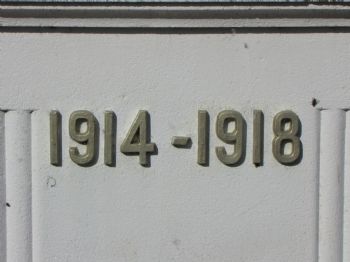 It was the very beginning of WWI, and everybody thought it wouldn't last, and the boys would be home in no time. Sadly, as we now know, it wasn't what happened.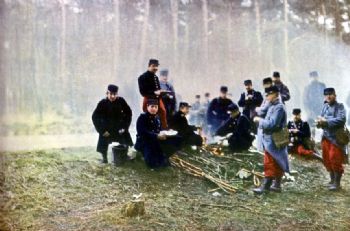 And the 534 men who are buried in Etrépilly were among the first ones of a dreadful series.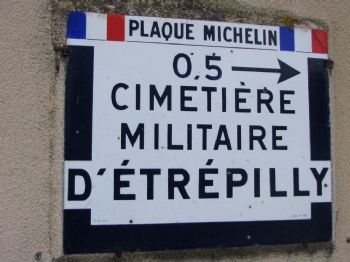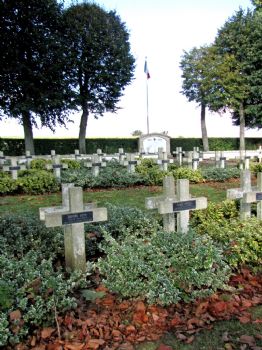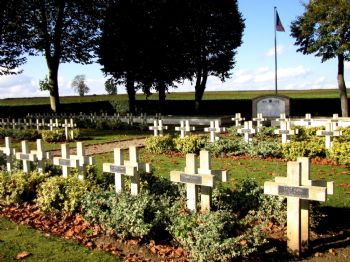 Today's hike was obviously different from any other one.




Yet it was a beautiful sunny day and if you didn't know what happened here it was just so peaceful…




… with views almost as far as the eyes could see… not too difficult to imagine the battle fields there…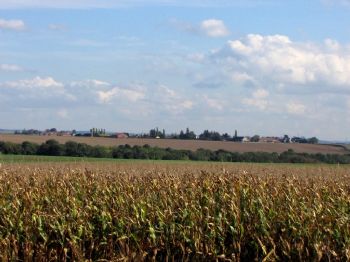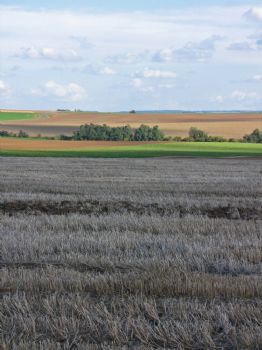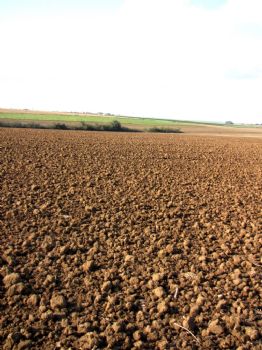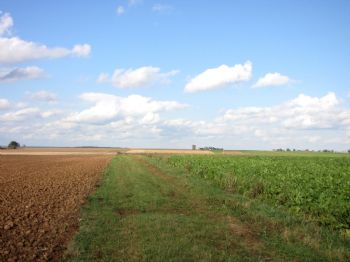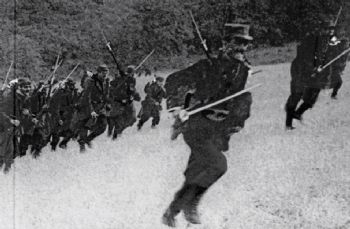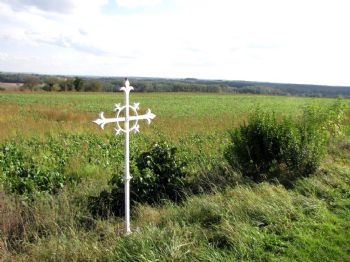 When I saw Poligny's farm, near Puisieux, I remembered what I had read on the Internet before I left: that several farms were in the middle of the battle fields and were bombarded. There wasn't much left of Poligny's farm after the battle, as it was both bombarded and then burnt by the Germans.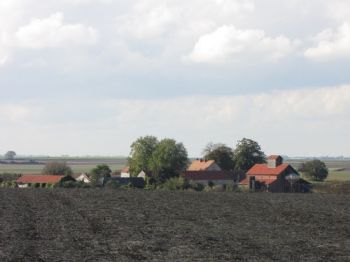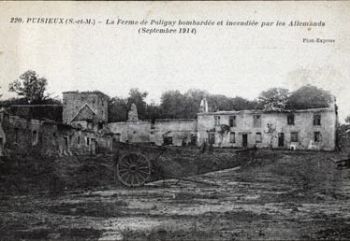 When I reached Puisieux…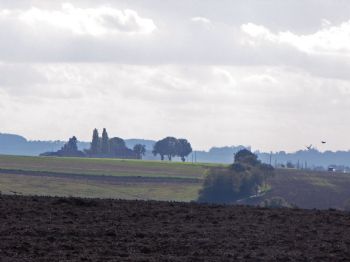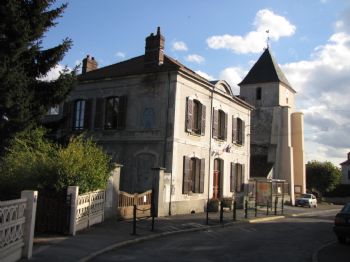 … I suddenly understood better how close the troops were: the Germans were in Etrépilly and the French were in Puisieux. Very very close. It took me one hour and a half, but the path wasn't a straight way at all. I expect that through the fields it would have taken maybe 30 minutes, even with the heavy backpacks that the soldiers had to carry.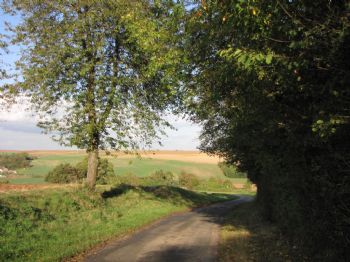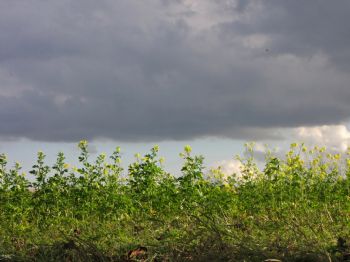 Shortly after I left Puisieux, I reached Champfleury's farm which was also bombarded (and I was so glad to see that, like Poligny, it was rebuilt and still exists today).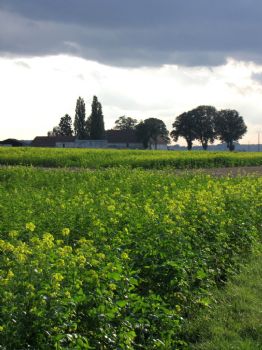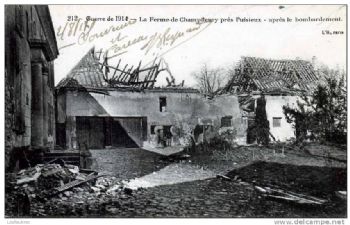 After watching the sun play with the clouds for a while (how fitting… it definitely added to the feeling of being in a place with History)…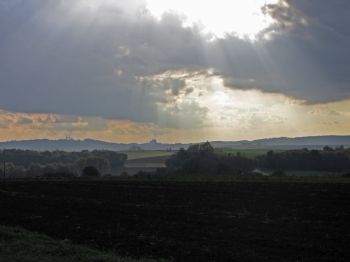 I crossed some woods and more fields again in the beautiful late afternoon light…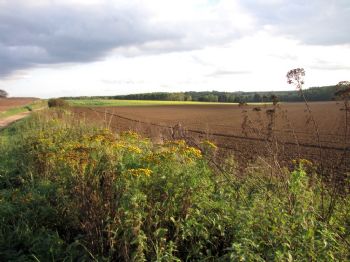 … and this is when I saw today's treat… ohhhhhh… fields after fields of beautiful purple and yellow flowers!!! I couldn't believe my eyes. I had never seen these purple flowers, and the smell was gorgeous. It felt like Spring in Autumn! Despite the heaviness of the History of this place, I couldn't help it and had to smile.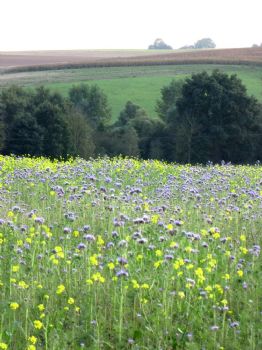 I really don't know what these purple flowers were .They weren't thistles.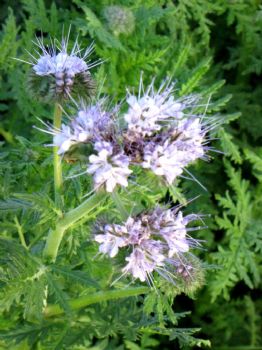 As I entered Etrépilly, this house also brought a smile to my face: it was old and not in good shape at all, badly in need of repairs… but with friendly red geraniums in the window boxes.




It was time I got back as the sun was slowly disappearing…




I hope you enjoyed sharing today's hike through a somber page of French History. In the next couple of years, I'll try to go hiking in some of the areas where the 1914-1918 battles took place and show you also some cemeteries from foreign soldiers who came to fight for us, there were many countries...

Thank you very much for reading! Take good care of yourself and keep sparking!




1 2 3 4 5 6 7 8 9 10 11 12 13 14 15 16 17 18 19 20 21 22 23 24 25 26 27 28 29 30 31 32 33 34 35 36 37 38 39 40 41 42 43 44 45 46 Last Page

Get An Email Alert Each Time CLAIREINPARIS Posts