| | |
| --- | --- |
| | CLAIREINPARIS's Recent Blog Entries |



Saturday, November 30, 2013
Hello dear Sparkfriends,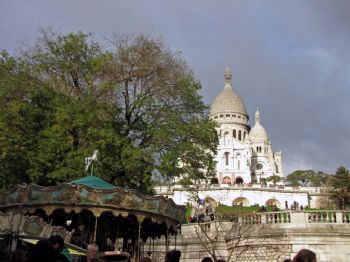 I needed to buy some fabric for my sewing projects today, so I went to the best area for this kind of shopping in Paris: Montmartre, around Place Saint-Pierre.




I didn't really think I would write a blog about it as it was something fairly banal for me. But at the last minute I took my camera: I hadn't had time to walk much this week and I really needed to walk today!




The area at the bottom of the Sacré-Coeur basilica is a funny mixture of lots of touristic shops and lots of specialized shops selling fabrics, buttons, ribbons, etc. Two completely different worlds!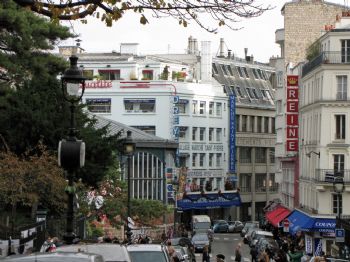 I wasn't allowed to take pictures in the fabric shops, but I found one on the Internet of the shop I usually go to: Reine. It is one of the biggest (on 4 levels), and everything is easy to find and of great quality.




My mother and grandmother went there before me. I still remember the Reine shopping bags in my grandmother's apartment when I was little, as she used to make most of her clothes.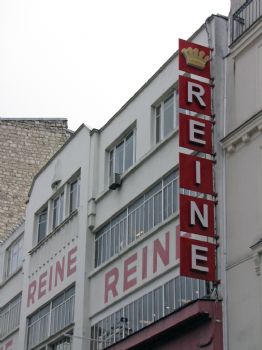 I found exactly what I wanted (and bought some fabric for myself as well, which I didn't need but it was such a beautiful pale pink, I couldn't resist… hmmm it looks like I am turning girly with age, haha!).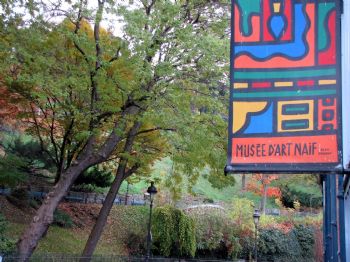 I spoke of two different worlds in the area. It isn't exactly true: there is a third world, the one of art lovers, as in the middle of the area, there is also the Musée d'Art naïf. I don't like all their exhibitions (the one they had on today wasn't my style), but they often have things I really enjoy. And their café Is lovely! ;-)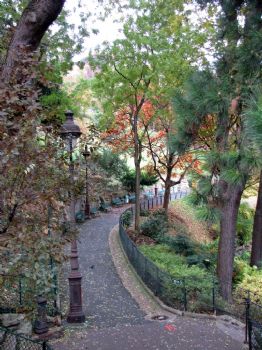 As you can see, there are really lots of leaves left on trees in Paris. I cannot believe it! I guess this is because we haven't had strong winds for a while.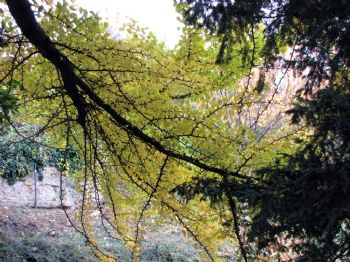 I decided to climb the stairs leading to the Sacré-Coeur basilica, for the workout, and for the view of course! One of the most amazing of Paris.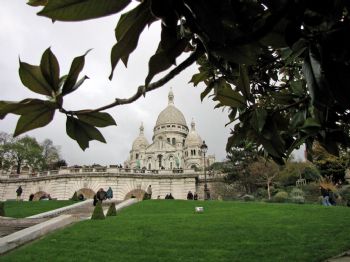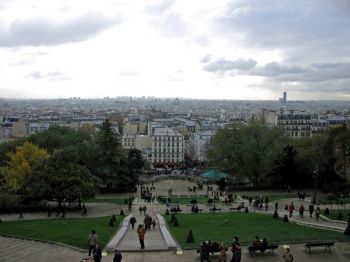 Then I took rue Saint-Eleuthère, stopped for another great view…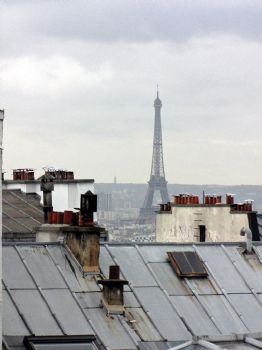 … and reached Place du Tertre.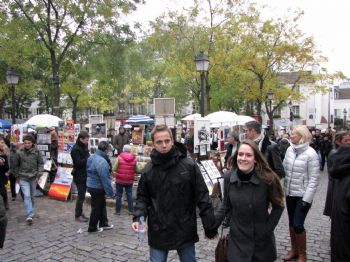 Let's be honest: I NEVER go to Place du Tertre. A couple of weeks ago, I had some friends from England visiting, and they told me how much they had enjoyed Place du Tertre. So I thought I should give it another try!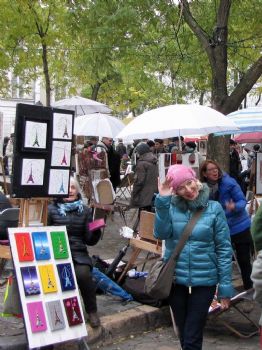 Well… I didn't like it. :( Sorry! It really is too touristy for me, it feels fake. But I can see why many people find it fun (and I have heard it is wonderful very early on the morning, its original atmosphere is back... I must be brave one day and go very early!!!).

I quickly left for quieter areas!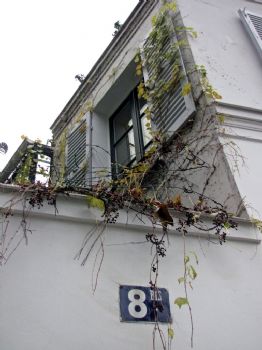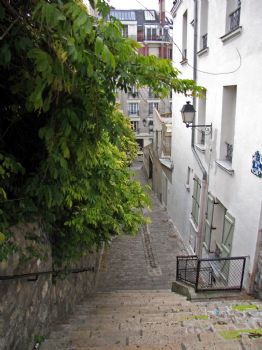 … and walked down rue Lepic, passing by its windmills…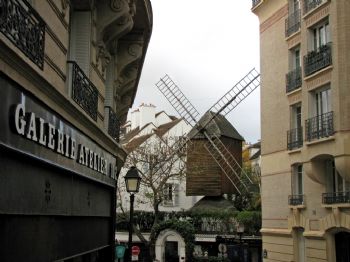 Montmartre was once peppered with 30 flour-grinding windmills (the pictures below date from before the 19th century, when most of the windmills were destroyed and most of Montmartre as we know it today was built)!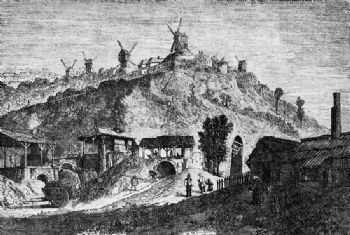 There are only two left today.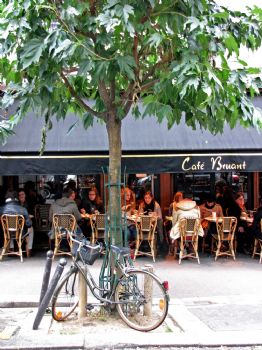 At the bottom of rue Lepic, I reached the area where all the lovely shops and cafés are, roughly between the Abbesses and Blanche métro stations. I love that area! The food shops especially are amazing.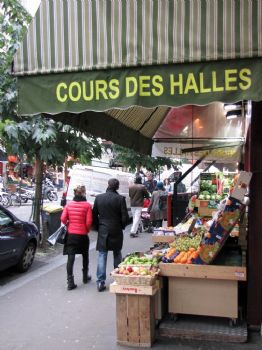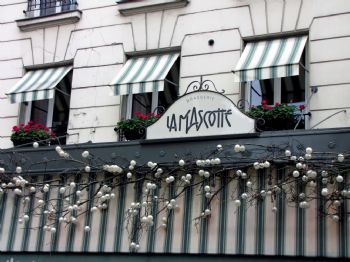 Then I walked towards my favorite Parisian theatre (the streets leading to it are just as lovely as it is!)…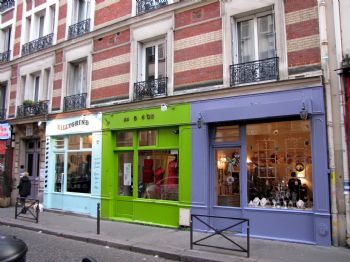 …. the Théâtre de l'Atelier…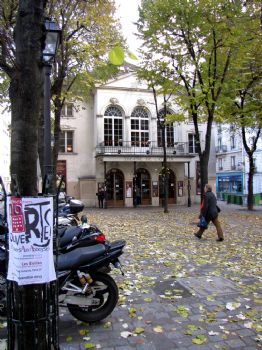 And I was back at the bottom of the Sacré-Coeur!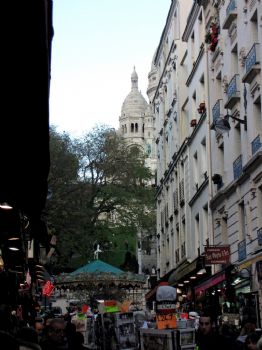 I then walked back to the Gare du Nord station to catch my train home and was glad for a 8,000+ steps walk in an area I know well and always enjoy so much (as you can tell, I am speaking in 'steps' now... I am completely addicted to my Sparktracker! Thank you again FITMAY for a wonderful gift, I cannot believe how much I love it!).

I hope it was also a pleasant tour for you all! Have a great Sunday!







Sunday, November 24, 2013
Hello dear Sparkfriends,

Well, I think the title of today's blog says it all: I am speechless. Today's hike didn't look like much at first…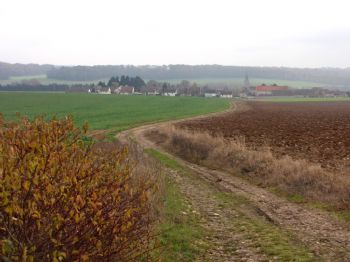 It started in Marolles, a village about 80 Km (49 miles) North-East of Paris.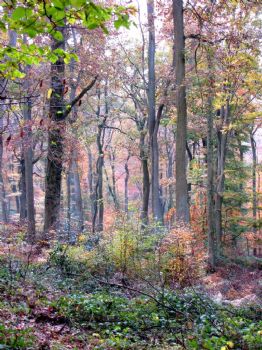 But as soon as I reached the woods (which was going to be most of today's hike), I knew I had chosen exactly the right hike for today…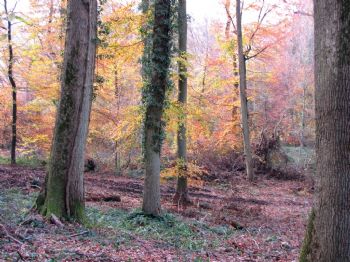 Little by little, I discovered so many gorgeous colors!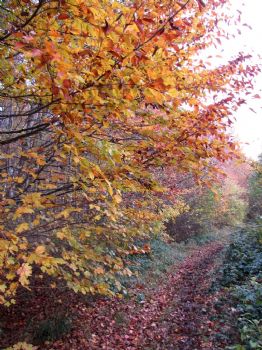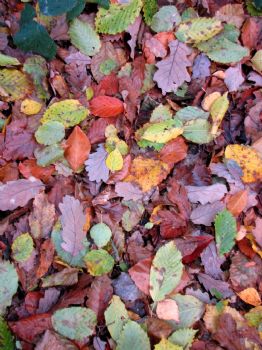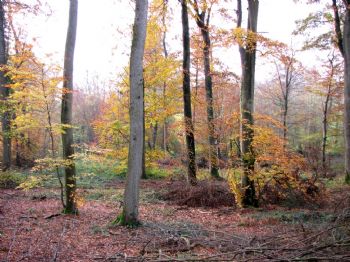 As often, I didn't meet anybody. Although I love being by myself, I felt sad in a sense that there was nobody else to enjoy all this beauty. But of course I was wrong… You were all there with me!!! :)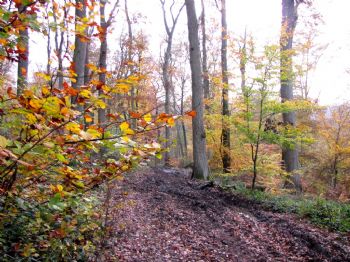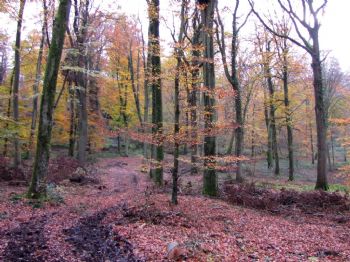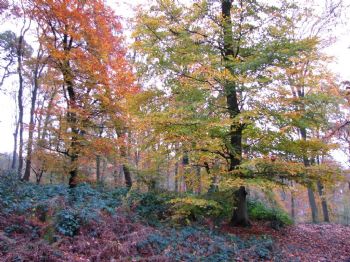 Please excuse my childish enthusiasm (especially if you live in Canada or in the North of the US and are used to such amazing fall colors!), but I wasn't sure that there would be much leaves left! So it really was all a treat…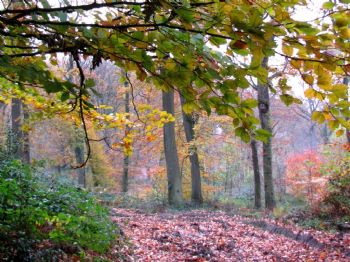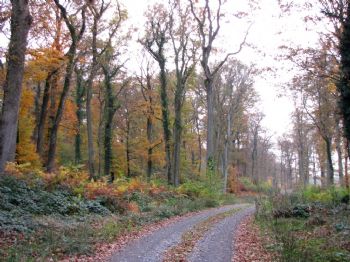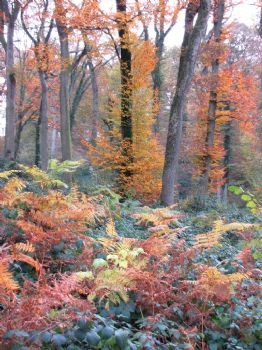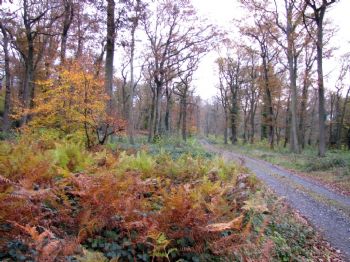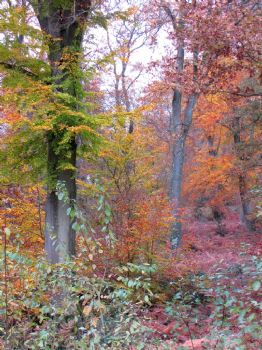 I think I took the wrong path at some point as the path I walked on looked really wild! But other people had obviously got lost before me on that path, so I could follow their steps!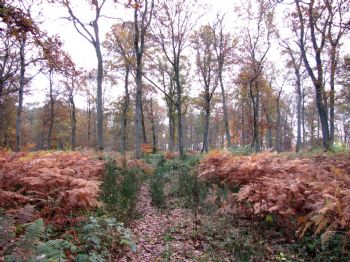 It didn't matter as it was beautiful, with all the ferns, and there was so much to look at (yes, it is a mushroom below!)…




I crossed another path which looked a bit more like what my hiking book described! I knew I had found the right path again…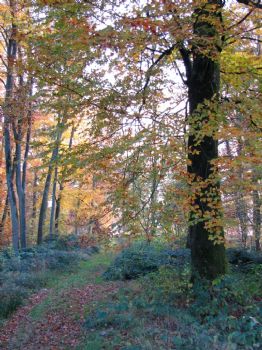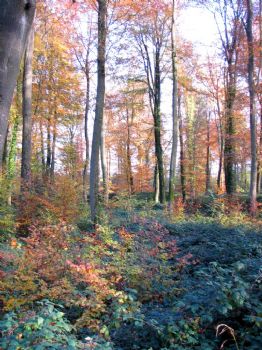 When I left the woods, the sun was shining bright!




A steep path took me to these two houses and the Queue de l'Ham lock on the Canal de l'Ourcq.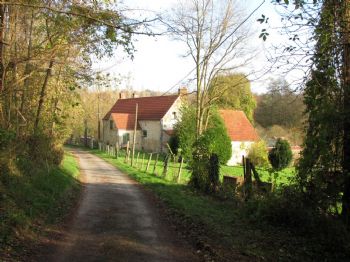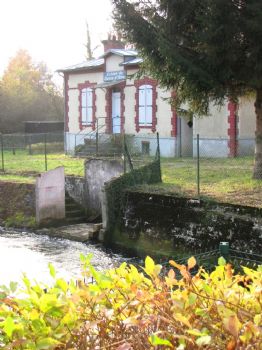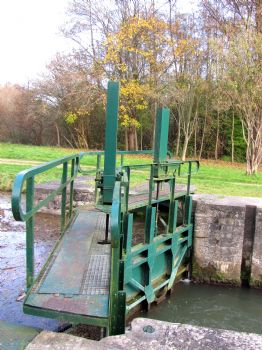 The Canal de l'Ourcq was built in the 19th century to bring water to Paris. Paris requires 380,000 m3 (497,000 yd3) of water daily for cleaning the sewer system, gutters, and parks. The Canal de l'Ourcq provides about half of it!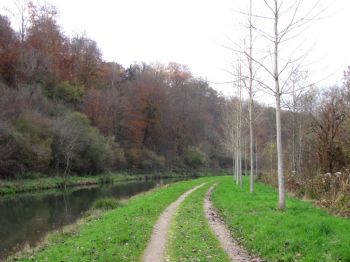 The Canal de l'Ourcq is over 108 Km (67.2 miles) long.




The path followed the Canal de l'Ourcq to Marolles. It was actually nice to walk on a very well maintained path with no mud… and of course, all flat!!!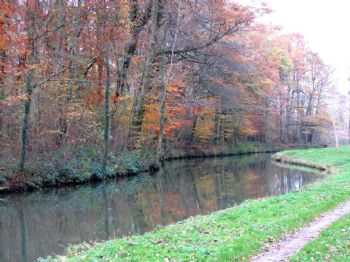 The reflections on water were beautiful too!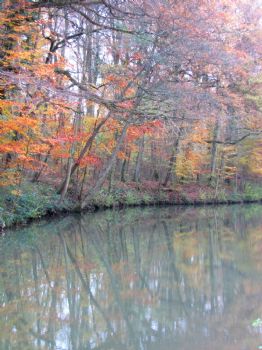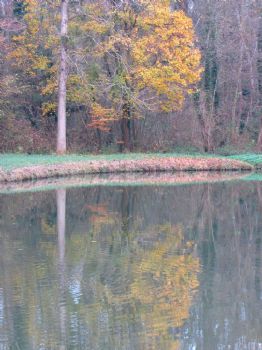 When I reached Marolles, I crossed the bridge on the Canal de l'Ourcq…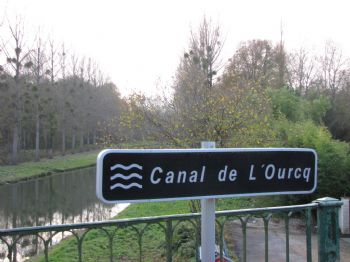 … and walked through the village to reach the 12th-century church, Sainte-Geneviève. In the village also there were some autumn colors!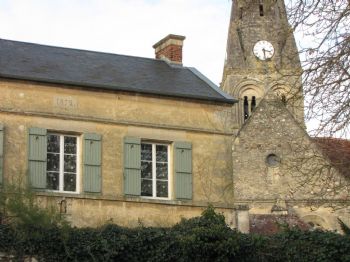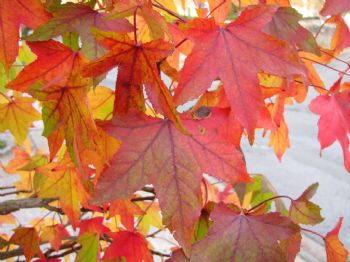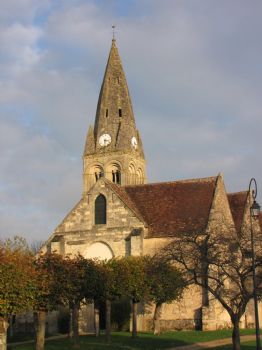 I am still in awe of all the beauty I saw today… I hope I'll dream of autumnal hikes through the woods tonight! Thank you for reading!







Sunday, November 17, 2013
Hello dear Sparkfriends!

I wasn't too sure I would have time to go on a hike today as I had some English friends staying for the weekend.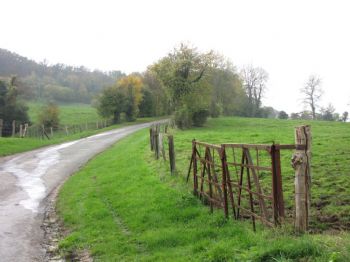 Luckily for me, they were happy to do their own thing and climb the Eiffel Tower without me... So I could go hiking this afternoon! These are the last few days of autumn colors in the Paris area and I wanted to make the most of them!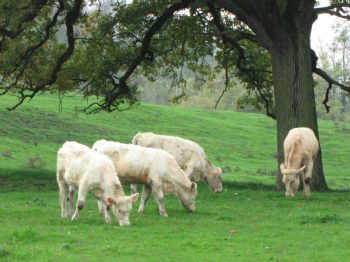 It was a great, challenging (steep and muddy again!) and beautiful hike, between woods and meadows, and crossing a couple of villages too.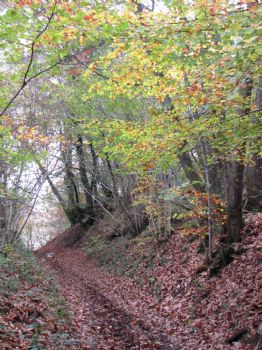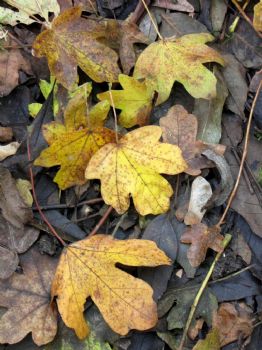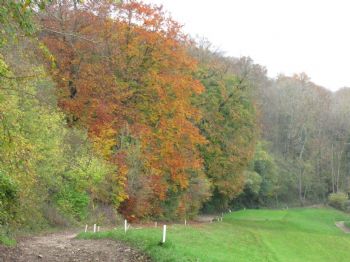 According to my guide book, there were several signs of pre-historical times to be found. I was so looking forward to seeing them! Well, I am very ashamed to say, I only found one (out of three), these stones by the side of the road… They are called 'pierres levées' in French (i.e. risen stones), but it seems uncertain what they were for. (I'll go back, maybe in the Spring, to look for the two other ones, this time with a very detailed map... I want to find them!)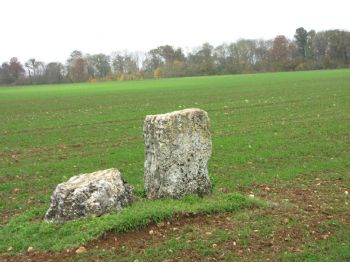 Still, isn't it amazing to think that thousands of years ago, near this forest…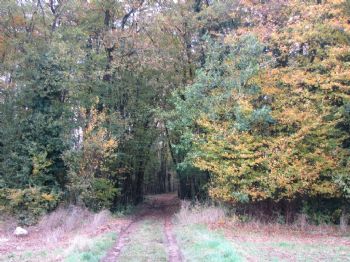 … exactly where I walked by today, some of our early ancestors 'built' these stones? To me it is mind blowing!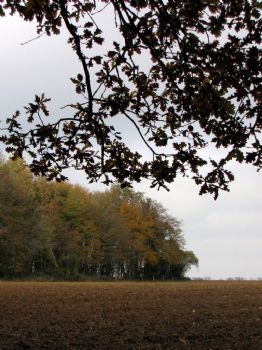 And probably they hunted in the same woods where I met hunters today (friendly ones, yay, it does happen!!!).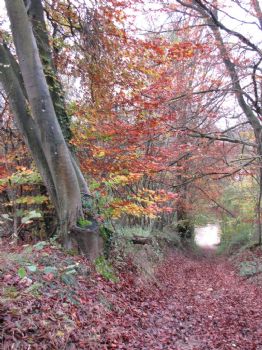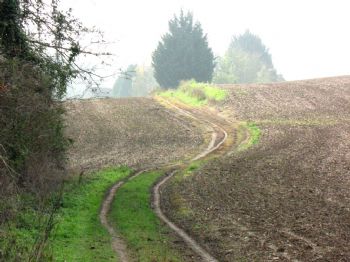 Suddenly, I was back in modern times as I reached Le Mesnil, a very charming hamlet…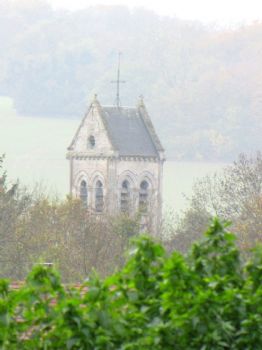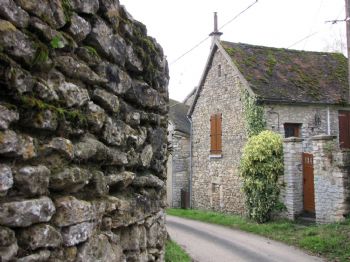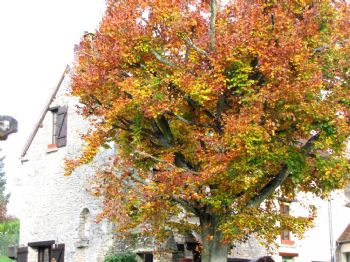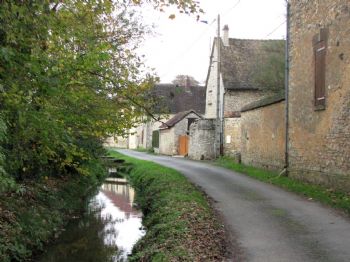 and the nearby village of Delincourt…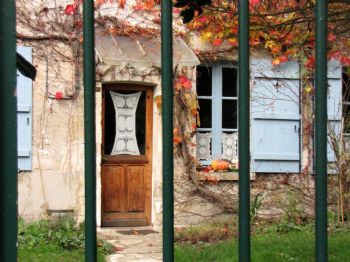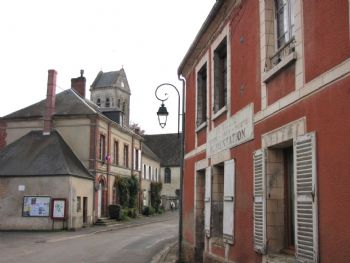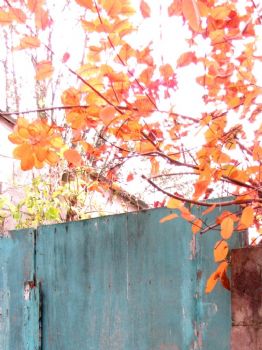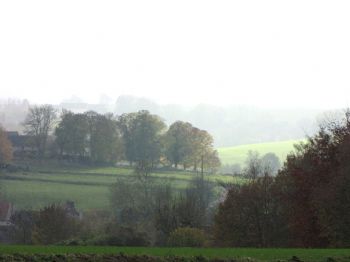 Then I walked through more stunning fall colors…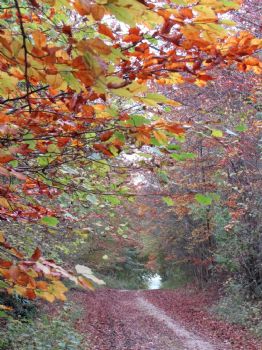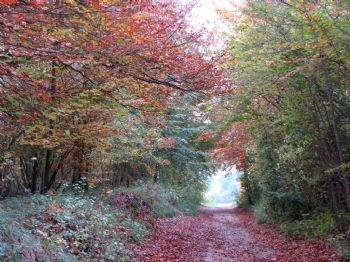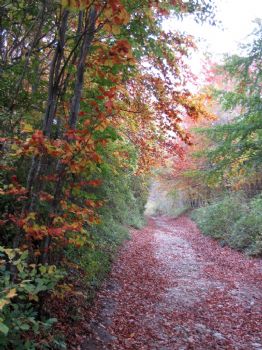 … until I reached Chambors…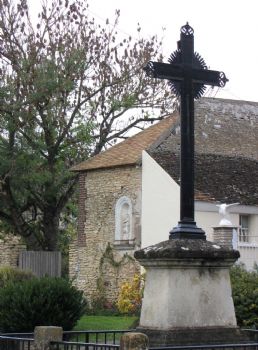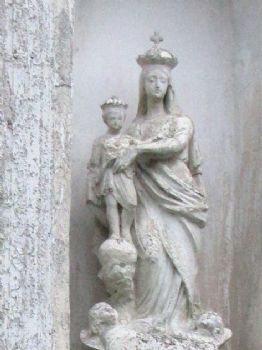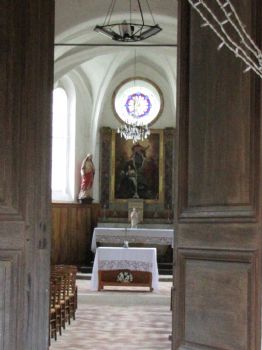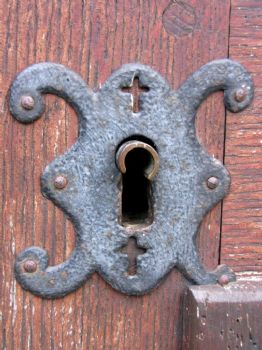 One last steep incline, some more autumn colors to admire…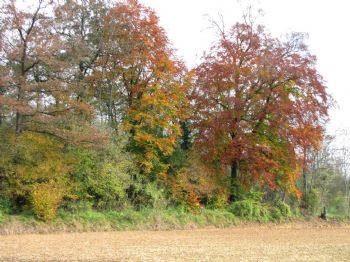 … and I was back at Trie-Château where I had parked!




What a wonderful way to spend a Sunday afternoon! Although I didn't see all the signs of pre-historical times I had hoped to find, I loved this hike, all 3 hours and 45 minutes of it!



Thank you for reading! I hope you also had a great weekend!







Sunday, November 10, 2013
Hello dear Sparkfriends,

I was so happy when I saw the sun was shining today! Perfect for a hike in one of the most beautiful places of the Paris area: the Vallée de Chevreuse (Chevreuse Valley).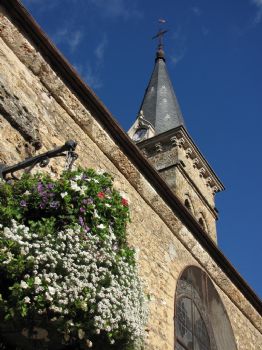 I parked outside Chevreuse's St Martin church (12th century) around 1pm… As you can see, it is still very mild in Paris, we haven't had any frost yet and the hanging baskets' flowers were in full bloom! I went in to have a look... I couldn't stay as there was a baptism service going on in the other part of the church, but I wasn't disappointed by what I saw…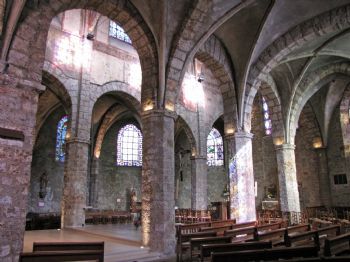 … especially as the sun was playing with the bright colors of the stained windows!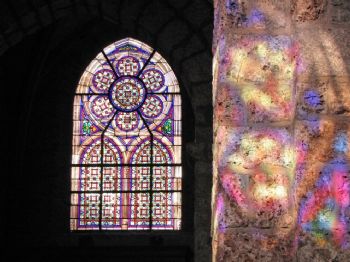 Apart from the fact that the path was very muddy (and very steep at times, but that's good!), it was definitely one of my favorite hikes so far…




Gorgeous weather, autumn colors, and water reflections… really I couldn't ask for more!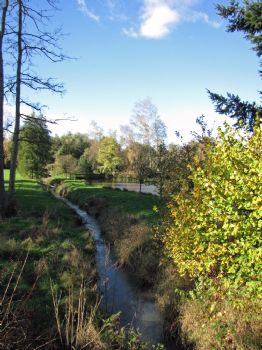 I mixed two hikes I had done last year and the year before. Two years ago I had got quite lost on a number of occasions, so I recognized very little of that hike!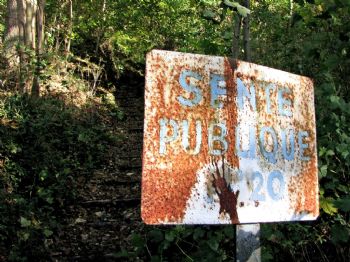 I had missed that path, that year… There is a big sign for it but I guess I must have thought it was just too steep! : )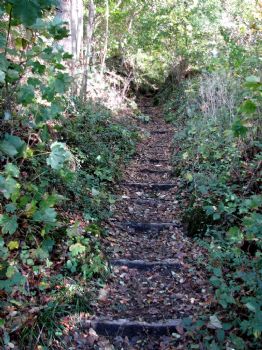 It led to a path that was much easier and wider, with lots of things to look at…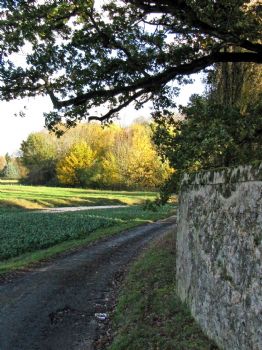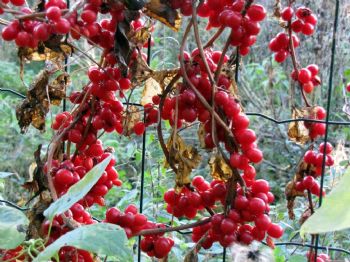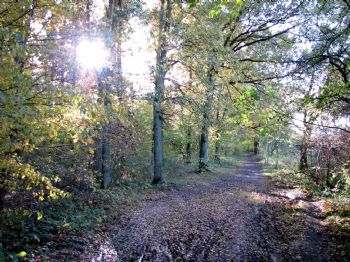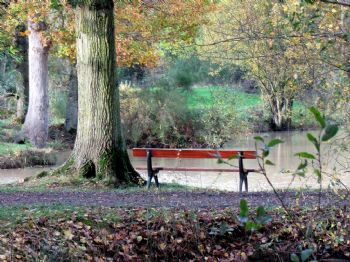 Beautiful reflections…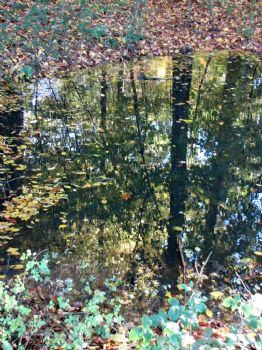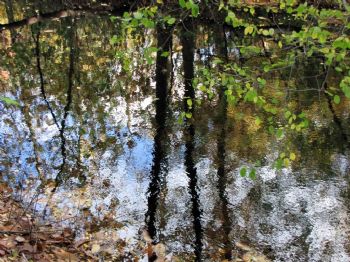 … the smell of freshly cut wood…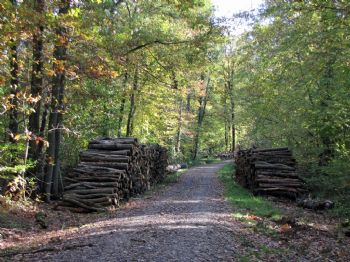 … and the sound of the leaves under my feet…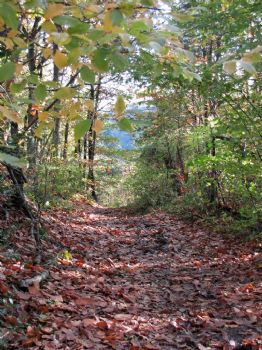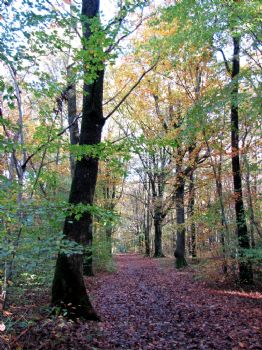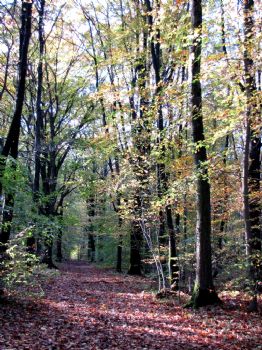 It made all the crazily muddy and steep paths well worth the effort!!!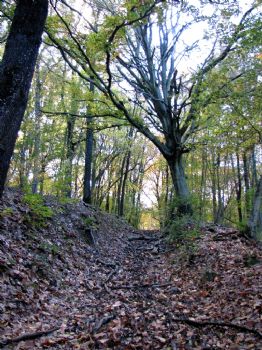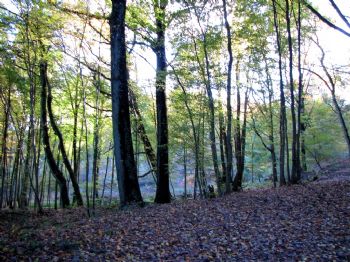 I almost didn't see that mushroom by the side of the path, it was so well camouflaged!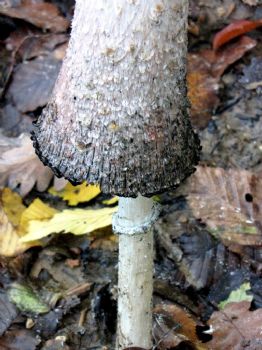 Then the sun was increasingly playing with the trees as it was going down (it was only about 3.45pm by then… winter really is approaching fast!)…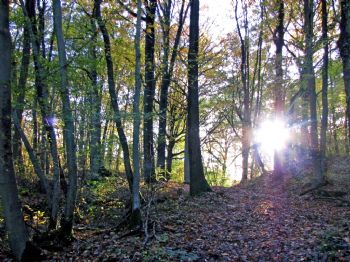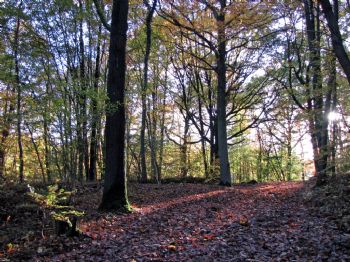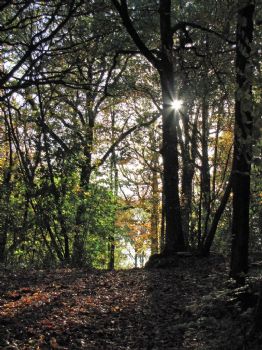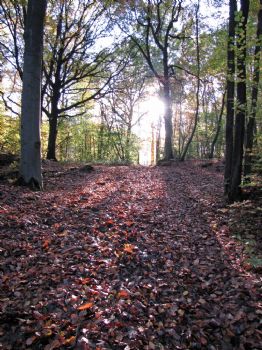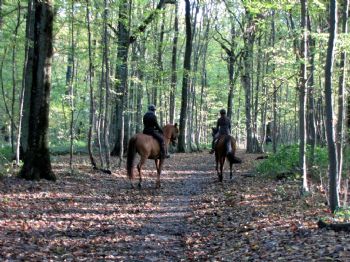 As I left the woods, I passed by the very impressive medieval Madeleine Castle (11th century).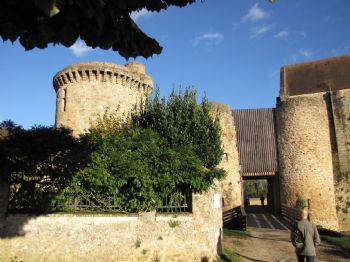 The view from there was beautiful on Chevreuse below, but I couldn't take a picture as I had the sun right in my face. So I took a side view, but I am not sure you'll be able to see much!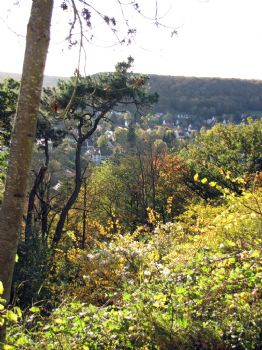 The path to Chevreuse was madly steep (of course, a medieval castle has to be built on a hill!)… This picture from the 19th century will give you a better idea!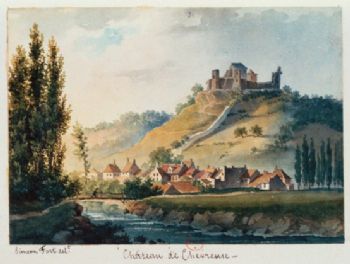 But I made it in one piece back to Chevreuse's church. Phew!




And that's it for today… 3 hours of pure hiking bliss!!! I hope you enjoyed sharing them with me. I know I loved sharing them with you!





PS: If you want to have a look at my two previous hikes in the area, here they are:

October 2011:
www.sparkpeople.com/mypage_public_jo
urnal_individual.asp?blog_id=4559958

November 2012:
www.sparkpeople.com/mypage_public_jo
urnal_individual.asp?blog_id=5145162






Saturday, November 02, 2013
Hello dear Sparkfriends,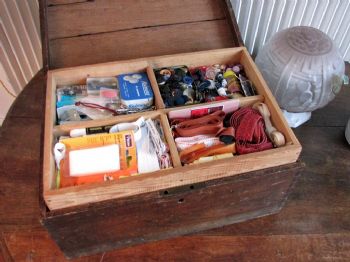 This big wooden box moved into my apartment a few weeks ago. But it had always been there in my memories as a child and teenager.

It used to belong to my grandmother...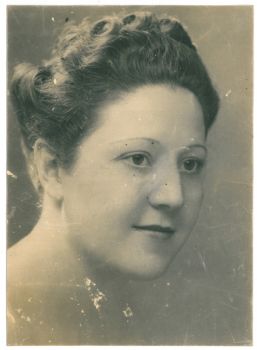 She was an amazing amateur sewer (she sew my mother's wedding dress), who also made her own hats and all kinds of embroideries, tapestries, etc. Her box is packed with sewing 'things' like lots of threads, beautiful old very fine needles and lots (LOTS!) of buttons...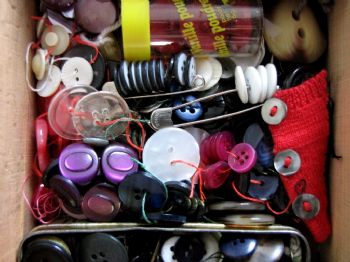 There are 3 levels.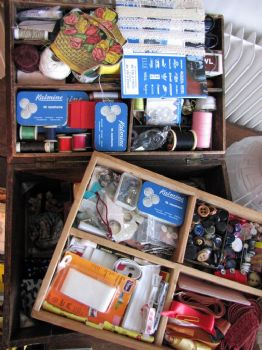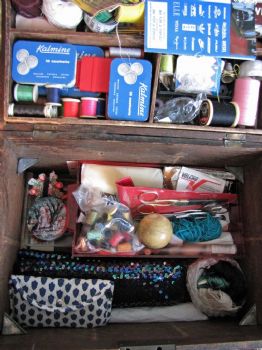 There are several boxes that, in the 50s, used to contain sore throat tablets. They are full of threads or buttons.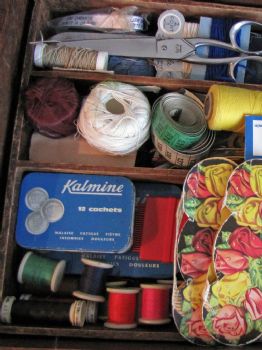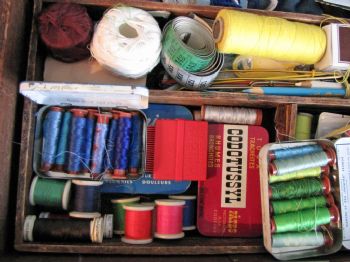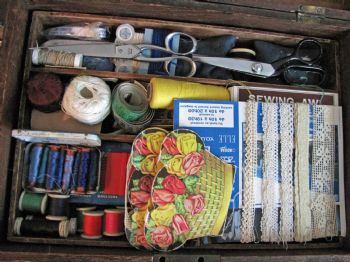 I am not sure but maybe this sewing box belonged to my great grandmother before my grandmother (it looks like it is from the 19th century, and my grandmother was born in 1911)...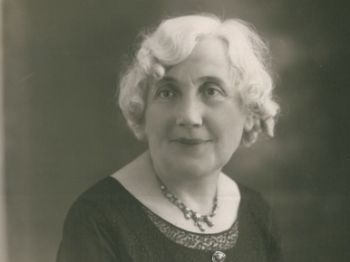 In any case, my mother grew up with this box, and I did too as my mother used it after my grandmother (this is a picture of my mother and I last August).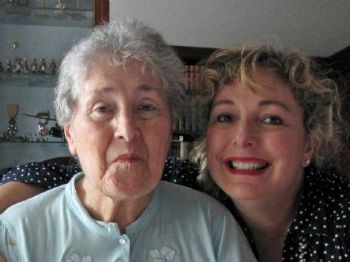 When my mother's Alzheimer's badly deteriorated, a couple of months ago, and my father said he couldn't care for her anymore, we had to choose a nursing home for her. I mentioned worry and tears on several occasions in my blogs these last few months, because it was (and still is) heartbreaking. I know several of you will know what I mean, and I am very sorry you have to experience this as well.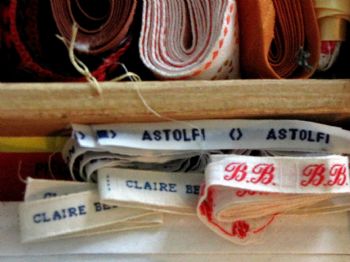 I cried when I first opened the box and found these. I don't know if these look the same where you live, but in France you sew these on clothes for children going to summer camp for example (you can see mine!) or for old people going to a nursing home. 'Astolfi' was the name of my mother's mother (who also had Alzheimer's). Underneath, there are the ones of my two other grandparents. And 'BB' was my great aunt, Berthe. My mother really kept everything!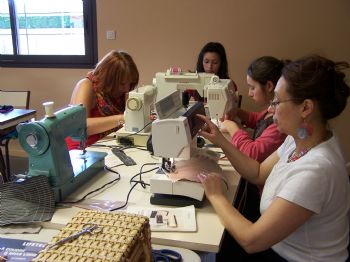 It is partly because of this box that I decided to go back to sewing and joined a sewing club in September (I found this picture of a sewing club on the Internet but it could be mine, except that our room is huge and there are about 10 of us!).
I used to sew a little with my mother as a teenager, but apart from making a couple of curtains, I hadn't for years.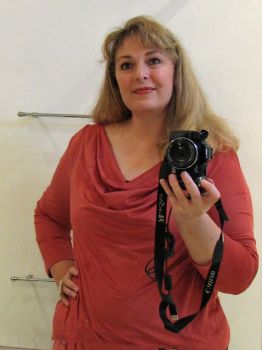 The picture above is of my first completed project! I finished it a few days ago (and as you can tell, I am very proud!) I know several of you already saw it on my page, but I couldn't resist showing you again!!! Now I am about to start sewing a laptop case in this Liberty fabric, with a mauve lining: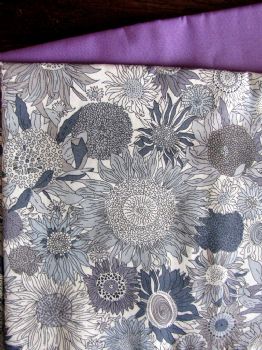 Apparently, I am crazy to have chosen one with a zip, but nothing can scare me! ;-) Here is the pattern in case you are interested:
www.designsponge.com/2011/09/sewing-
101-electronics-sleeve.html

Why do I tell you about all these? Because my aim when I joined SP was: 'Towards a lighter life'. And SP definitely has helped me and is helping me reach that goal! Joining a sewing club was a great idea, because it is a lot of fun and it helps me think about my mother and grandmother in a positive light rather than focus on Alzheimer's all the time.




Two weeks ago, when I reached the place where I had gone hiking, I realized I had forgotten my hiking book! Ugh. So I went to a sewing fair in the area and, although nothing can replace hiking for me, it was lovely...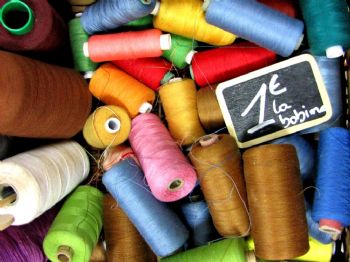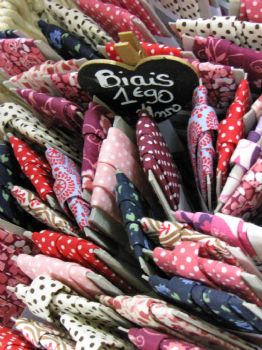 One of the stands there sold old sewing material (which cost a fortune!).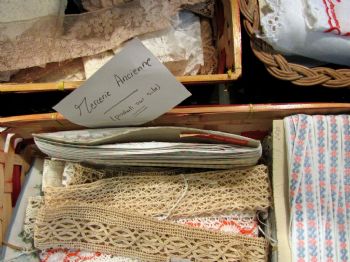 There was even the needles set that used to be my grandmother's, in a basket of roses (on the right).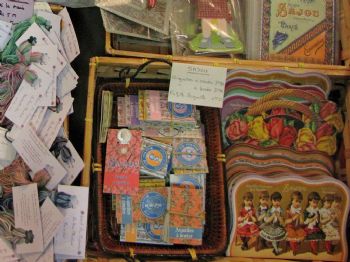 Of course I thought of my sewing box then, and when I went home I opened it and looked at it even more carefully. There are so many beautiful things! Let me end with these pretty sights...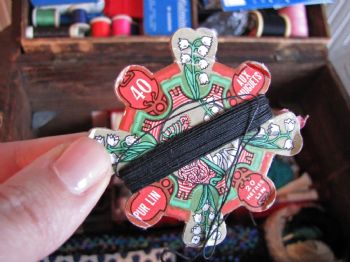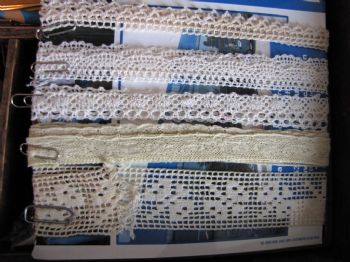 I hope you didn't mind that today's blog was more personal than usual, and wasn't about hiking for once!
Let's close the box for now...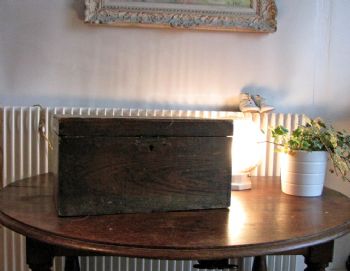 Thank you for reading!




1 2 3 4 5 6 7 8 9 10 11 12 13 14 15 16 17 18 19 20 21 22 23 24 25 26 27 28 29 30 31 32 33 34 35 36 37 Last Page

Get An Email Alert Each Time CLAIREINPARIS Posts