| | |
| --- | --- |
| | COACH_NICOLE's Recent Blog Entries |



Monday, April 29, 2013


WINNER WINNER CHICKEN DINNER! WE DID IT! I'm so excited because this morning I found out that my SparkPeople: Total Body Sculpting DVD took the top honor in the Home Media Magazine Awards . It won the popular vote and was named "Best Fitness Disc" of 2012, beating other very serious contenders like Rodney Yee, Denise Austin and Jane Fonda. Thank YOU so much for turning out the vote to help us receive this honor and for Spreading the Spark far and wide thanks to this award!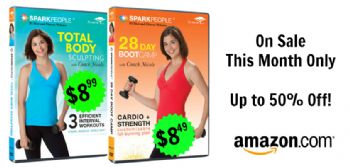 In related news, I wanted to give everyone here a heads up that two sales on this DVD (and the previous year's '28 Day Boot Camp') are about to close. BUT through April 30 you can save big on both of these titles. Amazon.com has slashed the price of both DVDs by 50% only through the end of the month (click here to find Total Body Sculpting), and Acacia, who produced and distributes our DVD, has both titles on sale for only $5 through the end of the month right here . While these titles together won't quality you for free shipping on amazon (you could always get something else to make up the difference, such as SparkPeople's new book , which releases May 7 but is already available for pre-order). Acacia.com does charge shipping, but one member pointed out to me that it still works out to just $8 per title when you buy both and pay for shipping. Still an awesome deal!



Lastly, I wanted to let you know that my friends at SkinnyMom.com invited me to be one of the star trainers in a 14-Day Slim Down workout challenge! If you sign up on their website, you'll get the workouts and recipes via email and be entered for a $500 cash prize. If you want a little motivation and workout jump-start, this could be just the challenge for you. May 6-May 19 are the challenge dates, but you can sign up in advance right here: skinnymom.com/star-studded-sl
im-down/

As always, thanks to everyone for all of your support, nice comments, DVD reviews, votes--and everything. It means so much to me and to SparkPeople.

Pssssst...more big news: We're filming a new DVD this June, and I'm listening to all of your feedback from the previous two when creating this one. Stay tuned!

Coach Nicole






Thursday, December 20, 2012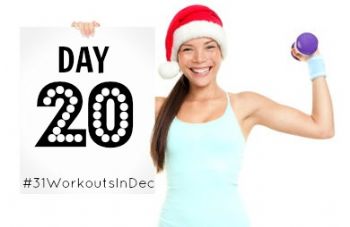 On my Facebook page , I started a little goal for myself (and my followers) to complete 31 workouts this month. I'm still going strong and on track to reach that goal and a lot of people have joined in the challenge, too! WooHOO!

Today I completed my Day 20 workout. It didn't turn out the way I expected it would, as seen in this video update I posted on Facebook . (Note: You don't need a facebook account to access my public posts, but if you watch, the rest of this blog will probably make more sense. Are you going to watch now? Ok, go. I'll wait.)

Post-video watchers, read on...

40 degrees, soaking wet, a mile from home...it was a GOOD moment. There were a lot of things I wanted to convey in that video that I forgot to mention until it was finished, so I thought I'd follow up with a few of them here.

Conditions Will Never Be Perfect
Anytime I think of skipping a run due to bad weather, I remember what a friend said to me once about a year or more ago. We were trying to plan a training run together and I didn't want to go in the rain. He said to me, "What if it rains on race day?" I had never thought of it that way before, and I have never missed a run due to weather conditions since. I just always ask myself that question. It has never failed to motivate me. It reminds me that you can't wait for the perfect conditions to run, to lose weight, to change your life--you just have to take what comes and go for it. Things will never be perfect. If you wait for that, you'll spend your whole life waiting.

You Are An Athlete
There's also something about running in rain, snow, heat, etc. that makes me feel really strong and powerful, like I'm doing something a lot of people would never attempt. I like to imagine myself as some hard core athlete, even though I'm not really anything near that. I have this running shirt I adore and sometimes I wear it when the weather is bad just as a motivator: Run, Snow, Sleet, Wind...Brave the Run. Powerful!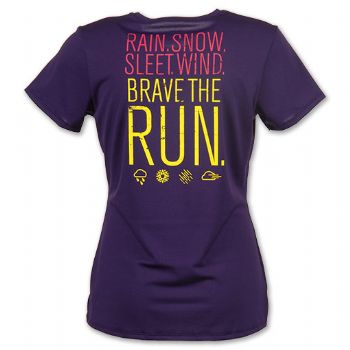 Choose Your Own Attitude
When it first started raining, I wasn't digging it. But I knew I wanted to reach my goal for the day. Sure, I could think negatively about it (it's cold, I'm wet, this is uncomfortable), but I have control over my thoughts and I can choose to think positively. And really, what's a little water going to do to you anyway? I try to see it as fun, like a kid playing in rain puddles. You can view that downpour as a bad thing or you can look for a silver lining.

Don't Make Excuses--Look for REASONS
You can let almost anything become an excuse to stop, start over or give up. Or you can look for reasons to keep going. What are your reasons?

Day 20 of 31 workouts = success!

Deep Thoughts with Coach Nicole...signing off. ;-)





Sunday, November 18, 2012

The first step to recoverly...

is admitting you have a problem.

For context, you have to have watched my blog from earlier this week first:
www.sparkpeople.com/mypage_pu
blic_journal_individual.asp?blog_id=51
36673





Thursday, November 15, 2012
Everyone at SparkPeople is hard at work creating new videos for our SparkCoach feature (if you haven't check it out yet, go now: www.sparkcoach.com).
I usually pride myself on getting things RIGHT on the first take. But there are definitely exceptions to that. I'm human! Things don't always go perfectly, I know.
Today I received an email from our video editor titled "PROOF". I had no idea what it was, but I clicked on it to see...this. Which is, apparently, exactly what I asked for!
I hope you enjoy this behind-the-scenes outtake as much as I did!
Moral of the story: No one is perfect. And being imperfect can be funny. ;-) (Cue Keyboard Cat.)
I envision a whole montage of bloopers coming to SparkPeople in the near future. What do you think?





Tuesday, August 21, 2012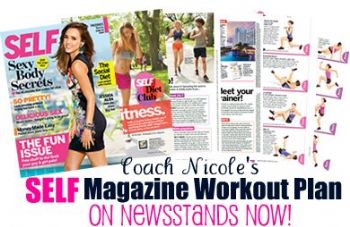 Good morning, SparkPeople!

I'm writing to share a fun and exciting update today. You may have seen this mentioned on SparkPeople or my Facebook page already, but in case you haven't, here's the big news!

I designed a workout for SELF magazine that's on newsstands now (the September issue). It features a kick-butt cardio plan and 16 tear-out workout cards (8 strength-training moves, 8 calorie burning plyometric moves) that combine together to form an awesome 4-week workout plan that is designed to help you drop 2 pounds per week (when combined with your calorie restricted diet, that is). The whole thing is supplemented online with email reminders, an online workout video and community support for everyone following the plan. All you have to do is sign up at www.self.com/club (it's free) to access the plan online.

I hope you'll check out the issue on newsstands, too. It was such a cool experience to create this workout with the editors at SELF, to be photographed for the exercises and the issue, and to develop a great plan with such a great partner. It's been a great experience overall and I am super excited to be able to share it all with you now!

OH, and I'll be answering questions on SELF's Facebook page every TUESDAY from 2-3 p.m. (EST) starting today through Sept. 25. I hope to see you there so I can answer YOUR questions about the plan, weight loss, and fitness in general. Just go to Facebook.com/SelfMagazine to post your question between 2 and 3 p.m.

Thanks so much for your support! I hope you enjoy the new workout plan!

Coach Nicole



1 2 3 4 5 6 7 8 9 Last Page

Get An Email Alert Each Time COACH_NICOLE Posts