| | |
| --- | --- |
| | DEB9021's Recent Blog Entries |


Sunday, August 17, 2014
Love summer, but boy, the dip into fall temperatures this week has been quite a treat!

I have been doing breakfast and my evening reading/writing out on our deck under the trees. This is because when I let our two dogs out to the back yard, they actually stay in the yard and whine at me until I join them. (They usually follow me around the house and sit at my feet when I stop, but apparently were torn between loyally following me around and staying put in the beautiful weather.). I doubt that we are really done with summer heat, but it is a nice switch, even if temporary.

Had some really enjoyable jogs this week. Did 5 miles yesterday without carrying water, and only started to miss it at the end. I hope this holds through my half-marathon next Saturday. I was not expecting a turn in the weather when I signed up for an August long race, so that would be an unexpected treat. since it starts at 6:30 am, even a switch back should not be a big deal a that time of day. But some mornings the heat comes up fast along with the sun, and I've noticed it's hard to adjust when the temp climbs by 10 or more degrees mid run.

Hard to believe the half-marathon is almost here. My training schedule seemed to stretch out forever, and now I am at the end of it already. Going to be a really busy week at work, so I am trying to plan ahead for dinners and exercise. I will make sure to drink up my water all week, and also bought extra fruit. When I've had tough runs, I think it is most often linked to feeling dehydrated. You can't fix poor diet last minute before a long jog, no matter what you throw down right before you go!

Delighted that my awesome Monday night yoga class resumes this week. I really missed it this summer, although I caught another class a few times and also did some yoga on my own.

One son started school last week, and the other will be back to college on Labor Day. Work is crazy with new enrollment and re-enrollment for those who left for summer. But I refuse to get stressed. I am Zen itself. Maybe. At least I am trying not to let the back to school chaos take hold on me. :-/




Sunday, August 10, 2014
Yesterday I did my last long run before my first half-marathon race, which is two weeks away (August 23). Made it 15 miles with lots of hills and felt good all the way. Yay!

So I know I will be able to do the 13 miles without much trouble, as long as the hills I've been working on are similar to the "rolling hills" on the course (my area is very flat, so I really made a point of working on this). In any case, the course description says the hills are mostly in the first half, and that the second half is flat and even downhill to the end, so that will help me out. I think I've got this!

Got up early on Saturday despite a late Friday night, and started my run at 6:30 am. This is the time the race will start, and yesterday was delightfully cool and breezy. Sunny and beautiful, but cool. I also changed up my run/walk ratio again. I switched from 5:2 to 4:1. Perhaps it was simply the cooler temp, but that really seemed to keep me going on pace. I did the whole thing without any extra or longer breaks.

I am still debating a bit about whether to carry my water bottle, but I am thinking I will. They have water tables marked every couple of miles along the course, but I am used to carrying mine. I like taking just a sip at a time. Also I always keep some fruit chews in the pouch of my water bottle holder, and I think I want to bring those along. Three hours is a long jog, and sometimes I start to get a gnawing hunger. Most likely won't be an issue with the early start time (won't be running into lunch time after just a light breakfast), but I'll feel better knowing I've got something in case I start to feel zapped.

Then there's my phone. That also fits in my water bottle pouch. I always bring it when I run on my own, for safety, and because I use an app on it to track my distance. No real reason to bring it, but I'm wondering if it would be helpful to keep an eye on my pace. I truly don't care about my time at all, but in shorter races I've found I almost always start fast because it is hard to find your own pace in a pack of runners. Not a problem on a short run, but could cause issues here.

On the other hand, jogging empty handed could be a treat ...

I think I am over thinking this :-/ Guess I'll just decide that morning, depending on the weather and how I feel.

Anyway, so excited to accomplish this goal. It has been very satisfying to work toward this, adding miles, getting stronger and feeling fit. I've found that the long runs provide a nice dose of solitude, and as my body tires it becomes easier (necessary) to focus inward. Thinking about form, about breath, about managing fatigue drives excess noise out of my head. You wouldn't imagine that a 15 mile run could be relaxing, but amazingly, it is!

How crazy does that sound?!







Sunday, August 03, 2014
According to the phone app that I use to track my run miles, last week I hit exactly 500 miles at the end of July. I started tracking in July of 2013. Amazing how all those miles add up!

Of course it's not completely accurate, because I don't generally use my phone during races, and occasionally it dies on me ... But it's about right, and it still is cool to see that number. I never would have guessed when I started the Spark 5k training challenge that I would be about to run a half marathon just over a year later. Whew! It makes me realize that a lot can be accomplished in a year, with just a small commitment to begin and then built upon as interest and ability allow.





Sunday, July 27, 2014
On yesterday's long run, I tried to combine both hills and distance. I powered through the first three sets of hills feeling strong, then had a bit of flat to rest up. But when I hit the last set of hills, smaller compared to what I'd already done, my legs just weren't having it. Whew! I walked a little extra, did a couple more miles flat, but then stopped at 10 instead of going to 15. Probably the downfall of doing loops through nearby residential neighborhoods ... Too many tempting exit points. :-/

Still, I think it was a good choice. My legs were way more tired than when I've done either hills (less than 7 miles) or distance (up to 15 miles) in the past. So going to 10 with the hills was probably a reasonable stamina workout, and I might have regretted it if I'd pushed farther. My legs were still a bit achy last night, which isn't usually the case after my runs. My pace stayed pretty good throughout, so I was happy with that.

So .. I will continue to work on hills this week. I have one more long run scheduled before my half at the end of August. Maybe next one I'll try the hills and distance again. Will definitely map out the full route ahead of time, though. Deciding how to add distance as I go along leaves me with too much debate in my head, rather than the determination to simply "make" the route I planned ahead.

But the benefit of jogging the neighborhoods--I conveniently ended near a Starbucks, where I picked up a deliciously cold iced peach green tea lemonade to enjoy on my cool down walk home. It had turned into a pretty humid day by the time I finished, and I had drained my water bottle, so this was excellent refreshment.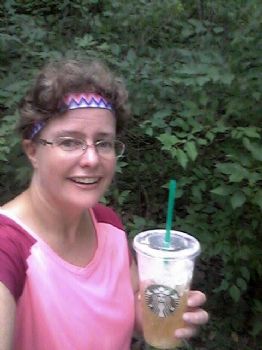 Monday, July 21, 2014
I always do my weekly blog on Sundays, but yesterday my internet connection was not cooperating, and I decided it was a sign that I should go to bed early. Which felt good, so I was glad I did.

Had a really busy week with lots of things going on at work, some long workdays, and several evening activities. I was ready to feel exhausted. I guess just feeling prepared for it was half the battle, though, because it turned out fine. It was really busy, but all went well.

I missed one of my runs, but did a little bit longer on my other two runs to make up for it. I am about a month from my first half-marathon and feel well prepared. I have been trying to do hilly routes on my short runs. My distance runs have been on the bike paths which are pretty flat. I have yet to put together both hills and longer distance, and am debating whether to give up my beautiful bike path route this weekend so that I can get in a 15 mile with both hills and long distance. I really love it when my long runs are away from roads, traffic and stop lights. I can lose myself in the solitude of a quiet, tree lined path for hours and it actually feels like a treat. Somehow I "feel" the distance more when I go along roads. But ... I do want to feel well prepared for my half marathon, and that means hitting those hills.

I think I have found my ratio for distance runs. Using the GymBoss interval timer has really helped me with staying consistent throughout my jog. When going by feel, I was taking short walk breaks in the beginning and longer at the end. And hitting a wall in the middle. I'm anxious to try another long run this weekend with a 5 minute jog/ 2 minute walk ratio. Last time I started with shorter walk breaks and adjusted it a few times during my jog. Which I thought went OK, but when I later tried doing the longer walk breaks throughout, I found I felt better and ran a better overall time. But the longest I've done with this method so far has been 8 miles, so this weekend's 15 mile will be the test.

Need to stay in the mindset that it is best to start out a long run slow, so that I can keep up the pace or even pick it up later. No point in starting quicker if it just slows you down later! Patience is hard. But I am happy that I have the stamina, if I do get over-tired, to take a longer walk break and then be ready to keep going. I know I will get there, no matter what!

Should know this already. It is similar to weight loss. If you try a crash diet, you might have early success, but you'll pay for it later. It is much better to set realistic goals, keep steady with them over time, and find long term success.

Patience, patience, patience. I will be the tortoise.





1 2 3 4 5 6 7 8 9 10 11 12 13 14 15 16 17 18 19 Last Page

Get An Email Alert Each Time DEB9021 Posts