| | |
| --- | --- |
| | ERIN1128's Recent Blog Entries |


Friday, December 19, 2014
Well, I started on the tramadol last night - half of one at bedtime, the other half when I got up - and it is HUGELY helping with the pain. Woooooo hoooooooooo!!!! I can't tell you how nice it is to be at a 2 or 3 pain level, as opposed to an 8 or 10. I was feeling funky for a little while this morning, but I think maybe that's because I took it on an empty stomach...the doc said I should take it with food, but I'm so used to just taking my pills when I get up (I work out, then eat breakfast) that I didn't think about it. So I'll try to be a little more careful about that.

We found out our committee chair (the Senator boss) the other day, and this morning we found out who the chief consultant (the staff boss) will be. So finally, things are coming together! Nice that we'll be able to leave for xmas break without everything being totally up in the air.

I was good at dinner last night - we went out for Paul's mom's bday - I had spaghetti and meatballs, passed up all the burgers on the menu, and didn't poach anybody's fries. And we didn't end up going out for ice cream after, so that was good!

I've been good this week, haven't eaten any of the xmas crap that has come through the office. I've been having one or two kisses from our candy jar about every other night, not too too bad. I've been faithfully eating my plain greek yogurt for my morning snack. We have switched from white bread to multigrain, and I'm now doing one piece of peanut butter toast and one hardboiled egg for breakfast, instead of two pieces of peanut butter toast. I really don't love hardboiled eggs, I think I will need to change it up by scrambling them some days or something.

Lost track of my runs this morning but I'm almost positive I did 9 runs, which is 13-1/2 minutes. Might have actually done 10 runs, but I don't think so. (I'm running 1-1/2 minutes, walking 2).

Okay, gotta run, our new chief is here!






Thursday, December 18, 2014
Saw the doc this morning to go over the results of the MRI test. SUPER helpful! I probably screwed up her schedule for the entire day, because she spent a full half hour with me, but it was just great. She went through all the results with me, walked through all the treatment options, etc. etc. etc.

Basically, I have four problem discs - the four lowest, right down to my tailbone. Two of them (the two lowest) are bulging badly enough to cause "nerve impingement" (pinched nerve) and "degeneration" (arthritis).

She laid out three tiers of treatment. First, pain management and physical therapy...she prescribed me traumatol and physical therapy, and suggested acupuncture. I've heard good things about acupuncture and I believe my insurance is going to start covering it in 2015 so maybe I'll look into that in January.

Second tier is going to the pain management clinic and getting an epidural or even a nerve blocker. (Apparently cortisone isn't an option.) She said there are really mixed results - some people get relief from an epidural for 3-6 months, which is ideal, but some only get a few days' relief. She recommended starting with tier one for a month and seeing where I am. She's willing to prescribe an epidural if I want it, but would prefer to avoid it, which is fine with me.

Third tier is surgery, but that's the extreme, only if absolutely nothing else works and the pain just can't be managed. She doesn't see that being in the cards for me. Whew.

So we're starting with tier one - meds and physical therapy. I asked her if bulging discs solve themselves and she said no, surgery is the only way to do that. So I asked okay, does this mean I'm now on traumatol for the rest of my life? And she assured me that no, the reason I'm in so much pain right now is because everything has flared up. She thinks if I can get through another month or so (e.g, with pain management), then the inflammation will settle down and I'll basically be back to normal. I assume I'll have occasional flareups in the long term, but I don't really want to think about that! :-p

She said I'm not in horrendous shape - I don't have any loss of strength in my legs, and I'm not having problems with incontinence, numbness, etc. So I guess it could be worse. Fortunately today is a good day, it's not bothering me much. Though I've been up and down a lot, which helps - time in the chair is a killer and it's going to be tough when the legislative session starts up in January and I'm back to sitting in meetings half the day.

Other than that, just continuing the daily juggle that is life. Took Bam-Bam out this morning for a 2.2-mile walk. No rain today, yay! We're supposed to have a dry day, then I think it's coming back tomorrow. We'll beat this drought yet!

Tonight we're doing an early dinner for my mother-in-law's birthday, before Kate's band concert. I'll have to be good! Especially since I'm sure we'll go out for ice cream afterward.

Happy Thursday!







Wednesday, December 17, 2014
I'm not ready, aaaaaaagh! How can it possibly be only a week till Christmas???

I did get a pile of presents wrapped on Monday evening, so at least our tree looks respectable now. :-) But I still have shopping to do - not looking forward to venturing out the weekend before xmas, but I don't think I'll be able to avoid it. Though I have a mammogram at 3:15 today and I think I can get away with not coming back to work afterward...I may try to zip over to the mall for a quick hit.

Kate is doing much better today so we sent her back to school, under protest...apparently she has suddenly decided school is boring. We told her suck it up, three more days and then you're off till next year, LOL! Plus, they're hardly working this week anyhow, between all their Native American report presentations, holiday activities, etc. Life is tough in fifth grade. ;-)

Anyhow, she went crazy yesterday on party planning...we're hosting the Girl Scout troop on Sunday night, and Kate has planned the entire thing, with some help from a friend. I'm pretty impressed, actually - I had her give me the rundown yesterday and she is all over it! There will be a "fort" to play in (guest room); a cookie-decorating station (kitchen); an art station (dining room table); decorating the guinea pig cage with ornaments they make at the art station; marshmallow roasting (back yard, unless it rains in which case we'll do it in the living room fireplace); and caroling in the living room at the end. Oh, and a scavenger hunt!

She and Amelia have made an individual program for each girl, and yesterday Kate made a present for each girl and wrapped them - little books of word games, coloring books, etc. Wow! She and Amelia are planning to divide the girls in groups and take them to each station (we only have six girls total in our troop, so small groups!).

So really, all I have to do is make the gingerbread cookies and build the fire for marshmallows. Paul and I are planning to sit in the living room and drink wine, along with any other parents who want to hang out with us! But seriously, I think the girls will have a great time, and I'm so glad we were able to make this work - she was SO bummed about not being able to do a Halloween party, but between our October vacation and the campaign work I just couldn't make it work.

Anyhow, got out and did some running today (and got wet, of course, despite the radar being clear...sigh). Got 2.8 miles in, 13 minutes of running, about 40 minutes total. I'm really feeling tired, not sure whether it's because I ran a little more than usual or because I ran two days in a row. But it's a good tired!

Well, back to work. Happy hump day!






Tuesday, December 16, 2014
How's that for a blog title? Get your attention? LOL!

Had a rough day yesterday with the back pain, but thankfully it eased up by bedtime and I got a decent night's sleep. But I tell you, if the doc offers me a cortisone shot on Thursday, I'm taking it! It would be blissful to have even a couple days without pain, at this point.

I talked to my chiropractor yesterday about the MRI results and she said they'll probably prescribe physical therapy, which I"m basically already doing (I'm doing about 10 minutes of exercises every night, mostly ab stuff like crunches and pushups on the ball). She said they've really moved away from surgery, because of the low success rate (3-5 years tops). Possibly a shot also, but the risk of a cortisone or epidural is that if you don't feel the pain, you won't be as careful, but of course the upside is you don't feel the pain! We'll see what the doc says on Thursday.

This morning when we woke up, it was absolutely pouring rain. No way was I going out to get soaked again! Yesterday was pretty miserable. But Paul looked at the radar and said it was totally clear after that shower, and pushed me (rightfully) to go. I didn't have a lot of time since I had an 8:30 dentist appt for a sore tooth, but I got in a mile and a half, and about 7 minutes of running. And didn't get rained on, yay!

Note that he and Bam-Bam stayed behind. ;-) But we kept Kate home again today because she's still pretty congested, and it's my turn to stay with her today, so I'll take BB out this afternoon since it's not supposed to rain again till around 5pm.

Let's see, what else. Oh yeah...no cavities, yay! I was really annoyed because I've had a sore tooth for a couple weeks, and I just had a cavity filled last month. But the dentist thinks it's just sensitive because I"m grinding my teeth really bad right now because of the back pain. (And yes, I wear a mouth guard at night). He did grind down the new filling a bit, thought that would help. I'm just relieved I don't have yet another cavity!!

I'm having my greek yogurt snack right now. Per the dietician's suggestion, I'm now doing plain greek yogurt, not the kind with the fruit you can mix in. (Lower carbs.) To my surprise, it really isn't bad. The first mouthful is a bit of a shock - I mean, does anybody actually LIKE plain greek yogurt? LOL! But once I get past that I'm fine.

Okay, I guess that's enough rambling from me. The kiddo is working on party plans (we're hosting the Girl Scout troop for a Christmas party on Sunday night, and she is basically doing the whole thing!)...anyhow, she keeps tearing across the house to come show me the latest thing she's done, so I think she's going to be okay to go back to school tomorrow!











Monday, December 15, 2014
Lordy, my back is bad! I was doing okay this weekend, since I was on my feet a lot, but yesterday evening I was laying on the couch and the dog jumped on me. OY. Had a terrible night, just couldn't get comfortable. :-(

I got my MRI results this morning - several bulging discs and, therefore, nerve impingement. Which explains all the pain! The good news is, from what we could find online it doesn't sound like it will require surgery. The bad news is, I don't see the doc till Thursday. I soooo want a cortisone or epidural shot right now! Hopefully it'll ease up. Walking this morning (in the pouring rain!) helped a bit, but I keep getting pains shooting down my legs. Ughhh.

Busy busy weekend...Kate and I spent the ENTIRE afternoon shopping on Saturday, and did more yesterday afternoon because the Girl Scout troop shopped for our "adopted family" for Christmas. (My kid is the crazy one in the back, in the gray shirt and white vest.)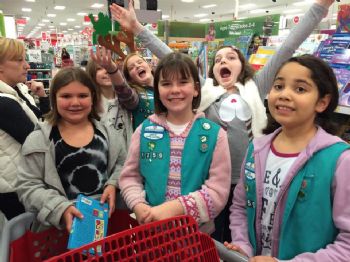 And yesterday morning Paul and I tackled the annual gutter-cleaning at the rental. Why people think buying a place and renting it out is a good idea, I'll never understand! The landlord life is not a glamorous one. My dad actually owns this place, we manage it. But he does compensate us for it...hence, the hot tub that will soon be in our back yard, woo hoo!

Good news, our first choice for consultant accepted this morning and will start January 1st, yay! And our new Fellow is here this morning, we got our first choice there too. So now we're calling the other folks to break the news, which is a bummer, but we'd rather they hear it from us than through the grapevine.

Well, I keep getting interrupted so I'd better get back to it!




1 2 3 4 5 6 7 8 9 10 11 12 13 14 15 16 17 18 19 20 21 22 23 24 25 26 27 28 29 30 31 32 33 34 35 36 37 38 39 40 41 42 43 44 45 46 47 48 49 50 51 52 53 54 55 56 57 58 59 60 61 62 63 64 65 66 67 68 69 70 71 72 73 74 75 76 77 78 79 80 81 82 83 84 85 86 87 88 89 90 91 92 93 94 95 96 97 98 99 100 101 102 103 104 105 106 107 108 109 110 111 112 113 114 115 116 117 118 119 120 121 122 123 124 125 126 127 128 129 130 131 132 133 134 135 136 137 138 139 140 141 142 143 144 145 146 147 148 149 150 151 152 153 154 155 156 157 158 159 160 161 162 163 164 165 166 167 168 169 170 171 172 173 174 175 176 177 178 179 180 181 182 183 184 185 186 187 188 189 190 191 192 193 194 195 196 197 198 199 200 201 202 203 204 205 206 207 208 209 210 211 212 213 214 215 216 217 218 219 220 221 222 223 224 225 226 227 228 229 230 231 232 233 234 235 236 237 238 239 240 241 242 243 244 245 246 247 248 249 250 251 252 253 254 255 256 257 258 259 260 261 262 263 264 265 266 Last Page

Get An Email Alert Each Time ERIN1128 Posts