| | |
| --- | --- |
| | ERIN1128's Recent Blog Entries |




Sunday, July 20, 2014
Well, today marks the last day of staycation. It's been a really good one - I am far better rested and much more relaxed. And, I suppose, more fit, if not weighing in less. I decided to take today off from working out - haven't taken a day off since the first day of vacation (July 4th).

I probably need to start tracking my food again, and I'm trying to figure out a way to do it that won't drive me crazy and feel so time-consuming that I'll quit. I have not had a lot of luck with Spark's food tracker, I feel like it takes forever to try to match what I eat to it. I really liked their journal feature and have used that off and on, but this last website update seems to have gotten rid of it, I can't find it anymore. I"m thinking maybe I'll go old school and just start hand writing stuff in a notebook - maybe try that for a week and see how it goes. The food tracking helps me to be aware of how much and what I'm eating. A first step, at least - maybe if I can get myself in the habit of basic tracking, then I can move up to using the spark food tracker again and really start looking at calories and all.

Anyhow, had a pretty quiet day yesterday, which was nice - I even got some scrapbooking time in, yay! Paul's out walking the dog right now - hopefully Kate will be up when he gets back and he will make up a batch of steel-cut oatmeal (her request for today's breakfast). Yesterday she and I made a Cooking Light recipe for blueberry coffee cake, soooo good! We had it for dessert last night. Forgot to get almonds, but it was fine without them:

Blueberry Coffeecake with Almond Streusel
www.myrecipes.com/recipe/blueberry-c
offeecake-almond-streusel-50400000135376/

After breakfast, Paul and I are going to tackle Room 2 of "Project Deep Clean" - our bedroom. We figure every room will be easier than the first one, since in the office we had to scrub down the walls! (The guinea pigs live in that room, so it was pretty bad). Won't be fun, but very necessary. If we can blow through one room every weekend, we can get it done fairly quickly, hopefully. So anyhow, that'll be my workout for today!

Have a great Sunday!







Saturday, July 19, 2014
Let's see, where did I leave off. Oh yeah, Thursday - we took my dad to see the Governor's Mansion, which was really cool, and then he treated us to lunch at the local crepe place. The mansion was really beautiful: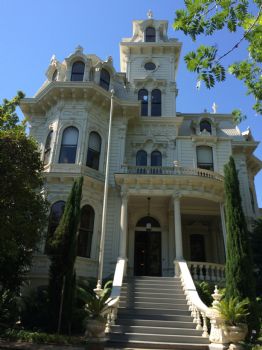 Yesterday we headed back to the Folsom Zoo - Kate wanted to see the animals again, and to show Paul everything. We also hit Costco, oh boy. Then came home and had a quiet afternoon.

My staycation is almost over, wah! It's going to be hard to go back to work, big adjustment. Though the Legislature is in summer recess for another two weeks, so I'll get to ease back in. :-)

Scale was up this morning, aaaaaaaaaaargh. It is my time of the month, so I suppose I could blame that, but really - all the miles of activity I've logged the past two weeks, and I haven't lost anything??? How is that even posssible? Really discouraging.

But I took the pooch out for a nearly 3-mile walk this morning, trying to just keep plugging. But clearly I have to do more than just the activity side. I have been hitting the carbs - not necessarily eating a lot, but carbs have been a big part of what I have been eating, if that makes sense. As much as I hate hate hate to say it, I think I am really going to have to focus on getting those carbs down and see if that moves the scale. Ugh. I was just soooo hoping that ramping up my activity during staycation would help me lose a couple pounds...and I could just get started losing, it would really motivate me to work harder. But to do this much exercise and not lose anything, just makes me want to stay in bed. :-P

Anyhow, no plans this weekend, which is kind of nice. Paul is meeting a friend for breakfast this morning and then hitting the grocery store. Kate and I are going to hit the Girl Scout store and Target to pick up a few things for Girl Scout camp - next week!!! (28th to the 1st). She's excited and I'm excited for her, but I'm going to miss her! She's gone away to Grammy's for five days, but we've always been able to talk to her every day...this time, no communication allowed. Which is good, they want the girls to build some independence, but it's tough on the parents. ;-) So I'm making some cards so she can get something at mail call each day - got the idea from the friend and I"m having fun. Here's one of them: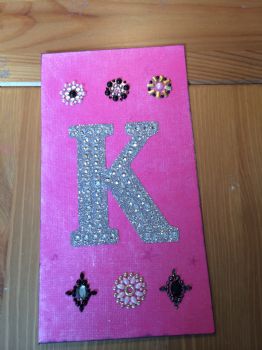 Okay, enough rambling, time to go get some breakfast and get this day going! Happy weekend!






Thursday, July 17, 2014
Well, Paul ended up driving home last night, so we are no longer an all-girl house, LOL! And he took the pooch for a walk this morning, so I got to go for a bike ride. Of course, once I got on my bike and realized how windy it was, I wasn't so enthusiastic! Oy...my legs are really tired. Rode 9.8 miles in 52 minutes, I don't know how I did that.

But I don't have to be on my feet too much today - we're taking my dad to go tour the Governor's Mansion (another stop on our "nearby places we've never been" tour) but I think the tour is less than an hour and then we'll go to lunch, then a quiet afternoon. And I think we're only going to try to do swim lesson tonight (Tues we did swim and band, last night we did karate and swim).

SUGIRL blogged yesterday about making running fun again and lessening the emphasis on tracking. I thought of that today when I was riding - I saw a little road that I often ride by, and I've been curious where it goes, but I never want to check it out because it's not a "real" road and therefore I can't log it. Well, today I decided that's just silly - just because I can't log it doesn't mean it's not exercise! And part of the fun of bicycling is that you can wander all over the place, do a different route every time. So today I checked it out. It turned out to just loop around to the road I usually take, but now I know! And it actually turned out that I was able to log it - bonus. :-)

Well, it's coming up on 9am for pete's sake, and I haven't even eaten breakfast yet! I don't know how I'm going to get myself back on a normal schedule next week when I go back to work. But in the meantime, I'm going to enjoy the laid back life!






1 2 3 4 5 6 7 8 9 10 11 12 13 14 15 16 17 18 19 20 21 22 23 24 25 26 27 28 29 30 31 32 33 34 35 36 37 38 39 40 41 42 43 44 45 46 47 48 49 50 51 52 53 54 55 56 57 58 59 60 61 62 63 64 65 66 67 68 69 70 71 72 73 74 75 76 77 78 79 80 81 82 83 84 85 86 87 88 89 90 91 92 93 94 95 96 97 98 99 100 101 102 103 104 105 106 107 108 109 110 111 112 113 114 115 116 117 118 119 120 121 122 123 124 125 126 127 128 129 130 131 132 133 134 135 136 137 138 139 140 141 142 143 144 145 146 147 148 149 150 151 152 153 154 155 156 157 158 159 160 161 162 163 164 165 166 167 168 169 170 171 172 173 174 175 176 177 178 179 180 181 182 183 184 185 186 187 188 189 190 191 192 193 194 195 196 197 198 199 200 201 202 203 204 205 206 207 208 209 210 211 212 213 214 215 216 217 218 219 220 221 222 223 224 225 226 227 228 229 230 231 232 233 234 235 236 237 238 239 240 241 242 243 Last Page

Get An Email Alert Each Time ERIN1128 Posts