| | |
| --- | --- |
| | FIRECOM's Recent Blog Entries |


Monday, January 20, 2014
My granddaughter had her marvelous wedding on January 3rd and it was a hoot, to say the least. Being grandparents, we did not anticipate being in the wedding in any formal nature.

Yeah, right—

Hailey and Matt had some surprised in store for us.

She asked for us to be at the rehearsal so we went only to find out that Marj and I were to lead the wedding party onto the large patio where the wedding was to take place. SURPRISE NUMBER ONE.

A beautiful ceremony followed by a great dinner. But SURPRISE NUMBER 2 was to take place before the dinner. Hailey came to me and asked if I would say grace for the guests. Ever know a grandpa say no to a granddaughter? Well, I was not going to break that tradition and I proudly accepted and did so in grand style.

Marj and I both use canes so when she commanded that we try one dance together, we agreed. So here comes to old codgers, onto the floor and away we went, our canes clanking together (my cane was leading, of course). I noticed that as the dance progressed at least for 2 hours – at least it seemed 3 hours, the dancers were leaving the floor until we were the only ones still afloat, uh, rather, moving.

This is SURPRISE NUMBER THREE.

The MC approached me and he introduced us to the crowd. He then asked to turn to face the head table and there was Hailey and Matt and then he asked me how long we have been married. I stuck out my chest and proudly stated, FIFTY SIX YEARS and the crowd oohed and awed in approval.

I was then asked … "Do you have any advice to give the newly married couple on how you have managed to be married so long?" I said I certainly did.

My advice is this. "Your grandmother and I were married in a time when it was the norm to fix things, not take the easy way out and just throw it out and start over. When something breaks, and believe me, it will break once in a while, everything does. Don't throw it away and start over. FIX IT. That is my challenge to the two of you."






Thursday, November 28, 2013
Well, before I get into the meat of this blog, I want to extend my heartfelt thanks for all of your wonderful comments and prayers. I would like to send a personal message to each and every response to this serious matter. Unfortunately, my condition has degraded and I find that I just don't have the energy to do this.

I want all of you to know that I cannot find the right words to really show my appreciation.

NOW …

The primary reason for this issue is to tell each of you that my Lymphoma has now been classified as TERMINAL. As to my time line, it is not cast in stone, but has been described in two expected possibilities.

WORST CASE is 3 to 6 months.

BEST CASE is 1 to 2 years.

I am now on a different chemo cocktail. I started on R-CHOP which is touted as the Cadillac formula but I was not responding to this protocol. As a result, the oncologist changed to GEM/OX plus RETUXIN. I have had one treatment and was scheduled for number 2 today, but it has been put off for a week because the platelet count is too low. Hopefully this count will recover enough to proceed next week.

I asked my doc this morning what will trigger the WORST CASE and he said nothing specific is involved. I will begin to simply start going downhill. Loosing lots of weight, low appetite He said you will know.

About 10% of patients will experience a longer time, but he does not know of any confirmed cures. A very small numbers may live up to 5 years. THAT IS MY NEW LONG TERM GOAL.

Marj and I are hoping to make three trips next year. The first to Houston to visit her family, who I love dearly. Then on to Portland to visit my family and Seattle to visit our sons and families and dear friends.

We hope to have time to make a trip to Grand Junction, CO, my birthplace, to visit friends and the Colorado National Monument, which is one of my favorite places on earth.

Remember what I wrote in my first blog about this matter. NO PITY PARTIES.

I have had a wonderful life. Married to a wonderful woman who is my friend and partner for 56 years, 5 sons, 3 daughters in law (who we lovingly call our daughters). And 11 grandchildren. We don't have great grandkids and I really wanted to hold another baby, but this is not likely. We have one granddaughter that is married, and another getting married on January 3rd.

When the time is right, we will move in with our son in Chandler, AZ. This means selling our home and settling in with family.

I will stay as active as possible in SP for as long as I can. My immediate goal is to make that magical LEVEL 20. I will make it, I promise.

So keep up the great attitudes that is exemplified in our SP friends and send them my way if you can find the time.

I wish all of you, HAPPY THANKSGIVING, MERRY CHRISTMAS AND HAPPY NEW YEAR. You will not hear any Happy Holidays from me.

God bless us all, each and every one. (I think Tiny Tim said that on Scrooge).






Monday, November 25, 2013
In the chemo room, there is this mini refrigerator. Being of the curious type and with a very, very weird sense of humor (at least I think its humor), I asked the entire staff just one little question.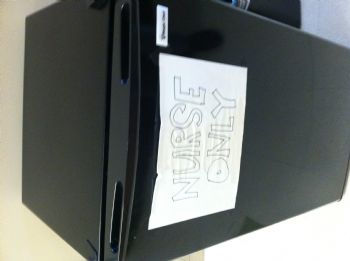 How do you get the nurse in there?

So far, no answers.

I go in for chemo again this week, maybe someone will shed some light on this vexing problem, but somehow, I doubt it.

Cheers and Happy Thanksgiving.

Frank -- I don't know why it opens 90 degrees to port.






Friday, September 27, 2013
The journey continues. I had my fourth R-CHOP cocktail infusion yesterday and as expected today I am wiped out. This will come back to normal in a couple days. I continue to see how each day has its own personality and none are the same two days in a row. Weird.

So far, I have had no real physical difficulties with the treatments. My son takes me his job sitting beside me and treating me like royalty. I would be lying if I said I didn't like the care he gives me and his mom.

I will admit to be down in the dumps last night. Dave and I met with the oncologist prior to the R-CHOP cocktail infusion. I had had a PET scan last Monday and he was not really overjoyed with some of the results. The cancer cell count has been significantly reduced (A good thing) but he was really disappointed that the size of the affected lymph nodes has not reduced at all. (A bad thing) There are only two nodes in play and that is really a good thing. Had any nodes above the waist line been involved, it would have been classed as stage IV I believe I mentioned in my first blog that the description of the lymphoma I have is LARGE B CELL. This is an extremely aggressive subset of the hundreds of lymphomas. Before my first meeting to get the results of the biopsy I asked him, What if I elected not to receive chemotherapy" His answer, you would have 6 months to live. That certainly made the decision easy to say YES.

I was so befuddled on the way to get the results, I ran into a car in the left turn lane. Was not a happy moment.

Nether Dave or I could tell if he was being protective for me or if this could be something a lot more serious. He did talk about the possibility of additional treatments but was not specific as to the nature of the treatments. He is normally an open book and that is why I was a sad case last night. But, with the dawn, a new light shines and I am more determined than ever to meet this beast and decimate him.

This about sums it all up for now. BTW, there is a new IPhone app titled FOCUSONLYMPHOMA published by the Lymphoma Research Foundation that is extremely informative and detailed. Should anyone like to learn more about the many blood cancers contained within the Lymphoma category and IT'S FREE!! Just search for the title in the Apple app store and download it.

I am sure he will have another PET scan and I will know a lot more in 6 weeks and will post another update.

Thanks for listening and huge thanks for all the positive responsed I have received.

SP is wonnerful, wonnerful. (Remember who always said that on his TV show?) Let me know who you think it is.

Chao for now.






Monday, July 29, 2013
I have been pondering how to write this as I sure as heck do not want to start a pity party. I have concluded that the best approach is direct and to the point. So here goes.

First and foremost, I did post this data to my teams and the support from all of you is mind boggling. It was this incredible level of support that told me that this might be of good use for someone out there.

I have been noticing that my muscle mass and overall weakness have been seriously compromised and no one could tell me why. Starting earlier this year, it became almost impossible to get out of a chair or INTO the car. At this point I engaged 3 specialists to work together to get to an answer. The first was, of course, my primary care doc and then on to a Gastro as I was fearing that I had an internal bleeding problem similar to the one I experienced in Jan '12. His advice was to seek out a hematologist ASAP, so enter specialist Number two. Of course I also met with my cardio as I was suffering edema at a high rate. I gained over 20 pounds over two weeks. Physically, this is not diet related since it was say that I consumed over 70,000 kcal in two weeks.

By now, all the blood tests were in and found some blood cells that indicated a possible Lymphoma connection. Next step was a CT scan of the abdomen and chest. Result, greatly enlarged lymph nodes in the abdomen but nothing in the chest area (that's good news).

Enter a biopsy of the largest lymph node and the end result was POSITIVE FOR STAGE 2 LARGE CELL LYMPHOMA. This is an extremely aggressive blood cancer but it is also highly successfully treatable. I mentioned earlier that finding this only in the abdomen was good news and here is why. Had the disease been found in the chest area, it would automatically listed as STAGE 4. Not good.

Enter the therapy phase which I officially started on Thursday the 25th. It is a chemo therapy called R-CHOP for any who would like to investigate. It is a long process that took almost 7 hours to complete.

I will have 8 treatments, given 3 weeks apart and every one is certain that I will be OK. Right now, I have placed my success squarely in God's hands. That is a good place to be as far as I am concerned and I am comforted by this.

One area that I warned about is that the cortisone that is part of the R-CHOP cocktail would raise my blood sugars and that was an understatement. Now I will check to see if I should take a diabetic med in the short term to control my diabetes which is, for now, in full remission. If it isn't one thing, its another.

As to SparkPeople, I will probably cut back a little on my participation but I will not quit. As famous navy admiral once said. DAMN THE TORPEDOES, FULL SPEED AHEAD and that is the way I will attack this dastardly event in my life.

Sorry this blog is so long, but I trust and value your thoughts. What a wonderful organization we belong to.




1 2 3 4 5 6 Last Page

Get An Email Alert Each Time FIRECOM Posts