| | |
| --- | --- |
| | GREATMARTIN's Recent Blog Entries |


Monday, November 24, 2014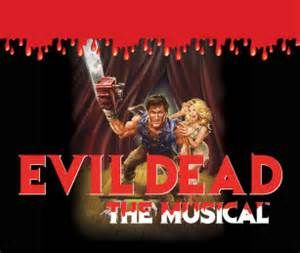 "EVIL DEAD-THE MUSICAL" TOURING COMPANY REVIEW
Horror scenes? Check. Vulgar language? Check. Sexual things? Check. Sexual innuendos? Check. Blood? Check? Violence? Check. Irrational actions? Check. Welcome to the world of movie horror fans, male teenagers, young male adults and their dates.

Evil Dead-The Musical is a take off, pure camp mixed with satire, of the Evil Dead movie franchise with a little Rocky Horror Show salute thrown in with the dance number Do the Necronomicon. The actors not only chew the scenery but swallow it and then spit it up in the form of blood. I am not a fan of the horror genre but I found myself laughing out loud at some really corny jokes and actions, hoping no one I knew saw me--it is that kind of show for older folks. The young ones sit in what is known as the splatter zone and love every bit of blood that gets on them.

The lyrics by George Reinblatt, who also wrote the book, and music by Frank Cipolla, Christopher Bond, Melissa Morris and Reinblatt are more than you would expect and in some cases are enhanced by some excellent choreography by Stacey Renee Maroske with a couple of numbers stopping the show.
Callie Johnson and Ryan McBride playing dual roles seem to be having as much fun as the audience. David Sajewich, in the lead role as Ash, sings, dances, acts, plays broad comedy, cuts off his hand, saws off his girlfriend's head, handles a shotgun and gets into physical fights not only looks the role but makes everything seem like he does all this in real life naturally. Aiding and abetting the actors mentioned are Julie Baird, Demi Zaino, Creg Sclavi, Ryan Czerwonko, Jessica Kingsdale along with Andrew Di Rosa, as Jake, who almost steals the show with the song Good Old Reliable Jake.

All you have to know is that 5 friends are going to a cabin for the weekend for fun and games and there is only one road going to and from the cabin and they are surrounded by woods. Oh yes there is the evil book, the Necronomicon.

There were, obviously, many fans of the musical in addition to horror movies but even if you aren't one of the latter don't worry when and where you laugh because others will be laughing too.





Saturday, November 22, 2014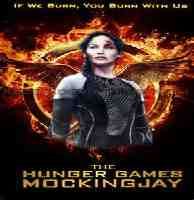 Not having read "The Hunger Games" trilogy but having seen the first two movies I feel the last book was made into two parts just to make another billion dollars. You can skip "The Hunger Games: Mockingjay Part 1" without missing anything.

It seems the main story behind Part 1 is to make Katniss a 'product' to sell the idea of overthrowing President Snow to the remaining citizens of District 13 and making her the face of the revolution. There are two 'action' scenes, one being Katniss trying to take down a plane with her bow and arrow and another a rescue mission but the rest is a lot of talk and huge TV screens for the president and the leader of the uprising to give speeches.

Jennifer Lawrence, as always, has an interesting face to watch as it says a lot. Liam Hemsworth is given more screen time while Josh Hutcherson a lot less. Woody Harrelson, Stanley Tucci and Jeffry Wright do good with what little screen time they get. The standout here is Elizabeth here who has to do a lot when style, glamour and color are not available to her. Philip Seymour Hoffman died during the production and his role is pieced together which instead of honoring the man in his last film role diminishes his effectiveness. Julianne Moore is introduced as the new leader trying to bring down the president but really has nothing to do except make speeches though there is one short scene between her and Lawrence that is sharp.

The only reason to see "the Hunger Games: Mockingjay Part 1" is if you like watch Jennifer Lawrence, otherwise I would say skip it and wait for part 2 a year from now.






Friday, November 14, 2014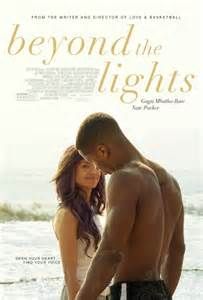 On May 16, 2014, I saw and wrote a review of a movie called "Belle" and ended it with "THIS IS A MUST SEE MOVIE AND YOU MUST SEE GUGU MBATHA-RAW!"

And it is still on my list of 5 of the best movies of the about 50 I have seen this year!

Today, 6 months later, I saw "Beyond The Lights" and the bottom line is THIS IS A MUST SEE MOVIE AND YOU MUST SEE GUGU MBATHA-RAW! (Also Nate Parker and Minnie Driver but more about that later.)

Unless you have never seen a show business movie there isn't a spoiler in this movie as screenwriter Gina Prince-Bythewood has written every cliché into it from the overbearing stage mother. the super star rapper who mistreats the rising star, the record producer who manipulates her and to the boy meets girl, boy loses girl, boy gets girl plot. The differences are that the screenwriter is also the director who really believes in the material and performances that lift it above the clichés. Prince-Bythewood makes this a good old romance movie that we haven't seen in awhile.

Let's start with Gugu Mbatha-Raw who takes a role completely opposite that of the one who played Belle in the movie of that name. She is in sexy, almost not there, outfits showing off a great figure, does choreography that show of her sexuality, sings rap and a Nina Simone song, "Blackbird", that shows off a vocal ability she could make a living at and, yes, her acting. She takes the role of a wounded bird who learns to fly free and makes it fresh and new.

Her costar Nate Parker, as police officer, Kaz, with a police captain father, played by Danny Glover, who is grooming him to enter politics with unlimited potential, shares a chemistry with Mbatha-Raw that lights up the screen. They make a good old fashioned screen couple that makes you root for them all the way, not to mention they are both very sexy looking people.

Minnie Driver as the stage mother, who can be overbearing, does such a fine job she almost steals the picture and keeps you on her side even though you know and can see the damage she has done her daughter.

Colson 'MGK' Baker as the super star rapper, with more tattoos than I have ever seen on an actor, along with the rest of the cast such as India Jean-Jacques, Benito Martinez, Aml Ameen and Aisha Hinds, along with others support, the stars with first class performances.

The soundtrack featuring new songs, will also introduce Nina Simone to a new generation though I wished they had her singing a couple of songs.

Though this won't be among my top 5 pictures to see I will end it with YOU MUST SEE GUGU MBATHA-RAW and see it on the big screen!





Tuesday, November 11, 2014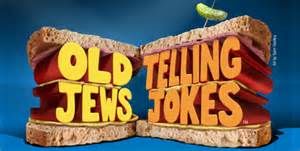 "His girlfriend looks at his tattooed penis and tells him 'Don't put words into my mouth.'
"Italian and Jewish mothers are the same only Italian mothers know how to cook."
"A Hasidic Jews walks into a bar with a parrot on his shoulder. 'Where did you get him?' asks a man. 'Brooklyn, ' says the parrot. 'They've got thousands of them.'

Welcome to "Old Jews Tell Jokes" at the Stage Door Theatre in Margate, Florida. You didn't laugh at the 3 jokes above? Wait! There are hundreds more. Too many for me to have written more than a few as they come at you one after another. Don't worry if you don't laugh at one as there will be 4 or 5 more within the next minute. Some will be belly laughs, some will bring a smile to your face and some will make you uncomfortable laughing but you will laugh.

There are one-liners where you expect to hear a drum go "da-boom' and some a little more involved but there isn't a Jew, a non-Jew, a mother, father, daughter, son or any family member that won't get a few laughs along the way.

There are 'dirty' jokes minus the foal language, jokes older than anyone in the audience and jokes that have come from old Jewish comics that now belong to everyone,

Along with the old Jews Gail Byer and Michael H. Small there is middle aged Ben Prayz and younger Jews Ashley Brooke and Adam Chisnall ,all who have good comic timing and play off each other with ease. David Nagy accompanies them on the piano. They deliver the old Borscht Belt jokes as if they were being told and heard for the first time. Putting down a husband or a wife has always been part of the routine and off course there has to be a joke about the young Jewish girl and what she won't do to the old folks and their ailments, mainly dealing with bodily functions. Also enjoy the film clip of Alan King milking a joke.

In a way "Old Jews Telling Jokes" is a history lesson in comedy, and of comics, with many laughs along the way. Sit back, relax and don't guess at the punchline aloud!

Leaving you with one of the many self-deprecating jokes: "Why don't Jewish mothers drink?" They don't want to dull the pain."

"Old Jews Telling Jokes" runs at the Stage Door Theatre until January 4, 2015. It runs 1 hour and 45 minutes including a 15 minute intermission. For ticket information call the theatre at 954-344-7765


https://www.youtube.com/watch?v=b5iHLEpq
Sqo&list=UUAQ3njsOErTpGEZoGbWoaBQ

Hope you could read the intermission slide!





Saturday, November 08, 2014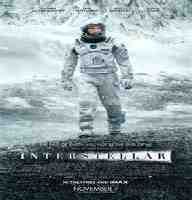 I don't know at what point I stopped caring about the main characters in "Interstellar" but it must have been upon losing all interest as to whether they 'make it' or don't. Or it may have been at the one point a crew member is lost and the reaction was, "So what?"

The film is long, at 169 minutes, with a lot of forgettable science verbiage that is forgotten by most of the audience before the credits start running. Will even the science nerds in the audience remember the dialogue regarding the black hole or the worm hole? Isn't it enough to say that one hour in space will equal 7 hours on earth without getting into quantum theories? I'd rather hear how Anne Hathaway's hair stays so sculptured after having a space helmet on for a flight, walking in water and on ice plus the gravity experienced, which is talked about but doesn't seem to affect hairdos!

Director Christopher Nolan and co-writer of the script with his brother Jonathan, seem to know what they want to say when dealing with family relationships but when the abruptly take off space they seem to get lost. "Gravity" set the bar high for filming in space and spaceships and "Interstellar" comes nowhere near those scenes and feelings. The Nolans, along with the Director of Photography Hoyte van Hoytema, get the feel, sights and sounds of earth drying up and the possibility of the end of earth is made believable as are the various family relations, but once the movie blasts off to space everything comes to a halt except for a robot that seems more livelier than the humans.

The cast do what they can with what they got but Matthew McConaughey as Cooper, former test pilot who is brought back to lead this mission to find a place that the humans on earth can move to before they die, is fine in the father and daughter scenes but does not bring much to the hero aspect of the film. Oh, and a side note, he does need to put on some of the weight he lost for "Dallas Buyers Club". Anne Hathaway has a thankless part while Michael Caine as her father gets to repeat Dylan Thomas"s poem "Do not go gentle into that good night" a few times. Murph, Cooper's daughter, is played by 3 actresses and as the 10 year old Mackenzie Foy is a stand out while Jessica Chastain as Murph in her 30s has nothing to do but being angry.

David Gyasi and Wes Bently as the crew working with McConaughey and Hathaway, along with computerized robot voiced by Bill Irwin, are more than adequate. They are 3 other actors, not to be named, in the film so as not to provide spoilers. Also Casey Affleck, as Murph's brother, in an underwritten role does what he can with it.

Ah yes I must give credit to Hans Zimmer for the too often loud music, signifying nothing, for keeping me awake in the last hour of "Interstellar".



1 2 3 4 5 6 7 8 9 10 11 12 13 14 15 16 17 18 19 20 21 22 23 24 25 26 27 28 29 30 31 32 33 34 35 36 37 38 39 40 41 42 43 44 45 46 47 48 49 50 51 52 53 54 55 56 57 58 59 60 61 62 63 64 65 66 67 68 69 70 71 72 73 74 75 76 77 78 79 80 81 82 83 84 85 86 87 88 89 90 91 92 93 94 95 96 97 98 99 100 101 102 103 104 105 106 107 108 109 110 111 112 113 114 115 116 117 118 119 120 121 122 123 124 125 126 127 128 129 130 131 132 133 134 135 136 137 138 139 140 141 142 143 144 145 146 147 148 149 150 151 152 153 154 155 156 157 158 159 160 161 162 163 164 165 166 167 168 169 170 171 172 173 174 175 176 Last Page

Get An Email Alert Each Time GREATMARTIN Posts