| | |
| --- | --- |
| | GREATMARTIN's Recent Blog Entries |


Thursday, October 30, 2014




"Cinderella", at the Adrienne Arsht Center in Miami, continues the magic that only musical theatre can bring to the stage. There is the magic of women, three times, changing from rags into beautiful ball gowns right before your eyes just by twirling around. There is the magic seeing a pumpkin turned into a carriage with mice turned into horses to a fox and raccoon turned into human acrobatic dancers.

Most of all there is the magic of hearing a score with music by Richard Rodgers and Oscar Hammerstein II, written in 1957, come alive in 2014 that you will hum on your way out of the theatre. From the introspect of Cinderella's (Paige Faure) "In My Own Little Corner" to her stepsister Charlotte's (Aymee Garcia) funny "Stepsister's Lament" to the duet between the fairy godmother Marie (Kecia Lewis) and Cinderella singing "It's Possible", not to forget Marie belting out "There's Music In You" all adding magic to a favorite fairytale.

Whether it is watching the Prince (Andy Jones) and Cinderella waltzing or listening to their duet of "Ten Minutes Ago" or having the Prince sing, in wonder, "Do I Love You Because You're Beautiful ?" you know you are seeing the love story that we all want to come true and remember hearing as children.

Add to all that magic the strong supporting performances of Blake Hammond as the Prime Minister Sebastian, his herald Antoine L. Smith, Cinderella's other stepsister Gabrielle, played by Ashley Park, Beth Glover as the stepmother and David Andino as a rebel who wants to make things right along with a strong ensemble and you are transported to the world of American musical theatre.

When you go to see the magic of "Cinderella" if you meet the costume designer William Ivey Long please ask him how he did Cinderella and Marie's dress changes, or if you figure it, out please DON'T tell me!

Running time 2 hours and 10 minutes with a 20 minute intermission.
Will next be going to Belk Theatre at Blumenthal Performing Arts Center Charlotte, N.C.

Next at the Adrienne Arsht Center in Miami "The Book of Mormon" December 2-14





Wednesday, October 29, 2014


I do not want to know what's behind the magic on the stage of the theatre. I do not want to meet the actors off stage out of their roles. I want to believe it is all real, it is all happening.

In the new slide show below the second photo shows Cinderella (Paige Faure) in rags and in the sixth slide we see her and the Fairy Godmother (Kecia Lewis) who just a minute before was Marie, a beggar, also dressed in rags. Without leaving the stage they just twirl around and before your eyes they go from being dressed in rags to Cinderella dressed in a white ball gown with a tiara on her head and Marie in a gown in all shades of purple fit for a Fairy Godmother. A little bit later Cinderella, once again in tattered clothes, with a few twirls emerges into a gold gown off to catch her Prince (Andy Jones) so they can waltz, sing and, of course, kiss.

In my review I talk about that and the scene, on stage, where a pumpkin is turned into a carriage and 4 mice into glittering horses while a fox and a raccoon are turned into footmen who do acrobatic dancing and mirror each other in their motions.

Now this is not a movie with special effects being done in front of a green screen. This happens on stage in front of 2,000 people consisting of many children and the adults are in awe just as the kids are.

A part of me, the adult, wants to know how this is all done but the kid in me would rather not. Every time I go to the theatre I look for magic and I don't want to know the wizard of Oz is a human being like us mere mortals!


The following photos, including the one on top, were all taken by Carol Rosegg for the touring company of "Cinderella".


https://www.youtube.com/watch?v=6bxP
h0j-K4Y&list=UUAQ3njsOErTpGEZoGbWoaBQ





Monday, October 27, 2014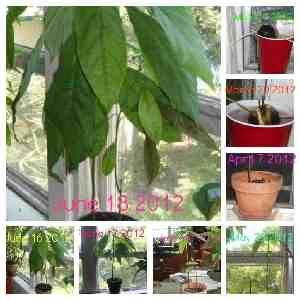 I don't remember the first time I ever grew a sweet potato vine but I seem to recall it as an experiment in the early years of public school. I have done it many times since as they grow beautiful vines and all you have to do is stick three toothpicks on the top part and put it in a glass of water.

About 10 years ago I took an avocado pit, basically did the same thing and just awhile later I planted it in the ground here at Gateway (see photo above).

About a little over a year ago someone---sorry, I don't remember who--mentioned about growing celery just by putting the base of store bought celery in a saucer of water. Before I knew it I was growing celery, Romaine and Iceberg lettuce, onions and any other produce I brought home from the supermarket, not only having fun doing it but saving money.

It is really very easy to do and it takes about 5 minutes to 'grow a garden' in your kitchen and doesn't take very long to get results.

I found, in the case of the lettuce, the outside leaves of the original base turn brown but inside they are all green and fresh tasting.

All in all it is as simple as growing herbs and spices on your window sill! Enjoy!

https://www.youtube.com/user/GreatMa
rtin1/videos




Friday, October 24, 2014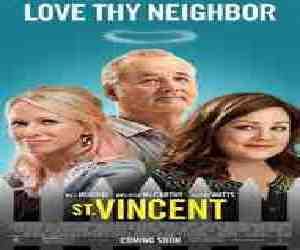 It's always a pleasant surprise to walk out of a movie thinking, "That was a lot better than I thought it would be," and that was my reaction to "St. Vincent".

I am not a fan of Bill Murray and it didn't help that once again he was playing a curmudgeon and that It didn't help from the first shot most of the audience laughed at everything he said and did, even when not funny! I don't remember at what point it happened but all of a sudden he stopped playing Bill Murray and became Vincent.

Along with being negative about going into a movie starring Bill Murray I was also hesitant about seeing Melissa McCarthy once again playing a loud mouth, vulgar woman doing anything for a laugh but from her first appearance on the screen she is playing a true character, Maggie, a about to be divorced mother who is doing what she can to take care of her son, Oliver, played by Jaeden Lieberher.

Lieberher, an 11 year old, underweight, is bullied his first day in a new school and, due to the screenplay, is put together with Vincent. Okay you get a precocious young boy and an old curmudgeon you know where this movie is heading but Lieberher almost steals "St. Vincent" from Vincent!

As a teacher priest, Brother Geraghty, (Chris O'Dowd) , a bookie Zucko, (Terrace Howard), Daka (Naomi Watts), a 'lady of the night' and paid friend of Vincent's who is pregnant, Sandy, (Donna Mitchell), from Oliver's classmates to all the extras every part is perfectly cast, with the exception of Watts accent, and her being Russian, doesn't add to the film though she does.

The screenplay by Theodore Melfi holds no surprises, but his direction of the actors and their inherit talent is spot on, and will get the tears where he wants them.

In all probability Murray will/should get starring award nominations as might McCarthy will get supporting nominations and Jaeden Lieberher certainly deserves accolades in his role as Oliver and a future career in movies.

"St. Vincent", and Bill Murray, were a lot better than I thought they would be!





Monday, October 20, 2014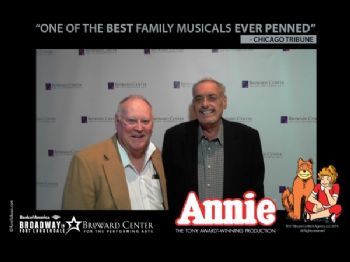 (ALLEN ON LEFT AND ME ON RIGHT DOING PUBLICITY FOR "ANNIE")



There is pure joy coming into an unexpected perfect day and this was one of them.

I slept in a little later than usual, got up, did my usual look in the mirror and saying out loud, "You're okay Martin!" and getting that smile on my face.

Had orange juice and coffee then checked my emails and posted a couple of blogs plus making a few draft posts to get ahead.

Around one o'clock, looking outside, I decided to take two of the many magazines piled up on my table and go seat outside and do some reading.

I wish I could describe the feeling that engulfed me when I walked out of the building towards the water. The warmth of the sun seemed to wrap around me while a breeze kept it from being too hot. My legs didn't hurt, I didn't have a care in the world and life just seemed to be glorious.

I sat on the bench and started to read one of the magazines but I couldn't concentrate as the combination of the sun, the breeze, the blue water and sky, the large green tree and just the feeling of peace seemed top ask me to relax and just look around.

In addition to relaxing and looking around I took my camera and did a short video so that I would remember this day. This is the video--this is the day.


https://www.youtube.com/watch?v=QY8C
T2RFVTE&list=UUAQ3njsOErTpGEZoGbWoaBQ

No matter what may happen this day, the rest of this month, the rest of 2014, I know I will carry this perfect day, Sunday, October 19, 2014, with me until the next perfect day comes a long and I know it will!





1 2 3 4 5 6 7 8 9 10 11 12 13 14 15 16 17 18 19 20 21 22 23 24 25 26 27 28 29 30 31 32 33 34 35 36 37 38 39 40 41 42 43 44 45 46 47 48 49 50 51 52 53 54 55 56 57 58 59 60 61 62 63 64 65 66 67 68 69 70 71 72 73 74 75 76 77 78 79 80 81 82 83 84 85 86 87 88 89 90 91 92 93 94 95 96 97 98 99 100 101 102 103 104 105 106 107 108 109 110 111 112 113 114 115 116 117 118 119 120 121 122 123 124 125 126 127 128 129 130 131 132 133 134 135 136 137 138 139 140 141 142 143 144 145 146 147 148 149 150 151 152 153 154 155 156 157 158 159 160 161 162 163 164 165 166 167 168 169 170 171 172 173 174 Last Page

Get An Email Alert Each Time GREATMARTIN Posts