| | |
| --- | --- |
| | GREGGWEISBROD's Recent Blog Entries |


Tuesday, April 15, 2014
It's been a tough few weeks in my journey. I've found that in the wake of achieving my goal weight, the sense of inertia and self-bravado has slowly numbed and settled into a fuzzy memory - one that I'm proud of, but one that feels further and further away each day. When my knee started to limit my running distance about a month ago, just as I was poised to hit half marathon distance with my training, it handicapped the very thing that was serving to sustain this new self-image I had held of myself. Success breeds desire, desire leads to trying harder and working harder, which usually leads to more success. So to have my weight loss in maintenance mode (happily), and then to not be able to push like I want to with running, it just creates this sort of limbo of existing. Instead of a raging fire, it's more of a collection of blazing hot coals... but the beauty of that, of course, is that all it needs is a new piece of wood thrown on top, and away we go again. Here is the story of my first race ever...

In the past three weeks I have run a total of two times... one was last Friday, and the second was my race this past Sunday. For weeks I've been struggling with my knee at first, and then got blasted by a cold/flu that kept me from work for almost a week - struggling with severe sinus headaches, congestion, a sore throat, chills, shakes, sensitive skin that actually hurt, and a partridge in a pear tree. I was starting to feel a little better by my brother's wedding, and wasn't going to let anything stop me from enjoying being his best man. Wearing my new suit, and sporting this new body, my wife and I danced and drank the night away - apart from still having some crappy symptoms, it was easily the most fun I've had at a wedding. The net result though was a bedtime of 3am, an awful sleep mixed with severe cold symptoms that were aggravated by the booze, and a cold that hit back for three more days quite severely. In retrospect, totally worth it, but it did limit my training and workout routine further. Heading into last week, my breathing was still inducing random coughing fits, so I sat out my Monday workout. I played Dodgeball on Wednesday night though, which kick started me back into physical activity, and then ran 5k on Friday night to get my body ready for running again in time for my 10k race on Sunday. Let me tell you though, despite running my 5k in 29 minutes Friday night, my heart rate and general conditioning was definitely not up to pre-sick status. I'm not upset though, the conditioning will come back in time, so I'll just keep plugging away, but it definitely made me think about how fast I might be able to run my race on Sunday. I took it easy on Saturday, loaded up on carbs that night (which I won't ever do again - it made my digestive system churn to hell in the early morning of Sunday, but thankfully was all cleared up/out (lol) by race time), I tried to go to bed early but ended up taking awhile to lay out everything for the morning. I planned my parking situation, laid out my running clothes, packed a change of clothes, packed some snacks and drinks, got my breakfast ready for the morning, and just did everything I figured I'd need doing to make the morning as smooth as possible.

Sunday morning came and I went through the motions I'd set in place the night before. I kissed my wife and kids before leaving, as the wished me luck. This being my first race, and not knowing what to expect, I didn't invite anyone out to cheer me on. I just wanted the freedom to go through the process and see how it all worked. People are coming to my half marathon though in a few weeks, so that will be fun now that I know what to expect. As I walked up the closed street to the starting area, scores of runners all lined the sidewalks - a sea of mostly fit and lovely people. Everyone had a real sense of community, a shared experience of what it means to run these kinds of distances. They way they organized the starting time for everyone was to place them in groups depending on how long we said it would take for us to finish the race. I had put between 60 - 70 minutes down when I signed up months ago, figuring it would be a safe guess. Each group had an offset start by five minutes - so my group started at 9:15am. It was a beautiful day for a run, as the sun was out, and it felt like a proper spring day. I began my stretching and warm up around 9am, and did some slow jogging on the spot to keep my legs warm and loose. Standing around waiting for the start had made my legs tighten up some, so it's clearly smart to think about your pre-start routine. Then the moment came. Our group had been herded to the starting line. I had purposefully placed myself right at the front of the pack, since I knew that I could potentially outpace a lot of the group, and didn't want to be passing a ton of people right off the bat. Five... four... three... two... deep breaths, I was completely zen, methodical in my thinking, knowing what I was capable of, knowing that I was bred for this through the coldest and most severe winter in my lifetime, that I was born in this winter... one. I planned to target 170bpm at first, and then move up to 180 by the 5km mark. I let my legs do their thing, didn't force anything, and just started to move. I found a great rhythm, was on point with 170bpm, and found myself in a sparse pack of other runners in my group that had clearly over-estimated their running times. It was peaceful. Just a nice run. My legs felt good, I was blasting Daft Punk's 'Random Access Memories' album through my earphones, and just settled in for the ride.

I began to calculate what kind of times I would need to run in order to target the low 50's range in terms of overall time to finish. 10k makes the math easy, lol, because you just multiply your 1k time by 10. I had no concept of how fast I was running though until I hit my first kilometer and my running app chirped into my ear... ... ... "Total running distance: 1km... split time: four minutes, fifty-four seconds... average speed: four minutes, fifty-four seconds per kilometer". I could have cried then and there. That's the fastest km I've ever run. At that pace, I could be looking at a sub-fifty minute 10k! Now, I didn't let my imagination run wild, I knew that the next 9km would be hard fought, and that to sustain my pace and high bpm for that long would be challenging, so I just kept with my rhythm and let things work out as they may. When I hit the 2km mark, I was excited to hear that my pace had barely dropped and that I had run that km in five minutes, two seconds. My splits continued that way right up until the 7k mark! That was when my quads began to turn into a sore mass of jello, and my heart began to creep past the 180bpm mark. Three more km's to go though, so I wasn't about to stop pushing. My splits slowed down to closer to six minutes for the next two kilometers as I staved off a feeling of nausea, and potential cramping in my quads, but then as the final kilometer started, the people lining the streets were cheering so loudly and so joyfully... "you're almost there!" "You can do this!" "Don't give up, you're almost done!"... I remember thinking beforehand that stuff like that probably wouldn't really mean a whole lot... but after pushing so hard for almost fifty minutes at that point, I took out my earphones, and let their cheers fill me up with determination. I ran my final kilometer in five minutes, two seconds thanks to their cheers and just a general excitement in knowing that the finish line was near. As I crossed the line, I jumped up and high-fived the finish line banner, and slowed to a jog before just walking and stretching my legs out. My running app gave me an approximate time of 55 minutes, and I couldn't have been more proud of myself. That is the fastest I've ever run 10k in my life. From the start of my journey here, I've mentioned a few times how I twice ran 10k in less than an hour in my late teens, and how I hoped to be at that level again one day... so yeah... it's unbelievable to me that I not only have achieved that, but even bettered it! :D

I worked my way through the post-race party area, where they had lots of food and drink available, as well as a photo area to take your picture holding your medal. Volunteers handed out these finisher's medals, and it felt great to place that baby right around my neck. I caught a shuttle back to the starting line and took some time to read some great messages from friends on Facebook and a great one from a friend here on Spark, and just soaked it all in. On my walk back to my car, sporting my medal and race bib still, I got the friendliest smiles and congrats from random people on the sidewalk. It felt great. :D My quads were toast, and I ended up just relaxing the rest of the day away, but the feeling of accomplishment never left.

My official race time for the Yonge Street 10k was fifty-four minutes, fifty-two seconds. The fastest I've ever run for that long. How's that for a fresh piece of wood thrown on the fire?! :D I'll be going for half marathon distance very soon in my training, and then I have my Mississauga Half Marathon to run in a few weeks. It's nice to feel back in the shoes of the person I've become after being a little fuzzy the last month. Good timing too. And now... PICTURES! :D

Epic wedding picture (that's a shot glass of ouzo in my mouth, FYI)...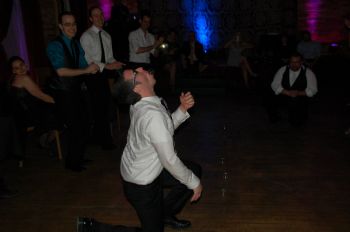 My race bib, going to have it framed I think, as well as any future bibs...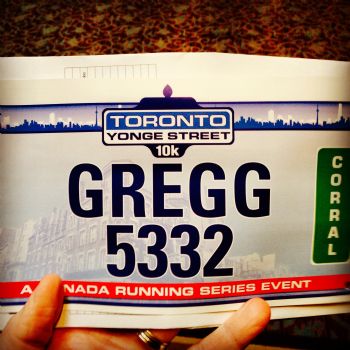 The night before...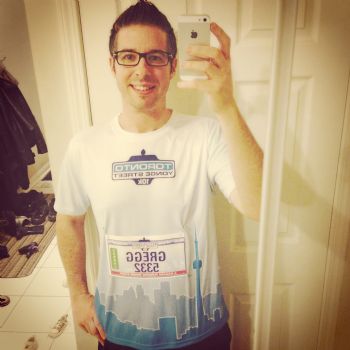 The starting line, a beautiful morning...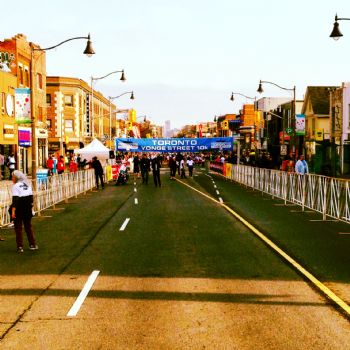 Post-race selfie with my lovely medal...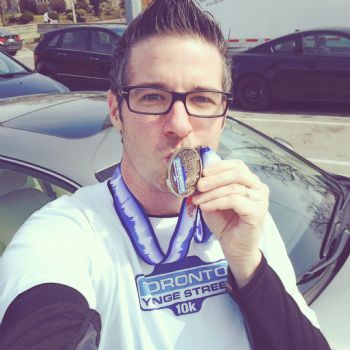 Saturday, March 22, 2014
Seeing as Spark People's video blogs aren't viewable on mobile devices, I'm trying something new here. Below are links to the vlog as uploaded to YouTube. Should make it nicer for viewing I think. I wasn't sure how short a video needed to be to post properly, so I did three parts. Enjoy!!!

youtu.be/zWJ_8vhP1QU Part One
youtu.be/DX722mtOzJc Part Two
youtu.be/PTyDVBHzP7s Part Three






Tuesday, February 25, 2014
Over the past month, I've successfully maintained my goal weight of 185 pounds - gaining not a single pound between weigh-ins, and even managing to shave off some body fat in that time. One month certainly does not an expert make, but I've definitely developed some thoughts on it all regardless of the short time-frame I've experienced it. Figured I'd share what's happening in this brain of mine! :-D

Losing weight is sexy. Seeing that scale drop each week or month, and starting to see changes in your body, leads to such a confident and self-inspiring reflection of one's self. Fitting into smaller clothing... starting to like how you look... getting compliments from so many people... it's hard not to feel like a superstar when you're losing weight and feeling comfortable with the habits you're forming. Maintenance on the other hand is interesting, but rather mundane in comparison. The compliments slow down as people become accustomed to your new appearance. You're no longer ear-marked by people as a superstar "loser" (tee hee), but rather just recognized as being an average healthy person - which don't get me wrong, is fantastic - that's all I ever wanted during my darkest moments being overweight and eventually obese. So there's deep breaths of relief whenever I stop and consider my accomplishments, and never do I entertain a moment of self-pity now that the sexiness of weight loss has passed. It just feels different.

Another strange occurrence is what I see in the mirror. As the weight loss slowed and eventually stopped at 185, I've begun to see my body differently. The truth is that just as friends and family become accustomed to what they see, so do we. I once looked at my body every week stunned at how much better it looked, while now I start to see parts that still need work. I have a strong mind though, and thankfully a great deal of self-love, so I don't get hung up on those parts, and generally just take a quick peek at a before picture. When I see my before pictures, even the ones of me I've posted here from the different months of my journey, I'm seriously floored by the visual changes. So I think maintainers, just as those losing the weight must do, need to constantly remind themselves of where they came from, and be proud of everything they've accomplished. I've said it recently, and I believe it to be completely true, that the best way to keep your fire burning is to be inspired by yourself. Take the encouragement from others, draw inspiration from their journeys, but remember that you're the star in the movie of your life. You're the main character despite an ensemble cast of other stars. You're the one that makes all the difference for yourself, and you're so incredibly capable of accomplishing all that your heart desires. Any voices externally or internally that say otherwise, are liars and need to be pushed aside with furious determination... but I digress, lol. I think we always need to consider, during our moments of maintenance or plateauing, that although it's easy to begin to entertain the old feelings and our old way of viewing our bodies, we must remember how far we've come, how much healthier we are today than yesterday because of our efforts, and that life is good.

Maintenance is not without it's curve-balls though. The biggest change is in terms of what you eat. For months I said no to so many things, like pizza, pasta, cheese, desserts, alcohol, fried foods, the list goes on. I never planned to never eat these things again of course, just to re-introduce them once I was healthy, and do so in a measured way that continued to support my health. The answer to the question of maintenance is not to simply loosen the reigns though, since that's generally what leads to gaining weight - at least in my experience. Changing your exercise routine should never be a consideration, since let's face it, you're badass and all that exercise makes you feel like a freakin' rockstar (or it should, because you are... fyi...). So that leaves the food portion to consider, and raising your calories slowly and surely for the intended purpose of plateauing. See this is why I always think plateauing gets a bum wrap. If you're plateauing for months at a time, please don't think that you're a failure for even one second. You're SO stinkin' incredible! You're showcasing that you have EXACTLY what it takes to maintain! Use it as a source of inspiration and just keep working at it. Maybe it's just having one less drink now and then, or passing on the butter while cooking, or stepping up your exercise intensity (or better yet, switching your routine up to include something new - which causes the body to adapt again, which increases your metabolism). Plateauing showcases incredible strength and perseverance. Be proud, hold your head up high, and if you've still weight to lose, be thrilled that you get to attack it from such a stable foundation. (Mini rant over, lol). Training for a half marathon burns a ridiculous amount of calories as well, so I've had the extra challenge of experimenting with calorie intake. Really, it's been a case of ingesting more protein and unsaturated fats - like nuts and fats from olive oil and vegetable oil. Eating french fries is no longer a sin, lol, because potatoes contain an incredible amount of potassium - which I've found I never come close to getting enough of in my daily diet - and as long as they're not super salted, my body could use them for good electrolyte balance. I'll post a blog eventually on the studying I've done as it relates to fats and salts. We make broad assumptions about both, and for good reasons, but there are many truths we don't embrace in our zealousness to cast those two things aside from our diets.

The practices of self-control that you ingrain throughout your weight-loss journey come in very handy during maintenance, because you can actually allow yourself that one doughnut now and then. The trick is staring that doughnut in the face, and saying "I'm gonna eat you, real good, but then I'm gonna cast your tasty friends aside and resist their delicious allure." It can be a frightening thing to come face to face with the version of you that once ate the entire box of doughnuts in one sitting, to put yourself in a situation that tests your willpower, but it's important to remember who you are now, and all the strength you've shown to get there... to trust yourself again. It doesn't mean you'll be perfect, but I've found that the most I've had is one extra doughnut now and then - which considering I haven't stopped my exercise routine, ends up being a wash. So don't kick yourself when you give in, just go pump out an extra few minutes of cardio at a higher intensity and enjoy your day. If your tracking says you've eaten enough calories during your week, then just pull out the old "No way, Jose" card and throw it at whatever food is looking fine and tempting. If you've managed to make it this far in your journey, then you definitely have shown the strength to do this, so again, trust and appreciate yourself and the great strength you have. I say this all as an outward statement here, but understand that really all of this is just what I tell myself on a daily basis - in case it sounds preachy and idealistic, but not realistic. This is simply how I'm living my days in maintenance.

What else... lol. So much has changed in my life since losing weight. Now that I'm back at a weight that I was when I was 24, I just feel like I've slipped back into the personality and fearlessness of that 24 year old self. I've got the stretch marks to show for my troubles, which I'll wear with pride (they fade away over time anyways, turning regular skin color - I know this from when I lost all that weight when I was 17). They never disappear fully though, but again, perfection is not what we should ever hold up as our blueprint on this journey, just a healthy self-love and acceptance of ourselves. Doesn't mean you can't strive to make your body look how you want it to, just temper your expectations and laugh at yourself along the way.

And now... PICTURES! :-D Cause let's be honest, who doesn't love to look at pictures on this site.

These are my kick-boxing pants from when I was 21... these were in my drawer of clothes I wanted to fit into again. I still have my gloves and a big punching bag. I seriously need to set it up somewhere in my house and get into this again. I tried doing a roundhouse kick when I put these on, and failed miserably, lol! Good times.



This was my favorite T-Shirt when I was 24. Not a fan now, but still love that I fit into it so perfectly.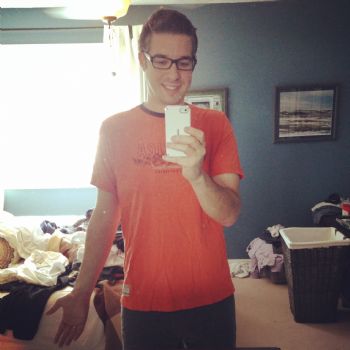 Pre-dodgeball picture with my favorite little girl in the world.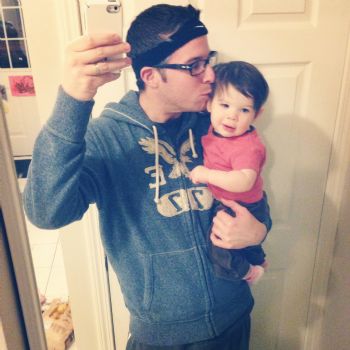 My personal record setting 5k run from last Friday.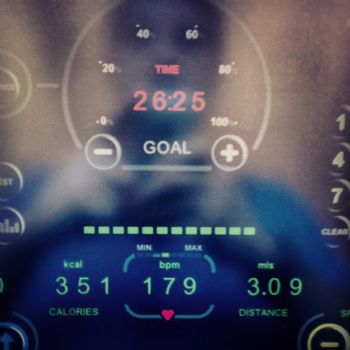 My calorie burn from the amazing run and strength training I did at the gym that Friday. Best burn I've ever had apart from my long runs.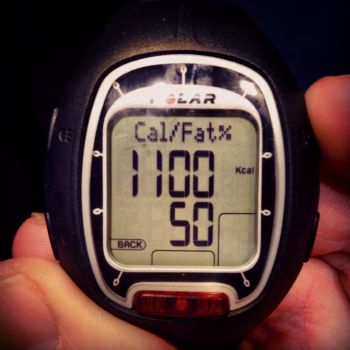 And just me. :-D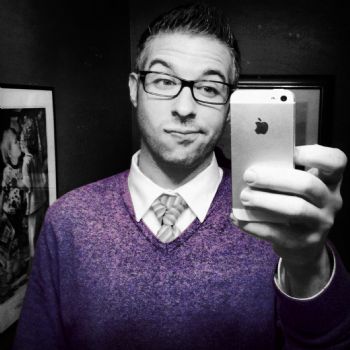 Have a fantastic rest of your week Spark Peeps. Never forget that you can do anything if you just keep putting one foot in front of the other.





Wednesday, February 19, 2014

Just some reflections of the past month, sorry for the technical difficulties around the ten minute mark. Enjoy!!!





Wednesday, January 29, 2014
A is for Age: 33... took me a second to remember, even despite having had my birthday just two weeks ago, lol!
B is for Booze: Ron Zacapa aged rum from Guatemala... I like scotch, I adore cognac, but a good sipping rum? Holy crap, it's heaven.
C is for Car: Noooo... C is for Cookie, that's good enough for me! :-D No cookies you say? Fine. My dream car is the Aston Martin DB9... sexy beast.
D is for Dad's name: My dad's name doesn't start with a D... not sure where this survey gets it's information, but it's clearly a little suspect.
E is for Ego: Really depends on how you define that word. I definitely have a much healthier self-esteem these days, and have always had a heightened sense of self-awareness in this great big universe of ours, but I'm not conceited or difficult or someone who struts over others. I love people, and I'm happy with who I am at this point in my life.
F is for Favorite song or music: Oh gosh, this changes almost everyday. I feel things very deeply, and music impacts me in ways I couldn't begin to describe. I love pretty much every single style of music. Right now though, my favorite song is "Say Something" by 'A Great Big World' featuring the extremely talented Christina Aguilera.
G is for Goof off thing to do: I wish I had some epic thing that I do which is super goofy, but I'm pretty much just a great big goof in general. It's part of my charm, lol!
H is for Hometown: Born in Toronto, but grew up in Mississauga (right next to Toronto). Suburbs. Very multicultural. Middle-class kid.
I is for IQ: 141 - last time I was tested, which was something like 12 years ago. It's borderline genius, but my brains have slowly oozed out of my ears since that time. Now I'm lucky if I can put together a coherent sentence in public without drooling... :-D
J is for Jam or Jelly you like: To be completely honest, I don't think you're ready for this jelly. :-D Blueberry jam is where it's at, though.
K is for Kids: Two amazing and adorable little wonders. My oldest, Evan, is three, and my daughter, Maya, is turning one in just a couple months!
L is for Living arrangement: I believe the arrangement is that I keep breathing, and in turn I'm allowed to keep living... (see? I'm just a big goof, always, lol) I live in a three story townhouse. Plenty of space, I count my blessings to have a home like that.
M is for Mom's name: Well, I'll give the survey this, her maiden name starts with an M... so... closer.
N is for Name of best friend: According to my son, I'm his best friend, and he is mine... so we'll go with that. :-D Melts my heart every time he tells me that.
O is for Observations: Ummmm... It's slightly chilly in my office... I'm listening to "Use Somebody" by Kings of Leon at the moment... my wall is painted a lovely shade of beige... It's lunch time and I'm starting to get really hungry... my desk is quite messy, covered in a lot of very important looking papers, lol... how's that for observations?!
P is for Phobias: I'm scared of waking up at 75 years old and looking back on my life as if I didn't truly live it. It's that fear which finally drove me to lose weight.
Q is for Quote you like: "Love is a durable fire, in the mind ever burning. Never sick, never old, never dead. From itself, never turning." - Sir Walter Raleigh
R is for Relationship: Married for eight years in March, together for twelve last November. If you ask my uncle, there is no explainable reason on Earth for how I managed to land such a beautiful girl. Clearly he's never been on a date with me. :-D
S is for Siblings: One older brother, whom I love deeply. He's getting married again at the end of March, I'm going to be his best man... again. Last time though, I was 19 and had bleached blond hair. :-)
T is for Talents: I can tie the stem of a cherry into a knot using my tongue... :-O True story, though I've only managed to do it once in my life... sooooo... does it still count?
U is for Unique trait: Gosh... I'll be honest, this question, and the last one as well, are so tough for me to answer seriously. I know that I've many talents, and am unique in so many ways, but I just get uncomfortable talking about myself in that way. I'd share my life openly for the world to see (mostly), but to describe myself just feels unnatural. Does that makes sense?
V is for vegetable you love: Broccoli for the win! Hated almost all vegetables up until my early 20's, and now I can't get enough of so many.
W is for Worst traits: See, lol, I'll answer this question no problem! Weird huh? My worst trait is procrastination. Always has been. I have to fight this so much in many aspects of my life.
X- is for X-rays you've had: Nothing interesting, broken pinky finger once upon a time. I'm supposed to get an X-ray soon on my knees as a pre-requisite for seeing a sports therapist - just for giggles, nothing wrong with my legs at all. Also, I'm positive that I've had a small fracture in my right hand thumb since a dodgeball tournament last November... so I really should get that looked at.
Y is for Yummy food you make: You asked for it...
Fettucini with Mussels in a White Wine and Basil Oil Sauce.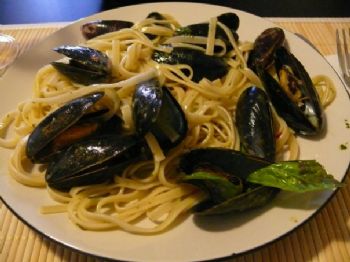 Pan-seared scallops with a mushroom whiskey sauce. Bits of cooked bacon and a sprig of thyme for garnish.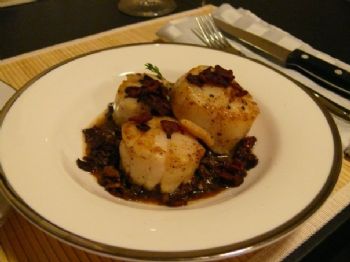 Crushed Peas on Toast with Mozzarella and Grated Romano Cheese.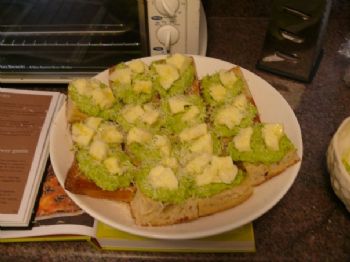 Tomato and Bread Salad with Lime and Olive Oil dressing.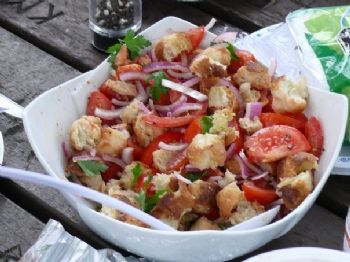 Goat Cheese Bruschetta with a Balsamic Reduction Drizzle.


Lemon Posset.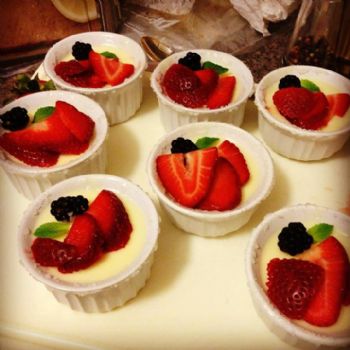 And of course, all things BBQ'd. :-D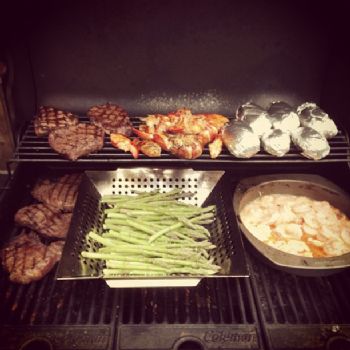 Funny, I'll boast about the food I've made, but not about myself... I'm uniquely weird apparently. O_o
Z is for Zodiac sign: Sounds like a Doctor Seuss'ian way of saying "hey baby, what's your sign?"... I'm a Capricorn... the goat... "maaaaa" :D



1 2 3 4 5 6 7 8 9 10 11 Last Page

Get An Email Alert Each Time GREGGWEISBROD Posts