| | |
| --- | --- |
| | HICKOK-HALEY's Recent Blog Entries |


Tuesday, September 02, 2014
Seems I am forever trying to catch up. We house/pet sit for a month. Although we had fun, it sure cuts into my schedule. So here are a few pics from two weeks ago. I have a lot of pictures to download yet from my camera. Downloading must burn calories, right?



Here is Mama and her Ducklings before we brought our baby Ducks home. They are 3 weeks old in this picture. They are so much bigger now.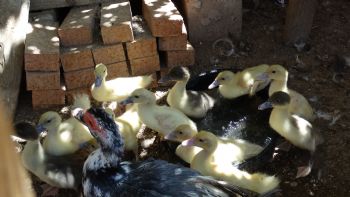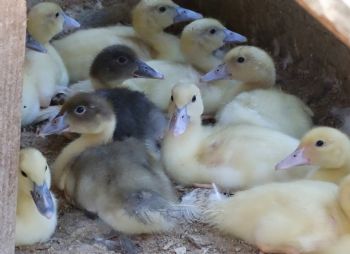 Well some bad news. The Cockatiel I thought was Ghost, is actually Corky.
Our neighbors had someone else take care of their birds, and water their veggie garden early this summer. When our neighbors got back, their veggie garden had died. It was never water. They had more Veggies growing then what we did. Plus, my friend told me either Ghost died, or somehow got out of the cage, because when they got back, Ghost was gone. Poor Ghost. Corky does like it when I whistle to her, so now I have fun with Corky. The birds looked exactly alike so it was hard for me to tell. Looks like we will be taking care of their house etc. from now on, because we "did a good job". That was a nice compliment! Here's Corky.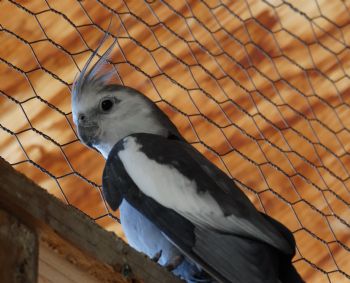 Dennis did a great job on the Duck pen. It has a fiber glass top, but if we have a wet winter, or snow, we can cover it with a tarp.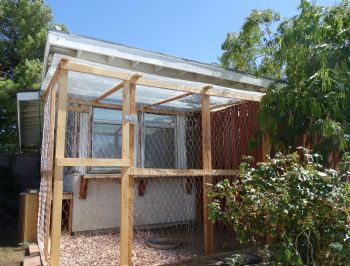 This is the Duck's house. It is on the east side of the house, so the Ducks will be protected from the wind. 90% of the time the wind blows in from the west. The nice thing about these types of Ducks is they can tolerate the cold.



Henley the Hero was checking out the Duck pen.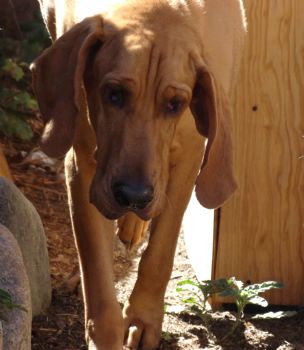 A Fence Lizard was on the wall by the pen taking a nap.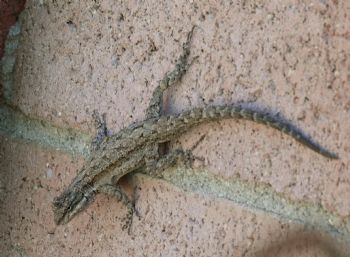 Our Canna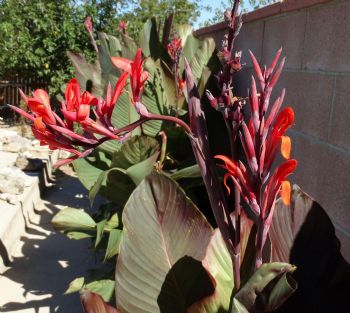 One of our white roses.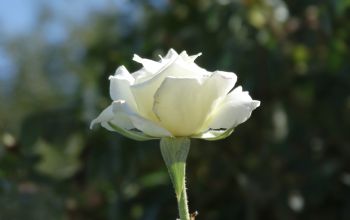 A Sparrow was checking me out.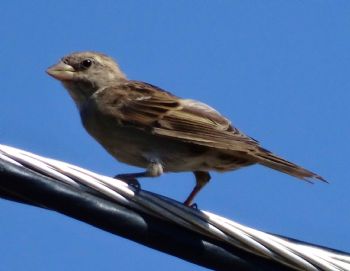 Starling not far from the Sparrow.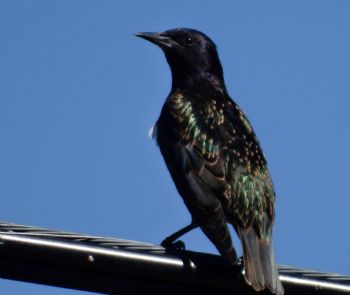 Geranium in our front yard.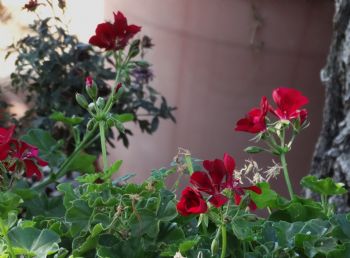 I have a team, "Calling All Hounds", and recently added a new leader, MARITIMER3. She has started a September Challenge "10 minutes a day". If you feel you don't have a lot of time for exercise, especially ST, then please join our group. If you don't have a Hound, or even a dog, don't sweat it. We are all here for a purpose, and that is to encourage each other to keep pushing. That's what this team is about. Encouragement.
www.sparkpeople.com/myspark/groups_i
ndividual.asp?gid=52298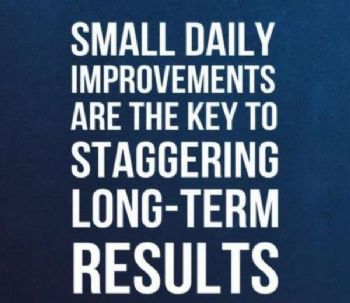 Have a good Tuesday!




Sunday, August 17, 2014
On the 8th I was sitting by the pool admiring the Canna. The plants have really grown. I had my camera in hand, and right as I was about to take a pic, Henley the Hero said "passing through". Not sure what all the hurry was about, but he dashed by quickly.



The sun was going down, and was shinning slightly on the Canna leaves. It really brought out the red in the leaves.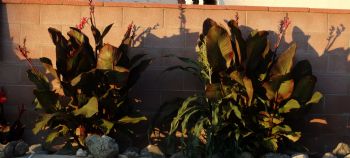 This past week or two, the Moon has been fun to shoot. On the 9th, 8:20pm..Nice and full.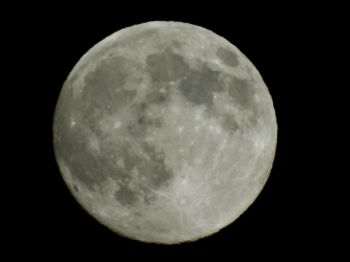 The next morning about 5:30am I had to let Sarge out to do his business. It was so nice out I decided to stay outside with him. I looked to my left, and the Moon was hiding behind our neighbors tree. My funky art for the day.



One of our Roses.



On the 11th, 1:30am, the Moon was still looking good. I seldom get this many pictures of the Moon in a short period of time that look decent.



It's amazing it was so clear out that morning. By 5:30 pm our skies looked like this. The San Bernardino Mountains are in the background. Hi Jackie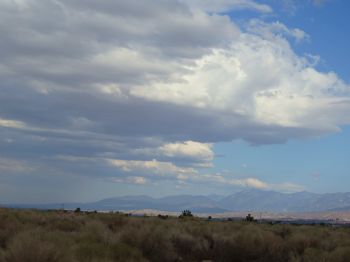 DH and I drove over to what I call "the little pond". I was hoping the Blue Heron was there. It wasn't, but I did see 3 Mallards.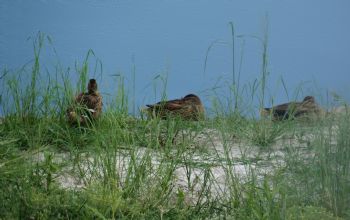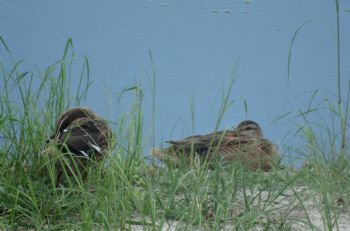 I was shooting through a chain link fence. As I was standing there, a female House Finch landed not far from me. It seemed curious.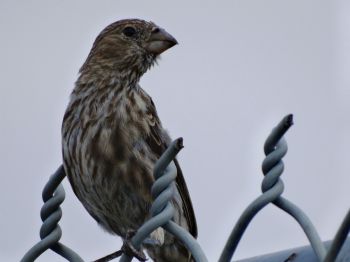 I kept hearing Killdeer's calling. It's considered a shore bird, but we see them in the strip of desert near us. They lay their eggs in the shurbs. A versatile bird.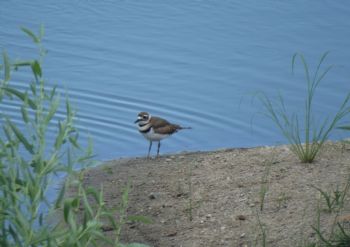 I started to walk back to our car when DH noticed a Jack Rabbit drinking from the pond. What a lucky find!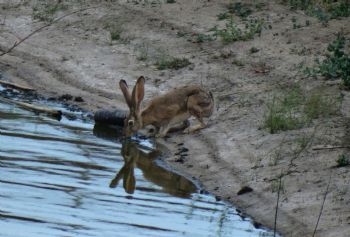 Early the next morning I was walking around the backyard. The sun was dancing on one of my Angels. This is my favorite Angel. I hope this shows up in here. She is holding a globe, and the light from the globe was hitting her face. It looked so lovely. Plus the Angel has a smile on her face. It's almost as if she was enjoying the warmth of the sun hitting her face.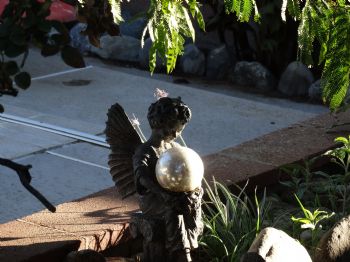 I kept hearing a buzzzzzzzzzzz. A Bumble Bee was checking out the flowers from a weed we can't get rid of. It is a pretty flower, but a weed that has a need to take over. Gerrr.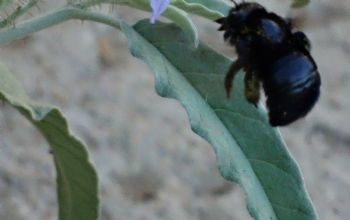 DH moved my Garden Rabbit. It is now under the trellis. I love the eyes on this Rabbit.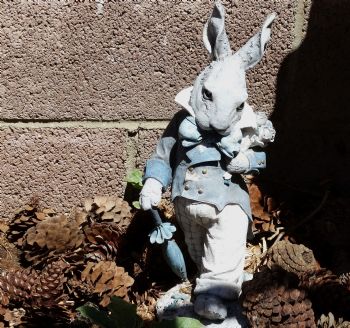 DH is still working on the Duck Pen. I took a picture from the inside. This will be the view the Ducks have once they get bigger.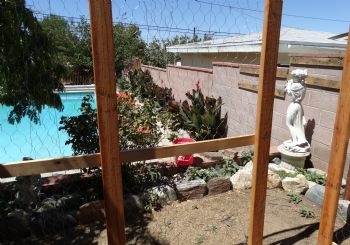 DH built the pen near the trellis. I think it will detract a bit from the trellis, but it is the only area we had for a Duck Pen. So I will go with the flow. More pictures of the pen to follow.

There was a Raven in our Pine Tree, in the front yard. It kept letting out a Caw.
Not sure if the bird was watching me, or calling for its mate.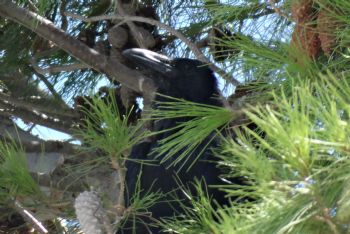 House Sparrows were hanging around as well.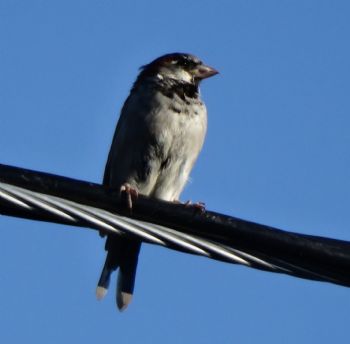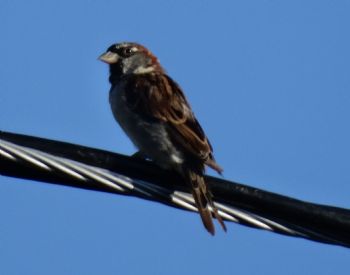 I put some peanuts out for the Scrub Jay in the front yard. It hopped down the Pine Tree within 10 seconds.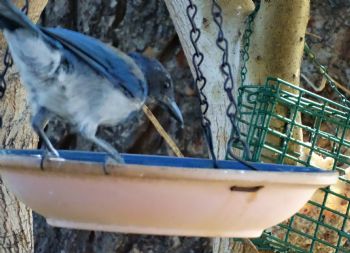 I walked over to where my Geraniums are, and I spotted a Katydid. What a name for a bug. Kind of a cute bug, but it eats leaves, so not welcome in my yard. I scooped it up and put it on the hanging bird seed dish. Hopefully a bird spotted it, and had a treat. The Scrub Jay ignored it.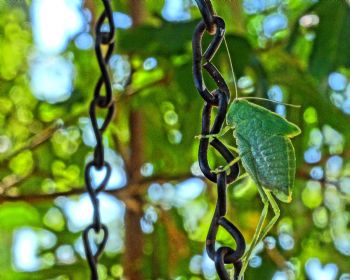 I walked to the backyard again. Sarge was with me of course. He decided to take a quick swim in the shallow end of the pool. He was in good spirits. I had no problem getting a smile out of him.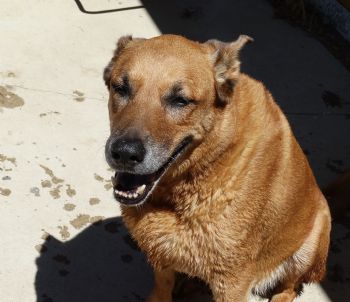 That's how my last week went. I look forward to new adventures this week!
Hope your Sunday is a good one!






Thursday, August 14, 2014
I took these pictures on the 7th, a week ago. You won't believe how much the baby Ducks have grown. Actually, the black Ducks have turned more of a gray this week. I will take some pics of them tomorrow. My Daughter and I are going to take a couple of the dark babies. DH has been building the pen. It's looking good. This is a new adventure for us. We have never owned a Chicken or Duck. By the way, these are Muscovy Ducks. A bit of info on the breed if you want to check it out.
beautyofbirds.com/muscovyduck.html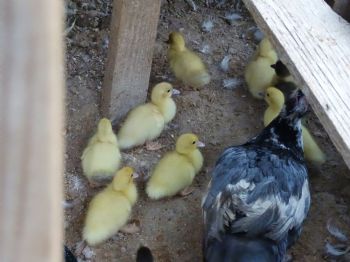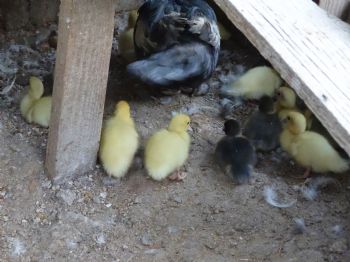 This is Ghost. He used to by my Daughters bird. When she started working a few years ago, she worried that Ghost was lonely, since he was the only bird we had in the house. Our neighbor was asked if she wanted a couple of Cockatiel's. She took them, as she loves birds. Word got around, and people started offering her more Cockatiel's, then Parakeets. My friend had her Hubby build her a nice big cage outdoors, and they put all of the birds in it. They insulate the cage during the winter, as we can have freezing temps here. When my Daughter heard about the cage, she felt Ghost would be happier with the other birds. When ever we go over to take care of the birds, or just visit our neighbors, Ghost flies over and watches us. We whistle to him. He just loves it there.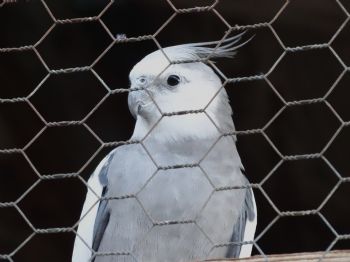 Some of Ghost's friends. They are so curious about my camera. Makes it easy taking pictures lol.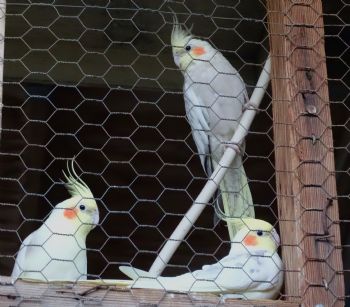 One of my newer Geraniums. I think a Martha Washington.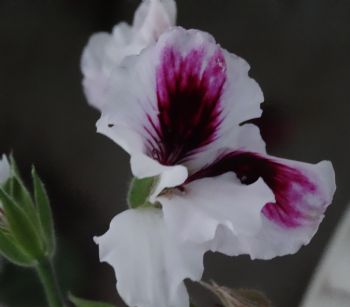 I also took this shot of the Moon on the 7th.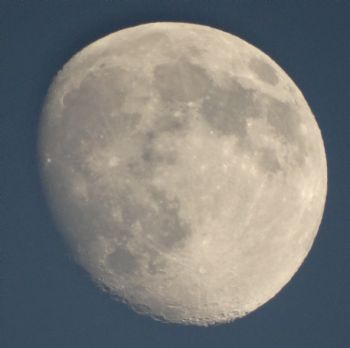 I was looking through pictures I took from last year. I came across Sunflowers from our garden. Such a cheery picture.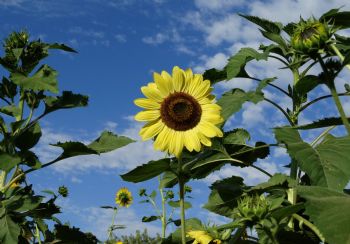 Have a good Thurs!!





Monday, August 04, 2014
Flowers in my yard are looking good, and so many colors.
Portulaca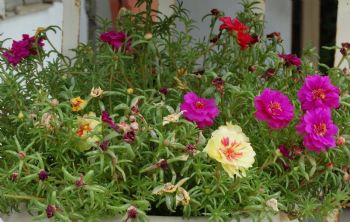 Julia Child Roses. As I was taking pictures of the roses, I spotted a baby Praying Mantis. I was so cute. It wasn't sure about me though. I took a quick picture then left it at peace.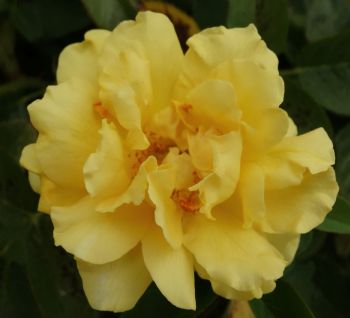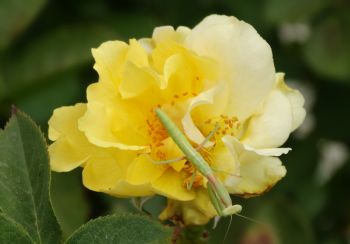 Our Silk Tree (Mimosa) has a lot of green pods on it. I watched a Hummingbird today that was all over this tree. They love the blossoms. Sorry, no pics of the Hummer.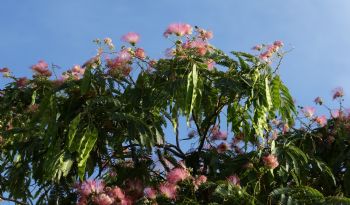 Verbena just loves the area we put it in.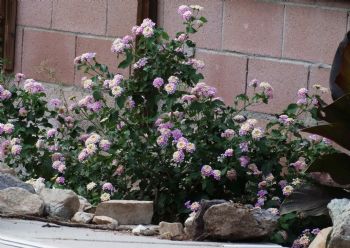 This picture was a experiment of sorts. I was sitting in a chair by the pool. Sparrows were hopping around inside the Silk Tree. You could barley see the birds at times because the inside of the Silk Tree was fairly dark. It was after 6pm, and the sun wasn't hitting all of the tree. I watched the birds for a while, then noticed one of the birds on a limb and it just sat there watching me. I noticed light was reflecting on the bird and a limb of the tree off and on. I couldn't figure out why the light was coming and going. I looked down at the pool and the water was moving about due to good breezes we were having. I then realized the reflection that was hitting the bird was from the pool. It was so interesting. Luckily I had my camera in hand, so I took a few pictures hoping to capture the reflection on the bird. One of the pictures came out pretty decent, so here it is.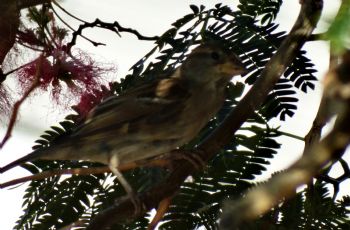 The 31st our skies were pretty clear. A Starling landed in our Elm Tree.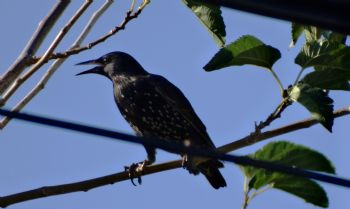 Sparrows were on the telephone line above the tree.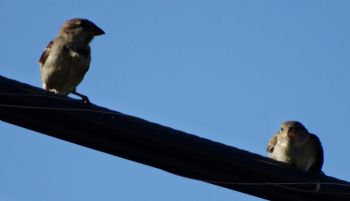 My boy Sarge was having fun watching me walk around the yard.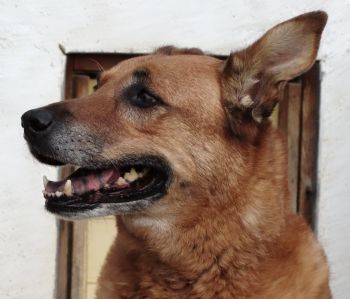 One of the homes we are taking care of, has birds. Lots of birds. We went over to feed the Chickens, Ducks, Parakeets, Cockatiels, and Rabbits. I took my camera with me because baby Ducks had just been born. They were 2 days old in this pictures. I think there are 10 all together.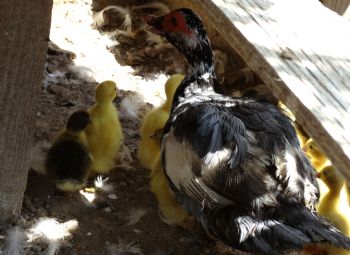 Here are some of the other birds.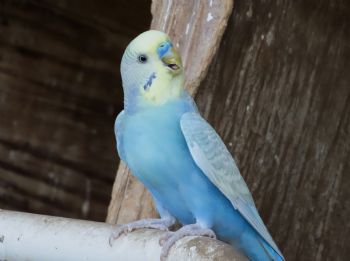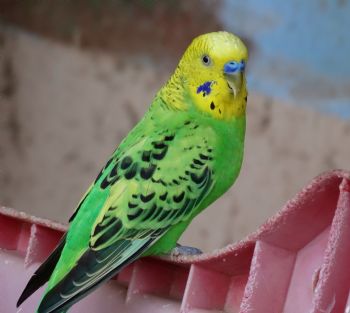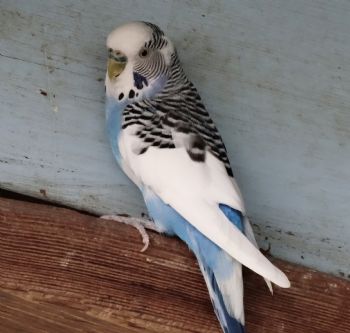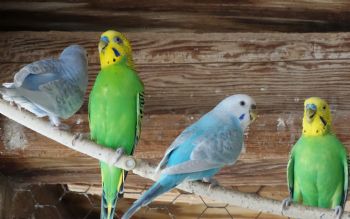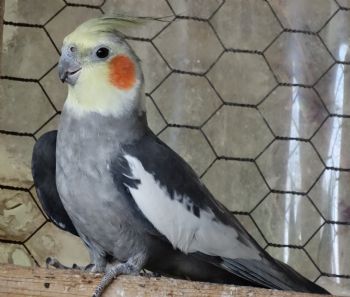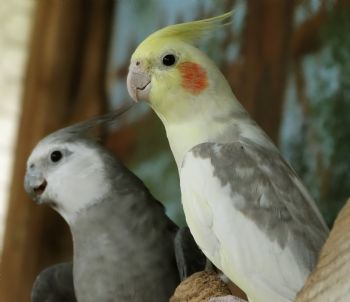 Yesterday morning we had a pretty sunrise.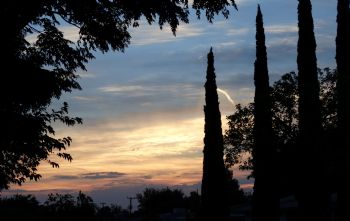 We also had a pretty sunset, but that will be in tomorrows blog. Time to call it at night.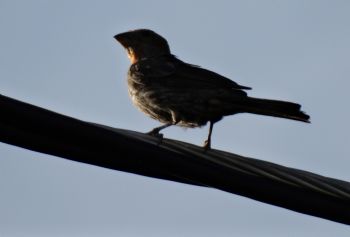 Friday, August 01, 2014
Huck and Meg's love to play ball. It was a very warm, so we didn't exercise the dogs for long.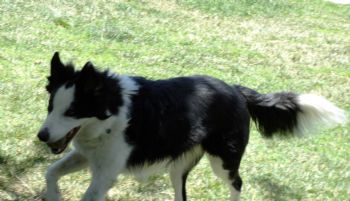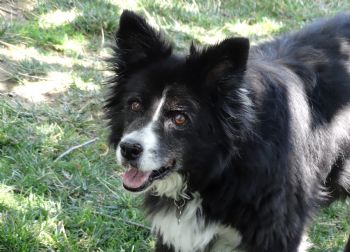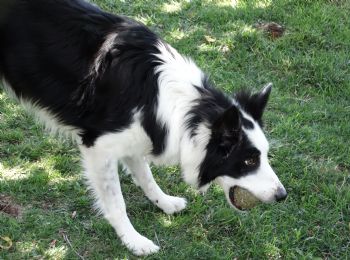 Alice and Sarge just kicked back and watched.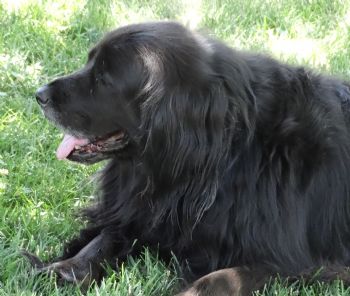 Sarge can get both of his ears up now. Woo Hoo.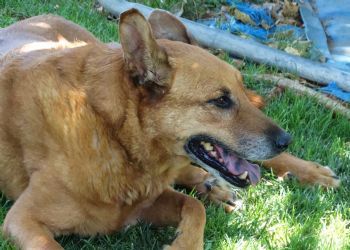 After we exercised the dogs we decided to drive to Leona Valley. We were near the top of Godde Hills Pass, and I had Dennis pull over for a picture. The sky was so pretty, and we could see for miles. Not sure if you will see the miles in here though.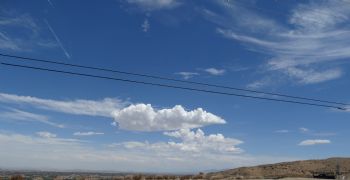 We were looking for the Red Tail Hawks in Leona Valley, but didn't see them. There were a few Ravens flying around. We pulled off the side of the road, and parked in the dirt area. We watched the Ravens fly to our left, then fly back to our side, and land on the telephone lines. There was a Cherry Tree Farm to the left of us, and the birds were picking the Cherries that were left on the trees. They were having a feast.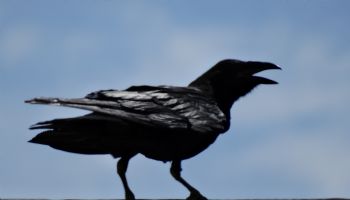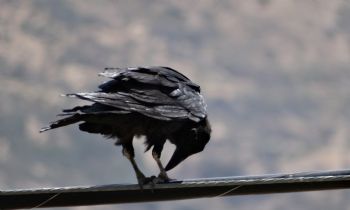 Back at our house now. DH planted two Purslane plants, a form of Portulaca. He put both of them near the area where the trellis is.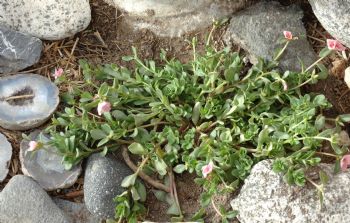 Our Julia Child Roses.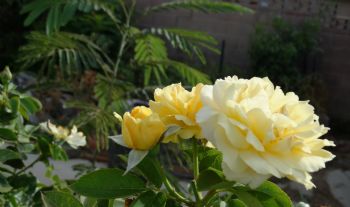 A week ago we had a real pretty sunset. I took the pictures from my backyard.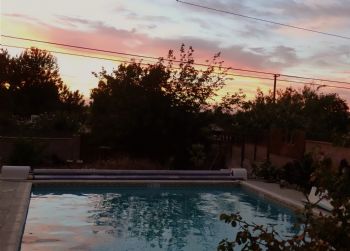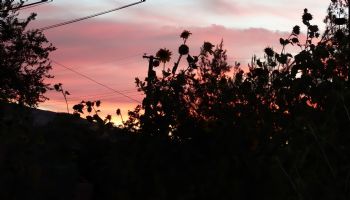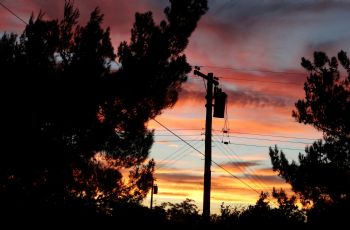 The next 3 weeks we will be busy. DH and I are pet sitting for two different homes. I will try and get another blog in soon. Have a wonderful Week-end!!





1 2 3 4 5 6 7 8 9 10 11 12 13 14 15 16 17 18 19 20 21 22 23 24 25 26 27 28 29 30 31 32 33 34 35 36 37 38 39 40 41 42 43 44 45 46 47 48 49 50 51 52 53 54 55 56 57 58 59 60 61 62 63 64 65 66 67 68 69 70 71 72 73 74 75 76 77 78 79 80 81 82 83 84 85 86 87 88 89 90 91 92 93 94 95 96 97 98 99 100 101 102 103 104 105 106 107 108 109 110 111 112 113 114 115 116 117 118 119 120 121 122 123 124 125 126 127 128 129 130 131 132 133 134 135 136 137 Last Page

Get An Email Alert Each Time HICKOK-HALEY Posts